October 30, 2019 at 4:04 pm EDT | by Chris Johnson
Trump anti-LGBT judicial nominee cries over accusation he's anti-LGBT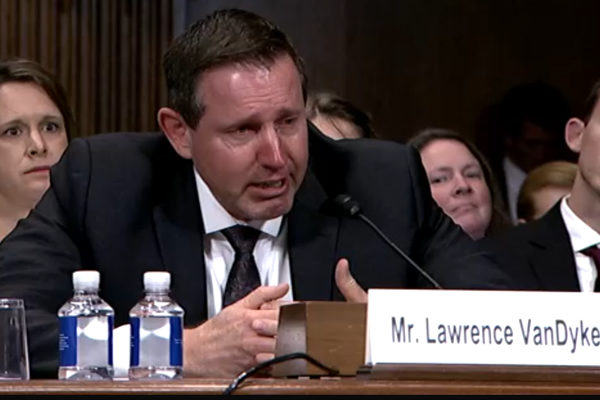 Two of President Trump's choices for the judiciary — one gay, the other with an anti-gay record — faced questions during their confirmation hearing Wednesday about their fitness for the bench, which led one to break down in tears over assertions he harbors animus toward LGBT people.
Lawrence VanDyke, one of two nominees Trump has selected for open seats on the U.S. Ninth Circuit Court of Appeals, was unable to speak and visibly crying before the Senate Judiciary Committee in response to the American Bar Association's conclusion he wouldn't be fair to LGBT people as a judge.
"No, I did not say that," VanDyke said through tears under questioning from Sen. Josh Hawley (R-Mo.). "I do not believe that."
"It is a fundamental belief of mine that all people are created in the image of God," VanDyke said. "They should all be treated with dignity and respect, Senator."
Asked by Hawley to confirm he'd treat "every living entity" who came before him as a judge with respect and dignity, VanDyke replied, "Absolutely, Senator."
"I would not have allowed myself to have been nominated for this position if I did not think I could do that, including members of the LGBT community and any other community that has been historically disadvantaged in this country," VanDyke said.
VanDyke's public emotional display comes one day after ABA, which evaluates whether judicial nominees are fit for the federal court, went public with a scathing letter that determined he was "not qualified" based on his temperament and animus toward LGBT people.
"Mr. VanDyke's accomplishments are offset by the assessments of interviewees that Mr. VanDyke is arrogant, lazy, an ideologue and lacking in knowledge of the day-to-day practice including procedural rules," the letter says. "There was a theme that the nominee lacks humility, has an 'entitlement' temperament, does not have an open mind and does not always have a commitment to being candid and truthful."
LGBT rights were specifically mentioned in the letter. Over the course of interviewing 60 individuals in the legal profession on VanDyke, the ABA said individuals questioned whether the nominee would be fair to LGBT litigants. During the course the interview with VanDyke himself, the nominee "would not say affirmatively that he would be fair to any litigant before him, notably members of the LGBTQ community," ABA reported.
VanDyke said he was "shocked" to see the conclusion in the letter when it became public last night. The letter provided evidence for progressive groups, such as the Leadership Conference and Civil & Human Rights and People for the American Way, to oppose his confirmation.
Paul Gordon, senior legislative counsel for the People for the American Way, said VanDyke's emotional display does nothing to change the organization's views.
"Lawrence VanDyke is not the victim here," Gordon said. "The victims are the millions of LGBTQ+ people who have shed tears over injustices we have endured. Let's just say Lawrence VanDyke's record on LGBTQ rights speaks for itself, and that along with the rest of his record remains disqualifying." 
When asked whether he was aware of the letter before it came out, VanDyke said an ABA member went over it with him shortly beforehand on the same day, but cut him off before he was allowed to respond on the basis that time was short.
VanDyke also said one of his ABA raters, Marcia Davenport, donated to the opponent of his campaign when he ran in 2014 — unsuccessfully — for a seat on the Montana Supreme Court. (Montana is one of the states where members of the Supreme Court are elected by voters at the ballot).
William Hubbard, chair of the ABA Standing Committee on the Federal Judiciary, insisted the ABA evaluation is fair, pointing only out only a small number — three percent — of Trump judicial nominees have received the rating of "not qualified." (Not a single nominee from President Obama was found "not qualified."
"The evaluations are narrowly focused, nonpartisan, and structured to assure a fair and impartial process," Hubbard said. "No nominee gets a 'not qualified' rating without another review."
An ABA spokesperson confirmed Davenport did the initial evaluation and donated money to Michael Wheat, a two-term incumbent whom VanDyke was challenging in the race.
But after Davenport's initial report, a full committee of 15 ABA members voted in majority for a "not qualified" rating, the ABA spokesperson said. Per standing review procedure, a supplemental review was done and second vote held, the ABA spokesperson added.
The ABA process for determining VanDyke was "not qualified" became a significant point of contention among members of the Senate Judiciary Committee.
On one side was Hawley, who said the ABA letter was "a shameful exercise in political bias" and called on the White House to stop granting the organization access to nominees. On the other side was Sen. Chris Coons (D-Del), who said the opinion of the 60 legal professions ABA consulted was significant.
"They interviewed not one or two or three people who reach conclusions about your lack of professionalism and skills," Coons said. "But they interviewed 60 people across four states, both judges and attorneys within the practice, and for me that's fairly damning."
Sen. Sheldon Whitehouse (D-R.I.) called for Senate hearings on the ABA to get to the bottom of its process of evaluation, saying closed-door sessions would be appropriate — an idea that seemed to have bipartisan traction; although Sen. Mike Lee (R-Utah) said dozens of people who support VanDyke should also be interviewed.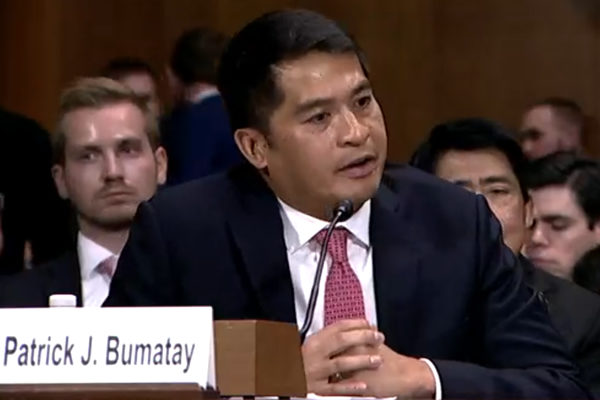 It ended up being convenient for Sen. Lindsey Graham (R-S.C.) to hold VanDyke's confirmation hearing jointly with the confirmation hearing for Patrick Bumatay, who's another Trump pick for the Ninth Circuit. Bumatay, who currently works as a U.S. prosecutor in Southern California, is gay.
Graham took advantage of this pairing without explicitly mentioning Bumatay's sexual orientation.
When Graham asked VanDyke if he knew Bumatay, VanDyke replied, "Well, well." When Graham asked VanDyke subsequently if he could be fair to him, VanDyke replied, "I would sure hope so. Yes, I would."
Graham then asked Bumatay whether he also thinks VanDyke would be fair to him. Bumatay signaled his affirmation.
Although VanDyke asserts he'd be fair to LGBT people seeking to have their civil rights affirmed before the judiciary, he has a record that suggests otherwise, including ties to the anti-LGBT legal firm Alliance Defending Freedom.
When LGBT advocates were seeking to attain marriage equality through the federal judiciary, VanDyke, as Montana solicitor general, co-signed friend-of-the-court briefs in 2013 favoring the anti-gay Defense of Marriage Act and state bans on same-sex marriage.
In the same year, VanDyke joined another friend-of-the-court brief before the U.S. Supreme Court in the case of Elaine Photography v. Wilock. Elaine Photography, represented by ADF, was found in violation of New Mexico law after it refused to shoot photos for a wedding for a same-sex couple, represented by University of Pennsylvania law professor Tobias Wolff. (The Supreme Court ended up not taking the case.).
Key to VanDyke's thinking on this case is an email he wrote at the time and published in the Montana-based Great Falls Tribune.
In the email, VanDyke said the Elaine Photography case was important "because there is a fairly obvious collision course between religious freedom and gay rights" and the litigation "(because it is an extreme case) could be very important in establishing that gay rights cannot always trump religious liberty."
When Sen. Richard Durbin (D-Ill.) asked VanDyke about the email, VanDyke brought up a different case — Christian Legal Society v. University of California, Hastings — that he said was one of his favorite cases in which he was a part.
"It was a case involving LGBTQ rights, and also involving religious liberty, and I'm so happy to have the role that I had in that case because the position we were in —it was illustrating that there doesn't have to be a conflict," VanDyke said.
But VanDyke didn't represent LGBT interests in that case. Instead, he joined with other lawyers who identified themselves as "gays and lesbians for individual liberty" who argued the Christian Legal Society has a First Amendment right to deny admission to LGBT members and still obtain benefits as an officially recognized school group. (The Supreme Court ended up ruling against Christian Legal Society.)
VanDyke's record against LGBT rights goes back to the time he was a college student. In 2004, VanDyke as a student at Harvard Law School wrote an op-ed in opposition to same-sex marriage, saying it "will hurt families, and consequentially children and society."
Sen. Patrick Leahy brought up the op-ed during the confirmation hearing in the context of a response to a question from Sen. Catherine Cortez Masto (D-Nev.). The Vermont Democrat said VanDyke's response was "kind of flippant" and he cited inadequate research on the issue. (There's significant research showing gay couples do as well as opposite-sex couples in parenting.)
VanDyke initially responded by saying the Supreme Court has spoken and he wouldn't allow his personal views to interfere with cases before him. When pressed by Leahy, VanDyke conceded "my personal views have definitely changed since 2004," but insisted they wouldn't impact his decision-making at the bench.
Objections to VanDyke on his anti-LGBT record are part and parcel of opposition from progressives to his confirmation. That opposition also includes his opposition to gun regulations, environmental rules and access to abortion. Sen. Dianne Feinstein (D-Calif.) took VanDyke to task during the hearing for an NRA candidate questionnaire he filled out in 2014 indicating opposition to gun control.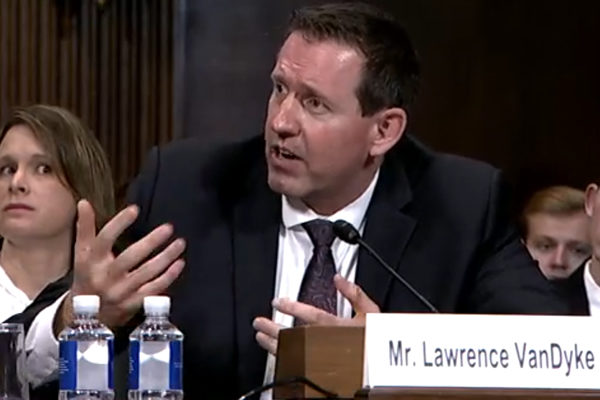 In terms of records, the hearing was more challenging for VanDyke than it was for Bumatay, who didn't face similar questions. However, both nominees faced objections based on the lack of support from senators from the states they would represent on the Ninth Circuit.
Sens. Kamala Harris (D-Calif.) and Feinstein have withheld their "blue slips" for the Bumatay nomination, while Masto and Sen. Jacky Rosen (D-Nev.) have withheld them for the VanDyke nomination. Traditionally, judicial nominees would only move forward in the Senate if their home state senators provided "blue slips," but over time, as senators have started to withhold them more often, that practice has been abandoned.
Addressing Bumatay before the committee, Feinstein said she "appreciate[s] the diversity he would being to the bench," but he has inadequate experience to become a federal appellate judge and the "blue slip" process should be respected.
"This is the fourth time since President Trump took office that the majority has moved forward with a California Ninth Circuit nominee who does not have the support of Sen. Harris or myself," Feinstein said
Trump nominated Bumatay for the bench after rejecting a list of proposed nominees for the Ninth Circuit seat from Feinstein and Harris. In a role reversal, that prompted Harris — who has a long record as an LGBT advocate — to come out against the openly gay nominee Trump is pushing forward.
A brief exchange between Leahy and Graham on "blue slips" took place after Feinstein. Leahy said when Democrats were in majority in the Senate, Republicans insisted on the process, but have suddenly reversed now that the tables have turned.
Seemingly unmoved by Leahy's complaint, Graham replied, "I think the blue slip horse has been beaten to death there and people have been all over the board on both sides."
When Leahy wouldn't let up on the complaint, Graham reminded him it was former Sen. Harry Reid who changed the process to allow a simple majority vote to confirm judges as opposed to 60 votes to end a filibuster. Leahy retorted that had nothing to do with the "blue slips."
"That is fallacious, and you know it," Leahy said.