November 7, 2019 at 3:15 pm EST | by Kathi Wolfe
Late Broadway legend Elaine Stritch celebrated in new bio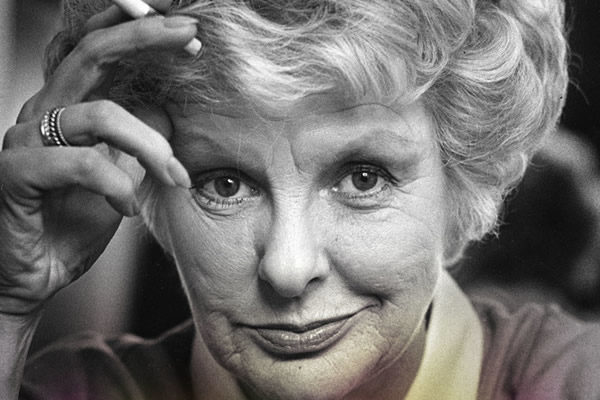 'Still Here: The Madcap, Nervy, Singular Life of Elaine Stritch'

By Alexandra Jacobs

Farrar, Straus and Giroux

$28

352 pages
Fuck! This is a fab read!
Don't be put off! Long before everyone used the profanity, Elaine Stritch, the queer icon, actress and singer, known as "Broadway's enduring dame," embraced the f-word. With her gender-bending white men's shirts and black tights, it was part of her inimitable style.
Everyone from Noel Coward to Elton John adored Stritch, who died at age 89 in 2014. She won a Tony Award for her 2001 one-woman show "Elaine Stritch At Liberty" and an Emmy for her work on "Law and Order." Her iconic interpretation of Stephen Sondheim's song "The Ladies Who Lunch" in the 1970 musical "Company" earned her lasting acclaim. Stritch aficionados loved it when she appeared as the mother of Jack Donaghy (Alec Baldwin) on NBC's "30 Rock."
Yet, she had a drinking problem and could be difficult to work with. Many, including Harold Prince, thought Stritch was an "employment risk" and a "pain in the ass."
"How do you solve a problem like Elaine Stritch?" Nathan Lane asked at her memorial service. "How do you hold a fucking moonbeam in your hand?"
Fasten your seatbelts! "Still Here," a new bio by Alexandra Jacobs, will take you on a fast-moving ride through Stritch's glamorous, funny, sad, fascinating, lonely life. Along the way, you'll encounter celebs from Marlon Brando to Rock Hudson to Bea Arthur.
Stritch was born to an upper-middle-class Catholic family in Detroit.
"The Stritches were committed but not strict Catholics," Jacobs writes.
Yet, her family "put the convent in conventional."
Stritch went to a convent school and Cardinal Samuel Stritch was her cousin. Years later, the columnist Earl Wilson erroneously reported that Stritch was the Cardinal's daughter.
One day, "she went to meet the holy man in person," Jacobs writes. "Ushered in by a nun, she sat down on a red-backed seat with a stool under it. 'Elaine, that's my chair,' he told her."
From childhood on, Stritch wanted to be in show business. At age 5, she fell in love with Fred Astaire and Ginger Rogers when an uncle took her to see "The Band Wagon" in New York.
As a child playing on the porch one day, "Elaine fatally swatted enough flies to spell out her name," Jacobs writes. "'It was her way of supposing her name in lights,' according to her friend Julie Keyes. 'And that's what billing is about,' Elaine told her."
When she was 18, Stritch left the convent school and suburban Detroit behind to make it in the theater in New York. Moving there in 1943 "as a young woman in pursuit of fun, music, nightclubs and theater with all the trimmings was fantastically auspicious," Jacobs writes.
In the middle of World War II, It was the year when "Oklahoma!" (the "Hamilton" of its time) opened on Broadway and the first American Fashion Week was held. Elaine's impatient personality was a perfect match, Jacobs writes, for the atmosphere of New York, which was "one of urgency and carpe diem in the face of an uncertain future."
Some of the best writing in "Still Here" is Jacobs' evocation of this period. Stritch is so excited when she goes to try-out for the road company of "Oklahoma!" that she forgets to put her skirt on. She goes on a date with Marlon Brando, one of her classmates in the Dramatic Workshop at the New School. They had a wild night: he read to her from "Wuthering Heights."
Stritch dated many men from producer Jed Harris to actors Gig Young and Ben Gazzara. She had a crush on Rock Hudson. Later in life, she married actor John Bay.
Because of her "low voice; her style of dress and hair, which increasingly tended toward the masculine; her delay of marriage; her many gay friends," Jacobs writes, people have wondered if Stritch was queer.
Though gender-bending in her style, Stritch wasn't a lesbian, Jacobs says. Yet, she writes, Stritch was "without prejudice" toward homosexuality. "Live and let live," Stritch would say.
"Look into their eyes/And you'll see what they know/Everybody dies," Stritch sang in "The Ladies Who Lunch."
Reading "Still Here" will make you feel as if Stritch, brought back to life, is looking into your eyes and singing just for you.