November 19, 2019 at 11:59 am EST | by Lou Chibbaro Jr.
Stein Club elects new president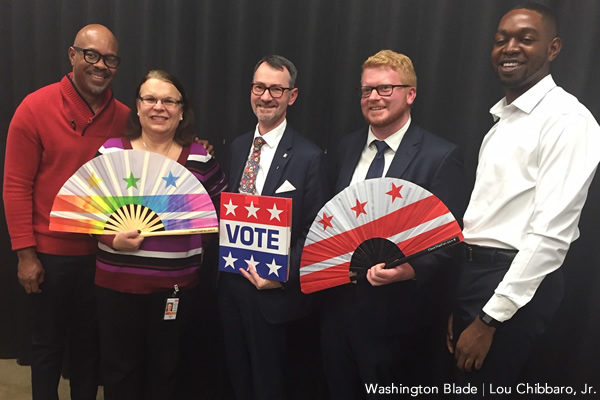 Members of the Gertrude Stein Democratic Club, the city's largest local LGBT political organization, elected Ward 1 Advisory Neighborhood Commissioner Kent Boese as its new president Monday night at the club's annual election meeting held at the D.C. Center for the LGBT Community.
In a break from the club's usual practice of choosing its leaders by consensus in uncontested elections, Boese beat incumbent president Monika Nemeth, a fellow ANC member from Ward 3 and transgender rights advocate, by a vote of 12 to 9.
Minutes later, Stein members elected Nemeth to the position of Vice President for Legislative and Political Affairs by unanimous voice vote in an uncontested race. In three other uncontested votes, Stein members re-elected gay Democratic activist Jatarious Frazier as Vice President for Administration, re-elected Gay Democratic National Committee member Earl Fowlkes as Treasurer, and elected D.C. Office of LGBTQ Affairs Community Outreach Specialist Thomas Yabroff as Secretary.
Fowlkes, who also serves as chair of the DNC's LGBT Caucus, is a former Stein Club president.
In remarks prior to the vote electing him president, Boese said among his top priorities for the Stein Club would be an aggressive effort to help elect an LGBT person to the D.C. Council in next year's city election.
Boese and other club members noted that since the late Ward 1 gay Council member Jim Graham, a Democrat, and gay At-Large Council member David Catania left the Council several years ago D.C. has fallen behind nearly all major U.S. cities by no longer having an out LGBT member on its legislative body.
Among those listening to Boese and other club members calling for the election of an LGBT member to the D.C. Council were five of the six declared Democratic candidates for the Ward 1 D.C. Council seat currently held by incumbent Council member Jack Evans. With Evans under investigation for allegations of ethics violations, he has yet to announce whether he will run for re-election in the June 2020 Democratic primary.
One of his Democratic challengers, longtime gay rights advocate and Logan Circle Advisory Neighborhood Commissioner John Fanning, told club members he is the openly gay candidate they have been looking for with a strong record on both LGBT rights and civic and government affairs as an aide to three former mayors.
The other Ward 2 Council candidates also spoke at the meeting at the invitation of Nemeth and other club members. Each pointed to their records of support for LGBT rights as straight allies. Among them were Jordan Grossman, a former Obama administration official; Daniel Hernandez, a Ward 2 civic activist and Marine Corps veteran; and Patrick Kennedy and Kishan Putta, both of whom are Ward 2 ANC commissioners.
Also attending the meeting and addressing club members was At-Large D.C. Council candidate Markus Batchelor, a Ward 8 D.C. school board member who is running as an independent.
The fact that six Council candidates, some of whom have attended recent past Stein Club meetings, attended Monday's election meeting will likely be viewed as a sign that the LGBT vote in the Ward 2 Council election next year could be a deciding factor in a multi-candidate race.