November 29, 2019 at 8:34 am EST | by Ed Gunts
Liz architect creates a building that fits in and stands out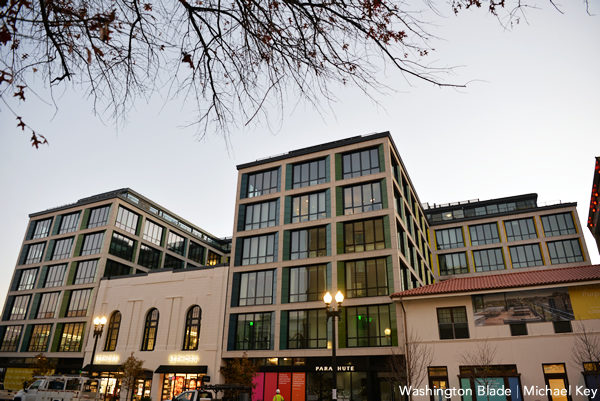 There aren't many buildings in Washington that are named after a movie star.
Or use an early 20th century garage as modern office space.
Or frame upper-level windows with all the colors of the rainbow
Those are a few of the characteristics of Liz, the mixed-use building on 14th Street N.W. that was named after Elizabeth Taylor and houses the administrative offices of Whitman-Walker Health, a leading health care provider for the region's LGBTQ community and people with HIV/AIDS. It also has street-level retail space, more offices and 78 apartments.
Creating a building that meets the needs of Whitman-Walker Health and other occupants was the job of Annabelle Selldorf, a prominent New York-based architect who served as the lead designer.
Selldorf, the head of Selldorf Architects, is known for her work with high-profile clients such as the Frick Collection and the Neue Galerie in New York, the Museum of Contemporary Art San Diego and the soon-to-open Rubell Museum in Miami. Liz is her first completed project in the District of Columbia and her first project anywhere for a health care-oriented client.
Her approach was to combine historic preservation and new construction to arrive at a single interconnected structure that both fits in with the surrounding area and stands out as a significant addition to it — a game changer in the cityscape and new front door for Whitman-Walker.
Experienced in blending old and new, Selldorf created a composition in which the new construction is set back or clearly distinguished from the two historic buildings that were preserved as part of the project, so it doesn't upstage or loom over them.
The goal, she says, was to honor the past while creating new spaces that will enable the city to grow and strengthen Whitman-Walker for the future.
"I'm deeply humbled by having been given the opportunity" to work on the project, she said at the ribbon cutting. "It's humbling because … this is for people, and if it isn't for people who are belonging into this place, and if you are not welcoming to everybody, what is the meaning of being an architect?"
Andy Altman, one of the principals of Fivesquares Development, a real estate company that worked with Whitman-Walker, said he and his partners were delighted that Selldorf agreed to take on the project, given her reputation. He said Selldorf is known for work that can be both dignified and playful, that provides a pleasing juxtaposition of old and new, and that's what his group believed 14th Street and Whitman-Walker needed.
"Annabelle Selldorf is a world-renowned architect who does amazing commissions," he said at the opening. "We went to Annabelle … and said we want a work that is going to be beautiful, exquisite, bold but subtle, not something ostentatious but that will really be of world-class stature for our city. Annabelle was the choice, and we were thrilled that she would do it."
Named after Elizabeth Taylor, an actress and early AIDS activist, Liz is a collaboration of Whitman-Walker and Fivesquares, a for-profit, socially conscious developer and contractor that also has its offices in the building.
The completed project, which was dedicated on Nov. 6, occupies an entire city block in the 1700 block of 14th Street, N.W., between R and Riggs streets.
Whitman-Walker, a non-profit with a long history of providing health care for the LGBTQ community and people with HIV/AIDS, owned the block and had used the corner building as the main entrance and waiting area for the Whitman-Walker Elizabeth Taylor Medical Center, which opened in 1993.
When the medical center moved to larger quarters two blocks away several years ago, that freed up space for Whitman-Walker to redevelop its property at 14th and R.
Under its partnership agreement with Fivesquares, Whitman-Walker remained the majority partner in the project, a rarity in collaborations of this kind. Altman says he believes it is "a model of urban regeneration" and "a model for non-profits nationally and what they can do to sustain their mission and serve their needs."
The initial plan was to build new administrative offices for both Whitman-Walker and Fivesquares, while adding rental housing and street-level commercial space that would generate revenue for the joint venture and add life to the street. As the design evolved, the project gained another component, a cultural center and meeting place that will serve the community at large, especially the LGBTQ community.
Today, the ground floor is occupied by retail tenants and the soon-to-open Whitman-Walker Cultural Center. The second floor is occupied by Whitman-Walker Health, including administrative offices, health and legal services, public benefits and research programs. The third floor is shared by the Goethe-Institut, a German language school, and Fivesquares' offices. Floors four to seven contain the apartments.
Born in Cologne, Germany, the daughter of architect Herbert Selldorf, Selldorf came to the United States as a young woman to study architecture at Pratt Institute in New York. After working for others, she started her own firm in 1988. She's part of a small but growing roster of women architects who lead or co-lead design firms in the U.S., along with Jeanne Gang, Elizabeth Diller, Deborah Berke and Billie Tsien.
Selldorf's firm specializes in designing buildings for art and education, and it has worked internationally on museums, galleries and other cultural projects. Her firm also designed the Sunset Park Materials Recovery Facility on the Brooklyn waterfront, an award-winning garbage recycling center that's been a popular stop during the annual Open House architectural tours in New York. Critic Paul Goldberger once described her work as "a kind of gentle modernism of utter precision, with perfect proportions."
Selldorf said in a phone interview that she had no previous connection to Whitman-Walker or Fivesquares but was intrigued when members of the development team approached her about the commission.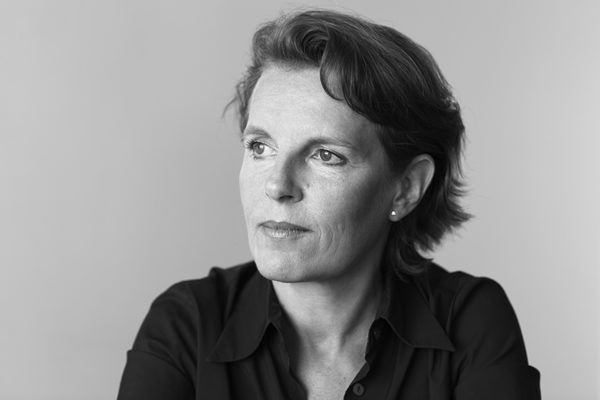 Although she isn't gay, she said she admires what Whitman-Walker does (and what Fivesquares does) in Washington and could tell they would be the sort of architecturally savvy clients with whom she's accustomed to working. She was also eager to take on a health care related project, something new for her practice. And although she never met Elizabeth Taylor, she is certainly a fan. "After seeing 'Cat on a Hot Tin Roof,'" she said," how could you not be?"
The development team was required by the city's historic preservation office to save two buildings on the site, the corner structure at 14th and R, which was the front door and waiting room for Whitman-Walker's Elizabeth Taylor Medical Center from 1993 to 2017 and a flower shop before that, and a midblock building known as the Belmont Garage, significant as an early local 20th century structure with an auto-related use. The team was allowed to demolish a third building on the block that wasn't deemed historically or architecturally significant
Selldorf said the team sought to maximize the amount of new construction it could build on the site but didn't want to overwhelm the structures targeted for preservation. Working with CORE architecture + design, the executive architect, Selldorf preserved and renovated the two historic buildings on site and added a 150,000-square-foot structure containing the residences, stores, offices and community space.
"We explored how much space the property would yield," she said. "We ended with a very happy solution to fully utilize the building envelope and yet come up with something that makes a lot of sense."
The completed development has what appears to be two new twin structures facing 14th Street, each rising seven stories. They are actually projecting sections of a large building that fills the whole block, containing retail and office space on the lower levels and apartments above.
Along 14th Street, the seven-story sections are separated by the low-rise Belmont Garage, which has been recycled as office space. At the corner of 14th and R, the new construction is set back from the street and frames the historic structure that had been the main entrance to the Elizabeth Taylor Medical Center before it was relocated.
The new construction does not mimic the older buildings on 14th Street. It has clean lines and is free of applied ornament, making it clear what is new and what has been preserved. It's an optimistic building that is very much about urban rebirth and the co-existence of old and new.
Selldorf hesitates to put any stylistic labels on her design, saying only that she wanted to create a "well-proportioned, contemporary building that takes its cues from the neighborhood in terms of materials and proportioning and has an overall connection" with it
To help the new construction fit in, she said, she specified limestone and terra cotta for the exterior, materials that are common on older buildings in Washington. In an additional nod to Whitman-Walker's history of serving the LGBTQ community, Selldorf framed the upper-level windows of the new structure with a pop of color.
There are 12 colors in all, and they're created by a process of glazing the chamfered terra cotta window surrounds with a succession of hues, like a color wheel, working their way around the building. The colors can be seen as a reference to the rainbow flag. They're also an effective way to animate the facades and indicate that this is a welcoming place for the LGBTQ community.
"It was really a playful gesture," Selldorf said. "It all has to do with the composition of the facades … I wanted there to be a relationship between the limestone buildings along 14th Street, and then I thought there was an opportunity to have something that wasn't quite so conservative and old-fashioned.
"I've always enjoyed working with terra cotta, so we came up with this color scheme that would go around the windows. It gives the building a kind of lively and friendly and welcoming appearance. The idea is that the colors would graduate into one another and no two colors would not harmonize with one another."
Another sign of Selldorf's desire to create a composition that fits in with its surroundings is that she restored the corner building to the appearance it had when it was a flower shop years ago, recreating projecting windows that make it possible to see in and for people inside to see out.
"The corner building was in very bad shape, and so I convinced the client to give us the opportunity to make it as good as it could be and maybe better than it ever had been," she said.
That transparency represents a symbolic break from the days when many gay people were 'in the closet' or shunted out of sight, especially if they were sick. The new windows make the corner building more inviting, while recreating its original look.
These changes are reinforced by a people-friendly design for the outdoor space around the building, by Future Green Studios, that includes generous planting, new seating and public art that encourages people to linger at the corner. The intersection even has graphic 'bump outs' on the street surface that appear to narrow the road and increase the amount of space for pedestrians.
"Everything we do is trying to bring people together and create agreeable, open, transparent spaces," Selldorf said. "It's not just one specific thing. It's sort of an idea about how the building represents a kind of openness in the landscape. I think that makes a big difference. It signifies to people that you are welcome there."
One big decision that grew out of the design process was the idea of recycling the corner building as a cultural center for the LGBTQ community.
Whitman-Walker and Fivesquares didn't originally plan to have a cultural center as a component of the development. According to Abby Fenton, chief external affairs officer, Whitman-Walker CEO Don Blanchon and others suggested that use as a way to add a new dimension to what Whitman-Walker could do on the block.
The idea is for the cultural center to serve as a flexible meeting and exhibit space that can accommodate a wide range of activities, including talks, readings, art shows and performances of interest to the LGBTQ community.
Seldorf donated her design services for the cultural center component of the project as a way of giving back to the community. Whitman-Walker recently hired a staff curator to coordinate activities and events, and the center is expected to be in full operation by early next year.
"I think they realized how much this corner matters to people in the community and to their specific constituents," Selldorf said of Whitman-Walker. "This will be an ongoing public service. They became very excited to let their clients have a voice in that way. It's really a fantastic attitude, and I am very excited to see how it will turn out."
At the ribbon-cutting, D.C. Mayor Muriel Bowser praised the decision to combine new apartments and medical care with a place for cultural activities.
"Let this project be a reminder that housing, cultural space, and medical care are imperative to how this city moves forward," she said.
Elsewhere in the project, the designers tried to make it clear which areas of the building are new construction and which parts are old. In some cases, brick walls are left exposed to show that an area is part of a historic building. Other spaces employ colorful lighting and contemporary touches to indicate the space is new. Perkins and Will was the interior designer for Whitman-Walker's second-floor space.
Whitman-Walker also has an art program in which works by various artists have been put on display to enliven its setting. The organization also displays artifacts salvaged from previous Whitman-Walker locations as a tangible reminder of its history. The largest work of art is an outdoor sculpture on the corner, a temporary installation by Yinka Shonibare.
Above the retail space and offices, on floors four to seven, the apartments include studios and one- and two-bedroom units. Sixty-six are market rate and 12 are considered affordable housing.
On the east side of the block, the building steps back from the alley. The setbacks make it less overwhelming for the smaller townhouse structures across the alley, while creating terraces for the apartment residents on that side of the block.
Yet another sign of Selldorf's desire to be respectful of Whitman-Walker's history is that she insists the name of the building is pronounced correctly. She points out that it's not The Liz building or Liz Taylor Building, but simply Liz.
"I wanted it to be not too institutionalized," she explained. "If you have to give a building a name, it makes it much more immediate."