December 9, 2019 at 10:06 am EST | by Lou Chibbaro Jr.
Supporters, opponents testify at Town nightclub hearing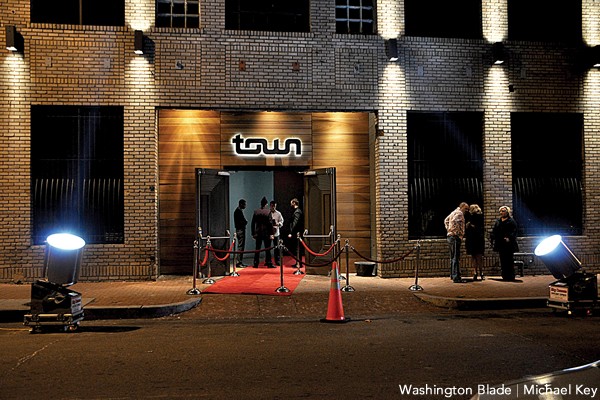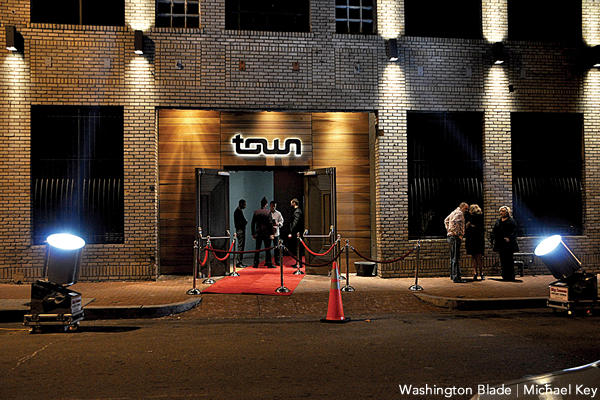 Seventeen witnesses expressing either support or opposition to allowing the LGBT nightclub Town Danceboutique to reopen in a former church on North Capitol Street testified on Dec. 4 at a hearing before the D.C. Alcoholic Beverage Control Board that lasted nearly six hours.
Among those testifying in support of Town were an architect and structural engineer considered experts in noise abatement. The two testified that proven soundproofing technology that Town has hired them to employ will completely block any noise generated by the proposed nightclub from reaching an apartment building located next to the former church.
The owners, several residents, and others associated with that building, the John and Jill Ker Conway Residence apartments in which many formerly homeless military veterans live, have emerged as the main opponents to Town's application for a liquor license at the former church.
Calvin Johnson, one of the apartment building residents who testified at the hearing, said that while he is concerned about noise and increased vehicle traffic congestion, his biggest fear of having a nightclub open next to his residence is his "sobriety." He said he's a formerly homeless veteran, and living at the Conway apartments has helped him "get my life back together."
Lyle Blanchard, an attorney representing the apartment building owners and some of its residents, told the ABC Board that some of the residents like Johnson are struggling with substance abuse and other addiction-related problems. He said other residents are Vietnam War veterans who are grappling with post-traumatic stress disorder and a nightclub located next door could adversely impact all of them.
Blanchard said the residents are also concerned that a nightclub would increase crime in the neighborhood by attracting criminals who would target the nightclub customers but also pose a safety concern for the apartment residents.
In a development that surprised some Town supporters, one of the witnesses opposing the Town license application, Advisory Neighborhood Commissioner Drew Courtney of ANC 6C, testified that he was a customer of Town nightclub at its former location at 8th Street and Florida Avenue, N.W., before it closed due to real estate development.
He told ABC Board members that if Town were requesting to reopen just two blocks away from the Conway apartment building he would have no objections to the license application. After the hearing, Courtney told the Washington Blade the close proximity to the apartment building is his main objection.
"They could be quite noisy," Courtney said of the previous Town's patrons. "And I just think that trying to situate them next to a facility specifically designed for people who are coping with PTSD [Post Traumatic Stress Disorder], in recovery, homelessness, needing more support – that they are not the right people to bear the impact of that."
Two other Advisory Neighborhood Commissioners, John Fanning of the Logan Circle ANC 2F, and Robb Hudson of ANC 1B representing the U Street entertainment area where Town had operated for 10 years, testified that the Town owners have been exemplary business operators of several bars and nightclubs. The two said they have never encountered any problems with the clubs operated by Town co-owner John Guggenmos and his business partners.
"There were no complaints against Town. The neighbors loved them," Hudson said. "You could walk by and not hear anything," he told ABC Board members, referring to an outdoor patio that Town installed at its previous location.
Fanning, a longtime gay activist and candidate for the Ward 2 D.C. Council seat, said he and his fellow ANC commissioners agree that Number Nine and Trade, two gay bars the Town owners currently operate in the Logan Circle area, have never caused any problems in the neighborhood.
During his own testimony, Guggenmos said he and his business partners would continue their longstanding policy of interacting with nearby residents and community organizations. He said the Jamal development company, which owns the church building that Town hopes to occupy, will pay for all needed structural renovations of the building, including a full roof replacement and repointing of the exterior brick walls at a cost exceeding $1 million.
Guggenmos said the Town owners would pay for all interior renovations, including soundproofing related construction at a cost of $850,000 to $1 million. He said experts working on the renovation, including the architect and sound abatement specialist, have pointed out that there is a space of about an inch or more between the church building and the adjacent apartment building.
The fact that the two buildings don't actually touch each other will be an important natural barrier to noise coming from the new nightclub, according to structural engineer and soundproofing specialist Martin Beam, who testified during the hearing.
He and others also noted that only a small four-story-high part of the 14-story apartment building abuts the church with the one-inch space separating the two buildings, and there are no apartments in that section of the building.
"John Guggenmos and his partners are ultra-sensitive to the needs of the residents of the adjacent residential facility and in particular issues such as sound and noise and have presented a comprehensive plan to address those concerns," Steve O'Brien, the attorney representing Town, told the Blade after the hearing.
"Not all nightclubs are bad," O'Brien told the board members in his closing argument at the hearing. "You have somebody who has a 29-year track record of well run and quiet nightclubs," he said. "And how often have you had two ANC commissioners testify in favor of a nightclub?"
O'Brien said the church building is in "terrible shape" now and it places the adjacent apartment building in jeopardy. "It is now a dark, desolate corner," he said. "This will become a well-lit, well run facility."
He was referring to the former St. Phillips Baptist Church's location on the corner of North Capitol and K Streets, N.E. at 1001 North Capitol St., about one mile north of the U.S. Capitol.
Blanchard, the attorney for the opponents, called on the ABC Board members to withhold approving the liquor license needed to allow Town to open in the former church building until the building renovation and soundproofing work is completed so it could be tested to ensure it works. O'Brien said Town opposes such a requirement.
The four ABC Board members participating in the hearing and who are expected to make a decision on the Town license application in 90 days or sooner were Chairperson Donovan Anderson, James Short, Bobby Cato, and Rafi Crockett.
Although the board members have not taken a position on the pending matter, Short asked at least three of the opposing witnesses who are associated with the Conway apartment building if they were aware that the church building, which has been vacant for several years, is a potential fire hazard and could be a threat to the safety of the adjacent apartment building residents.
He asked them whether they thought it would be better to have the building completely renovated and secured by the Town nightclub proposal. The witnesses said only that they would like to see the building renovated.
Joe Izzo, a psychotherapist who has worked for more than 20 years at D.C.'s Whitman-Walker Health specializing in substance abuse issues, said he disagrees with the premise that a nightclub should not be located near a facility like the Conway apartments.
"The real truth is that people in recovery from alcoholism and substance misuse have to learn to live in, and stay clean and sober, in a world where such substances are ubiquitous," Izzo told the Blade. "It is unrealistic for them to say don't locate a liquor store or nightclub on the street where I live because it's a temptation for me," he said.
"Part of their recovery is taking responsibility for their addiction by attending support or 12-Step meetings, developing a network of sober friends and avoiding places that are 'slippery' for them," Izzo said. "They cannot expect the rest of the world to accommodate their illness."