December 12, 2019 at 4:59 am EST | by Peter Rosenstein
Giuliani, sleazy former mayor, now consigliere to the dregs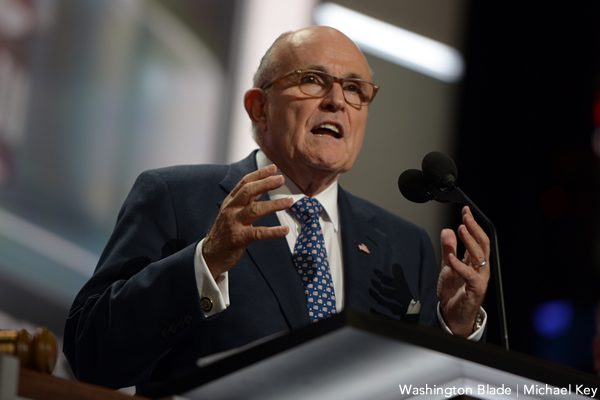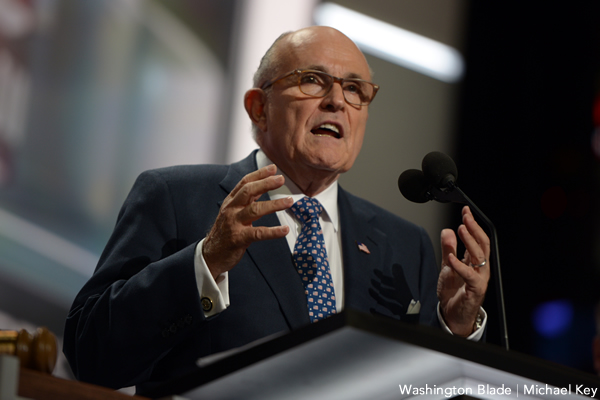 Rudy Giuliani, once known as "America's Mayor," can now more appropriately be referred to as "America's sleaziest Mayor" who is consigliere to some of the lowest dregs of the world. The lowest being President Trump.
Aside from his public life Rudy is a scumbag in his personal life. While he sometimes claims that is no one's business he has made it public. He has been married three times. First to his second cousin, Regina Peruggi, then to Donna Hanover and finally to his latest wife Judith Nathan, who recently filed for divorce. His second wife found out he was divorcing her when he announced it during a press conference. He slept with each future wife while still married to a current one and according to the third wife has done it again. A real class act. Judith Nathan told the New York Times, "I feel betrayed by a man that I supported in every way for more than 20 years. I'm sad to know that the hero of 9/11 has become a liar." But then nothing about Rudy Giuliani shows any class and he has always been a liar. He tried to extend his term as mayor after 9/11 suggesting how important he was. Thankfully wiser heads prevailed.
Today Rudy runs a law practice that does security work for foreign clients. According to ABC News, "Experts have said Giuliani's more recent work for his various foreign clients — often brought up to the president's attention — could fall under the category of activities that need to be registered and reported under the Foreign Agent Registration Act, also known as FARA.
"It requires registration not just for lobbying, but for any activity that Giuliani intended to or believed might influence the U.S. government or the U.S. public with reference to any political interests of a foreign nation," Josh Rosenstein (not a relative of mine), a lawyer with expertise in FARA compliance, told ABC News. "So grassroots work, media work, public relations work and speeches all may be covered."
We know his biggest client is the president of the United States. The interesting thing we are seeing at the moment is Rudy's lying for the president on TV, along with his interactions with members of Congress and foreign leaders, may actually be getting the president into deeper trouble. Recently it was reported by CNBC, "Rudy Giuliani says he believes President Donald Trump will remain loyal to him but jokes that he has 'very, very good insurance' should the president decide, as a reporter says, to 'throw him under a bus.'"
My take: when lawyers say this they aren't joking and Rudy is from New York where you don't need an OK from the person you are talking with to tape their calls. Rudy is a sleaze and may be venal but I give him credit for not being dumb. So I believe he has the goods on Trump. Now that may be important as according to Bloomberg LP "Now we are hearing Rudy Giuliani, President "Billionaire Profile" Donald Trump's personal lawyer, is being investigated by federal prosecutors for possible campaign finance violations and a failure to register as a foreign agent as part of an active investigation into his financial dealings, according to three U.S. officials."
Now Rudy is traveling in the Ukraine again. His longstanding ties to the Ukraine began in 2003 according to the Guardian. More recently the Guardian reported, "He announced that he was a lawyer for the president of the United States, that he was working for Donald Trump and there was nothing to hide," said Andrii Telizhenko, a former Ukrainian embassy official who met with Giuliani in the U.S. over burgers and cigars. Giuliani's ties became a U.S. political story when two Soviet-born American businessmen, Lev Parnas and Igor Fruman, helped connect Giuliani with powerful Ukrainian prosecutors who claimed to have information about a scandal tied to Biden's son, Hunter, and in turn sought to trade in on Giuliani's name to advance their own business interests. The pair were arrested on charges of violating campaign finance laws while attempting to travel to Vienna, shortly after they met with Giuliani in Washington, D.C." It appears the law may finally be closing in on Giuliani and his main client the president of the United States. It can't happen soon enough.
Peter Rosenstein is a longtime LGBTQ rights and Democratic Party activist. He writes regularly for the Blade.