December 21, 2019 at 1:21 pm EST | by Chris Johnson
Senate confirms fifth openly gay ambassador under Trump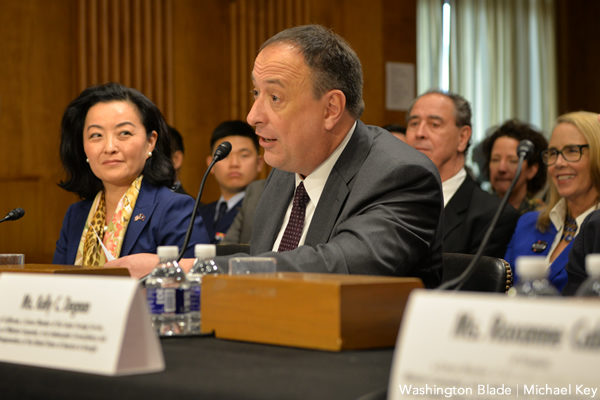 Just before adjourning for the holidays, the U.S. Senate confirmed Robert Gilchrist as the next the U.S. ambassador to Lithuania, making him at least the fifth openly gay person to serve in an ambassadorial role under President Trump.
The Senate confirmed Gilchrist — who's a former president of GLIFAA, the affinity group at the State Department for LGBT employees — to the position by voice vote on Thursday along with a slew of other Trump ambassadorial picks without any floor debate or controversy.
Nominated by Trump in July, Gilchrist — who most recently served as director of the operations center at the State Department — is a career Foreign Service officer, not a political appointee like other ambassadors.
During his confirmation hearing in October, Gilchrist faced tough questions on Russia, which continues to seek hegemony over former Soviet states like Lithuania.
Amid ongoing concerns about Russia's interference in elections worldwide, Gilchrist said Lithuania has set up protections that could serve as a model elsewhere.
"I think if you look through, through some of the recent press, you'll see how the Lithuanians really in a masterful way have gotten out ahead of an issue before it became an issue domestically," Gilchrist said. "And so, they are indeed at the forefront in many ways I think there's some things that we could possibly learn from them as well."
Other roles in which Gilchrist has served are deputy chief of mission of the U.S. embassy in Sweden, deputy chief of mission of the U.S. embassy in Estonia and the director of Nordic & Baltic Affairs in the State Department's Bureau of European & Eurasian Affairs.
Gilchrist is at least the fifth openly gay person Trump has selected for a position as U.S. ambassador. Others are U.S. Ambassador to Germany Richard Grenell; U.S. Ambassador to Nepal Randy Berry; U.S. Ambassador to Bosnia Eric Nelson and U.S. Ambassador to Cabo Verde Jeff Daigle.
Gilchrist's confirmation comes the same week Grenell went to the United Nations to promote the Trump administration's global initiative to decriminalize homosexuality, which he has spearheaded. According to the conservative Center for Family & Human Rights, the group of nations that promote LGBT rights at the U.N. were having none of it.