Biden takes swipe at Sanders for accepting Joe Rogan's support
Former VP reiterates trans issues 'the civil rights issue of our time'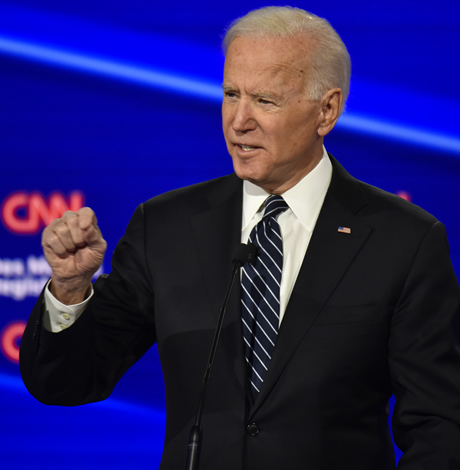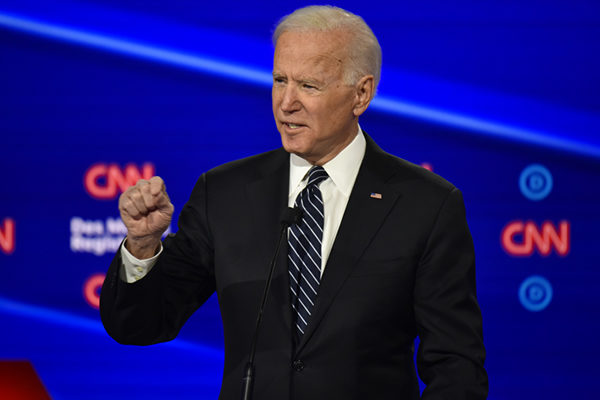 In an increasingly heated Democratic primary just weeks before the Iowa caucuses, Joseph Biden took a not-so-veiled swipe at Bernie Sanders on Saturday for accepting Joe Rogan's support despite comments from the podcast host condemned as transphobic.
Taking to Twitter, Biden draws on his comments he made as vice president when he called transgender rights "the civil rights issue of our time," which stands in contrast to the Sanders campaign accepting Rogan's support.
Let's be clear: Transgender equality is the civil rights issue of our time. There is no room for compromise when it comes to basic human rights.

— Joe Biden (Text Join to 30330) (@JoeBiden) January 25, 2020
An LGBTQ backlash against Sanders ensued after he promoted the Rogan endorsement on his Twitter account. Among those criticizing Sanders was Human Rights Campaign President Alphonso David, who said "it is disappointing that the Sanders campaign has accepted and promoted the endorsement."
"The Sanders campaign must reconsider this endorsement and the decision to publicize the views of someone who has consistently attacked and dehumanized marginalized people," David said.
Among other things, Rogan in the past has said a transgender woman athlete is actually a man, has used anti-gay epithets before "retiring" them and compared a black neighborhood to "Planet of the Apes" before admitting the comments were racist.
Amid the backlash, the Sanders campaign didn't retract the endorsement or admonish Rogan for his comments, but instead defended the decision.
"Sharing a big tent requires including those who do not share every one of our beliefs, while always making clear that we will never compromise our values," said Sanders national press secretary Briahna Joy Gray.
Also defending Sanders is Christine Hallquist, the first openly transgender gubernatorial nominee of a major party. Hallquist, who unsuccessfully ran in Vermont in 2018, told the Huffington Post "there is a contingent of privileged white males and we need their votes." Additionally, Hallquist said she plans on endorsing Sanders.
Biden makes the veiled criticism of Sanders as the two are locked in national polls as the front-runners for the Democratic presidential nomination. The upcoming Iowa caucuses on Feb. 3 will be key to see who has momentum going forward.
None of other major presidential candidates (or for that matter President Trump) have been public in criticizing Sanders for accepting Rogan's support, including gay presidential candidate Pete Buttigieg. The Blade has placed in with the campaigns of Buttigieg, Andrew Yang and Elizabeth Warren seeking comment. (UPDATE: A spokesperson for Yang campaign told the Blade it has no comment on the Rogan controversy.)
Both Biden and Sanders have long records of supporting LGBTQ rights in the lifelong public service, although there are some differences in the margins.
For example, Sanders in 1996 was one of a few House members to vote against the anti-gay Defense of Marriage Act, but Biden voted for it as a U.S. senator. Biden's early support for marriage equality in 2012 got the ball rolling for victories at the ballot, but Sanders was late in embracing the issue.
Kevin McCarthy ousted as House speaker
Matt Gaetz led effort against Calif. Republican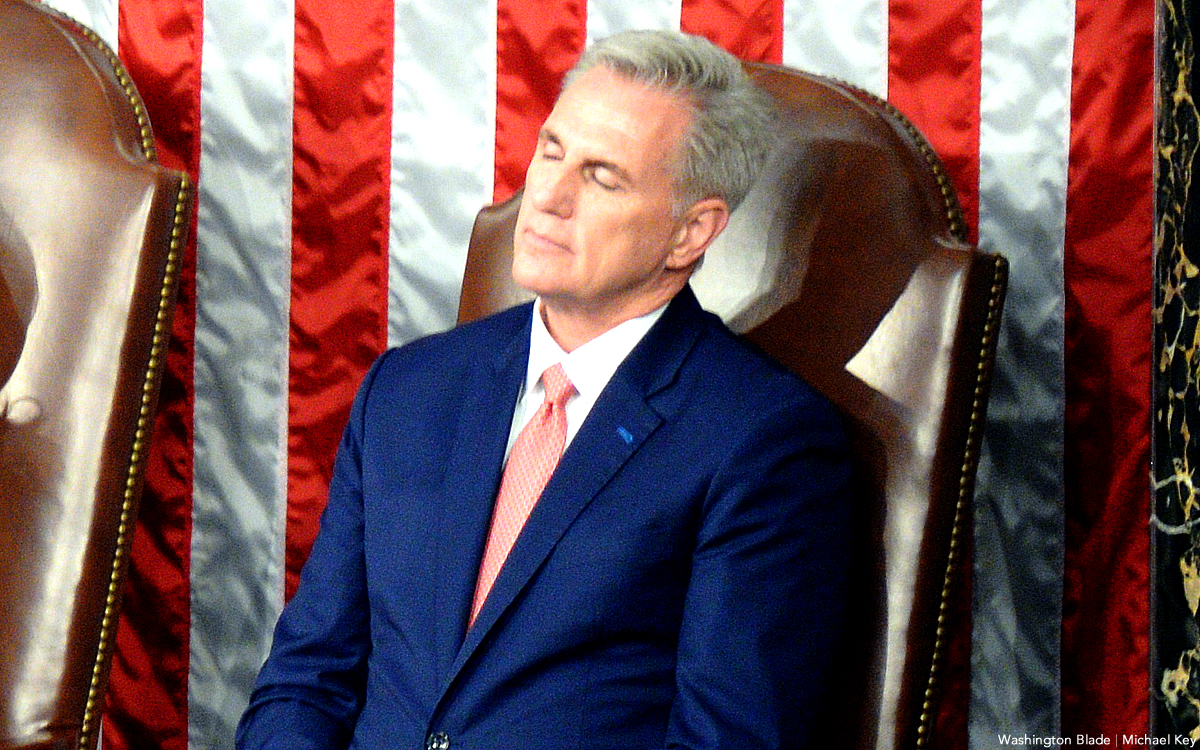 A motion to declare the chair vacant submitted by U.S. Rep. Matt Gaetz (R-Fla.) to oust House Speaker Kevin McCarthy (R-Calif.) succeeded on a 216-210 vote Tuesday after an at times contentious debate between House Republicans on the floor.
The last to vote in the full order of the roll call was McCarthy, who voted against the motion to remove him from his post. U.S. Rep. Steve Womack (R-Ark.), who chaired the proceedings, declared the speaker vacant after the House chamber went silent, after it had asked if anyone wishes to change their vote, then read off the tally submitted by the clerk.
U.S. Rep. Patrick McHenry (R-N.C.), a close McCarthy ally, will serve as speaker pro tem, or as temporary acting speaker.
With a sharp bang of the gavel, he declared the chamber in recess.
This is a historic action by the House as never before has a House speaker successfully been voted out of the chair. The last time the House had a vote to oust the speaker was in 1910.
The vote that year stemmed from angst among progressive Republicans that the speaker at the time, Joseph Cannon, a conservative known as "Uncle Joe," refused to bring progressive legislation to the floor for a vote.
The House Cannon Office Building, which was completed in 1908 and is the oldest congressional office building — a significant example of the Beaux Arts style of architecture is named for Cannon, who had served as House speaker. 
Earlier Tuesday afternoon the chamber voted 208-218 with Democrats supporting a motion to table Gaetz's resolution to oust McCarthy, setting the stage for a vote on whether McCarthy should remain in the top spot. Democratic leadership had told reporters earlier that their conference would be united in an effort to remove the House speaker.
Laphonza Butler sworn in as California's newest senator
Former vice president advisor will succeed Dianne Feinstein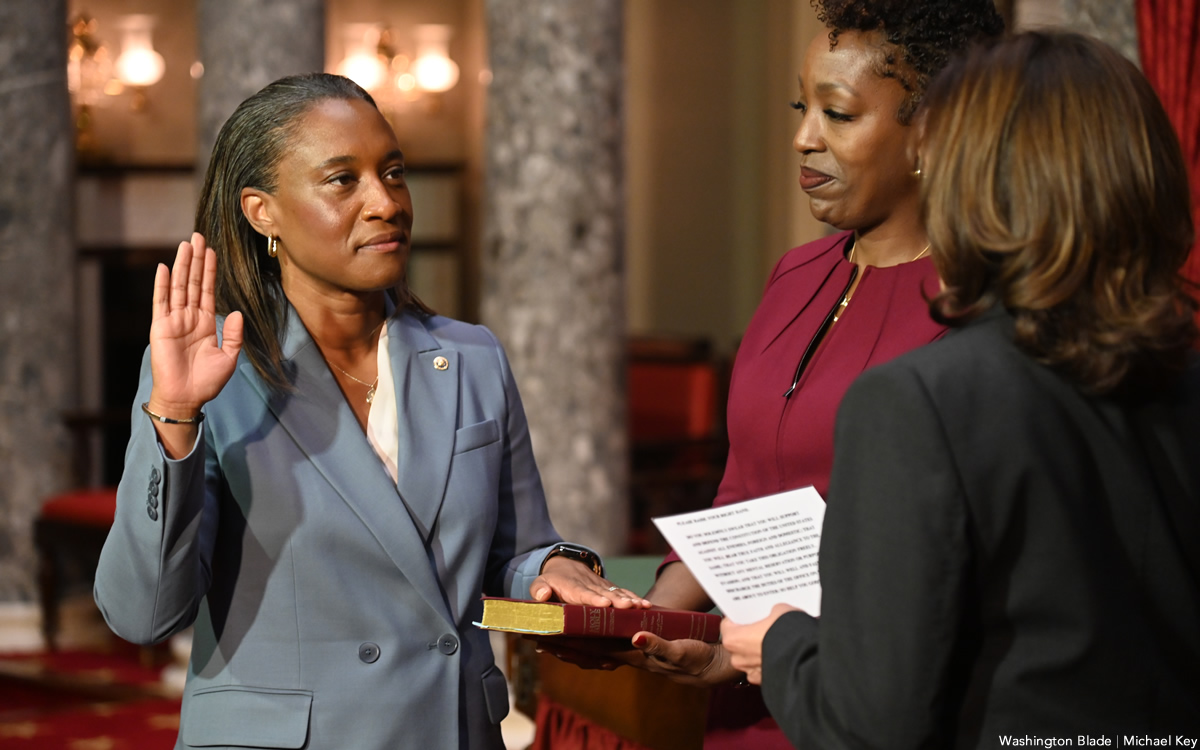 Vice President Kamala Harris on Tuesday swore in Democrat Laphonza Butler as California's newest U.S. senator during a ceremony at the U.S. Capitol.
The first Black lesbian to serve in the Senate, Butler was president of the nation's largest organization dedicated to electing women to public office, EMILY's List, and previously was a senior advisor to the vice president during her 2020 bid for the Oval Office.
Harris, the country's first woman vice president as well as the first Black and South Asian person to serve in that role, also made history with her tenure as attorney general and then senator for California.
Democratic California Gov. Gavin Newsom appointed Butler to fill the vacancy caused by the death, on Friday, of U.S. Sen. Dianne Feinstein, who had represented the state in the upper chamber since 1992.
Per the terms of her appointment, Butler will be eligible to run for the seat during next year's elections, in which case she would face competition from three high profile Democrats now representing California in the House: U.S. Reps. Barbara Lee, Katie Porter and Adam Schiff.
Newsom in 2021 pledged that he would appoint a Black woman to Feinstein's seat. Lee, so far the only Black woman among the declared candidates, congratulated Butler in a statement in which the congresswoman said she is "singularly focused on winning" her Senate campaign.
California "deserves an experienced senator who will deliver on progressive priorities," she said. "That's exactly what I'm running to do."
Consistent with her work in progressive politics, Butler was previously a labor leader with Service Employees International Union, SEIU, the powerful union where her wife, Neneki Lee, serves as director of the Public Services division.
Human Rights Campaign President Kelley Robinson and Claire Lucas and Judy Dlugacz were among those who attended the swearing in alongside Butler's wife.
Senate Majority Leader Chuck Schumer (D-N.Y.) and U.S. Sen. Alex Padilla (D-Calif.) escorted Butler into the chamber. Lee and Schiff were among those who attended the ceremony.
"It's a good day," Lucas told the Washington Blade as she left the chamber.
Michael K. Lavers contributed to this story.
Anacostia group honors LGBTQ advocate Pannell for 30 years of service
Oct. 5 celebration set for Ward 8 Sycamore & Oak retail village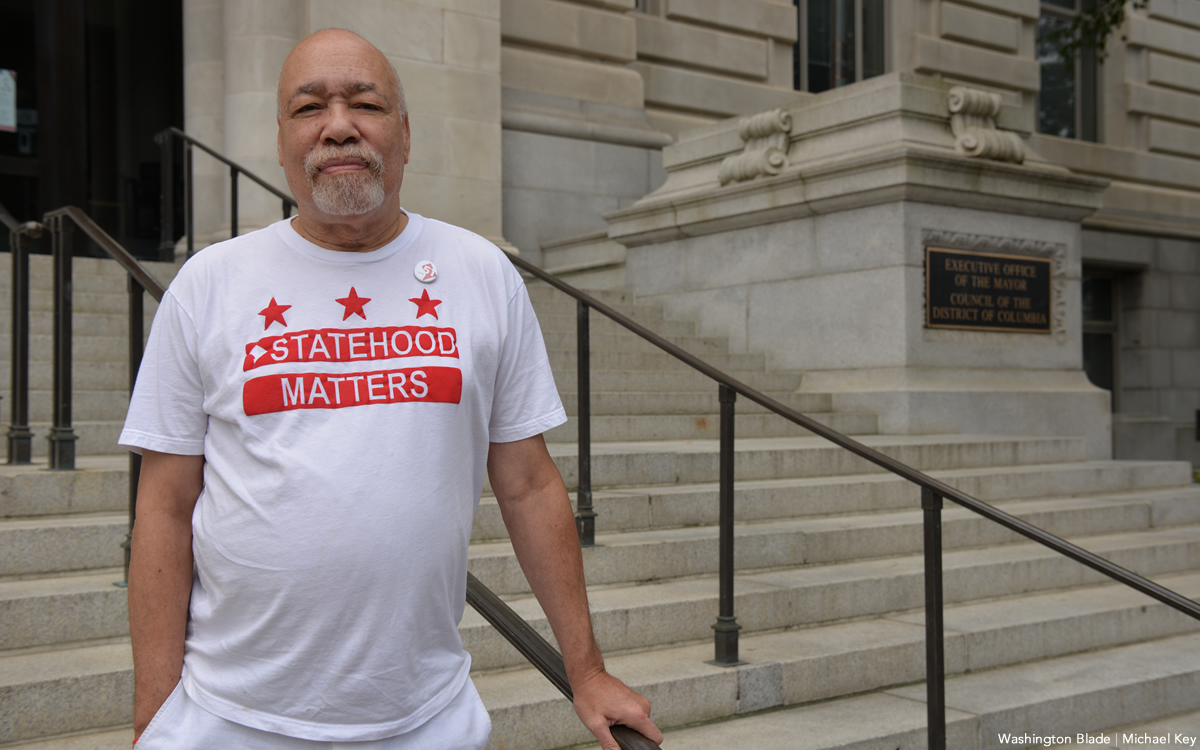 The Anacostia Coordinating Council (ACC), an advocacy organization for D.C.'s Anacostia neighborhood and surrounding areas east of the Anacostia River, is holding a celebration honoring LGBTQ rights and Anacostia community activist Phillip Pannell for his 30 years of service with the ACC.
The event was scheduled to take place from 6-8 p.m. on Thursday, Oct. 5, at the recently opened Sycamore & Oak retail village mall on the St. Elizabeth's East Campus in Southeast D.C.
Pannell, 73, serves as the ACC executive director, a position he has held since 1995. He has been a member of the Anacostia-based nonprofit organization's staff since 1993.
A longtime advocate for LGBTQ rights, Pannell has been credited with persuading many of D.C.'s LGBTQ organizations to reach out to LGBTQ residents who live in Wards 7 and 8 east of the Anacostia River.
He has also been credited with persuading African-American organizations, including organizers of the annual Martin Luther King Jr. memorial celebrations, to include and welcome LGBTQ people to their events.
"Join us for an evening of food, fun, and surprises," an announcement of the event released by the ACC says.
ACC spokesperson Lamont Mitchell told the Washington Blade several community leaders and public officials who have known Pannell during his many years of D.C. community involvement were expected to speak at the Oct. 5 celebration. Among the expected speakers, Mitchell said, was former D.C. Mayor Sharon Pratt.
According to the announcement, the event is free and open to the public, but organizers requested that people register in advance at tinyurl.com/Pannell35.
The ACC event honoring Pannell was to take place about a month after the D.C. newspaper Washington Informer published a detailed article profiling Pannell's career as a community activist and advocate for several important local causes and issues, including D.C. statehood.
"D.C. statehood is not just a political issue, it is also a civil and human rights issue because if D.C. were a state, we would be a state with the highest percentage of African Americans, basically a majority, minority state," the Informer quoted Pannell as saying. "That's one of the reasons a lot of right-wing Republicans don't want to see D.C. become a state because we are going to elect progressive, Black Democratic senators," Pannell told the Informer.
A statement on the ACC's website says Pannell has received more than 100 awards during his nearly four decades of work in D.C., including the 2011 U.S. President's Call to Service Award and the 2012 D.C. Federation of Civic Associations award for Outstanding President of a Member Association.