July 11, 2019 at 4:00 am EDT | by Chris Johnson
In 1996, Sanders and Biden were on opposite sides of DOMA vote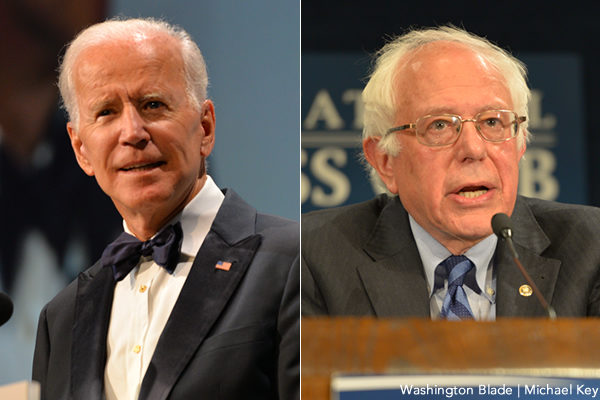 A key vote on LGBT rights was taken 23 years ago in Congress and the results found two lawmakers who are now leading contenders for the 2020 Democratic presidential nomination — Bernie Sanders and Joseph Biden — on opposite sides of the contentious issue.
The vote was on the Defense of Marriage Act, an anti-gay law the Republican majority in Congress cooked up in 1996 to stymie President Clinton as he sought re-election.
Drawing on (unfounded) public fears as Hawaii's courts were leading the way for the state to legalize same-sex marriage, DOMA sought to bar the U.S. government from recognizing same-sex unions for the purposes of federal benefits. Moreover, DOMA sought to allow states to refuse to recognize same-sex marriages performed in other jurisdictions.
When the House vote was set to take place on July 12, 1996 — 23 years ago this week — public opinion was overwhelmingly against same-sex marriage. Gallup, which first started polling on same-sex marriage in 1996, found 68 percent of the American public opposed same-sex marriage and 27 percent supported it. (The numbers are basically reversed in 2019.)
The House vote on DOMA ended up being 342-67. Sanders, who was representing Vermont in the U.S. House, was among the small cadre of lawmakers who bucked public opinion and voted against the Defense of Marriage Act.
Months later, when DOMA came up for a vote in the U.S. Senate on Sept. 10, 1996, Biden in his capacity representing Delaware in the U.S. Senate bowed to public sentiment at the time, voting in favor of the anti-gay law.
The vote on DOMA in the Senate was 85-14 with Biden in the supermajority of senators. DOMA then headed to the desk of President Clinton, who signed the measure into law on Sept. 21, 1996.
Biden has built a reputation as a strong supporter of the LGBT community, famously coming out in favor of same-sex marriage on "Meet the Press" in 2012, but his vote on DOMA in 1996 sets up a key contrast between him and Sanders in terms of who came to bat first when times were tough for the LGBT community.
Falz Shakir, campaign manager for Sanders' 2020 presidential campaign, said via email to the Washington Blade the candidate's vote against DOMA in 1996 is part of a long record of support for LGBT rights.
"Bernie's vote against DOMA may not have been the mainstream Democratic view at that time, but for Bernie, who already had a long record of standing with the LGBTQ community, it was the only morally acceptable option," Shakir said. "Beginning in 1972 when he proposed abolishing all discriminatory laws relating to sexuality, to backing Burlington's first Pride march, to his opposition to 'Don't Ask Don't Tell,' Bernie has consistently listened to the LGBTQ community and stood with them in demanding an end to discrimination in all forms. Bernie's vote against DOMA is just one example of his commitment to fighting for equality, even when it wasn't politically popular."
Jamal Brown, national press secretary for the Biden campaign, referenced Biden's long record on LGBT rights in response to a Blade inquiry on the split between Sanders and Biden on DOMA in 1996.
"Joe Biden has been and continues to be a fierce advocate for LGBTQ rights," Brown said. "He stood behind the freedom to marry on the national stage at a time when most political pundits said it was a mistake, proudly officiated a same-sex wedding at the vice president's Residence, worked to dismantle 'Don't Ask, Don't Tell,' made LGBTQ equality a key pillar of his work after the White House and continues to champion passage of the Equality Act. Biden's commitment to the LGBTQ community is unparalleled." 
But while observers say Sanders took a political risk in voting against DOMA in 1996 compared to Biden, whether it had an impact on the marriage equality movement was another question.
Andrew Sullivan, a gay conservative commentator and early marriage equality proponent, praised Sanders when asked whether Sanders deserves credit for his vote against DOMA and whether it had an impact.
"I do think it was brave and important for Sanders to vote this way — principled but unpopular," Sullivan said. "It speaks very highly of him that he was against this Clinton-favored bullshit. I don't think it made the slightest bit of difference though."
A chief reason for the lack of impact of Sanders' vote against DOMA is the lack of any statement from the Vermont independent on the issue.
The Blade could find no statements from him in the congressional record at the time, nor did research of contemporaneous newspaper accounts yield any first-hand comments from him. (For that matter, the Blade could find nothing from Biden justifying his vote in favor of DOMA.)
From what can be found, Sanders didn't frame his vote against DOMA in terms of LGBT rights.
In 2015, when Sanders was running against Hillary Clinton, Mark Joseph Stern of Slate published an article that featured a 1996 quote in the Burlington Free Press from Sanders' chief of staff justifying her boss' vote on DOMA on constitutional grounds and state's rights.
"You're opening up Pandora's box here," the Sanders staffer was quoted as saying. "You're saying that any state can refuse to … recognize the laws of another state if they don't like them."
That's hardly a ringing endorsement of same-sex marriage, which formed a strong basis of Stern's criticism of Sanders for calling himself a longtime champion of marriage equality.
"Sanders' exaggeration of his marriage equality record is strange and unwise," Stern concluded. "If Sanders were honest about his evolution — and, yes, it was an evolution — then he could still brag about supporting marriage equality long before his chief primary rival. Instead, he has attempted to reframe his somewhat tepid support as vociferous and unabating."
Moreover, Sanders — unlike Biden — was virtually absent in the marriage equality fight in the years that followed. When a U.S. constitutional amendment that would have banned same-sex marriage nationwide was up for debate in 2006, Sanders was asked whether his state should legalize same-sex marriage.
Reflecting on the political turmoil in Vermont when it legalized civil unions in 2000, Sanders replied, "Not right now, not after what we went through."
In 2009, when Vermont finally sought to legalize same-sex marriage, Sanders was absent from the discussion in his home state.
Vermont, the first state to legalize same-sex marriage though the legislative process, ended up only being able to do so after the state legislature held an override vote on the Republican governor's veto. In the Vermont State House, the override succeeded by a single vote.
Meanwhile, Biden, for beating President Obama to the punch in endorsing same-sex marriage in 2012, continues to be remembered for his impact on the marriage equality movement.
Biden's words on "Meet the Press" led Obama to follow suit and started a national conversation on the issue, which in turn led to more states legalizing same-sex marriage and the Supreme Court ruling for marriage equality nationwide.
Nonetheless, Sanders in his 2016 campaign bragged about his vote against DOMA as evidence of his longtime support for the LGBT community, criticizing Hillary Clinton for not coming out against the anti-gay law sooner. (Clinton had supported DOMA at least through her 2000 U.S. Senate campaign.)
In a 2015 interview with the Washington Blade, Sanders said he has a clear memory of being on the House floor in 1996 as he cast his vote against the anti-gay law.
"I remember being on the floor at the time," Sanders said. "It was politically a very difficult vote, and despite what some may say, the Supreme Court evolves as does the American public. I think it's also fair to say that very few people would have predicted the degree to which gay rights have changed, the dramatic change in a relatively short period of time."
Evan Wolfson, who founded and led Freedom to Marry, the campaign to win marriage for same-sex couples, was tepid in his assessment of whether Sanders deserves credit for his DOMA vote.
"He didn't at the time offer full-throated support for the freedom to marry, but he was far from the only one not yet there at the time," Wolfson said. "His vote would have had more impact had he followed it up with leadership on making the case for the freedom to marry nationally and in Vermont, which became one of our crucial battlegrounds in the late 1990's and throughout the 2000's."
But asked whether in the terms of the DOMA vote Sanders showed greater leadership on marriage equality than Biden, Wolfson replied, "Sanders voted right in 1996. Biden did not."
"Sanders was not a leader then or since on gay or transgender civil rights, but was generally on the right side and deserves credit for that, as well as his correct vote in 1996," Wolfson added.
Wolfson emphasized he "like[s] many of the Democratic candidates for president, and have my favorites, but haven't yet endorsed any."
Both Sanders and Biden were clearly on the record against the Defense of Marriage Act by 2013, when the Supreme Court was considering litigation filed by the late "mother of marriage equality" Edith Windsor.
As previously noted, Biden came out for same-sex marriage on "Meet the Press." After initially defending DOMA in court, the Obama administration joined the American Civil Liberties Union and lesbian attorney Roberta Kaplan in lobbying against the law. Sanders joined a group of 212 congressional Democrats in signing a legal brief arguing against the constitutionality of DOMA. The Supreme Court would strike down the anti-gay law in 2013.
Emily Hecht-McGowan, an unpaid volunteer with the Biden campaign who led the LGBT project at the now closed Biden Foundation, said she doesn't "have a particular point to make" about Biden's vote for DOMA in 1996, adding, "I try not to think about the DOMA vote in the '90s."
Hecht-McGowan, however, emphasized Biden's remarks on marriage in 2012 were profound — both the LGBT movement as a whole and for she and her spouse, Sharon McGowan of Lambda Legal. At the time, Hecht-McGowan said they were awaiting a child in Maryland, where they lived because it was one of the few states that would recognize same-sex marriages, and were worried they would lose marriage equality at the ballot because it was up for referendum.
"And when the vice president went on 'Meet the Press' and made the comments he made, and came in support for marriage equality in the way that he did, I believe — and I said this to him — that that was a watershed moment for the issue, a watershed moment for my home state of Maryland," Hecht-McGowan said. "And, I believe, what he did pushed Maryland we needed to go to win in November, and that year…we had four marriage initiatives around the country, and it was the first time we won anywhere — much less in all four places."
"So, his unabashed endorsement of marriage equality on 'Meet the Press' that morning," Hecht-McGowan continued, "pushed other notable leaders, as we all know, in the right direction, and I think the ripple effects of that November, I think we can see not just in November 2012, at the Supreme Court in 2013, at the Supreme Court in 2015. So, I think any question about his commitment to the LGBT community — certainly on the marriage issue — has been long settled."

NOTE: This story has been updated with a comment from the Biden campaign, the Sanders campaign and Emily Hecht-McGowan.