January 28, 2020 at 4:09 pm EST | by Michael K. Lavers
Former executive director of Orlando LGBTQ community center dies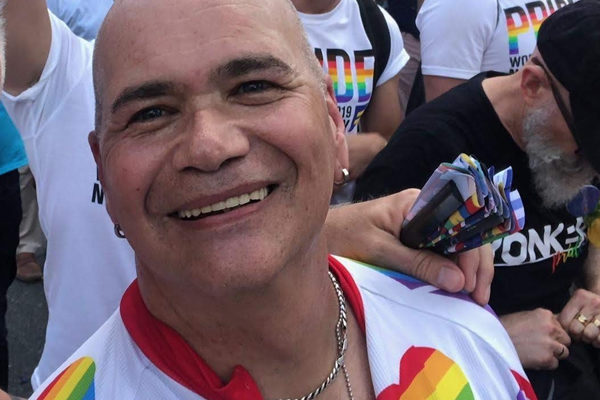 An LGBTQ activist who played a lead role in the response to the 2016 massacre at the Pulse nightclub in Orlando, Fla., has died.
Terry DeCarlo, the former executive director of LGBT+ Center Orlando, passed away on Monday from cancer. DeCarlo's husband, Bill Huelsman, confirmed his death in a Facebook post.
"I lost the love of my life last night," wrote Huelsman.
DeCarlo was the LGBT+ Center Orlando's executive director on June 12, 2016, when a gunman killed 49 people and wounded 50 others at Pulse, a gay nightclub south of downtown Orlando. The massacre, which happened during the club's Latino night, was at the time the deadliest mass shooting in modern U.S. history.
DeCarlo, along with Equality Florida CEO Nadine Smith and others, attended an emotional press conference at the LGBT+ Center Orlando less than 24 hours after the massacre. DeCarlo could barely speak when he told the Washington Blade about what he saw when he and his husband arrived to the area in which Pulse was located roughly three hours after the massacre began.
"It was just mayhem," said DeCarlo. "You had police and fire and the bomb squad and AK-47s. It was like a scene out of a movie."
Smith told the Blade that DeCarlo's death is "heartbreaking news."
"Terry has been such a fixture in the community," said Smith, noting DeCarlo was one of Equality Florida's first employees. "His love and leadership in the aftermath of Pulse was how many came to know him, but he led organizations throughout the state for years."
"Terry will be missed by all who knew him and by those whose lives have been touched by his passionate advocacy," she added.
The LGBT+ Center Orlando in a Facebook post said DeCarlo "helped the organization through it's darkest times in 2016 and beyond."
The onePULSE Foundation, a group founded by Pulse owner Barbara Poma that is planning a permanent memorial to the victims, in a statement said it is "heartbroken by the passing of our dear friend Terry DeCarlo."
"Terry was a passionate advocate for Florida's LGBTQ community and leaves behind a powerful legacy," reads the statement. "We are forever grateful to him for helping our community heal and move forward following the Pulse nightclub tragedy. Our deepest condolences and prayers go out to his husband Bill and his entire family."
Orlando Mayor Buddy Dyer, who was mayor when the massacre happened, also mourned DeCarlo.
"I'll always be grateful for the role that Terry played after the Pulse tragedy," said Dyer in a tweet. "And for his work as one of our city's LGBTQ+ leaders, where he was committed to making Orlando an inclusive, welcoming community for all. Terry will certainly be missed."
I'll always be grateful for the role that Terry played after the Pulse tragedy. And for his work as one of our city's LGBTQ+ leaders, where he was committed to making Orlando an inclusive, welcoming community for all. Terry will certainly be missed.https://t.co/X5lwBv6MNn

— Mayor Buddy Dyer (@orlandomayor) January 28, 2020