New doc 'Hilma af Klint' reclaims female artist's place in history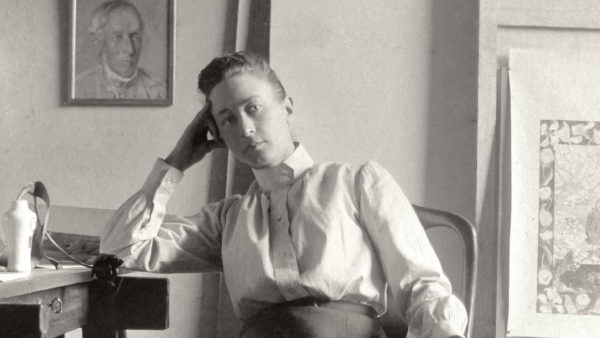 For most of the last century, art scholars generally credited Bauhaus artist Wassily Kandinsky with creating the first paintings of the abstract movement around 1911.
As it turns out, they were wrong – a Swedish artist named Hilma af Klint had quietly become the world's first abstract artist five years earlier, before the term even existed, and by the time of Kandinsky's first effort had already produced a considerable body of abstract work.
How did this important contribution to art history manage to go unnoticed by critics and historians for so many years? It's not at all surprising, really – Hilma af Klint was a woman, and therefore, to the male-dominated art world of the early 20th century, irrelevant.
Now, her life and work is being explored in a new documentary from German director Halina Dyrschka. "Beyond the Visible – Hilma af Klint" introduces film audiences to a visionary trailblazing figure who, inspired by spiritualism, modern science, and the riches of the natural world around her, created a series of huge, colorful, sensual works that were without precedent in the world of painting.
According the the film's official description, it's a "course-correcting documentary" that not only covers the artist's biographical details, but "investigates the role accorded to women in art history and reveals how and why Hilma af Klint was scandalously denied the status of a pioneer of modern art," as it tells the story of how her art was "rediscovered" and unveiled to a modern audience that was ready to finally give her the recognition she deserved.
Director Dyrschka says the documentary – her first feature, though she has directed several shorts – was first sparked when she read a 2013 article about af Klimt, and was fascinated by the idea of such a monumental figure being obscured by history. A few months later, she went to an exhibition of the artist's work, and she was hooked.
"I was standing in the middle of a hall surrounded by Hilma af Klint's 'Ten Largest, altogether 25 meters of paintings, 3.60 meters high," she says. "And beyond the paintings – a whole world. But why have they been kept from me so long? I almost felt personally insulted when I read that this was a new discovery and the paintings have been hidden for decades."
She started her research "immediately afterward," she says, and was surprised by what she learned about the artist.
"Here was a woman who consequently followed her own path in life," she says. "Despite all restrictions, Hilma af Klint explored the possibilities that go beyond the visible. She knew that she was doing something important not only for herself but for many people."
"It is more than time to tell the untold heroine stories," Dyrschka adds. "This is a film about a truly successful life – a woman who was not dependent of the opinion of others, and kept on going her very unique way of living and working.
"Hilma af Klint's oeuvre goes even beyond art because she was looking for the whole picture of life," the director concludes. "And with that she comes close to the one question: What are we doing here?"
"Beyond the Visible – Hilma af Klint" will premiere in the US with an April 10th opening in New York, with other cities to follow.
You can watch the trailer below.

Washington National Opera honors Katherine Goforth
Award recognizes an artist who identifies as transgender or non-binary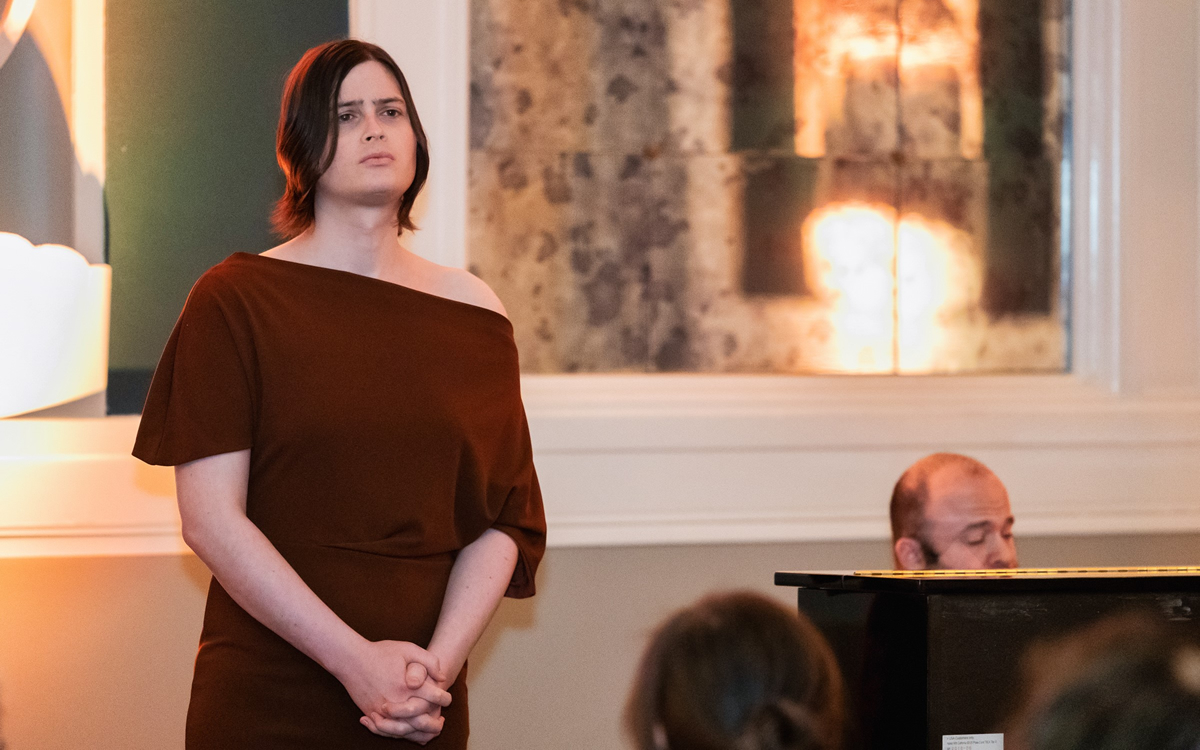 Katherine Goforth was recently announced as the inaugural recipient of Washington National Opera's True Voice Award. This award was created to provide training and increase the visibility of opera singers who self-identify as transgender and non-binary. Each recipient will receive a financial award and the chance to participate in career training, artistic coaching, and a performance with the Cafritz Young Artists. Recipients will also be presented by the Kennedy Center in a recital at the Millennium Stage. Goforth's recital will take place in May 2024.
The Washington Blade chatted with this talented singer about her artistic journey, experience as a trans opera singer, her future plans for her own career, and how she hopes to shape the field of opera.
Washington Blade: Can you share about your journey as an artist? How did you begin this journey and eventually pursue opera?
Katherine Goforth: I had an interest in music and singing for my entire life, but I looked at it as more of a hobby until my high school choir teacher required me to take voice lessons. After a few months of lessons, I started winning prizes and getting special attention for my singing, which meant a lot to me at the time because I was struggling a lot socially and at home. It was easy to dedicate myself to singing after that and hard to imagine pursuing another career.
Talking about art is a lot broader than talking about music for me. As a teenager, I attended Vancouver School of Arts and Academics, a public arts magnet middle and high school, and we had arts education integrated into most of our subjects. Some of my most memorable projects were a mural painted on school windows I co-designed and co-created, a mockumentary film about the meaning of art, and the semi-opera I composed as my senior year capstone project.
Since I was a kid, I felt like I had something to prove and have always tried to do more than what others thought possible in my performing and creative work. It has only been since I transitioned that I really started to feel like I was enough. The part of me that wanted to prove myself could calm down and I learned that it is enough for me when I stand in my own values and desires.
Blade: What has been your experience as a trans person in the field of opera?
Goforth: As a young person coming into a sense of trans and gender non-conforming identity, opera was a damaging space to be part of. At the time, I believed there was no way to actualize my gender identity and continue working. Sure, there were queer people in opera, but almost all of them were straight-presenting men—and those who weren't, didn't seem to get the same opportunities. I have a strong memory of seeing the news about the premiere of As One [a chamber opera with a sole transgender protagonist]in 2014. It was the first time I had heard anyone mention trans people in an opera space. I don't know how much this has changed for students, but I do think that fewer people are postponing their transitions for the sake of working in this industry, which is good.
I haven't worked in opera very much since I came out and it will be interesting to see how that develops over the next few years. I've heard a lot of people say that major opera companies aren't ready for trans singers yet, but I hope they're wrong. My struggle is that I feel much happier playing female characters, but I'm not capable of singing soprano-alto roles on stage right now. That's something I hope will change in the future, but I think it's important for me to accept my voice and try to find affirming projects to work on with the voice that I have.
I'm going to Europe this summer to sing in the premieres of Philip Venables and Ted Huffman's The Faggots and Their Friends Between Revolutions, which is an adaptation of a novel by Larry Mitchell. My sense is that, although I love singing standard rep, the work that will feel best to me as a human being is contemporary opera. There are new works coming out all the time where a character's vocal range isn't restricted by their gender, or where parts are written to be affirming to trans singers. It's an amazing experience to work on roles like that, like the non-binary protagonist in Drew Swatosh and Brian Dang's If Only I Could Give You The Sun, a role I premiered.
For me, the bottom line is that even in a perfectly affirming opera space, there's a lot for me to navigate. We haven't even gotten into the contrast between the project of self-actualization that, for me, defines transition and the way control is exercised over singers in the operatic space. It is hard to spend your whole life working on being your authentic self only to then step into an industry where self-identity is encouraged only if you have the right identity. I'm not going back into any closet.
Blade: Congratulations on being the inaugural True Voice Award recipient. How do you hope to use this award as a platform to further your career, and more broadly, shape the field of opera?
Goforth: I'd like to thank Washington National Opera, Kimberly Reed, Laura Kaminsky, Mark Campbell, and the rest of the selection committee for choosing me for this award. When I decided to come out, I wasn't sure if I was going to be able to work in this industry again. It seems to me that trans people have never had this level of institutional support in our industry. I'm honored to receive it, but I'm also aware of all the other people who competed for this award and ways that my selection leaves them out.
For me, I think my next step is getting out of a young artist box, getting management, and moving into a career where I'm making a living wage from singing without any second or side jobs, singing lead roles instead of supporting roles, and taking the creative work that I develop to the next level.
PHOTOS: Jackie Cox and Jan at Pitchers
RuPaul's Drag Race alums join local performers at gay sports bar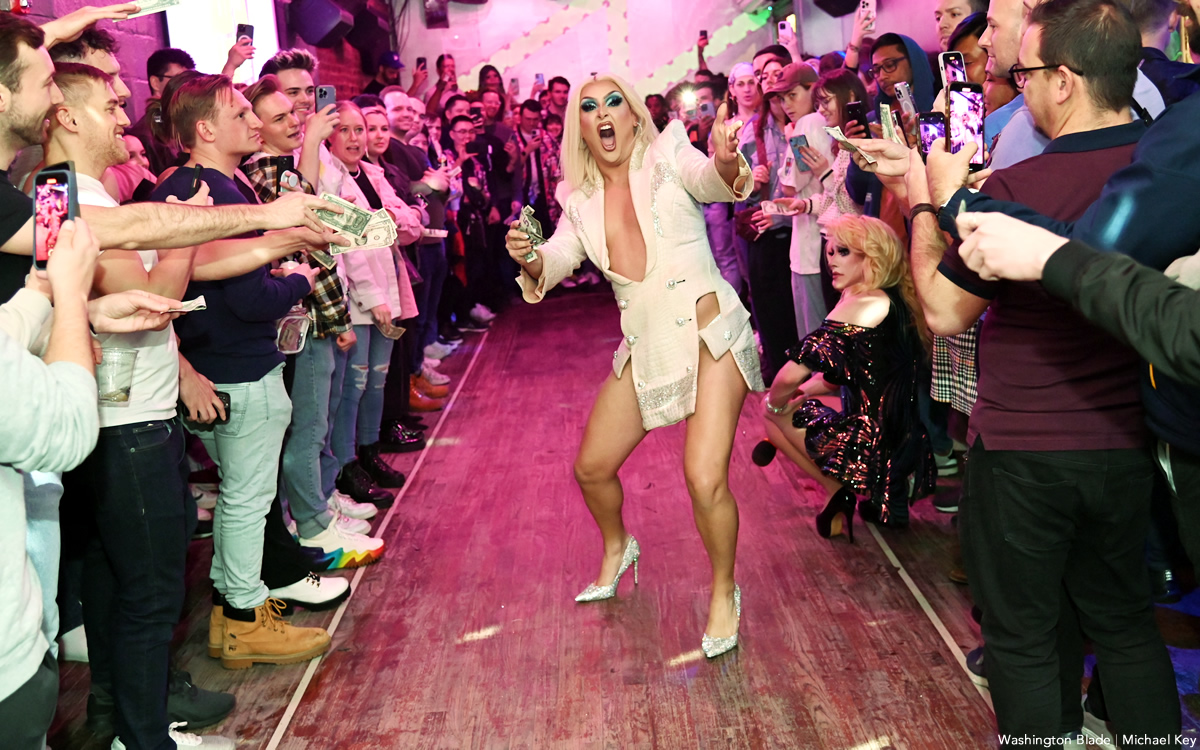 RuPaul's Drag Race alums Jackie Cox and Jan performed at Pitchers DC on Wednesday, March 29. Other performers included Cake Pop!, Venus Valhalla, Brooklyn Heights, Jayzeer Shantey and Logan Stone.
(Washington Blade photos by Michael Key)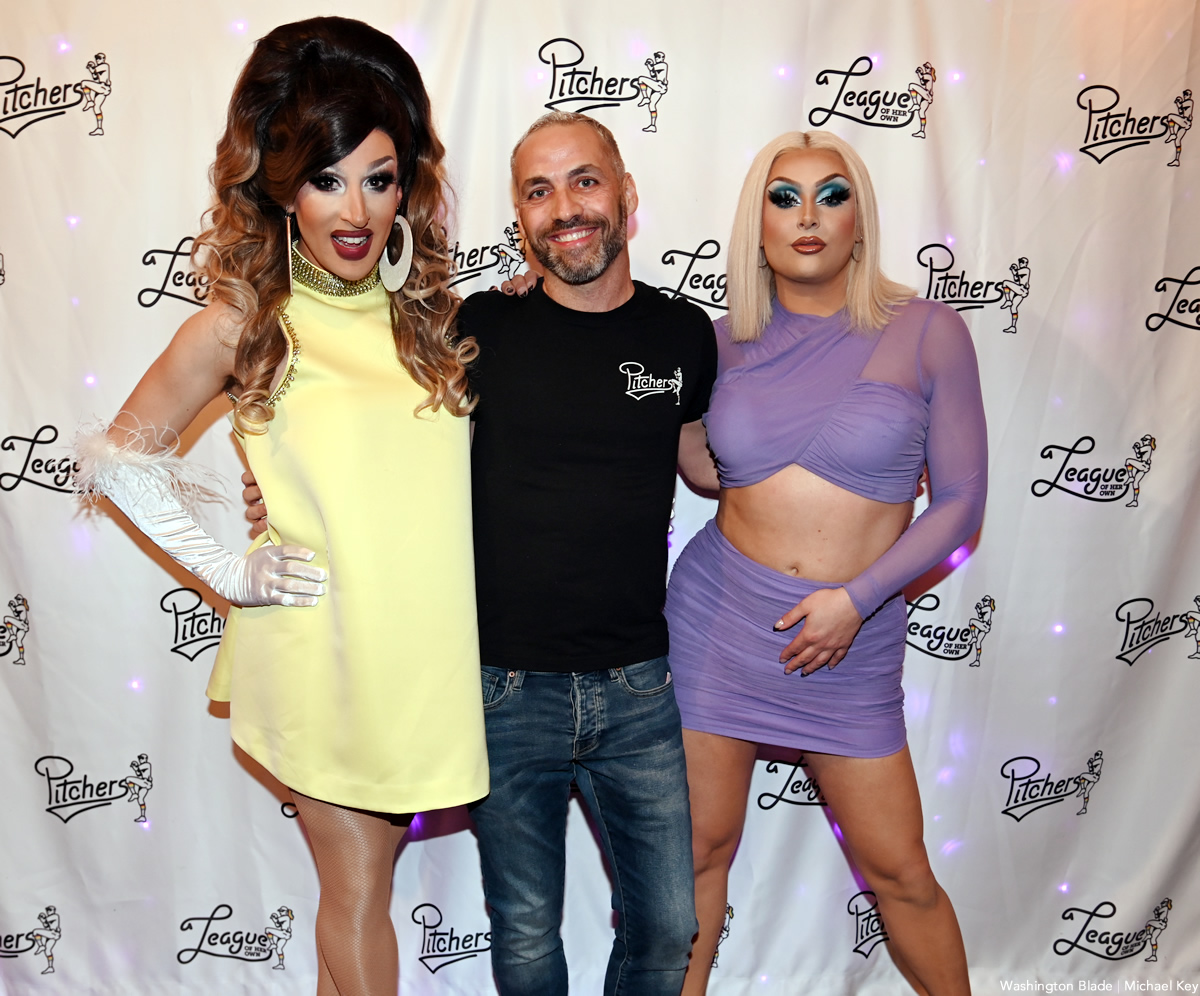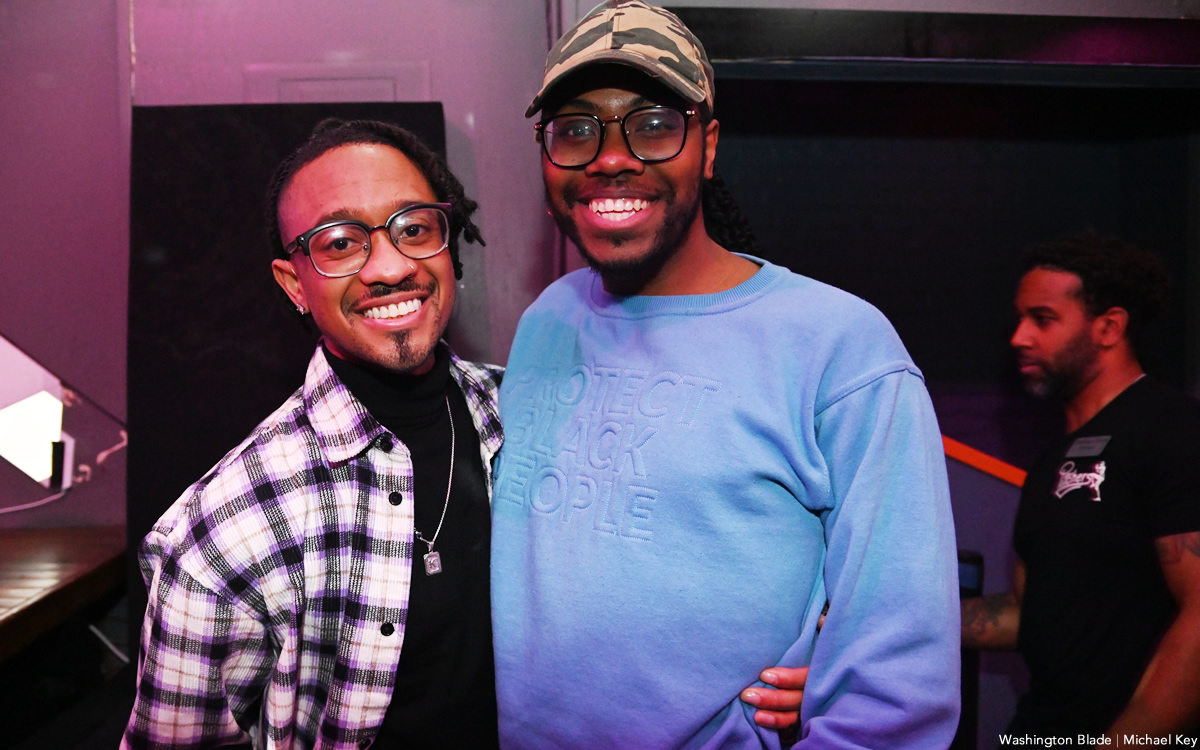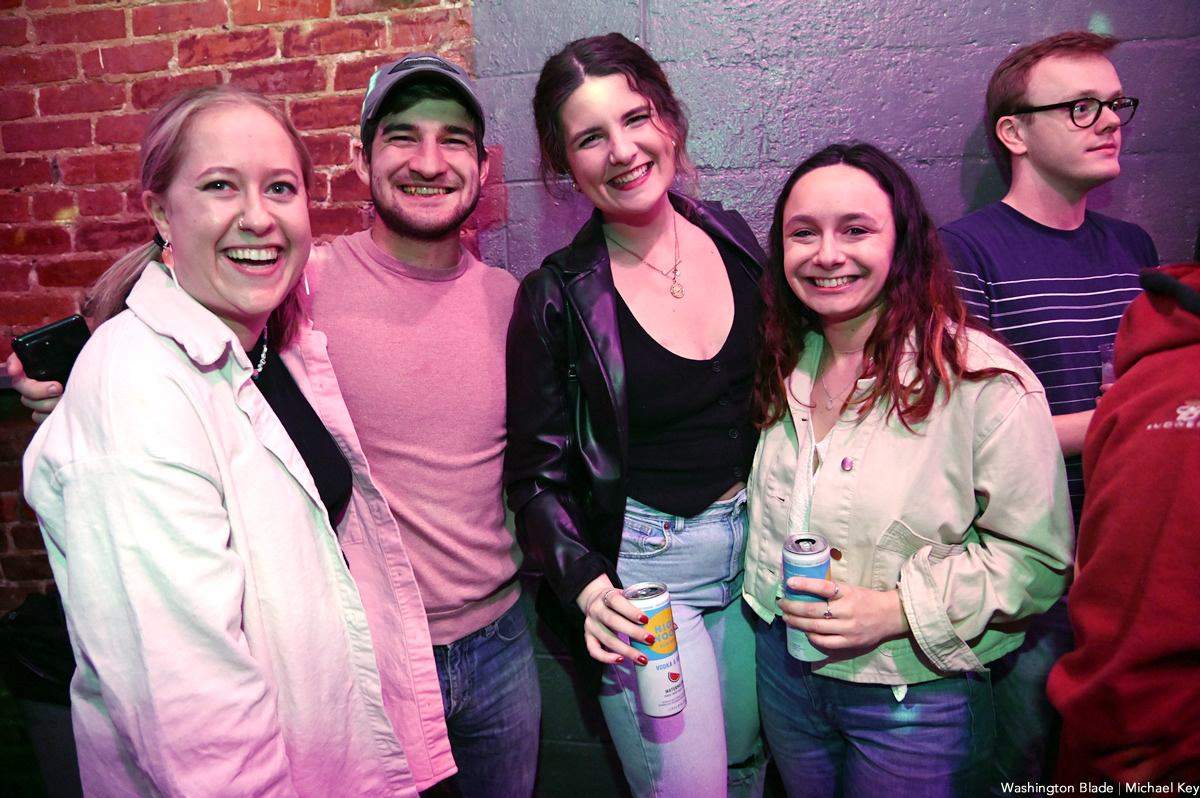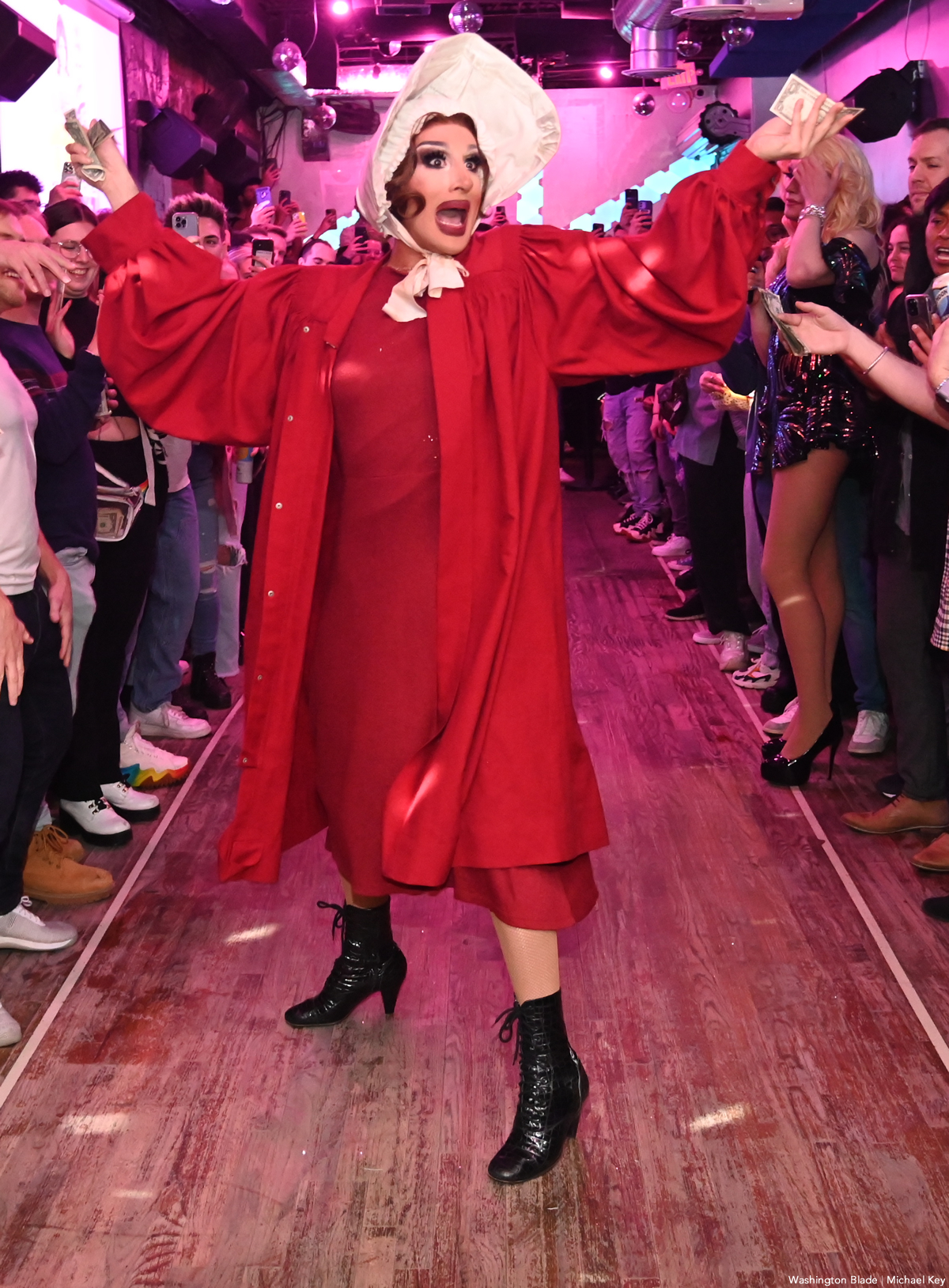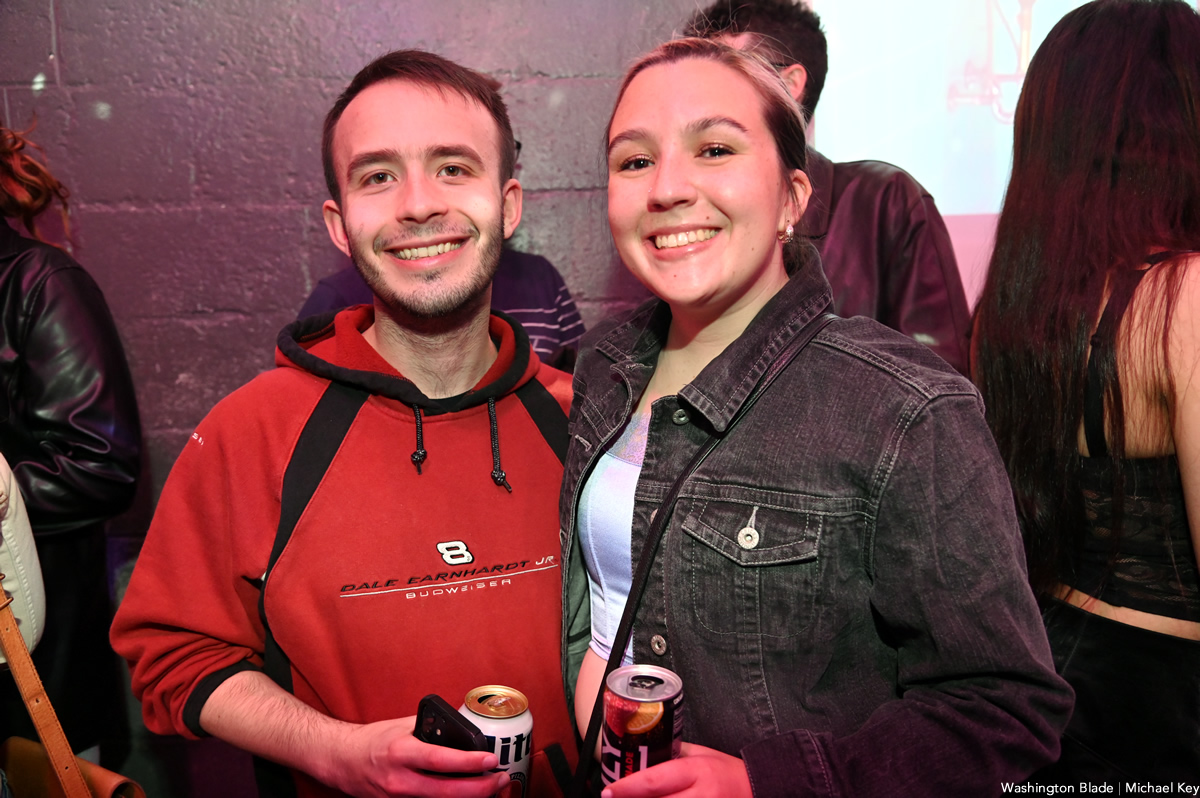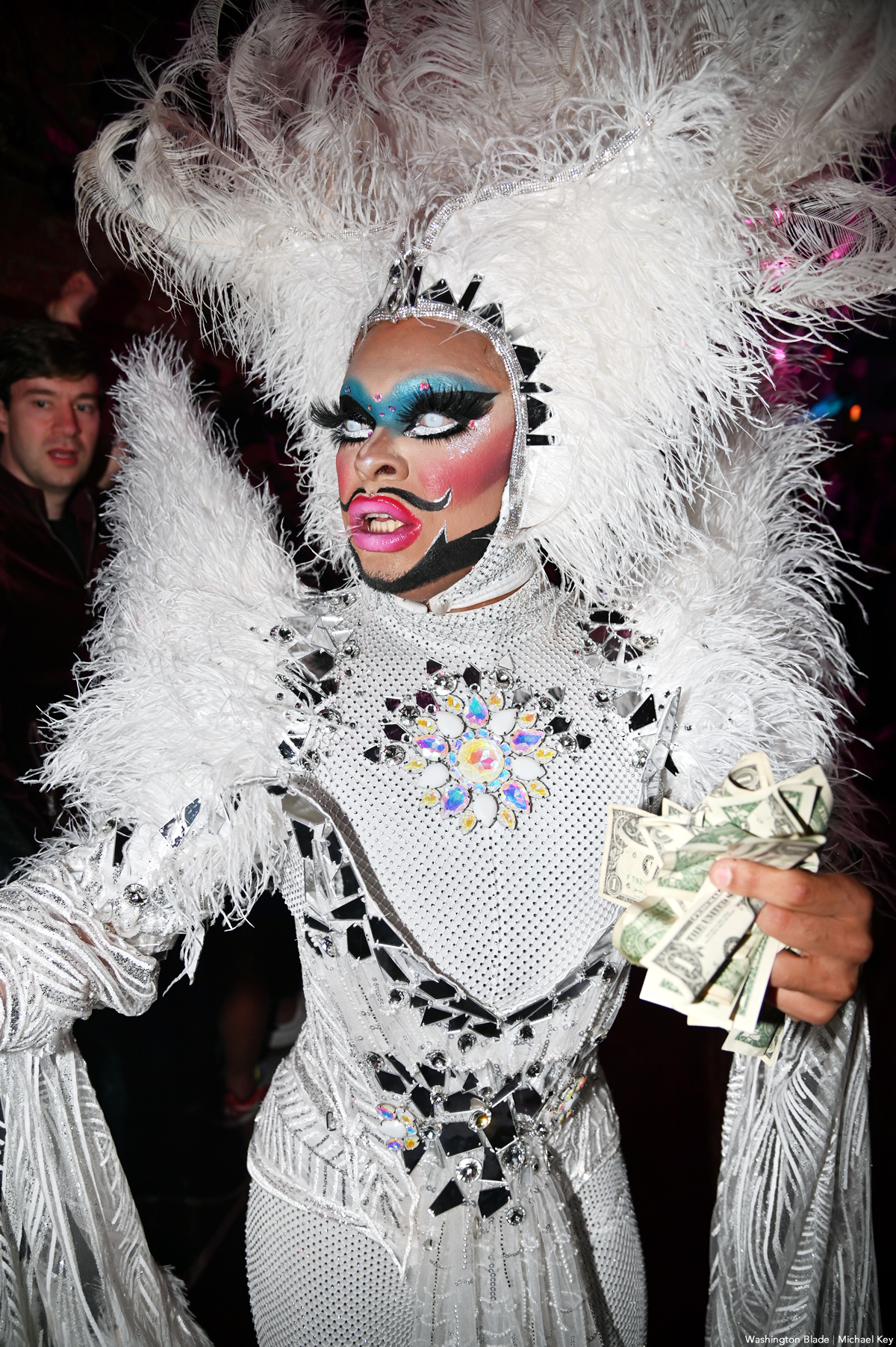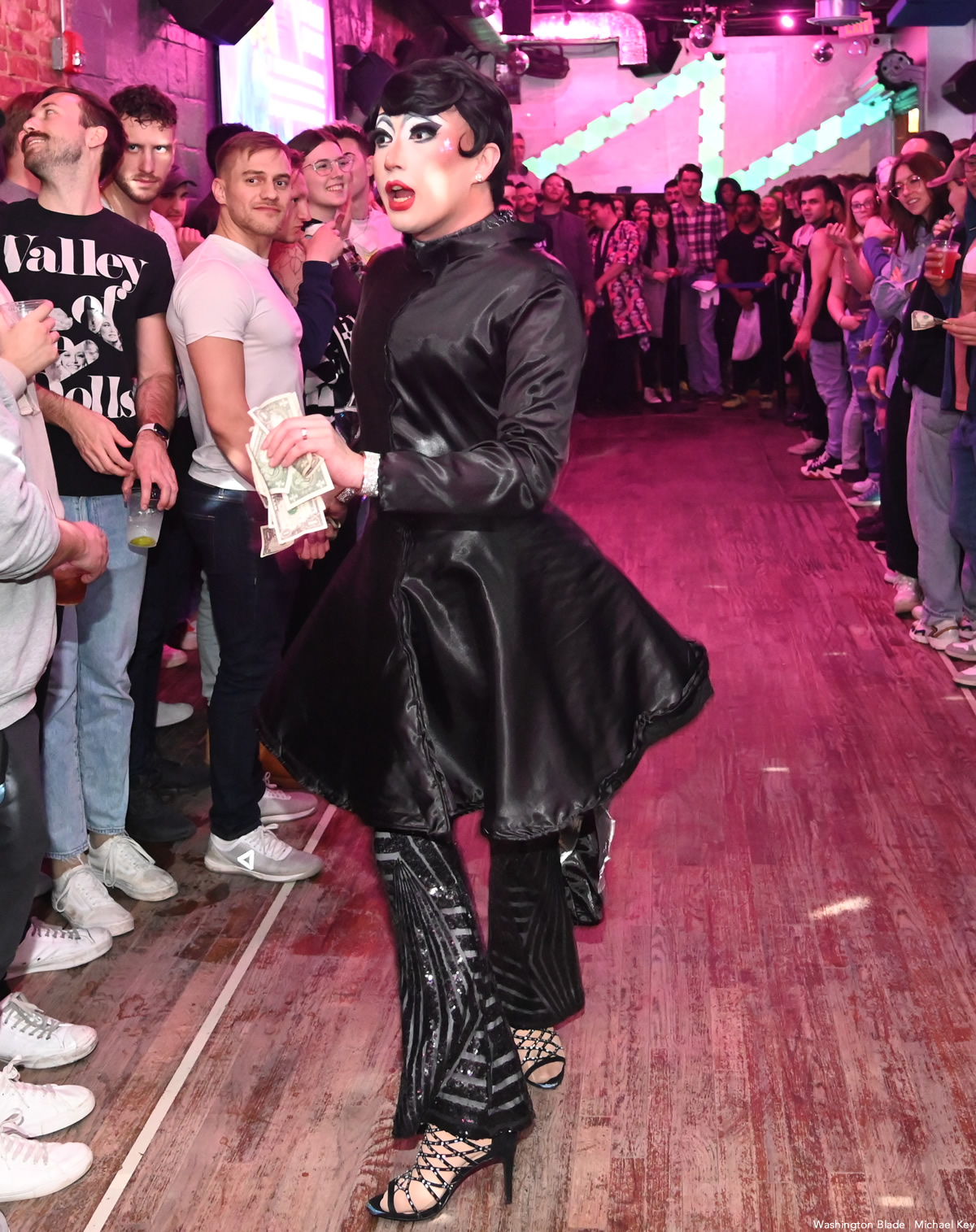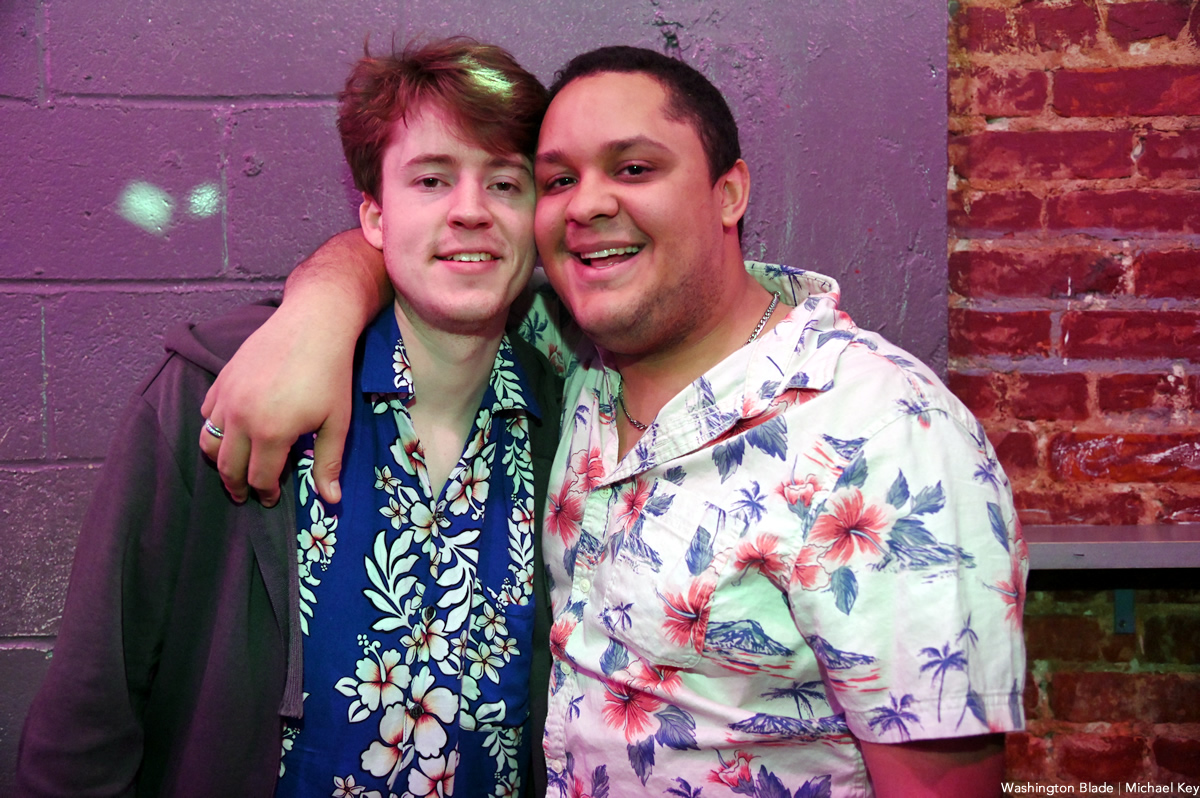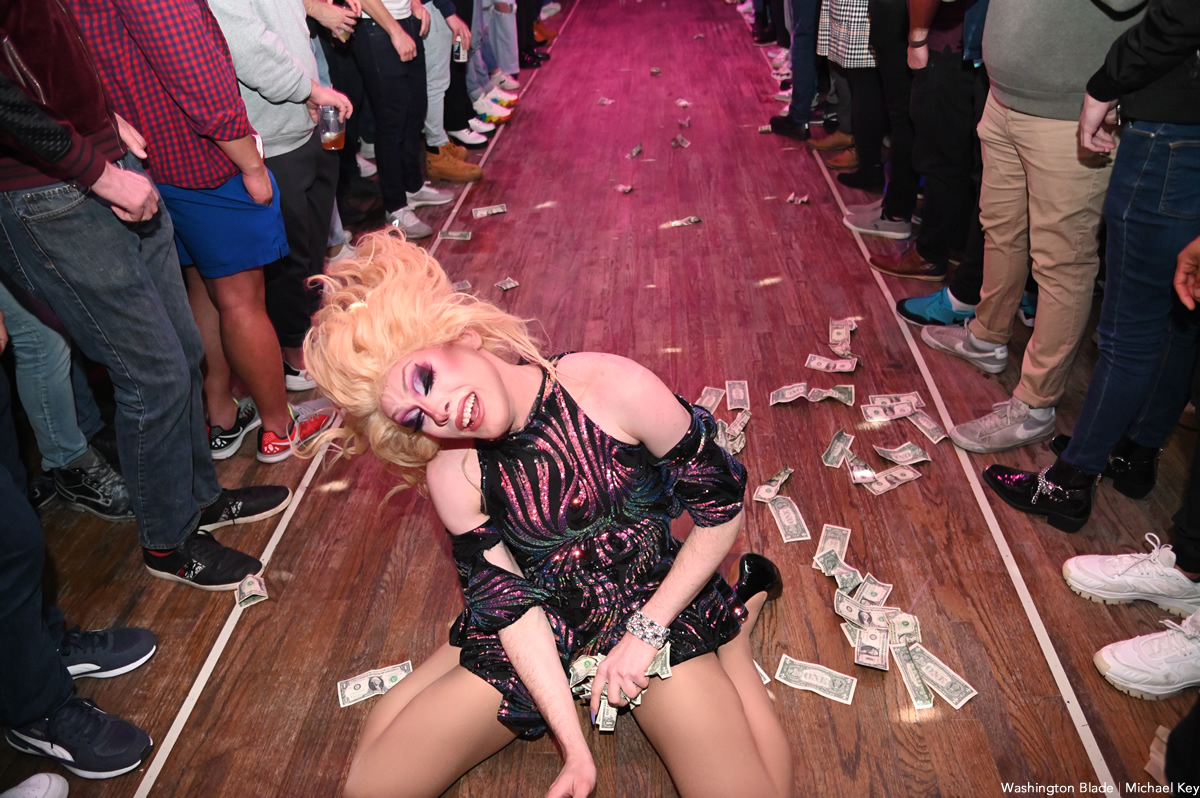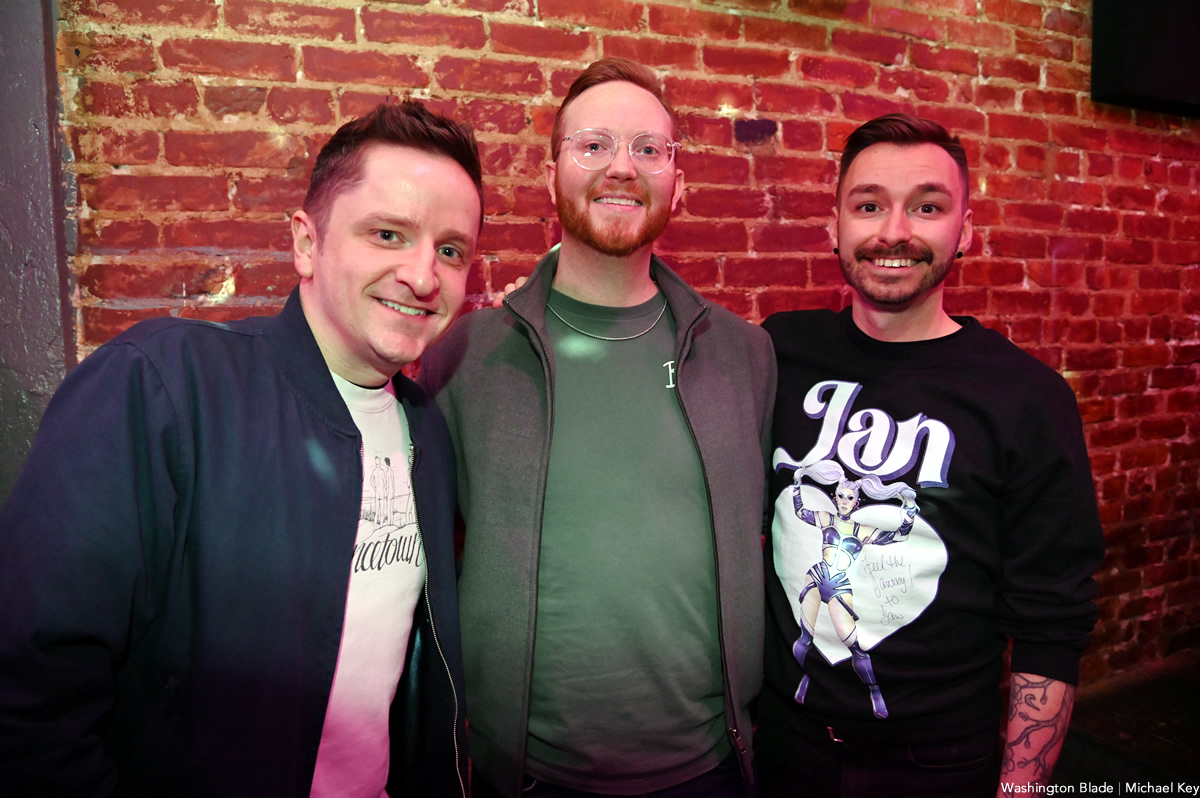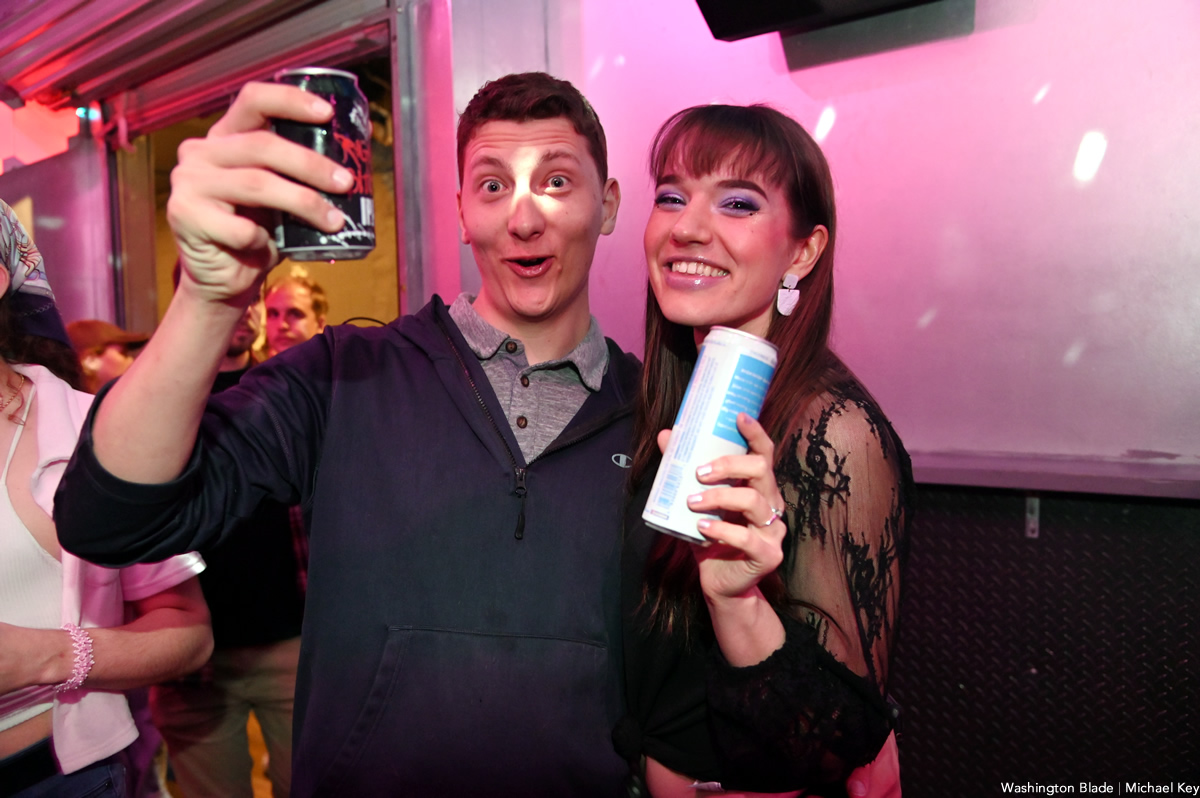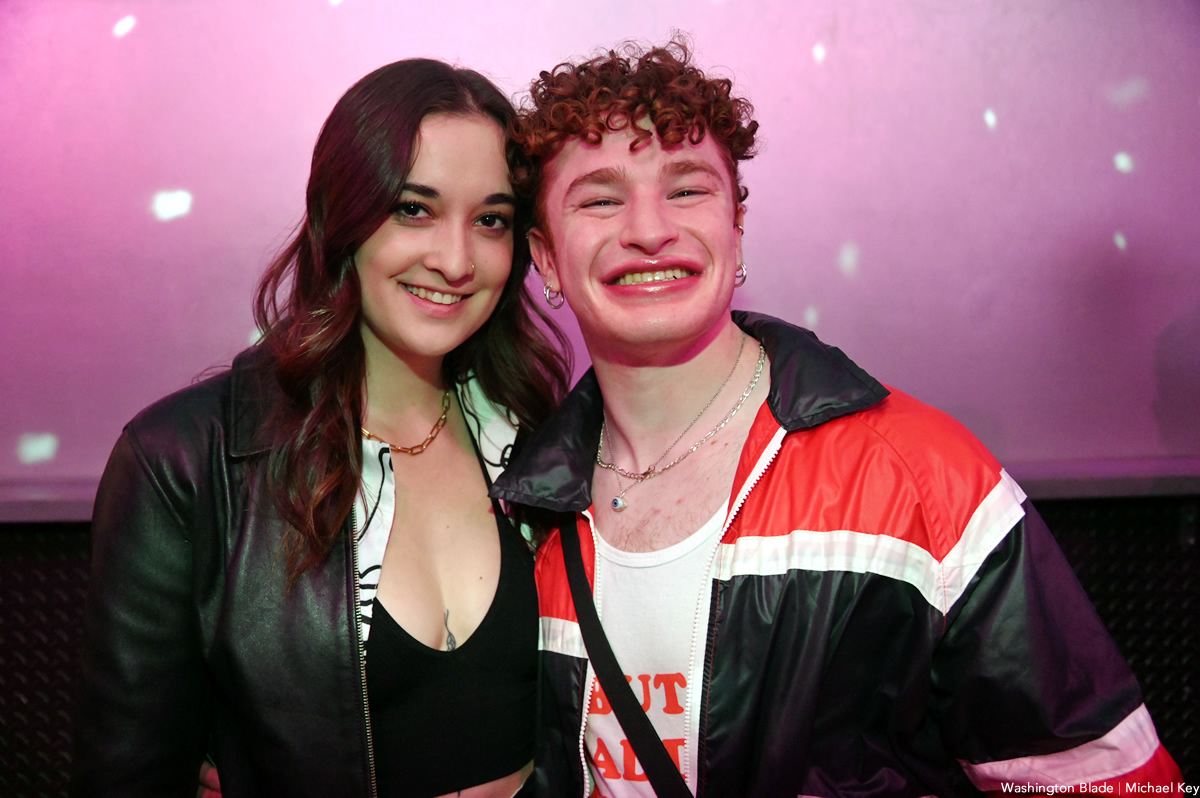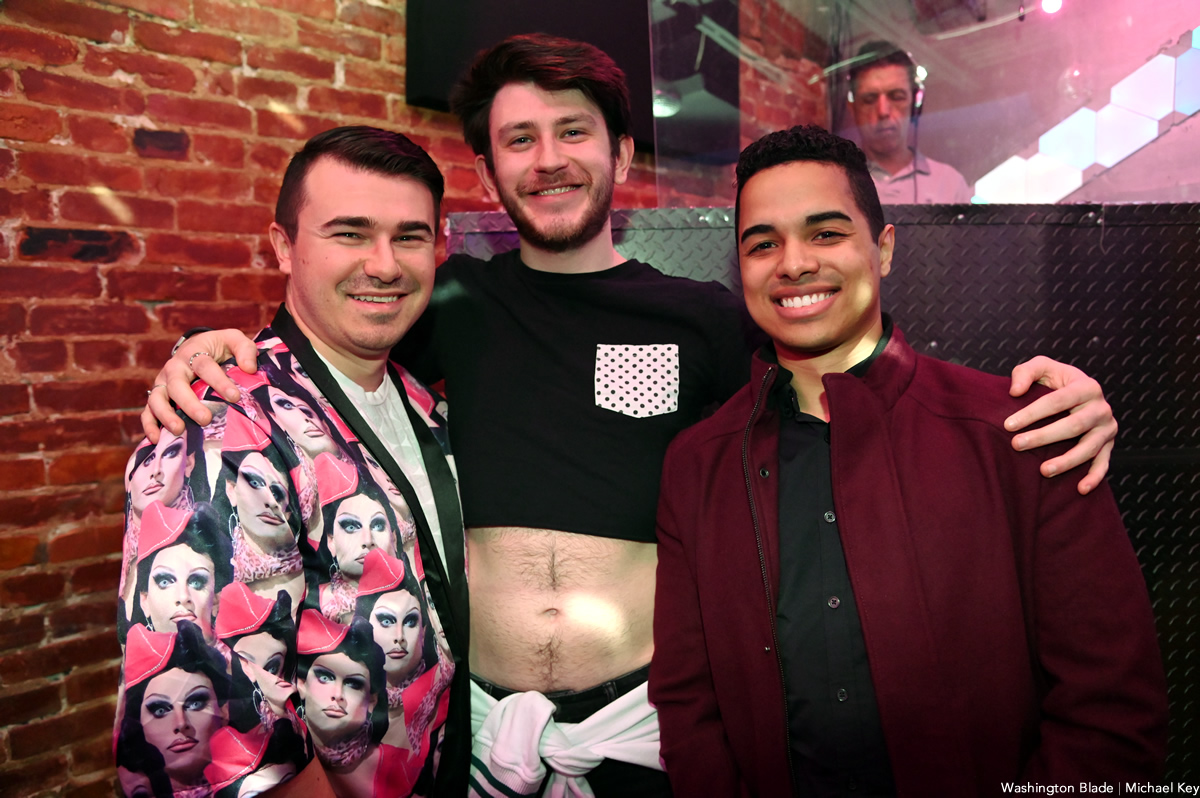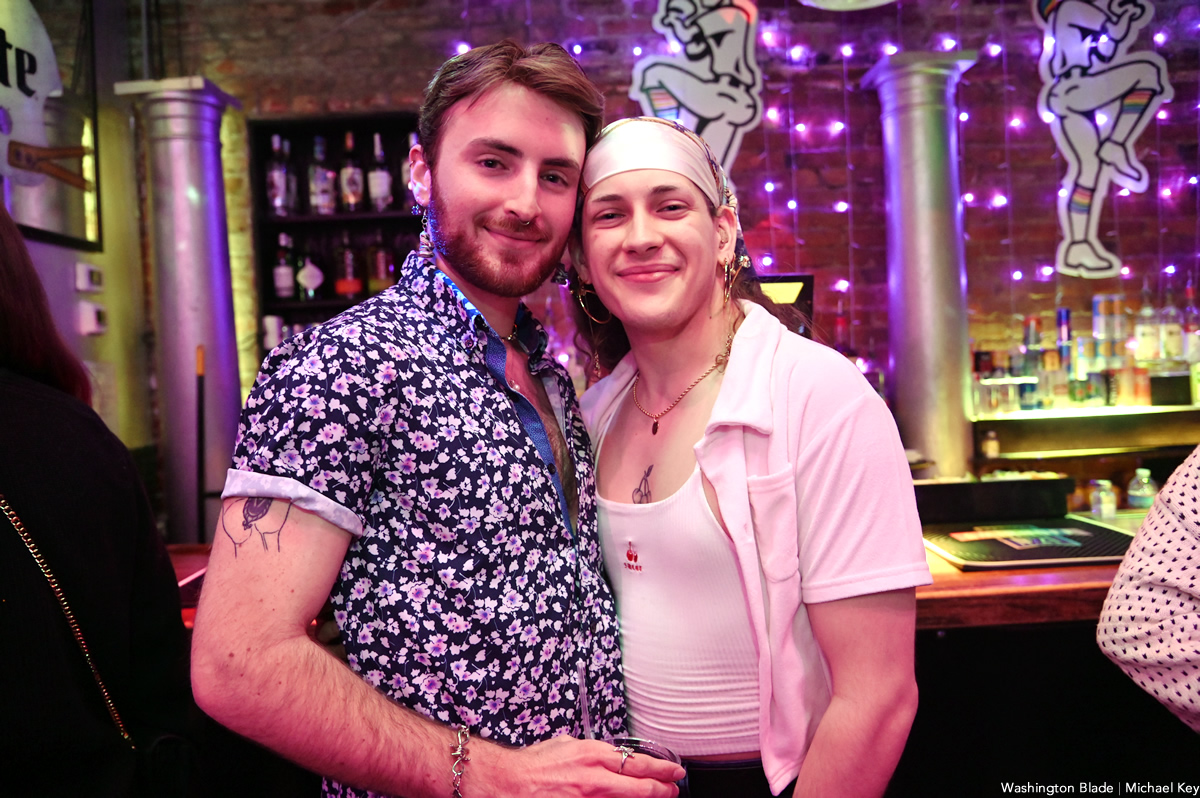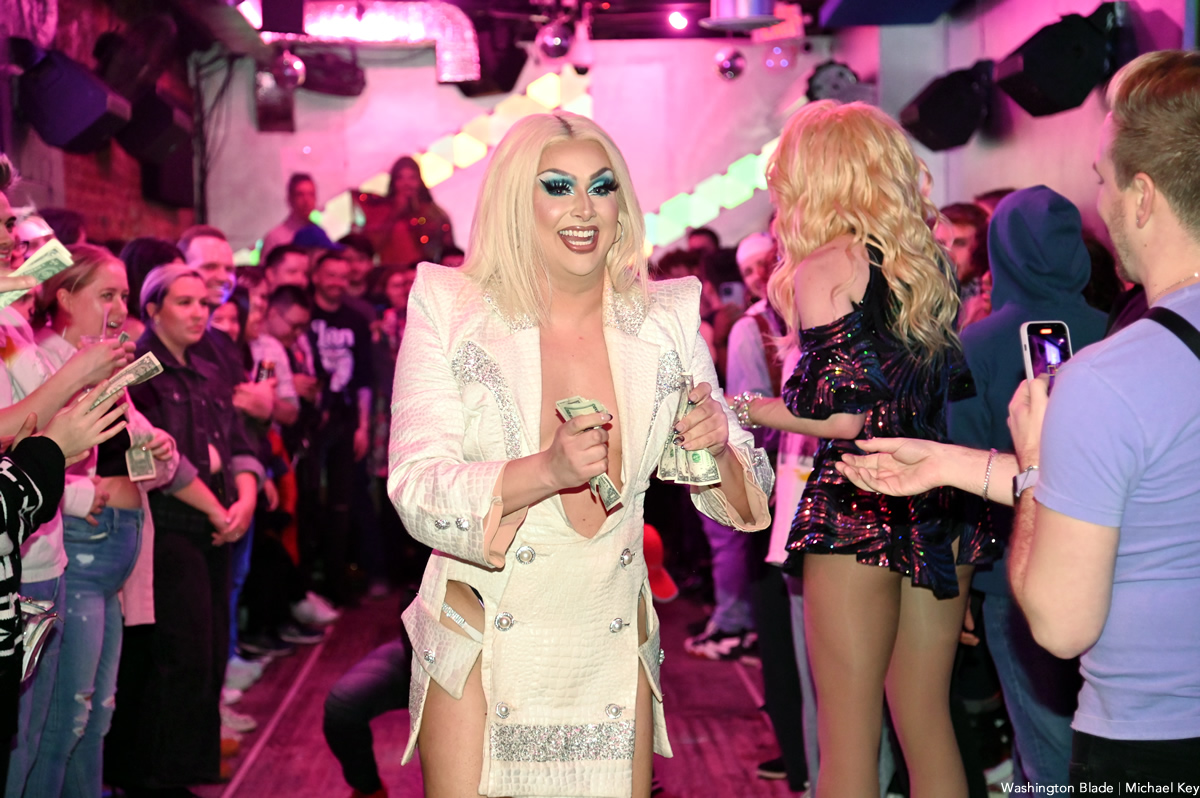 Covering @RuPaulsDragRace @JackieCoxNYC at @PitchersDC for @WashBlade . pic.twitter.com/DkB4P3GrJC

— Michael Patrick Key (@MichaelKeyWB) March 30, 2023
Arab-American playwright delves into queer themes in 'Unseen'
Mosaic production entwined with heartbreak and humor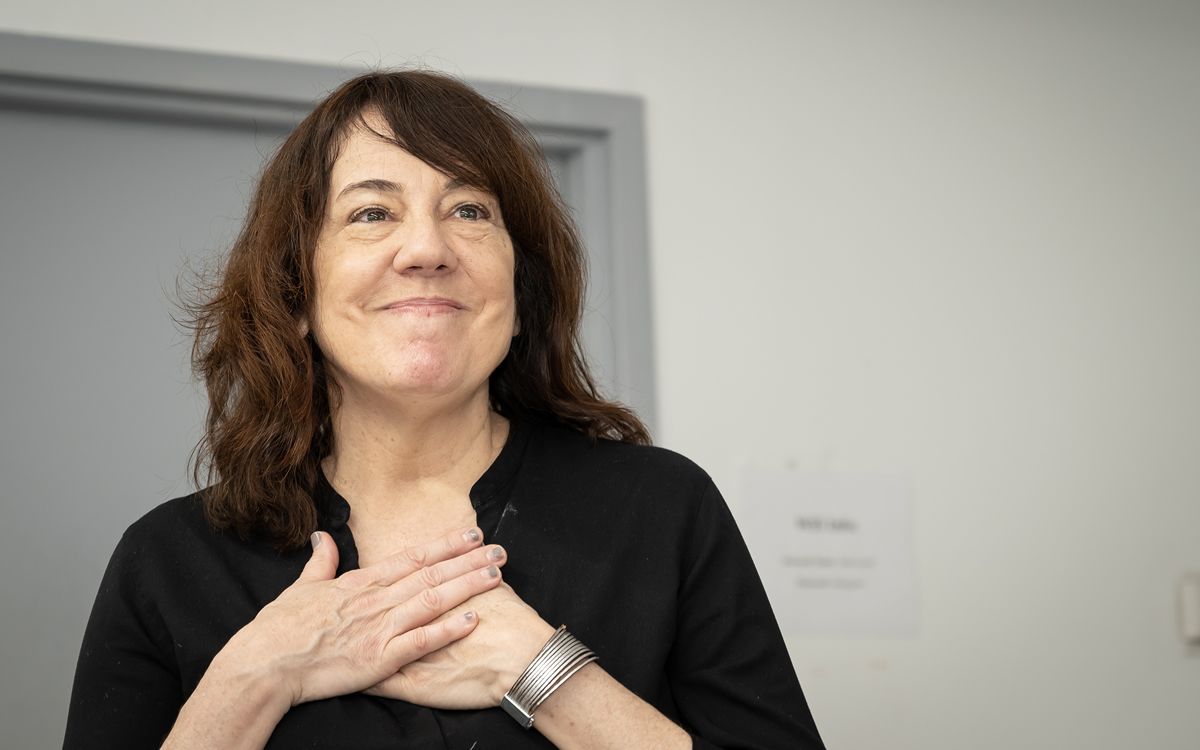 'Unseen' 
Through April 23
Mosaic Theater Company at Atlas Performing Arts Center
1333 H St., N.E.
$50-$64
Mosaictheater.org
New York playwright Mona Mansour is best known for exploring her Arab-American identity, but with her most recent work "Unseen," now playing at Mosaic Theater, she delves into queer themes, shining a light on her own sexuality.
"Doing a gay-themed play had been nagging at me for a while," explains Mansour via phone from a cozy coastal town in Connecticut where she's taking a short break from the city with her girlfriend, a children's book author. "So, when I started writing about a woman with a camera, it just seemed to fit."
Entwined with heartbreak and humor, "Unseen" focuses on Mia, an American conflict photographer who wakes up in her off-and-on girlfriend Derya's apartment in Istanbul with no idea of how she got there. In a cross-cultural, time-shifting journey, Mia, neither sanctimonious nor self-congratulatory about her work, wends through Istanbul, Gaza, Syria, and an art gallery in Philadelphia, confronting personal and professional challenges.
At turns, the women's relationship can be described as estranged, fiery, adversarial, sexy, and romantic.
"With each rewrite I increasingly stacked the deck in Mia and Derya's favor," says Mansour "Early on, one might have said, 'boy, I don't know about these two.' But now, there's love along with the contentiousness."
But will the women make it as a couple? Mansour suggests an after-play thing where the audience makes bets.
"What's clear is that Mia can't keep going on as she has been, and though the play doesn't take us to this, what I think personally is that we as a country can't keep going in the way we have either. Those are things I think are around the play, but for me as writing, putting those ideas into a play into a character's mouth, I feel like I shut down. It's tricky.
"Theater is a tough business and kicks your ass but there's a reason we all do it," she continues. "I'm a cynical person in a lot of ways, but I'm definitely not interested in writing plays that when the lights come up, the first thing people say is 'where are we going for cocktails?'. Those are fine too, and I've done silly plays in the past, but just not now."
Mansour likes a Washington audience. Her play "The Vagrant Trilogy," a stunning piece about a displaced Palestinian family in exile, debuted at Mosaic in 2018 before moving to New York's Public Theater last year. She credits the play with her having recently received the prestigious Arts and Letters Award in Literature from one of the country's foremost cultural bodies, The American Academy of Arts and Letters.
Growing up in a Southern California suburb, the daughter of a Lebanese immigrant father and an American mother from Seattle, Mansour was obsessed with Patty Hearst's kidnapping and battles of World War II. She says, "We weren't the rich family who took off for a week in Tahoe, though sometimes I would have liked that. We had a stream of cousins coming to stay with us during the Lebanese Civil War."
For Mansour, coming out to her parents shortly after meeting her first girlfriend in the mid-90s was a mixed bag: "It was a thing for my 'moderny' Lebanese dad," she says. "But my mother accepted it instantly." She recalls a gay friend at the time saying "I'm gay for 14 years and haven't told my mom. You've been gay for five minutes and have already come told your mom and hugged it out."
Before writing, Mansour acted, including a stint studying at Second City Chicago and improvising with the Groundlings Sunday Company: "I was good enough to know when I wasn't good. I write way above what my own punching ability was, but I always feel like someone else can do it." And with "Unseen," she has written three meaty tracks for three women, here played by Katie Kleiger, Dina Soltan, and Emily Townley. Directed by Johanna Gruenhut.
"As the bringer of images, Mia is part of a system, a system that I, Mona, think about all the time. But you can't address a system of endless wars in 90 minutes," she says.
Without spelling it out, Mansour's work makes audiences think about the big questions. "That's my hope," she adds. "I want them to come to that same psychic space without literally leading them there and plopping them down in a chair. You know, even when I agree with someone, I don't like to be lectured."