February 5, 2020 at 11:27 am EST | by Michael K. Lavers
Eileen Filler-Corn hopeful Va. nondiscrimination bill will pass with GOP support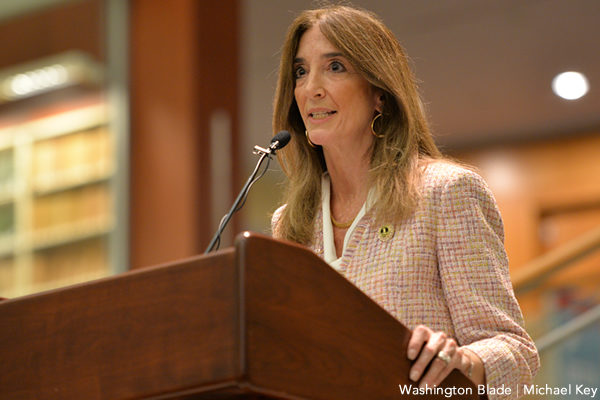 RICHMOND, Va. — Virginia House of Delegates Speaker Eileen Filler-Corn (D-Fairfax County) on Tuesday said she remains optimistic a bill that would ban anti-LGBTQ discrimination in the state will pass with Republican support.
"I will always remain hopeful that they will," Filler-Corn told the Washington Blade during an interview at an Equality Virginia reception that took place at the Library of Virginia.
The Virginia Values Act, which state Del. Mark Sickles (D-Fairfax Country) introduced, passed in the House General Laws Committee on Jan. 28. A version of the bill that state Sen. Adam Ebbin (D-Alexandria) introduced in the Virginia Senate, passed in the Senate General Laws and Technology Committee on Jan. 29 with bipartisan support.
Equality Virginia on Tuesday in an email to supporters said the Virginia Values Act could pass in both the House and Senate on Thursday. Governor Ralph Northam has said he will sign the bill into law once a final version of it passes in the General Assembly.
"I'm just so excited," Filler-Corn told the Blade. "It's been years in the making."
Filler-Corn further stressed she has "always been a supporter of such anti-discrimination to ensure equity and fairness for the LGBTQ community."
"To actually be there on the precipice right now and realize that we are going to pass the Virginia Values Act in just a matter of days, it's exciting," she said.
'The vote was quite clear on Nov. 5'
Democrats last November regained control of the General Assembly for the first time in more than two decades. Filler-Corn is the first female House speaker in Virginia history.
Filler-Corn late last year said passage of the Virginia Values Act was a top legislative priority in the 2020 legislative session. The General Assembly this year, among other things, has ratified the Equal Rights Amendment.
"Elections have consequences, and candidates matter," Filler-Corn told the Blade. "And we are now in a position to really move forward with our promises and our commitments to the voters that we're going to move forward and make a Virginia that looks like Virginia and representative of … communities and individuals that have never had a voice before."
Filler-Corn spoke with the Blade a week after Republican West Virginia Gov. Jim Justice and Liberty University President Jerry Falwell, Jr., suggested counties in Virginia that oppose the General Assembly's agenda can secede from the state and become part of the Mountain State. The Republican Party of Virginia has also been highly critical of Democrats over a host of issues that include gun control.
"These are individuals that are, I guess, acting on their own and not representative of Virginians as a whole," Filler-Corn told the Blade in response to a question about criticism of the Democrat's legislative agenda.
"We had an election and the vote was quite clear on Nov. 5," she added.