February 14, 2020 at 4:20 pm EST | by Valerie Blake
A Valentine's Day tribute to house hunting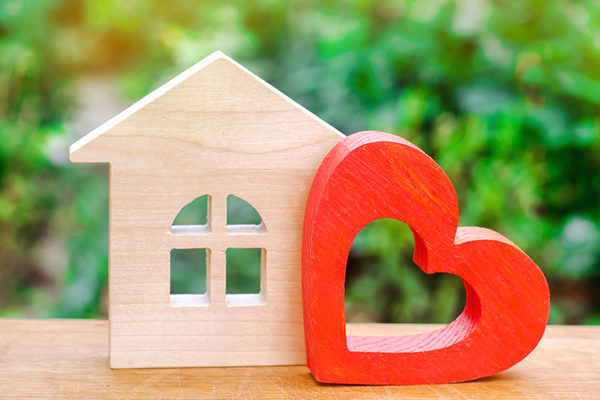 "It's Valentine's Day and I'm flying solo once again. No love letters in my mailbox. No candlelight in my dining room. No roses or chocolates. Maybe it's time to put myself out there and look at some online dating apps," said my house, as it drafted the following profile.
I'm a little bit Deco with a Mediterranean flair. Born in '35, I'm one of a kind; you won't meet anyone like me in D.C. Although my garage door is a little rusty and my roof has had a few leaks, my carpet still matches the drapes and my radiator will heat you up all night long. P.S. I'm not for sale but you can visit anytime. I'll leave the lights on for you until they automatically turn off.
Finding the right home can be very much like choosing a mate, so it's important to have a real estate agent to guide you through the maze of potential suitors and find the one for whom you swipe right.
Renting an apartment in D.C. is a lot like choosing a date on Grindr, Her, or Adult Friend Finder – it's a transient situation that rarely fosters a long-term connection. I've heard people say, "I'd rent this, but I wouldn't buy it." They often feel the same way about their personal relationships.
Because renting is expensive, it's possible that you can be a homeowner for the same money as you pay in rent or less. The best way to find out is to talk to a local lender to determine your purchasing power. You might also be pleasantly surprised to find that you qualify for one of D.C.'s special finance programs or closing cost benefits.
Not sure where you want to buy? Should it be where working out meets eating out or where Metro meets homo? Check out some profiles on various websites to get a sense of what's out there. Take a romantic ride through the District's neighborhoods. Do a little speed dating at open houses. Test your commute. Just know that the hot property with hardwoods everywhere will attract multiple suitors, so be prepared to compete for its attention.
If you're new to the homeowner dating scene, consider a condominium, the traditional first home for most D.C. buyers. Condo dating profiles are plentiful. You can find short ones and tall ones, big ones and little ones, some that have had a tuck here and there and some that have seen better days. And you don't necessarily have to look for them in Elite Singles. In fact, there are 64 on the market right now for under $300,000.
Perhaps a cooperative apartment is better for you. Here's a profile that might float your boat.
Are you searching for an authentic, supportive partner with charm and timeless elegance who will share his inner thoughts and desires, and pay your utility bills and property taxes? Well, look no further. You will find me to be very cooperative.
Do you long for a close-knit group of family and friends who stay together through thick and thin? Or maybe a place to unleash your inner Joanna Gaines is what you'd like. If so, then how about this profile?
Attached, Federal style rowhouse seeks someone new. I've been here waiting for you for what seems like 100 years. Looks are not important, but you must be strong and sturdy with good bones. Although I have a flat front and I rent out my bottom, take a chance on me and I will stand with you for many years to come.
While it's a little late to tie a red ribbon on a home to give to your significant other for Valentine's Day, you can still spend a romantic evening drinking Champagne and swiping through house profiles on the MLS. And if you still haven't found "the one" and your wallet permits, put this next one on your list to see.
I'm detached and isolated from my neighbors, but I have a lovely front porch where we can sit and watch the world go by while sipping Bellinis on a hot, summer afternoon. I'm looking for someone to appreciate how well my architecture has held up over the years. My wood has been painted numerous times, but I'll strip it if you desire. And if you take me to dinner, I'll let you gently park your car in my garage. Can't wait to meet you!
Valerie M. Blake is a licensed Associate Broker in D.C., Maryland and Virginia and Director of Education & Mentorship at RLAH Real Estate. Call or text her at 202-246-8602, email her at DCHomeQuest.com, or follow her on Facebook at TheRealst8ofAffairs.