May 18, 2020 at 1:12 pm EDT | by Richard J. Rosendall
An Oval Office prisoner of magical thinking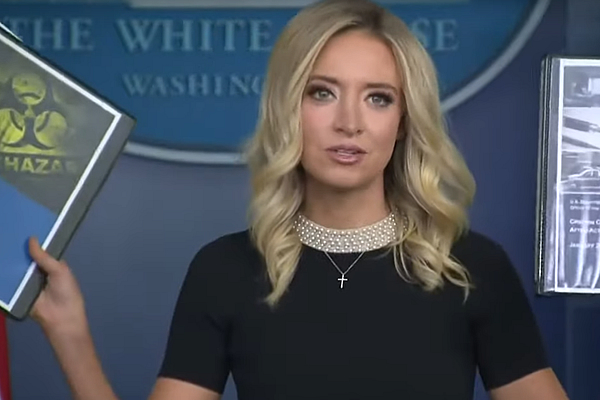 Our self-congratulator-in-chief loves to say that whatever he has going is the greatest in history. His carnival barking contrasts with his desperate evasions, as when he said last week that coronavirus testing is overrated. "If we didn't do any testing, we would have very few cases."
This reminds me of a DC Council hearing on police response to hate crimes in 2009. I sat beside Sampson McCormick, the black gay comedian. He was not joking that day, but describing an incident in Southeast DC in which police refused to take a report of an anti-gay assault and treated the victims as the perpetrators.
Just as crimes do not decrease because police refuse to recognize them, a highly contagious pathogen is not defeated by ignoring it. At Trump's urging, many states are "opening up" even as American deaths from COVID-19 approach 100,000. Blaming testing for the outbreak is like blaming the FBI for Trump's 2016 Russian dalliance. As David Frum writes, "'Obama-gate' is basically Al Capone trying to indict the IRS for tax evasion."
Amid a pandemic, Trump tries to divert our attention from his disastrous dithering and preening by blaming his predecessor. When NewsHour White House correspondent Yamiche Alcindor tweeted, "WH pandemics office was dismantled by Trump administration," Trump press secretary Kayleigh McEnany denied it and called her denial a fact check. Excuse me, but someone who lies for a living is a fact checker in approximately the same sense that a man with antlers mounted on his wall is an animal rights activist.
Trump and his defenders know they are spouting lies and nonsense. If testing is overrated, why is so much of it done every day in the White House? Dismissing testing except for himself is Trump's way of asking us to die quietly and disappear.
Then there is the Trumpers' exploitation of Tara Reade's charge that Joe Biden sexually assaulted her in the early 1990s. In response to Natasha Korecki's May 15 Politico story challenging Reade's credibility, one reader tweeted, "Yeah that's nice, but Tara Reade is still credible and Biden is still a rapist." I must have read that too fast, because I completely missed anything resembling an argument. Taking sexual assault charges seriously means investigating them, not ignoring the evidence one way or the other and proceeding directly to sentencing.
Facts still count. The more Ms. Reade's shifting claims are investigated, the more they collapse. That aside, it only harms the #MeToo movement to weaponize sexual assault allegations in service of a misogynist who was recorded boasting about sexual assaults. Trump and his operatives seek not to do justice for women but to neutralize the issue by muddying the waters.
Donald's next devilry was the Friday night firing of State Department inspector general Steve Linick. As Washington Post reporter Hannah Knowles writes, the firing is "the latest in a string of weekend removals of oversight officials who have clashed with the Trump administration." Trump blithely declares, "Article II allows me to do whatever I want." In his mind, reality miraculously conforms itself to his every impulse.
Outside his mind, we are tasked with defending our constitutional republic from vandalism. We should not meekly expire for the glorification of an incompetent grifter. We should not tolerate a Justice Department that bends and breaks the law to suit the whims of a despot. We should not accept an administration of petty mobsters and hacks, any more than Sampson and I accepted bad policing. Instead, we held the problematic officers to account for their nonfeasance.
It will avail us little if we get out of our houses but refuse to get out of our heads and pay attention to our fellow citizens.
This country belongs to all of us, not to a pathological narcissist who won via the Electoral College amid rampant voter suppression and disinformation. He accuses Barack Obama of "the most incompetent and corrupt administration in U.S. history." Sorry, Trickster, but you describe yourself.
Now he announces Operation Warp Speed to get a vaccine by year-end. When that doesn't happen—when magic words fail—he'll cast blame, as usual, in every direction but his own. Beam him up.
Richard J. Rosendall is a writer and activist at [email protected].
Copyright © 2020 by Richard J. Rosendall. All rights reserved.