May 26, 2020 at 2:10 pm EDT | by Richard J. Rosendall
Frank Kameny's pioneering gay journey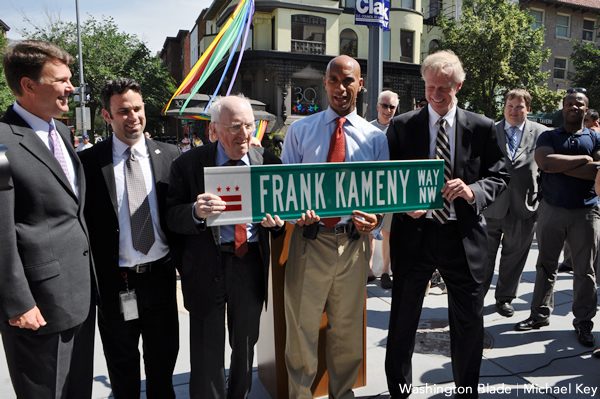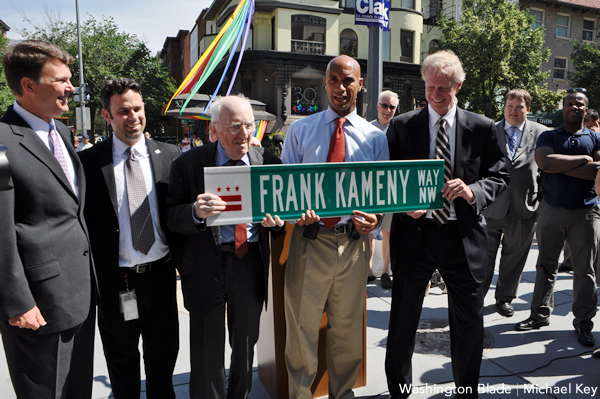 The letter began, "The United States federal government has received information indicating immoral conduct on your part." It demanded, "Have you ever engaged in acts of anal copulation, sometimes referred to as sodomy or anal sodomy? If yes, approximately how many such acts have occurred? … Dates of those acts? Were they in public? With how many people?"
The letter's author, Eric Cervini, Ph.D., added, "Just kidding. But in the 1950s and 1960s, the US government really did send letters just like this one." He sent me the letter with a copy of his new biography of gay rights pioneer Frank Kameny, The Deviant's War, from Farrar, Straus and Giroux (June 2, 2020).
Such interrogations continued for decades. My friend Alan Savada, who hired Kameny in the early 1980s for help with a security clearance, was a cartographer with the Defense Mapping Agency when he faced similar questions. They were delivered orally in his case. I hired Kameny during a security investigation I underwent at the Labor Department, though employees at civilian agencies had an easier time by then.
I met Kameny in the late 1970s when I was a college student and he was a speaker on gay rights. He was 53. But the movement elder I would know from then until his death was once a young astronomer in love: "He and Keith drove to the middle of the desert a few miles north of Tucson," Cervini writes of him in the 1950s, "and on a warm night, they lay under a clear sky, a full moon. It was, as Kameny observed with Keith in his arms, perfect. How could something so beautiful, so objectively full of joy, be any less natural, any less right, than the infinite stars above him?"
Early in the 1950s, Kameny managed Harvard's Oak Ridge Observatory. As the Soviet Sputnik satellite's appearance over America in 1957 triggered a new phase of Cold War competition, he hoped to go into space; but a prior tearoom arrest abruptly ended his career.
Cervini writes, "The path to equality exists not only because of a riot, but also because of a battle that began in a public restroom…. Pride emerged, slowly yet irrevocably, from a regime of secrecy and shame."
This absorbing book chronicles Kameny's leadership in an era with no Human Rights Campaign as backup: Scolding DC vice squad chief Roy Blick in 1959 for police raids on private gay dance parties. Becoming a charter member and executive board member of ACLU's National Capital Area office. Sparring with Texas Rep. John Dowdy, who had introduced a bill to apply a moral test to deny a charitable solicitation license to Kameny's Mattachine Society of Washington (MSW). Battling Civil Service Commission chairman John W. Macy. Joining the 1963 March on Washington. Organizing MSW's 1965 picket of the White House. Coining "Gay Is Good" in 1968. Leading the MSW contingent at the first Christopher Street Liberation Day in 1970. Storming the podium at the 1971 annual meeting of the American Psychiatric Association.
After Frank's 1971 campaign for Congress birthed the Gay Activists Alliance of Washington, he was no longer in charge. A new era called for broader leadership. But he assisted many people as a security clearance expert, and mentored many younger activists. He also lived to see President Obama hand him his pen after signing a memorandum expanding health benefits for partners of gay federal employees. And he received a formal apology from John Berry, Obama's openly gay director of the Office of Personnel Management, for the Civil Service Commission's 1957 act in upholding his firing from government service.
In 2011, when Kameny's long fight against the military gay ban was won, he said he had resented for 68 years having had to deny his gay desire in order to serve his country in World War II.
Because of the sacrifices he made on the home front in battling anti-gay persecution, those who have come after him are able to pursue their talents and live their lives in greater freedom. Eric Cervini's exhaustive scholarship, well-chosen detail, and graceful prose capture a vanished era and beautifully humanize the brave, bold scientist who drew the blueprint for gay liberation.
Richard J. Rosendall is a writer and activist at [email protected].
Copyright © 2020 by Richard J. Rosendall. All rights reserved.