June 11, 2020 at 5:00 pm EDT | by Chris Johnson
Republican Party issues brief on Trump's LGBTQ achievements. Seriously.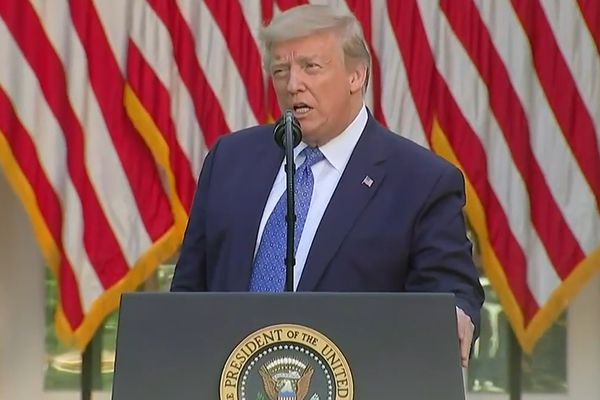 Despite the anti-LGBTQ reputation Trump has built over the course of his presidency, the Republican National Committee is presenting an alternative narrative, urging voters to look at policy moves and public statements demonstrating "unprecedented steps to protect the LGBTQ community."
The issue brief, made public Thursday on the RNC's website in time for Pride Month, is a first for the Republican Party, which has never before explicitly promoted pro-LGBTQ policy moves and appointments, and would have been hard to imagine even five years ago. The brief, however, highlights certain aspects of Trump's LGBTQ record while sweeping other anti-LGBTQ moves under the rug.
Michael Kikukawa, LGBTQ media director for the Democratic National Committee, said celebration of Trump's LGBTQ accomplishments in the brief "would be laughable if it weren't so abhorrent."
"Trump has weaponized the federal government against LGBTQ+ students, families, service members and workers," Kikukawa said. "He has taken a particular interest in legalizing discrimination against trans people at all levels — from housing to health care to the workplace. LGBTQ+ citizens and our American allies will remember in November and vote him out."
The LGBTQ achievements identified in the brief are broken down into several categories and include numerous items, featuring President Trump promising to protect LGBTQ people at the 2016 Republican National Convention, the global initiative to decriminalize homosexuality, openly gay appointees and an HIV/AIDS initiative that seeks to beat the epidemic by 2030.
Significant attention is paid to Richard Grenell, who until recently was U.S. ambassador to Germany and acting director of the Office of National Intelligence, which made him the first openly gay Cabinet member and the highest-ranking presidential appointee in history. The global initiative to decriminalize homosexuality in the 69 countries where it remains illegal was his brainchild and under his leadership.
Nothing in the brief is mentioned about the litany of Trump's anti-LGBTQ policy moves, such as his administration endorsing religious liberty as an excuse for anti-LGBTQ discrimination, most recently in the form of a brief to the Supreme Court supporting a Catholic adoption agency seeking to refuse placement in LGBTQ homes, nor arguing against LGBTQ-inclusion under federal civil rights law before the Supreme Court.
The brief uses the full LGBTQ acronym to talk about Trump's accomplishments, but nothing in the brief explicitly identifies achievements for transgender people, let alone mentions the transgender military ban or undoing Obama-era rules protecting trans people from discrimination in health care, homeless shelters and employment.
Although the handful of openly gay appointments as ambassadors and judges is recognized, the brief ignores the long list of judicial appointees who won Senate confirmation while holding anti-LGBTQ views, nor other appointments close to Trump. Among them is Trump campaign legal adviser Jenna Ellis, who has compared homosexuality to bestiality and pedophilia and has defended laws criminalizing homosexual acts.
Finally, although the LGBTQ movement is increasingly concerned with intersectional issues, such as immigration, racism and police reform, the brief makes no mention of those issues.
Charles Moran, managing director for Log Cabin Republicans, praised the issue briefs, which he said draw attention to overlooked LGBTQ accomplishments in the Trump administration.
"President Trump's administration has developed a solid first-term LGBTQ agenda that tackles some of the most pressing issues, such as HIV/AIDS and international criminalization of homosexuality," Moran said. "He is surrounding himself with highly qualified public servants who are members of the LGBTQ community."
But Moran also took things a step further, saying the Republican Party as a whole is "proud to run" on the LGBTQ achievements identified in the issue brief in the upcoming election.
"Celebrating Pride Month, this is a great time for the RNC to highlight the president's achievements in office thus far, and the party is proud to run on this record," Moran said.
The RNC issues the brief despite its ties to social conservatives with anti-LGBTQ views, many of whom have virulently fought against any recognition of being LGBTQ as anything other than a pathology or a sin. It remains to be seen whether they'll publicly object to a brief promoting a Republican president as a supporter of LGBTQ rights.
The Washington Blade placed a request with social conservative groups known for their anti-LGBTQ views — the Family Research Council, the Faith & Freedom Coalition and Alliance Defending Freedom — seeking comment on whether they're OK with the RNC brief. None has responded to the Washington Blade's request to comment.
An RNC spokesperson said the brief was issued now to coincide with Pride month and there was no internal blowback either before or after it came out, nor any objections from social conservatives as of Thursday.
Notably, the brief makes no mention of Trump supporting same-sex marriage, which White House officials say is the case after he said in 2016 he's "fine" with the Supreme Court ruling in favor of marriage equality and considers the matter "settled."
The policy initiatives identified in the brief and openly gay appointments are one thing, but support for same-sex marriage would likely be a position social conservatives wouldn't be likely to countenance. The RNC spokesperson declined to comment on the absence of Trump's position on same-sex marriage in the brief.
White House Deputy Press Secretary Judd Deere confirmed to the Blade Trump is proud of the LGBTQ achievements identified in the RNC brief.
"President Trump is proud of all of his accomplishments for all Americans, including the LGBT community," Deere said. "While the radical left has pushed false accusations that LGBT Americans are threatened, the president has hired and promoted LGBT Americans to the highest levels of government, launched a global campaign to decriminalize homosexuality and made the bold declaration that we are committed to ending HIV transmissions in the United States within 10 years."