June 12, 2020 at 10:25 am EDT | by Kathi Wolfe
Honoring the life of Larry Kramer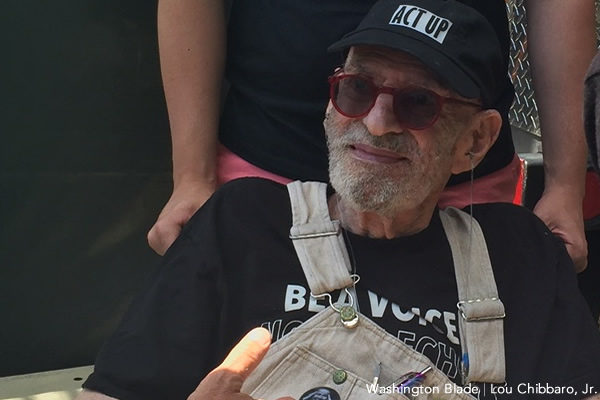 You know your heroes are only human – they can't live forever. But so many of us were still gobsmacked when renowned playwright, writer and AIDS activist Larry Kramer died on May 27 at age 84 from pneumonia in Manhattan. Somehow, we couldn't help thinking Kramer, who'd brought government officials and big pharma to their knees, would outwit the Grim Reaper.
Many queer writers and activists are known primarily by LGBTQ folk. This wasn't the case with Kramer who fought with, worked with and inspired everyone from Dr. Anthony Fauci, director of the National Institute of Allergy and Infectious Diseases, to acclaimed queer playwright Tony Kushner. "Even if you're straight you know Larry Kramer," a hetero friend told me on hearing of his death.
I was in New York in the 1980s during the height of the AIDS epidemic. Little to no money was allocated to do research into the disease. Undertakers wouldn't bury people with AIDS. Once, I visited a friend with AIDS in the hospital. The staff there wouldn't bathe him because they feared catching the disease.
Though alarming numbers of gay people were dying from AIDS, few gay leaders or groups wanted to engage in activism when the epidemic started.
Kramer, who is survived by his husband David Webster, hadn't grown up wanting to be a leader of queer activism. He graduated from Yale in 1957, served in the Army and worked as an executive for Columbia Pictures. He wrote the Oscar-nominated screenplay for "Women in Love."
"I was not a gay man first," Kramer said in an interview with NPR's Terry Gross, "until I became involved in fighting AIDS because someone close to me died and suddenly I was no longer the white man from Yale, I was a faggot without a name."
With the zeal of the most outraged prophet, Kramer co-founded Gay Men's Health Crisis, and later, after that group expelled him for being too radical, ACT UP. Since the epidemic began, more than 32 million people have died of AIDS, according to the World Health Organization. Yet, words fail to describe what the devastation would have been without Kramer's activism.
Kramer channeled his activism not only through action, but through his art. In remembering his AIDS activism, it's easy to gloss over his talent as an artist. His work ranged from his satiric novel "Faggots" (which many in the queer community loathed) to his autobiographical play "The Destiny of Me" (which has a character based on Dr. Fauci) to the two-volume novel "The American People" (which depicts George Washington, Abraham Lincoln and other American historical figures as queer).
To me, his most moving work is his play "The Normal Heart," which premiered at the Public Theater in New York in 1985. Taking its title from W.H. Auden's poem "September 1, 1939," the play vividly tells the story of Kramer's struggle to mobilize the queer community in the early years of the AIDS epidemic.
Often, art that engages social issues is dismissed as being merely "political." Yet, "The Normal Heart," as the (late) Joseph Papp wrote in the forward to the play, "is a play in the great tradition of Western drama … [it] reveals its origins in the theater of Sophocles, Euripides, and Shakespeare."
Kramer has inspired me to write poetry to change hearts and minds around marriage equality, disability and other social issues.
Kramer's legacy is an inspiration to younger queer generations, my friends Micah Bucey and Matthew Cleaver, a 30-something married couple told me by phone and email. "His fiery words, his rage…all of it dug into my heart and reshaped my queer soul," Bucey, a minister, artist and community organizer, said.
Kramer's "compassionate, angry art" inspired Cleaver, a writer and performer, to perform his 2006 one-man show "Gay Blues." "Kramer taught me that anger can fuel art and activism," he said.
I bet Kramer wouldn't want us to only mourn his passing or merely celebrate his life. To truly honor his legacy, we must make art and fight for justice. R.I.P., Larry.
Kathi Wolfe, a writer and a poet, is a regular contributor to the Blade.