June 12, 2020 at 2:14 pm EDT | by Brock Thompson
What's to take pride in? Turns out, a lot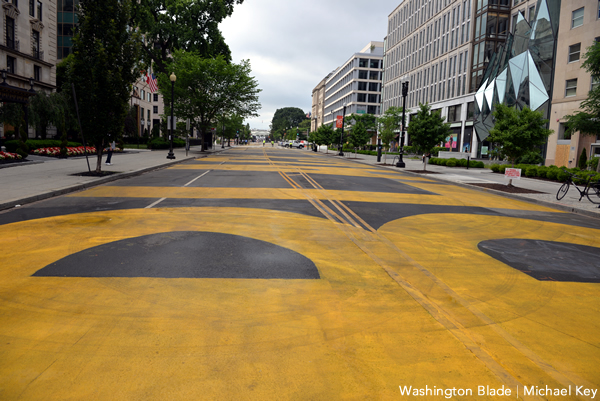 Last week was a rollercoaster of emotions for me, and for a lot of us I'm sure. It all began on Monday, following the death of George Floyd, when peacefully assembled protesters were violently dispersed from Lafayette Park across from the White House. I watched it all unfold on live television, and it all was done so President Trump could have his now infamous photo op awkwardly holding up a Bible I'm guessing he's never read.
That Monday, watching all that, I was so despondent over the state of things. That evening and the following night had us under a city-wide curfew and we saw our beloved city practically under siege. It was a low point for me and the city.
But, as the week went on, I had a remarkable change in attitude. Revisiting a few times the sight on that bumbling photo op, now aptly renamed by Mayor Muriel Bowser "Black Lives Matter Plaza," I felt my mood go from hopeless to hopeful, even excited. Come last Saturday, the city was transformed. The energy around town, and especially downtown, was palpable. By the weekend there was almost a festive spirit. That Saturday would have been the beginning of Pride week, and in so many ways it felt incredibly similar. And it was not just the smiling faces and party-like atmosphere, though there was that of course. What you were seeing unfold was our city at its absolute best.
This weekend, many of us might be scratching our heads as to ways to celebrate, even things to take pride in. Let's be clear, though I love Pride week in our city, we can certainly have Pride without the parade. The events of last week taught us that for sure.
One remarkable thing about this particular Pride is that it seems that queer Washingtonians have collectively agreed to give this space to another community in need. So, as this non-traditional Pride unfolds, perhaps we can use it as a time to celebrate some of our awesome African-American queer icons. Wouldn't it be nice to adorn Trump's baby wall surrounding the White House with images of Bayard Rustin, the openly gay lieutenant of Martin Luther King, Jr., and principal organizer of the 1963 March on Washington. Or the great Marsha P. Johnson, transgender activist who was present at the Stonewall Riots. Or even the new no-nonsense mayor of Chicago, Lori Lightfoot, who essentially told Trump to 'fuck off' at a news conference recently. She's a personal hero of mine.
So, when you think about it, there's actually a lot to take pride in this month. You have so many of our queer Washingtonians listening to others, protesting the deaths of black citizens. I've also noticed so many us who survived the coronavirus, now bypassing the FDA's absurd and offensive gay blood ban, going to NIH to donate their plasma to be studied. There are so many of us circling the wagons around our beloved gay bars and restaurants, just to throw a little income their way. You can see a lot of us donating food and clothing to shelters and other organizations that have seen a tremendous spike in need. After all, we have practically written the playbook on both navigating a virus and establishing enduring pride. And we take pride in our city.
And maybe the best part of having this somewhat muted Pride now? We get to have that second one, we hope, come fall. And at that time, with the election before us, and coupled with the lessons we're learning now, can you imagine the energy in our city? It will certainly be a Pride for the history books.
Brock Thompson is a D.C.-based writer. He contributes regularly to the Blade.