August 6, 2020 at 9:06 am EDT | by Lou Chibbaro Jr.
D.C. police name suspected killer in 2002 trans murders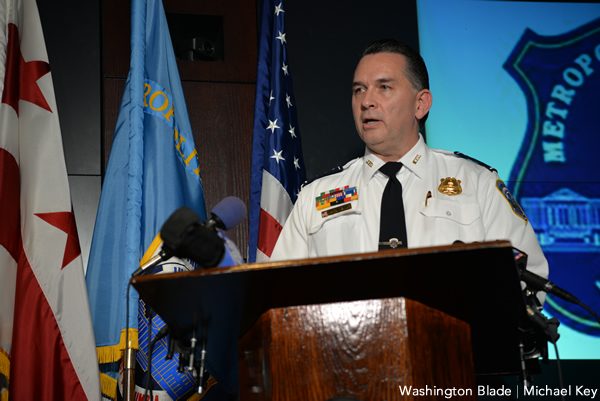 D.C. police disclosed last week they have identified the person they believe used a semiautomatic weapon to fire a hail of bullets at two transgender female teenagers on Aug. 12, 2002, killing the two as they sat in a car on a street in Southeast Washington.
The murder of Stephanie Thomas, 19, and Ukea Davis, 18, on the 4900 block of C Street, S.E. about 3:20 a.m. just a few blocks from the apartment the two friends shared nearly 18 years ago shocked and angered LGBTQ activists and city officials, who believed the incident was a hate crime.
In a development that raised further questions among the slain trans women's friends and family members, police disclosed on July 30 last week that the man they believe killed Thomas and Davis – Michael Dupree Price of Southeast D.C. – was himself shot to death in an unsolved murder in May 2017. He was 36 years old at the time of his death.
D.C. Police Chief Peter Newsham told the Washington Blade on Monday in a telephone interview that two recently found "ear witnesses" told homicide detective Daniel Whalen, who is assigned to the Homicide Branch's Cold Case Squad, that Price admitted to the witnesses that he killed the two women and said he did so after he learned they were transgender and became angry.
"That's why we believe it was a hate crime," Newsham said.
"So the way they were able to close the case was that the detective went back into the file – and it's always good to have a fresh set of eyes on these older cases," Newsham told the Blade. "He found a document in there that had not been followed up on, which led him to a witness.
Newsham said the person is referred to as an "ear witness" because the person didn't witness the crime taking place but spoke directly to the person involved in the crime, in this case, the person who admitted committing the crime.
"It was a person who was already in jail," Newsham said of the witness. "And that person gave some pretty specific information to the investigator that led him to believe the suspect in the case essentially told him what happened," Newsham continued. "And then the investigator was able to find a second person who did the same thing. So we're pretty confident that this suspect [Price] was the one who was responsible for the homicides."
According to Newsham, both witnesses were emphatic that Price told them his reason for killing Thomas and Davis was his discovery that they were transgender. Price told one of the witnesses, Newsham said, "that he had killed the decedents because they tricked him into believing they were girls and one had engaged in a sexual act with him."
Price also told the second witness he killed Thomas and Davis after learning they were transgender at some point after the three were smoking marijuana together, Newsham said.
Queen Washington, Davis's mother, who was fully supportive of her daughter's status as a transgender person, told the Blade this week she strongly disputes the claim that Price did not know Thomas and Davis were transgender.
Washington said that since learning of the witnesses' statements that Price confessed to the two murders and his motive for the killings was his reported discovery that Thomas and Davis were transgender, she has spoken with people who knew the two trans women from the Marshall Heights neighborhood in Southeast D.C. where they lived.
"It's a lie," she said. "Everybody in the neighborhood knew who Stephanie and Ukea were, that they were transgender," Washington told the Blade on Tuesday.
Washington said that in the past few days she remembered that at the time of the murder, and even before the murder, people who knew her daughter and Ukea Davis told her Price, who also lived in the neighborhood, knew the two trans women and clearly knew they were transgender.
"He lived only a few blocks from Stephanie and his name would come up," Washington said.
"Nobody believes this story by these witnesses that Price was shocked when he learned they were transgender," Washington said. "I think Michael Price liked Stephanie," she said. "My thought on the motive is Stephanie had a relationship with Price and something went wrong and he killed her."
LGBTQ activists have said men charged with murdering transgender women often use the so-called "trans panic defense" as an alibi for their action, saying they were shocked when they learned a woman with whom they had a sexual encounter turned out to be transgender. Activists and others familiar with crimes against transgender people say the panic defense is often used as an excuse by perpetrators who knew all along that their victims were transgender and had other motives, including hatred, for committing the crime.
Washington also said she and others in the neighborhood where her daughter and Davis lived at the time of the murder believe at least one other man participated in the shooting of the two women.
She said that people in the neighborhood believe a close friend of Price, Ricardo Smith, who went by the nickname Black, is believed to have been an accomplice to Price in the murder of Thomas and Davis.
Some of the neighbors believed Smith aka Black was the driver of a third car that blocked Stephanie Thomas from escaping from Price, who neighbors believe was chasing Thomas's car minutes before she and Davis were shot to death.
Washington and transgender rights advocate Earline Budd, who said she arrived at the scene of the shooting shortly after the incident took place, said nearby residents reported seeing what appeared to be a car chase, with one car following the car Thomas was driving. Budd said one witness, who heard a loud screeching noise of a car slamming on its brakes, reported seeing Thomas's car stopped behind the side of a third car, which appeared to have deliberately blocked Thomas from driving away from the car following her car, Budd said.
Budd said she rushed to the scene after receiving a call informing her of the murders by former D.C. police Lt. Brett Parson, who headed the department's LGBT Liaison Unit. Parson has since retired from the force.
"What we know is they were chased and we saw these skid marks on the street," said Budd. "The witnesses said they were chased and then they were blocked off. And that's why they were able to shoot them and kill them in the car – they, not him, they," said Budd in emphasizing her belief that Price was not a lone gunman in the double murder.
But in yet another twist in what some activists consider a convoluted case, Washington told the Blade her niece, who knew Ricardo Smith from the neighborhood, told her she recently learned that Smith died in prison between 10 months and a year ago. Washington said her niece didn't know the cause of his death.
When asked about the assertion by Queen Washington, Earline Budd, and reportedly others in the neighborhood that there was a second suspect in the case, Newsham said he was aware that multiple witnesses from the neighborhood had different recollections about the incident.
"I would say this," he told the Blade. "We wouldn't completely eliminate that as a possibility. "So we would say if there is a second suspect and if anybody has information in that regard that we would continue to ask them to come forward," he said.
In response to claims by Washington and Budd that it was widely known in the neighborhood that Price knew Thomas and Davis were transgender women, Newsham said homicide investigators were basing their conclusion on the motive on consistent statements from the two witnesses.
He said one of the witnesses was interviewed by homicide investigators on Jan. 16, 2019.
"During this interview he advised detectives that Michael Price had confessed to him a short time after the murders occurred," Newsham said in an email in response to follow-up questions from the Blade. It was during this interview, according to Newsham, that Price told the witness he killed Thomas and Davis because "they tricked him into believing they were girls and one had engaged in a sexual act with him."
Newsham said the second witness was interviewed at the Maryland Department of Corrections Patuxent Institution, where he was serving a prison sentence. The witness also told MPD detectives Price told the witness he killed the two women after learning they were transgender, Newsham reiterated.
In addition to these two witnesses, Newsham said other witnesses reported hearing second hand accounts that backed up the accounts by the two witnesses whose accounts prompted MPD to conclude Price was responsible for the trans women's murders.
"At least one witness provided information that the decedents approached Price to purchase marijuana," Newsham said. "Other witness accounts however detail Michael Price approaching the decedents thinking that they were women," he said.
"There were several other witnesses interviewed who all provided the same street rumor that Michael Price killed the decedent after receiving a sexual favor from one or both of the decedents, then finding out they were transgender."
Washington and Budd dispute these accounts, saying they contradict the widespread belief of people in the neighborhood that Price in fact knew Thomas and Davis were transgender. Washington and Budd also question the motives of the two main witnesses that D.C. police say led to their conclusion that Price was the killer and his motive was his surprise that the victims were transgender.
They point out that Price's former girlfriend told the Washington Post last week that Price was with her on the night of the murder and was innocent of the murders. Washington and Budd say they are suspicious that the two witnesses may be interested in the longstanding offer by police of a $25,000 reward for information leading to the solving of each of the two murders, which could come to a total of $50,000.
"For $50,000 they would tell the detectives anything they wanted to hear to close this case," said Budd.
D.C. police have had a longstanding policy of never disclosing the identity of those receiving rewards for providing information leading to an arrest and conviction of perpetrators of serious crimes.
A police statement released at the time of Price's murder says Price was fatally shot on May 5, 2017, at approximately 4:56 a.m. on the 4600 block of Benning Road, Southeast. The statement says he was found unconscious on a sidewalk suffering from multiple gunshot wounds and died a short time later after being taken to a hospital. Police have said the case remains unsolved.