August 8, 2020 at 8:00 am EDT | by Brian T. Carney
FROM THE VAULTS: The teen edition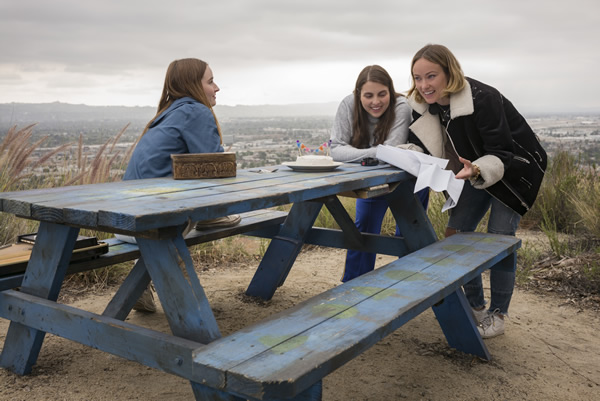 This week's curated collection of movies to enjoy while you're sheltered in place zooms in on queer teens.
"Every Day," an intriguing sci-fi rom-com mash-up, is a charming and thought-provoking movie that never found the audience it deserved. It has a lot going for it. It's based on a novel by Lambda Literary Award winner David Levithan and it's directed by Michael Sucsy, who helmed HBO's award-winning adaptation of "Grey Gardens." The cast is great, especially the charming Angourie Rice ("Spider-Man: Far from Home") in the challenging lead role.
But, the movie's hard to explain. Rice plays Rhiannon, a shy high-school student who encounters "A," an entity who inhabits a different human body (male or female) every day. It's great fun to watch Rhiannon figure out what's going on and to watch "A" learn about human behavior. It's a hard concept to reduce to a catchy tagline, but it's an engaging gender-bending boundary-busting movie.
The excellent comedy "Booksmart" also had challenges finding an audience; part of the problem was an ad campaign that didn't reach out to the LGBTQ community or mention that one of the lead characters was a lesbian. Kaitlyn Dever and Beanie Feldstein ("Lady Bird") play Amy (gay) and Molly (straight), two high school academic superstars who realize on graduation night that they should have spent more time partying and less time studying.
First-time feature-film director Olivia Wilde (who was named 2019's Wilde Wit by GALECA, the Society of LGBT Entertainment Critics) nicely captures both the raucous humor and the heartfelt sentiment of the moment. The terrific cast includes Will Forte and Lisa Kudrow as Amy's overly accepting parents.
Director Greg Berlanti, known for his innovative and inclusive programming on the CW network, found commercial success with "Love, Simon" his take on contemporary gay teens. Simon Spier (Nick Robinson) is a high school student in an affluent Atlanta suburb. He knows he's gay, but is reluctant to come out to his friends and family.
Like the sometimes callous Simon, the movie has some glaring blind spots about class and "straight-acting" gays, but it's redeemed by a great script, Berlanti's solid direction, Robinson's charm and terrific supporting performances from Josh Duhamel, Natasha Rothwell and Tony Hale.
Robinson and screenwriters Elizabeth Berger and Isaac Aptaker have launched a spin-off series on Hulu, but "Love, Victor" is a pale imitation of the original movie.
The passionate Kenyan romance "Rafiki" is about two young women who fall in love. It was initially banned under Kenya's strict anti-LGBT laws, but writer/director Wanuri Kahiu won an important international legal victory by convincing the Kenyan Supreme Court to lift the ban.
Kena (Samantha Mugatsia) and Ziki (Sheila Munyiva) are anxiously awaiting the results of their all-important school exams. Their friendship is challenged by the political rivalry between their fathers, but their lives are threatened when Mama Atim, the vicious gossip who runs the local café, tells everyone about their relationship.
Kahiu directs with remarkable confidence and a strong sense of pacing and style. She paints a vibrant picture of the Nairobi neighborhood where the story unfolds and creates vivid multi-dimensional characters.
Queer teenagers are also under attack in two excellent conversion therapy dramas. Based on the hard-hitting memoir by Garrard Conley, "Boy Erased" tells the story of Jared Eamons (Lucas Hedges). When Jared's conservative Christian parents (Nicole Kidman and Russell Crowe) learn that he is gay, they send him to a church-based gay conversion program run by Victor Sykes (Joel Edgerton, who also directed and wrote the screenplay).
In "The Miseducation of Cameron Post," a teenage girl is sent to a conversion therapy camp when her aunt catches her in the backseat of a car with another girl. Chloë Grace Moretz offers a finely nuanced performance as Cameron, with Sasha Lane and Forrest Goodluck as fellow "campers" and Jennifer Ehle and John Gallaher Jr. as the creepy siblings who run the camp.
Both movies feature solid screenplays that clearly condemn conversion therapy while creating interesting, well-rounded characters.
Finally, "But I'm a Cheerleader," which introduced the world to the great Natasha Lyonne ("Russian Doll" and "Orange is the New Black") offers a satirical take on the world of "sexual redirection."