FROM THE VAULTS: The teen edition
Catch up on queer films you may have missed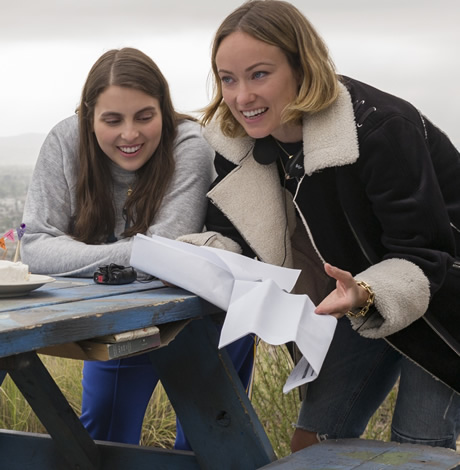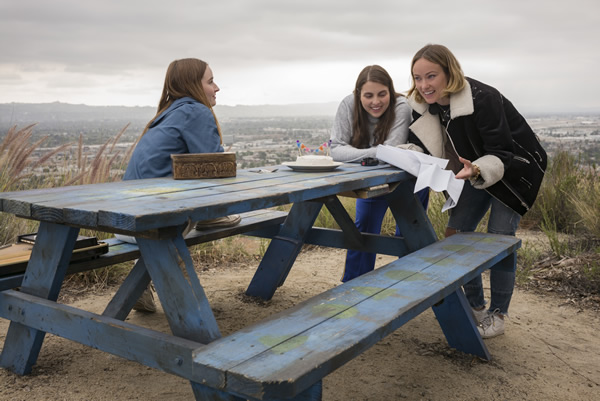 This week's curated collection of movies to enjoy while you're sheltered in place zooms in on queer teens.
"Every Day," an intriguing sci-fi rom-com mash-up, is a charming and thought-provoking movie that never found the audience it deserved. It has a lot going for it. It's based on a novel by Lambda Literary Award winner David Levithan and it's directed by Michael Sucsy, who helmed HBO's award-winning adaptation of "Grey Gardens." The cast is great, especially the charming Angourie Rice ("Spider-Man: Far from Home") in the challenging lead role.
But, the movie's hard to explain. Rice plays Rhiannon, a shy high-school student who encounters "A," an entity who inhabits a different human body (male or female) every day. It's great fun to watch Rhiannon figure out what's going on and to watch "A" learn about human behavior. It's a hard concept to reduce to a catchy tagline, but it's an engaging gender-bending boundary-busting movie.
The excellent comedy "Booksmart" also had challenges finding an audience; part of the problem was an ad campaign that didn't reach out to the LGBTQ community or mention that one of the lead characters was a lesbian. Kaitlyn Dever and Beanie Feldstein ("Lady Bird") play Amy (gay) and Molly (straight), two high school academic superstars who realize on graduation night that they should have spent more time partying and less time studying.
First-time feature-film director Olivia Wilde (who was named 2019's Wilde Wit by GALECA, the Society of LGBT Entertainment Critics) nicely captures both the raucous humor and the heartfelt sentiment of the moment. The terrific cast includes Will Forte and Lisa Kudrow as Amy's overly accepting parents.
Director Greg Berlanti, known for his innovative and inclusive programming on the CW network, found commercial success with "Love, Simon" his take on contemporary gay teens. Simon Spier (Nick Robinson) is a high school student in an affluent Atlanta suburb. He knows he's gay, but is reluctant to come out to his friends and family.
Like the sometimes callous Simon, the movie has some glaring blind spots about class and "straight-acting" gays, but it's redeemed by a great script, Berlanti's solid direction, Robinson's charm and terrific supporting performances from Josh Duhamel, Natasha Rothwell and Tony Hale.
Robinson and screenwriters Elizabeth Berger and Isaac Aptaker have launched a spin-off series on Hulu, but "Love, Victor" is a pale imitation of the original movie.
The passionate Kenyan romance "Rafiki" is about two young women who fall in love. It was initially banned under Kenya's strict anti-LGBT laws, but writer/director Wanuri Kahiu won an important international legal victory by convincing the Kenyan Supreme Court to lift the ban.
Kena (Samantha Mugatsia) and Ziki (Sheila Munyiva) are anxiously awaiting the results of their all-important school exams. Their friendship is challenged by the political rivalry between their fathers, but their lives are threatened when Mama Atim, the vicious gossip who runs the local café, tells everyone about their relationship.
Kahiu directs with remarkable confidence and a strong sense of pacing and style. She paints a vibrant picture of the Nairobi neighborhood where the story unfolds and creates vivid multi-dimensional characters.
Queer teenagers are also under attack in two excellent conversion therapy dramas. Based on the hard-hitting memoir by Garrard Conley, "Boy Erased" tells the story of Jared Eamons (Lucas Hedges). When Jared's conservative Christian parents (Nicole Kidman and Russell Crowe) learn that he is gay, they send him to a church-based gay conversion program run by Victor Sykes (Joel Edgerton, who also directed and wrote the screenplay).
In "The Miseducation of Cameron Post," a teenage girl is sent to a conversion therapy camp when her aunt catches her in the backseat of a car with another girl. Chloë Grace Moretz offers a finely nuanced performance as Cameron, with Sasha Lane and Forrest Goodluck as fellow "campers" and Jennifer Ehle and John Gallaher Jr. as the creepy siblings who run the camp.
Both movies feature solid screenplays that clearly condemn conversion therapy while creating interesting, well-rounded characters.
Finally, "But I'm a Cheerleader," which introduced the world to the great Natasha Lyonne ("Russian Doll" and "Orange is the New Black") offers a satirical take on the world of "sexual redirection."
Triumphant 'In the Heights' is the musical we need
An infectious celebration of community, driven by a Latin beat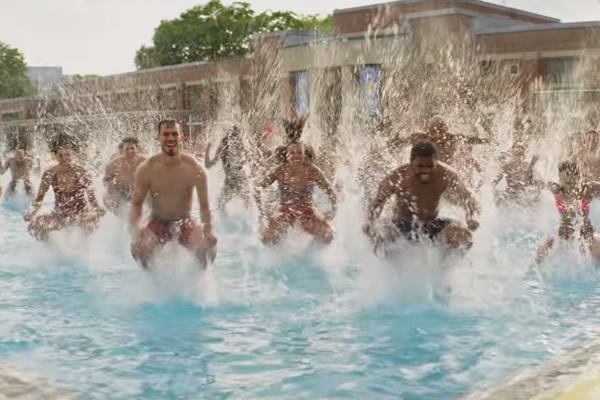 As the long-awaited film version of Lin-Manuel Miranda's "In the Heights" hits the screen this weekend, it's impossible not to reflect on the fate of the Hollywood musical.
Once one of the movie industry's most popular genres, the musical has been an inseparable part of Hollywood history ever since sound first came to the silver screen in 1927, launching a "golden age" in which the genre ruled the box office for more than 30 years.
Then the '60s happened. A generation disillusioned and distrustful of the "American Dream" hungered for edgier material than the old-fashioned fare enjoyed by their parents. The old studio system was failing, and although it managed to score some hits with blockbuster adaptations of Broadway shows like "My Fair Lady" and "The Sound of Music," by the end of the decade such movies felt incredibly tone-deaf in an American culture torn apart by turmoil. The country had lost its innocence, and despite occasional attempts to "reboot" the genre in the years ever since, the reign of the Hollywood musical was effectively over.
Until now, perhaps.
"In the Heights" arrives with a considerable amount of anticipation behind it. Adapted from the Tony-winning 2008 Broadway hit that brought Lin-Manuel Miranda into the limelight and paved the way for him to create "Hamilton" a few years later, it centers on a hard-working bodega owner named Usnavi (Anthony Ramos), who serves as our guide for a sweeping musical portrait of Manhattan's Washington Heights – an area mostly populated by Latin people of color from immigrant families – that follows the stories of several interconnected characters as they pursue their hopes and dreams. With songs by Miranda and a script by Quiara Alegría Hudes (who also wrote the book for the stage production), it showcases a diverse cast that also includes Corey Hawkins, Leslie Grace, Melissa Barrera, Daphne Rubin-Vega, Stephanie Beatriz, Gregory Diaz IV, Dascha Polanco, Jimmy Smits, Marc Anthony, and Olga Merediz, reprising her Broadway role as Abuela Claudia. Even Miranda himself shows up in the ensemble.
Needless to say, there was a lot of buzz around the film even before its release was postponed for a year due to COVID. If you're wondering if it lives up to that buzz, the answer is a resounding "yes." Onstage, "In the Heights" was an infectious celebration of community, driven by an irresistible Latin beat and infused with an uplifting message about following your dreams in the face of adversity. On film, as directed by John M. Chu ("Crazy Rich Asians"), it more than meets the challenge of translating all that energy to the screen – and in the process, it accomplishes a whole lot more.
First and foremost, it delivers the almost euphoric refreshment that comes from seeing a major Hollywood film populated almost entirely by people of color. In today's cultural environment, the power of this cannot be overstated.
Yet "In the Heights" does not let itself get weighed down by any perceived importance. Instead, it wins us over with good-natured approachability, personified by the endearing and charismatic Ramos in what deserves to be a star-making performance. He is joined by an ensemble of co-stars whose talents are quickly proven to be a match for his own.
Chu leans into the strength of his players, but he also recognizes that the real star of "In the Heights" is its music, and unlike many modern musicals, his movie fully embraces its songs as its entire reason for being. Miranda's extensive score is delivered largely intact, affording the composer's signature blend of showtunes and rap the spotlight it deserves. Even more importantly, Chu (aided by gifted collaborators like cinematographer Alice Brooks and choreographer Christopher Scott) uses it as a platform on which to build something truly audacious and wholly unexpected – a triumphant return to form for the Hollywood musical.
There have been new entries in the genre in the years since its decline, and a few of them, like Bob Fosse's "Cabaret," have even been great films. Still, these and other such successful one-offs have bent the formula to meet the prevailing cynicism of the postmodern age, merging reality with fantasy in a way that minimizes the need for jaded contemporary audiences to suspend their disbelief when a character bursts into song. They succeed not because they embrace the traditional conceits of the art form, but because they reinvent them – and often, with a palpable sense of irony.
The old musicals required no such tactics. Rather than distancing audiences from the escapism of the format, they encouraged people to revel in it. There was a kind of magic being projected on the screen, and everybody in the theater was not only willing, but eager to believe in it. Moviegoers today are no longer able to accept that kind of artificiality – or at least, that's become the conventional wisdom in Hollywood, which seems to have forgotten how to make a musical that doesn't feel like it's actually apologizing for being a musical.
"In the Heights" never apologizes. Executed with breathtaking cinematic vision and a healthy dose of "magical realism" that does nothing to undercut its streetwise swagger, "In the Heights" comes closer than any film in recent memory to recapturing the elusive charm that made the musical genre the pinnacle of cinematic excellence for so many decades. Filled with one dazzling musical number after another, it pays homage to its heritage – a swimming pool sequence suggests the intricate spectacles conceived by Busby Berkeley, a sublime pas de deux on a fire escape evokes MGM's masterful technicolor dreamscapes of the 1950s, the film's location cinematography invites associations with "West Side Story" — while audaciously asserting itself as a product of its own time. And though it acknowledges the hardships faced by its characters in a modern world – gentrification, threat of deportation, economic struggle, bigotry – it counters those realities with a generous spirit of empathy and inclusion (and yes, that includes LGBTQ people, too) and manages to elicit the kind of un-ironic hope that shone like a beacon in those glorious musicals of old. It makes us want to believe in the magic.
Whether or not that's enough to revive the Hollywood musical, only time will tell. In the meantime, "In the Heights" is exactly what we need after enduring the long isolation of a pandemic – and although it's being simultaneously released on HBO Max, it's also the perfect excuse to venture into a theater once more.
It deserves to be seen on the big screen, and you deserve to see it there.
Legendary dance troupe takes spotlight in 'Ballerina Boys' doc
Challenging rigid gender norms entrenched in the art form and society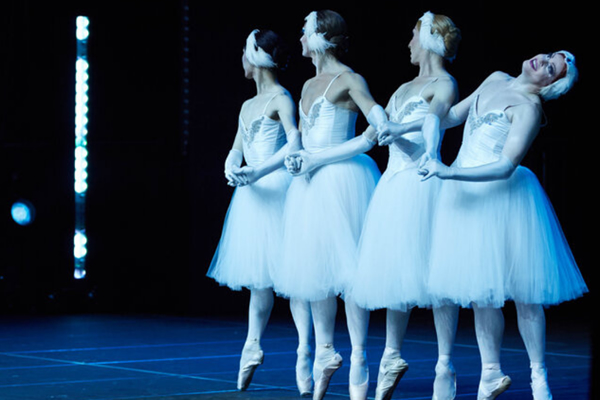 When we think of LGBTQ activism in the 1970s, we tend to think of picket signs, protest marches, and people carrying megaphones – but it also took other forms.
Back in the heady post-Stonewall days of what was then called the "Gay Liberation" movement, a different approach to the struggle for acceptance was taking seed at a run-down performance space in Manhattan's Meat Packing District, where a group of classically trained dancers – all men – were performing drag versions of the great ballets. They called themselves Les Ballets Trockadero de Monte Carlo, and nearly five decades later they have become a world-renowned dance company, known as much for carrying a message of equality, inclusion and social justice as they are for delivering classical ballet both en pointe and in drag.
If you've never heard of Les Ballets Trockadero de Monte Carlo (lovingly known as "The Trocks" by their fans), it's not a surprise. After all, ballet is something of a "niche" interest these days, particularly in American culture, and only those with a natural affinity for the art form are drawn to it – so anyone unfamiliar with the company can certainly be forgiven.
That is, until now.
In honor of Pride Month, PBS's venerable "American Masters" is debuting a new documentary about the Trocks. "Ballerina Boys," directed and produced by Chana Gazit and Martie Barylick, presents a portrait of the company as they tour the Carolinas and culminates with their 2019 performance at the Stonewall 50th anniversary concert in NYC's Central Park. Along the way, it goes for a deep dive into the history of Les Ballets Trockadero de Monte Carlo, offering up plentiful rehearsal and performance footage, both from the company's archives and from the tour, and weaving everything together with in-depth interviews from past and present members of the troupe.
What gives the film its greatest appeal, of course, is the chance it affords to see this legendary performance troupe in action. With generous amounts of screen time devoted to the dancers dancing, the audience is allowed to grasp something much closer to the full power of what they do than can be gleaned by a few brief snippets of footage. "Ballerina Boys" is as much about the art of dance itself, and the passion that drives its practitioners to devote their entire being to its service, as it is about the Trocks themselves; the troupe's history may be the central focus of the film, but it's their dancing that allows us to connect with them.
It also allows us to understand why this unique company has not only survived for 47 years, but established itself as an iconic presence in the world of dance, as well as helping us to grasp the importance of their use of that position in that world as a platform to promote acceptance. The Trocks have become beloved for their signature style, a blend of rigorous technique and satire that delights their audiences – while also challenging the rigid gender norms deeply entrenched not just in the art form, but in society itself.
In the words of Roy Fialkow, a former Trock interviewed extensively in the film, "We were pushing the limits of the definition of what men did. What Ballet Trockadero has done over the years has turned this notion of what is beautiful in ballet kind of on its head, and turned it upside down, so that there can be moments in this ballet, where you can just say, 'Wow.'"
There are plenty of "wow" moments in "Ballerina Boys" that treat us to better-than-front-row views of these gifted, athletic, disciplined young bodies in motion – something that is impressive for all the reasons you would imagine – and they reveal the secret of Ballet Trockadero's formula by reminding us that something can make us laugh and still be beautiful, too.
Of course, beauty is in the eye of the beholder, and the Trocks' history – which unfolds largely through the reminiscences and comments of Fialkow, Company Founders Peter Anastos and Natch Taylor, and Artistic Director Tory Dobrin, supplemented with insights from LGBTQ historian Eric Marcus – has seen the troupe meet resistance from some who didn't find its loving lampoon of the austerely traditional ballet form quite so beautiful. Perhaps unsurprisingly, much of that resistance came from within the dance world itself, and had more to do with breaking those austere traditions than with the politics of LGBTQ activism.
Still, the film makes clear that it is the troupe's devotion to the art form and its traditions that makes their work so effective – something it illustrates, time and time again, with breathtaking moments in which gifted dancers take us from the absurd to the profound to the transcendent within a few short seconds of movement. It also lets us get to know a few of the current company members – such as Philip Martin-Nielson, whose autism has proven an asset both in the performance and teaching of his craft, and Duane Gosa, who has found in Ballet Trockadero a perfect haven to be truly himself while following his passion.
"Being in a company like this where I can freely be Black and gay and a dancer on stage and be good at it, is a great thing for younger people to see," Gosa tells us. "I am fortunate enough to be able to show that this is possible."
That, of course, is the ultimate importance of the Trocks, and one that perhaps lies at the heart of their concept even in their earliest days. Though they may not have been activists, they freely admit being inspired by the Stonewall Riots (the legendary kickline performed by some of the queens at the bar as they were rushed by the police gets a prominent mention) and fueled by the spirit of defiance and creative exuberance that the gay rights movement fostered within the queer community of the time. At the peak of their success in the 1980s, they had become international ambassadors not just for acceptance; watching them ride a tour bus through the South, still an epicenter in the struggle for LGBTQ rights, it's clear that's a role they are still fulfilling – and one that still has its dangers.
Still, the Trocks have gotten away with it for so long because the humor and the beauty they personify are able to reach across the barriers of intellect and identity and strike a universal chord with their audiences. In their ballets, they invite us into a world where gender is just another part of the costume, ultimately irrelevant to the humanity that we experience there – and once there, it just might become possible to remember that we already live there.
"American Masters: Ballerina Boys" premieres nationwide Friday, June 4 at 9 p.m. on PBS (check local listings), pbs.org/americanmasters and the PBS Video app in honor of Pride month.
Trans performers blend success, visibility in two new docs
Authenticity helps artists to excel in opera, comedy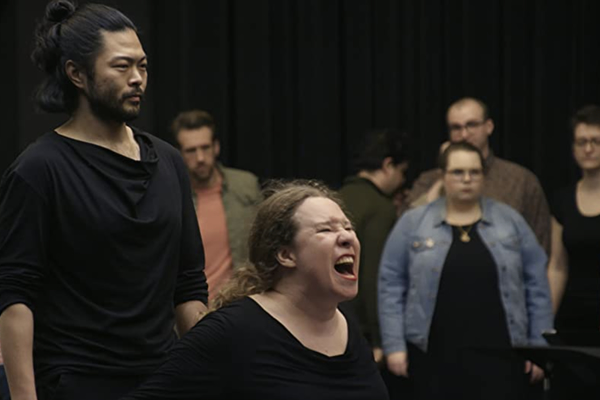 As we roll into Pride month, there's a lot of focus on LGBTQ history. That's a great thing, since it's a subject that has been woefully neglected for a long time – but it's important to remember that the story of queer experience didn't stop (or start) at Stonewall, nor with the AIDS crisis, nor even with the fight for marriage equality. It's something that continues to be written, right up to this very day.
That's why two new documentaries, both dropping on VOD platforms June 1, should be considered required viewing for anyone who understands that knowing history means staying informed about it even as it happens. That's especially true when the history being told is trans history – something that, until recent years, has been swept into the background even within the scope of the larger chronicle of our LGBTQ+ community. In the case of both of these new films, that makes them an even more valuable addition to our watch lists. Each film provides a layered, up-close profile of a trans pioneer forging new pathways to acceptance within the rarified environment of an insular professional community where trans inclusion has been far from the norm.
In "The Sound of Identity," the profession in question is one that is usually out of the question for all but a privileged few – but that privilege has little to do with either gender or sexuality, and everything to do with natural talent and ability. It focuses its lens on Lucia Lucas, an opera singer about to step into her first leading role after a decade of building a career and reputation for excellence. She's confident, gifted, driven, and more than up to the challenge. She also happens to be the first known transgender woman to take on a principal role in the history of professional opera, and the role happens to be one of the most iconic of all time – that of the scheming, womanizing title character in Mozart's "Don Giovanni," in a production by the Tulsa Opera in 2019.
Directed by James Kicklighter, the film follows Lucas as she prepares for the historic performance while also negotiating the intense media spotlight that accompanies it. There's extensive rehearsal footage, revealing the self-assured mastery she brings to her work as well as the respect with which she is treated by both fellow cast members and creative personnel – including Tulsa Opera's Artistic Director, Tobias Picker, a renowned composer in his own right and Lucas' longtime mentor. Picker, who has risked his position on choosing her for the role, clearly believes in her skill; he's less sure, however, of her chances at drawing audiences, not just because she is trans but because of the outside-the-box casting of a female singer in a male role – even if she is a baritone.
For Lucas' part, she is determined to prove his fears unfounded. She works as tirelessly in promoting the production as she does on her role, engaging with the community, singing at fundraisers, and waking up before dawn to do phone interviews with journalists many time zones away. The additional strain of all this activity takes its toll on the singer's voice and stamina, causing concern that she may be undermining her own ability to perform at her best on opening night. This, combined with the Lucas' impending reunion with long-estranged family members who are coming to see her perform, provides just enough drama to give the movie a touch of narrative.
More than any of that, though, Kicklighter's movie dwells on the world of opera itself. On the job, Lucas' identity as a trans woman takes a back seat to her work, and the director wisely chooses to devote much of his running time to the process of mounting "Don Giovanni" itself. Because of this, we get to see Lucas the way she sees herself – as an artist striving to be among the best in her field. If that means letting us see flashes of temperament, bouts of insecurity, or the occasional moment of unapologetic ego, so be it. After all, isn't being a diva part of what being an opera star is all about?
On arguably the opposite end of the cultural spectrum is the subject of "Julia Scotti: Funny That Way." Directed by Susan Sandler, this short but sweet documentary profiles a subject who had a successful career as a stand-up comic for many years before transitioning at 47. It made her the person she felt truly destined to be, but it also meant the end of both her personal and her professional life, as family, friends, and an entire professional community turned their backs on her. Scotti then spent a decade reinventing herself as Julia, teaching classes and finding opportunities to blend her truth into her work as a performer. Shot over a five-year period, the movie tracks her triumphant return to the comedy stage, as well as the rekindling of her relationship with her children, with whom she had lost contact 15 years before.
A seasoned pro, Scotti comes off well on camera. She knows how to work her vulnerabilities into her material and diffuse them though laughter, but she also knows when to let the truth shine through without self-deprecating irony. These qualities, which serve her well in her chosen field, undoubtedly helped her through the difficult years after her "disappearance" from the public eye. More to the point, here, is her willingness to use those gifts as a means to open eyes and minds to the experience of trans people, and Sandler crafts her movie to highlight that aspect of Scotti's persona, creating a portrait of someone who has transcended personal struggles to become a beacon for empathy and understanding – without losing her sense of humor in the process.
What's remarkable about both of these films is that, ultimately, the "transness" of the women at their centers has nothing to do with the work that they do – and yet, at the same time, it is essential. Her skills and her passion are unrelated to gender, but because she is trans, Lucia Lucas is able to find dimensions in Don Giovanni – a character almost synonymous with toxic masculinity – that no one else could see. In the same way, Scotti blends her trans experience with her seasoned understanding of comedy to craft a unique act that puts both trans and non-trans audiences at ease and helps them find the common ground of laughter. In each case, the point is not that they can do the work in spite of being trans – it's that their trans identity helps them to excel at it.
In a culture still combatting the regressive attitudes of transphobic bigots and the lawmakers they elect to office, both Kicklighter and Sandler have given us films that not only provide much-needed trans visibility on our screens, but remind us of how much more we can all contribute to the world when we are allowed to bring our entire selves to the table.
You can't ask for a better Pride month message than that.