August 28, 2020 at 12:55 am EDT | by Chris Johnson
Trump stokes fears about Biden presidency in convention speech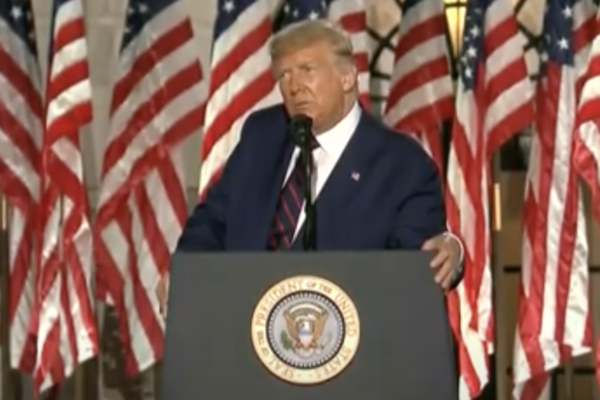 President Trump, accepting the Republican nomination to run for re-election as president, stoked fears Thursday night about a potential Biden presidency, falsely asserting his opponent stands with "violent anarchists, agitators, and criminals who threaten our citizens."
"At the Democrat convention, you barely heard a word about their agenda," Trump said. "But that's not because they don't have one. It's because their agenda is the most extreme set of proposals ever put forward by a major party nominee."
Trump delivered the lengthy speech, which clocked in around 75 minutes, before an adoring crowd at the White House, a controversial setting for a campaign event. An estimated 1,500 people were in crowd, flouting social distancing guidance amid the coronavirus pandemic. Many in the large crowd were maskless.
Referencing comments Biden made in his speech last week saying he'd bring America from darkness into light, Trump said, "Joe Biden may claim he is an 'ally of the Light,' but when it comes to his agenda, Biden wants to keep you completely in the dark."
"If the Democrat Party wants to stand with anarchists, agitators, rioters, looters, and flag-burners, that is up to them, but I, as your president, will not be a part of it," Trump said. "The Republican Party will remain the voice of the patriotic heroes who keep America safe."
Despite Trump's claims Biden has stood with peaceful protesters demonstrating against racial injustice, not the violence and riots that continued in many Americans cities experiencing unrest, most recently in Kenosha, Wis.
"Protesting such brutality is right and necessary," Biden said in May. "It's an utterly American response. But burning down communities and needless destruction is not. Violence that endangers lives is not."
Biden would raise taxes by $4 trillion, Trump said, but he'd cut them. China "would own the county" if Biden were elected, Trump said, but he'd "hold them fully accountable for the tragedy they caused."
If Biden were president, he'd implement a shutdown on the entire country amid the coronavirus crisis, Trump said. On the other hand, Trump said his approach consists of "sheltering those at highest risk – especially the elderly – while allowing lower-risk Americans to safely return to work and school."
Introducing Trump for his speech was daughter and senior adviser Ivanka Trump, who echoed her father's campaign theme Trump the best is yet and downplayed his comments on Twitter, which has been his prime forum for racist and erroneous remarks.
"My father has strong convictions," Ivanka Trump said. "He knows what he believes, and says what he thinks. Whether you agree with him or not, you always know where he stands. I recognize that my dad's communication style is not to everyone's taste. And I know his tweets can feel a bit — unfiltered. But the results speak for themselves."
While Trump in his 2016 acceptance speech brought up LGBTQ people in a first for a Republican presidential nominee, Trump didn't explicitly bring up the LGBTQ people in his speech. In one portion of his remarks, Trump promised equal justice under the law for all Americans regardless of race, religion, color and creed, but declined to say sexual orientation and gender identity.
In another portion of his speech, Trump lamented the changes society has seen, including words that now have different meanings.
"We must reclaim our independence from the left's repressive mandates," Trump said "Americans are exhausted trying to keep up with the latest list of approved words and phrases, and the ever-more restrictive political decrees. Many things have a different name now, and the rules are constantly changing."
Although it wasn't explicitly stated, those words could be an attempt to draw on fears over growing LGBTQ acceptance, including same-sex marriage as well as non-binary and transgender people and their pronouns.
Alphonso David, president of the Human Rights Campaign, said in a statement Trump's speech marked the end of a convention that "layered lies on top of lies in its attempt to create an alternate America."
"But in 67 days, they will get a reality check," David said. "On and before November 3rd, Equality Voters across the nation will have their voices heard and cast their ballots for the most pro-equality ticket in history: Joe Biden and Kamala Harris. Together, we will turn the page on Donald Trump, Mike Pence and their administration of 'alternative facts' and take back the People's House for all the people."
Watch Trump's full speech here (via The Hill):