September 2, 2020 at 11:20 am EDT | by Staff reports
Queery: Kerry Hallett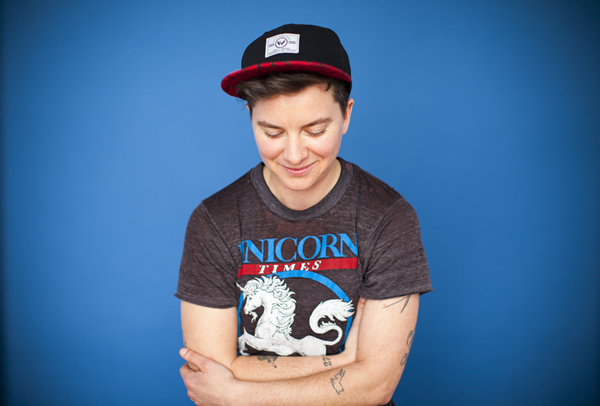 This weekend brings the culmination of Sundance, the annual CAMP Rehoboth fundraiser that normally features a packed dance floor. This year is different, of course, with Sundance going virtual. (See this week's Blade Calendar page for details.)
Kerry Hallett, 36, is CAMP Rehoboth's operations administrator. Previously, she worked as a server at Rehoboth's Chesapeake & Maine and as an "INNmate" (innkeeper) at the Dogfish Inn (105 Savannah Rd, Lewes, Del.).
"In my current position at CAMP Rehoboth, I still get to collaborate with my Dogfish fam," she says. "To me, community is all about collaboration."
Hallett is married to Millie Crotty and the two have lived in Rehoboth with their "fur babies," Berlin, Indy, and Joey Macaroni, since 2019.
Hallett is also a musician and spends time writing, singing, and playing music.
"I also love chill time with my wife and the dogs, and heading out on the water for paddle board or kayaking adventures," she says.
How long have you been out and who was the hardest person to tell?
I've been out since I was about 13. I came out in 8th grade. I had a "boyfriend" who was also gay — we kind of realized it at the same time, and made a pact to tell our moms at the same time. My mom was definitely the hardest person to tell, though I know she wasn't surprised. From an early age we fought about me wanting to wear boy's clothes and pull my hair back in a ponytail to hide it under my hat. I wanted her approval so badly, and I knew she would blame herself because she was a single mom. We fought a lot about it at first, but now I realize that it was because she had watched the LGBTQ folks of her own generation struggle so much, and she didn't want me to have to live through that struggle.
Who's your LGBTQ hero?
Audre Lorde. "I am not free while any woman is unfree, even when her shackles are very different from my own."
What LGBTQ stereotype most annoys you?
That I'm supposed to act a certain way based on the way I look. I identify with and present a more butch aesthetic, and some people assume that means I should act in ways that they would define as "tough." That definition is subjective, of course. It took me a long time for me to realize that and to feel comfortable just being me. It took finding someone who loves me exactly the way I am (not just the way I look and the way they want me to act based on their assumptions) to realize that I don't have to fit neatly into any category.
What's your proudest professional achievement?
Releasing an album. You can find it on iTunes and Spotify under my previous band name, Heart Harbor. The EP is called The Tender Trap.
What terrifies you?
Being stuck with 45 for another 4 years…VOTE!
What's something trashy or vapid you love?
Trashy caesar dressing. I will eat (and enjoy) a caesar salad from ANYWHERE. Like, anywhere.
What's your greatest domestic skill?
Definitely cooking. I'm obsessed with herbs and spices, and love making sauces and condiments. On heavy rotation in my kitchen are homemade harissa, chimichurri, and schug. I put them on everything!
What's your favorite LGBTQ movie or show?
POSE!
What's your social media pet peeve?
Trolling and hate speech.
What would the end of the LGBTQ movement look like to you?
The movement is so tied to so many others. It's intersectional. The end of it would be the end of all social justice movements, the end of oppression, the end of the white-cis-ableist-hetero-patriarchy.
What's the most overrated social custom?
Saying "Bless You" after someone sneezes.
What was your religion, if any, as a child and what is it today?
I was raised sort of Catholic. I had my first communion and everything. But then my mom got fed up with the church and we started going to a Unitarian church. Currently I don't subscribe to any religion, but consider myself a deeply spiritual person. I do a lot of reading on different spiritual and philosophical traditions. Some of my favorite thinkers include Krishnamurti, Pema Chodron, and S.N. Goenka.
What's Rehoboth's best hidden gem?
Bella Luna Boutique. It's a truly unique and beautifully curated home decor, jewelry, and gift shop. Bella Luna is locally owned and supports local artists. The store selection and staff are fabulous, and all summer long they're donating a portion of sales to the Southern Delaware Alliance for Racial Justice. Another hidden gem — though it's technically in Lewes — is The Station on Kings. THE BEST pastries ever!
What's been the most memorable pop culture moment of your lifetime?
Pose! It's redefining queer pop culture in the best way.
What celebrity death hit you hardest?
Dolores O'Riordan and John Lewis
If you could redo one moment from your past, what would it be?
I'd ask my wife out sooner. We were just friends for 5 years before.
What are your obsessions?
Doggo memes, hot sauce, Aimee Mann songs
Finish this sentence — It's about damn time:
people stopped fearing what they don't know.
What do you wish you'd known at 18?
That it really doesn't matter what others think of you. You have to radically love and accept yourself, and the rest will fall into place.
Why Rehoboth?
We moved from Philly to Rehoboth to escape the city grind. There's so much nature here and tons of beaches our dog can run on (it's her happy place). Cheers, Queers!