August 20, 2020 at 1:13 pm EDT | by David Ehrenstein
'Sunset Boulevard' of broken dreams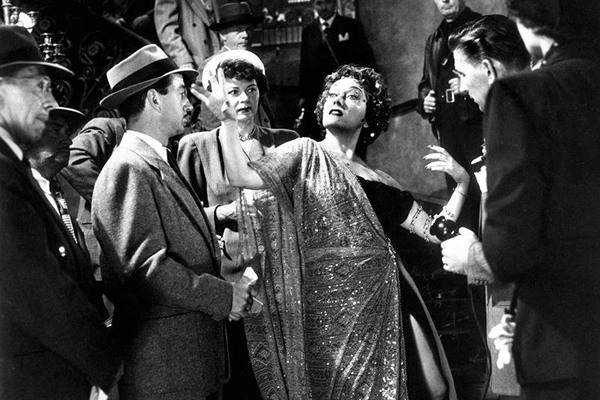 "I AM big! It's the pictures that got small."
So goes one of many famous quotes from "Sunset Boulevard," the 1950 Billy Wilder classic that celebrated its 70th anniversary on Aug. 10. Like many of the film's now-iconic lines, it is spoken by Norma Desmond, the forgotten silent screen goddess (fearlessly portrayed by real-life silent starlet Gloria Swanson) who serves as the grotesque centerpiece of Wilder's cynical show business fable; it's a proclamation of contempt, hurled against a Hollywood that has left her behind as it moves into an era that has no room for her larger-than-life ego.
Wilder's beloved film noir, which he co-wrote with Charles Brackett, is one of those classics that stands the test of time.
Equal parts bitter tragedy and shrewd satire, it's a cautionary tale against the ephemeral allures of fame and fortune, as well as an indictment of an industry that exploits and then discards the very people who make it possible in the first place.
More than anything, it's a warning against the dangers of holding on to the past in a world that moves forever forward.
With themes like that, "Sunset Boulevard" is guaranteed to have something to say for audiences in any era – but thanks to a global pandemic, it's a film that has suddenly become particularly relevant. After all, if Norma Desmond were around in 2020, she would surely complain that the pictures had gotten even smaller.
As we try to make sense of our new COVID place in the world, splitting our time between "working from home" and binge-watching reruns on television, the images we stream have become postcard-sized or even smaller, as the computer and phone become the New Cinema. Even the medium of streaming is being shattered into ever tinier fragments by the likes of Instagram, Quibi and TikTok.
Not only that, our world itself has shrunk; the nightclubs and bars, dinners and awards ceremonies, all the red-carpet events that once defined social life in Hollywood have disappeared. Our experience of The Fabulous has been reduced to fleeting sound-bites and awkward livestreams.
For those who are part of industry itself, the impact of these changes has been swift and profound.
Even before COVID, the landscape of celebrity was already transforming. New avenues to fame had sprung from the virtual world of social media, driven by a generation of influencers who, like Norma with her fake fan-mail, could even "buy" followers to convince themselves of their own popularity by increasing the number of "likes" and "shares" they rack up.
Complicating things further, the sheer amount of content now available, coupled with the high cost of producing it, meant that an actor's famous name was no longer enough to ensure that a new film would be a hit, no matter how much social media buzz they might have behind them; the Franchise Picture was now the only safe bet for studios – and in a world where a single well-timed tweet could shift the tide of popular opinion in an afternoon, even that was no guarantee.
Now, months into the pandemic, even the brightest stars face an uncertain future. Everyone who was famous in January suddenly finds themselves canceled, irrelevant, dimmed and unsure of their path back to celebrity.
The star machine of late-night television has become a pale imitation of itself, turning former supernova-caliber appearances into mediocre Skype calls and half-hearted attempts at staging a "feels-live" show. The exceptional has given way to the perfunctory, and it's hard to escape the feeling that everyone involved would rather be doing something else.
At the end of "Sunset Boulevard," Norma delivers her most famous line. "Alright, Mr. DeMille, I'm ready for my close-up," she purrs, as she prepares to slink down the stairs toward the camera for a comeback that's never going to happen.
As COVID continues to rage with no end in sight, how many real-life stars fear that they are facing the same fate?
After all, there were few "Mr. DeMilles" left in the world even before the pandemic, and now they are virtually a thing of the past.
In any case, productions have come to a halt, and if it was hard to get that close-up before, it's next to impossible now.
As for Sunset Boulevard itself (the place, not the movie or the Andew Lloyd Webber neo-opera based upon it), it has been decimated, like most urban haunts, by the epidemic, a place where a once-teeming urban existence has been replaced by miles-long swaths of badly boarded-up storefronts, graffitied with wheatpaste dreams of normalcy and an equality that has always been out of reach in LA.
It would be easy enough during this state of affairs to succumb to gloomy nostalgia for a world gone by, or to echo the hard-edged tone of "Sunset Boulevard" and devalue the things we have lost by decreeing that they were never worth that much to begin with.
We are, essentially, in survival mode now, locked down for the duration – and happily so, if we have adequate food supplies, a well-functioning computer, a TV and streaming services to help us pass the time.
It's a time to be thankful for important things we still have, not to bemoan the absence of trivial things we don't.
In the middle of an ongoing traumatic event, it's often difficult to remember that things won't always be as they are. The day will come when the viral danger has passed, and though there will undoubtedly be some permanent changes to the way we live, it's reasonably certain that we will, at last, return to some version of our "normal" world.
When that day arrives, a resurgent entertainment machine will surely come back, too, eager to once more clamor for our attention (and our money) as it offers up its seemingly eternal parade of stars.
After what we are going through now, will we still be interested? Will we even be able to care?
The answer to that question is hard to see, for now, but even within the cruel universe of "Sunset Boulevard" there is room for a glimmer of hope, and yet another of its famous lines may point the way to our path forward.
Midway through the film, Joe Gillis, Norma's reluctant gigolo (William Holden), says to her, "There's nothing tragic about being 50 – not unless you're trying to be 25." In context, it's a gentle admonition over an obsession with youth and beauty, but it can easily be seen in a broader sense.
For better or worse, we have been changed, and we can no more go back to who we were than Norma can convince Paramount to let her star in a movie about Salome.
But it doesn't have to be a tragedy.
Instead, it can be a choice. We can retreat into the shadows to play parlor games with the other "waxworks" and mourn for our former glories, or we can pick up the pieces of our broken dreams and rebuild them into something bigger, better, and kinder.
If Hollywood wants to come with us into that new world, it will have to do the same.

John Paul King contributed to this article.