September 10, 2020 at 8:58 pm EDT | by Philip Van Slooten
Calendar: Sept. 11-17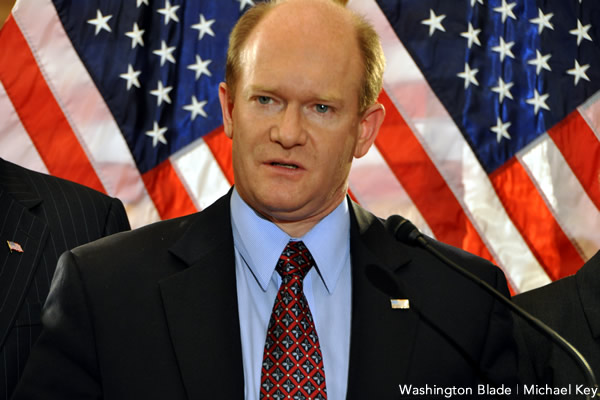 Friday, Sept. 11
Women in their Twenties and Thirties meets via Zoom tonight at 8 p.m. This social discussion group for queer women in the D.C. area is meeting virtually during the pandemic as a way for queer women to meet and make new friends in a fun and friendly setting. For more information, visit thedccenter.org.
Blade Foundation Summer Closing Party in Rehoboth Beach is today at 5 p.m., featuring remarks from U.S. Sen. Chris Coons, at the Blue Moon (35 Baltimore Ave., Rehoboth Beach, Del.). Tickets at bladefoundation.org/rehoboth.
Saturday, Sept. 12
LGBTQ+ Survivor ArtMake: Who I Am SoulCollage is today from 2:30-5 p.m. via Zoom. This event hosted by the D.C. Anti-Violence Project is an opportunity for LGBTQ survivors of various levels of violence, trauma and abuse to heal and express themselves through art. RSVP by Friday, Sept. 11 at 5 p.m. by completing a short survey for the link. Visit thedccenter.org for details.
Sunday, Sept. 13
A Scavenger Hunt of the National Zoo (3001 Connecticut Ave., N.W.) hosted by ThingstodoDC.com is today from 10:30 a.m. to 1:30 p.m. Tickets are $20. Participants will look for items, answer trivia and win prizes all while learning and exploring the zoo. All attendees must wear a mask, be in good health, and social distance while in their teams. For tickets and information, visit thingstododc.com.
Monday, Sept. 14
Showtunes in the Streets hosted by JR.'s Bar (1519 17th St., N.W.) continues tonight at 8 p.m. Videos are streamed both online via Twitter @JRsBar_DC and in-person on a giant projector. Masks and reservations are required for this weekly event. For more information and to make a reservation, click here.
Tuesday, Sept. 15
KhushDC presents Game Night via Zoom tonight at 7 p.m. Queer and trans South Asians are invited to play games and build community every third Tuesday of the month. For more information and the link, visit the group's Facebook page or thedccenter.org.
Profs & Pints Online: Black Colleges and Jewish Refugees tonight at 7 p.m. This free event discusses how scholars fleeing Hitler's Germany found a refuge with new lives at Historically Black Colleges and Universities. For free tickets and information, visit the registration page.
Wednesday, Sept. 16
Transcendence: A Sufi Music Festival is presented virtually by the Smithsonian's National Museum of Asian Art (1050 Independence Ave., S.W.) today from noon to 1 p.m. this Free music festival features world-renowned performers from Morocco, France, Iran and India all using dance, recitation, poetry and music to gain transcendence and enlightenment. The music expresses longing and yearning as well as the joy and ecstasy of union. For more details and to register, visit asia.si.edu/events or their Facebook page.
Thursday, Sept 17
Shirtless men drink free during shirtless night at the Green Lantern (1335 Green Ct., N.W.). Masks are still required and seating is limited so reservations are encouraged. For more information, visit greenlanterndc.com or their Facebook page.