September 24, 2020 at 6:17 pm EDT | by Evan Caplan
At Jackie, food is a catalyst for conversation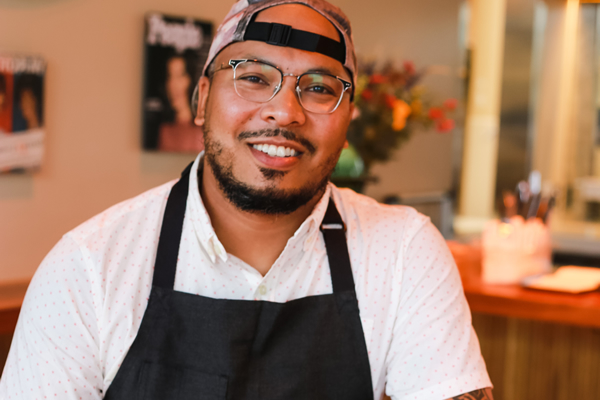 At Jackie, you don't kick off your shoes. You throw on a pair of stilettos and make like it's your first night on the Vineyard.
Jackie is the pearl of a new restaurant in Navy Yard, a high-concept addition to the neighborhood's dining scene. This rebranded, refreshed restaurant at gay-owned Dacha Beer Garden by Nationals Stadium features James Beard Award finalist Chef Jerome Grant, lately of Sweet Home Café (the restaurant at the Smithsonian National Museum of African American History and Culture).
Back in 2019, owners Ilya Alter and Dmitri Chekaldin opened an interior restaurant across from their new Dacha beer garden, but kept the name Dacha for the restaurant.
"That created a bit of a confusion," Chekaldin said, "because "Dacha" is associated with boots of beer, pretzels and tons of puppies, not necessarily a restaurant."
When researching a new concept in early 2020, they were introduced to Grant, looking for new opportunities after working to successfully represent African and African-American cuisine to visitors at the museum. Together with Grant, they conceived of Jackie, a restaurant that speaks to the breadth of American cuisine through the lens of Chef Grant, son of a Black father and Filipino mother.
Alter said that they landed on the name Jackie after the former first lady, and in reference to the Shaw location's mural of Elizabeth Taylor. "We love these strong, beautiful women who survived and thrived after tremendous traumas," he said.
"We worked with a great design team," he said, "that took the groovy, forward-looking themes of 1960s architecture and understood the understated glamour of the era we wanted to showcase."
But it's through Grant's cooking that the restaurant sparkles like so many glamorous tiaras.
Working up from a sous chef position at Mitsitam Cafe of the National Museum of the American Indian before helming Sweet Home Café, Grant oversees all menus at Dacha, down to those beer garden pretzels. Yet he only agreed to the job with Dacha because of the freedom he was given to express his creativity at Jackie.
"I'm a firm believer that food should be a catalyst for conversation. I wanted to spark a dialogue about what American food means."
Grant is passionate that "American cuisine is not just burgers and pizzas; it's a melting pot of the cultures that helped build this country. Jackie tells the story of my experiences with food growing up in a multicultural environment — it is my American table."
To wit: one signature dish is a makeover of Grant's childhood favorite, the great American spaghetti and meatballs. This dish is an homage to his Filipino mother. She tossed in longganisa, a spiced Filipino sausage, as part of a Bolognese sauce that comes together on a base of banana ketchup, a common condiment in Southeast Asia.
The ingredients, he emphasizes, are not "new." Many Americans, like Grant, grew up eating dishes like these – echoing a sentiment present in Padma Lakshmi's "Taste the Nation" series on Netflix that explores immigrant neighborhoods across the U.S. through their food.
A hearty, cheesy spoonful of his grits reveals additional layers of the "new" American palate. Another important dish from his childhood, these grits are just as South Asian as they are southern. Grant replaces traditional corn with rice, smothering it in Pecorino and a vegan ranch. It's served alongside fried chicken, anther quintessentially southern favorite – but the batter is spiked with miso.
Grant says that a modern-day Jackie Kennedy, worldly and urbane, would have embraced the influences of various cultures in today's America. He relays the story of her weekend diet consisting of "baked potatoes and caviar," at once down-home and sophisticated.
Jackie (the restaurant) is an opportunity for Grant to "put myself in a space to learn more and grow as person," he said, and serve "food that showcases the women who raised me and how they sustained their families" – yet another homage to Jackie Kennedy Onassis. Grant was also included in a New York Times list of 16 Black chefs changing food in America, confident that his take on American food would resonate with a colorful quilt of Americans.
As highly visible gay owners of two highly popular beer gardens that have not been without controversy, Alter and Chekaldin take pains to ensure they have a diverse staff and provide support for LGBTQ organizations through a Cause Tuesday program.
Opening during COVID was challenging, Alter reports, but the presence of the sizeable patio allowed for crowds eager to try the award-winning chef's dishes to dine alfresco. Plus, they were pleased to be able to allow several workers ineligible for unemployment to continue working.
Grant and Alter also ensured that the cocktails reflected Kennedy Onassis; one standout cocktail is "Jackie O," features her favorite liquor, Lillet Blanc.
Free to flex his culinary wings, Grant maintains humility. "I feel that I had to work three or four times harder than some others," he said, because of what he looked like.
"Now I can serve a menu that tells the story of my experiences with food growing up in a multicultural environment — it is my American table."