ADVERTORIAL | Pepco's Commitment to Our Customers and the Climate
Bold action needed to reduce the emissions, build resilience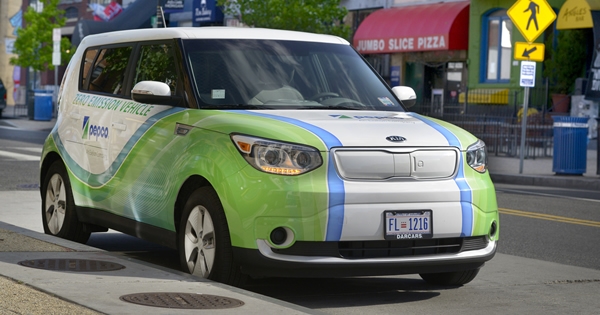 Climate change poses a threat to all our communities. From coastal towns and riverfront communities, to urban centers and suburban neighborhoods, the frequency and severity of storms, heat waves, droughts and wildfires is increasing. Among the other extremes of the year 2020, it was also one of the two hottest years on record, tying with 2016. The need to take bold action to both reduce the emissions that drive climate change and build resilience for an unpredictable future is critical and Pepco is committed to doing its part.
As the local electricity provider for the District of Columbia, we are connected to our customers and communities by more than just wires and recognize the role we can and must play in helping to drive actions with positive climate impact. And, while Pepco does not own power plants, we know there are actions we can take to reduce the greenhouse gas footprint of our own operations, including our buildings, fleet and grid, and help our customers and communities do the same.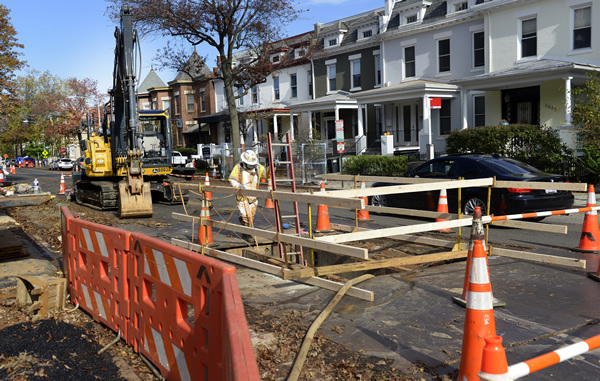 Pepco supports the District's goal to achieve carbon neutrality by 2050 and recently launched a Climate Change Commitment aligned with this effort. Pepco's Climate Change Commitment includes more than 20 actions to help combat the climate crisis and drive its own greenhouse gas emissions down by 70 percent over the next five years.
"Climate change is real, and we are seeing its many effects today," notes Melissa Lavinson, senior vice president of Governmental and External Affairs for Pepco Holdings. "We need to take action now to ensure a clean and healthy environment for our families, our communities and future generations. And, for Pepco, it all starts with building a smarter, stronger and cleaner energy system and providing climate solutions that benefit all Washingtonians."
The company is also exploring solutions as an energy delivery company that provides products and services to customers to enable them to take action to reduce their greenhouse gas footprint; and as a community partner that can enable programs and initiatives to help reduce energy use, build resilience and advance clean energy technologies, like local solar, electrified transportation and battery storage.
Pepco is making land and roof space available for community solar projects to benefit limited-income customers and help the District meet its local solar goals. And, Pepco itself will switch to 100 percent clean and renewable electricity for electricity consumed in its own buildings and convert to energy-efficient lighting across its District properties by the end of 2025.
To encourage all District residents to use energy more efficiently and drive down emissions in the built environment, Pepco collaborated with the District of Columbia Department of Energy and Environment, the DC Sustainable Energy Utility, the District Government and more than 20 environmental, business and community groups to launch #ReduceEnergyUseDC to inspire residents to save energy, save money and help flight climate change.
Pepco will also take action to create systemic changes to energy consumption and cultivate long-lasting consumer behaviors through a suite of energy efficiency programs that will be proposed to and considered by the DC Public Service Commission in 2021.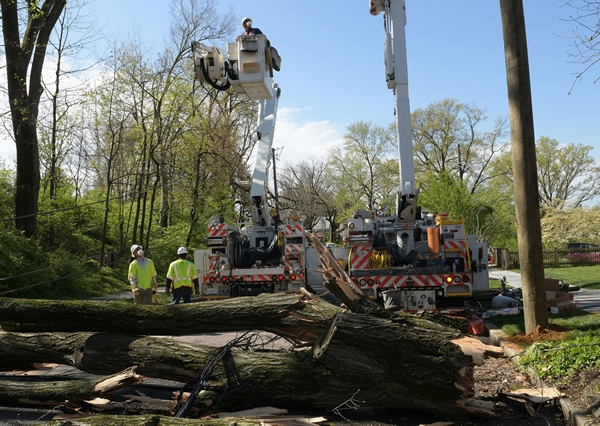 At the same time, Pepco is building out the infrastructure necessary to support greater electrification of taxis, rideshare vehicles, buses, and other vehicles in the District. Pepco, itself, will electrify half of its own passenger and medium-duty fleet by 2030. The company also offers EV charging rates to its District customers and will support an innovative pilot to electrify food trucks.
"Local energy delivery companies like Pepco are in the position to tackle climate change on a number of fronts, but we can't do it alone," says Lavinson. "Developing a unified approach to solve climate problems equitably, effectively and expeditiously is among the biggest challenges we face. By being a good partner and building a smarter, stronger and cleaner electric grid, we know we can be an important part of the change, and create good paying jobs for District residents, while expanding business opportunities for local businesses in the process."
As 2021 progresses, Pepco will be making similar commitments for its Maryland operations, customers, and communities. It will be building from existing initiatives such as EVSmart, which enables electrified transportation, its award winning EmpowerMD energy efficiency programs, which helps customers save energy and money, its pending Smart Streetlights proposal and its Sustainable Community Grants program.
For more information on Pepco's Climate Change Commitment and to track how the company is progressing toward it's climate goals, visit: pepco.com/Climate.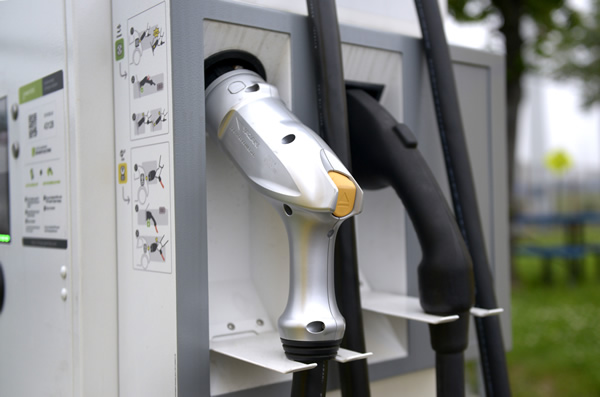 Bomb threat shuts down Takoma Park holiday drag show
MotorKat evacuated when Tara Hoot was performing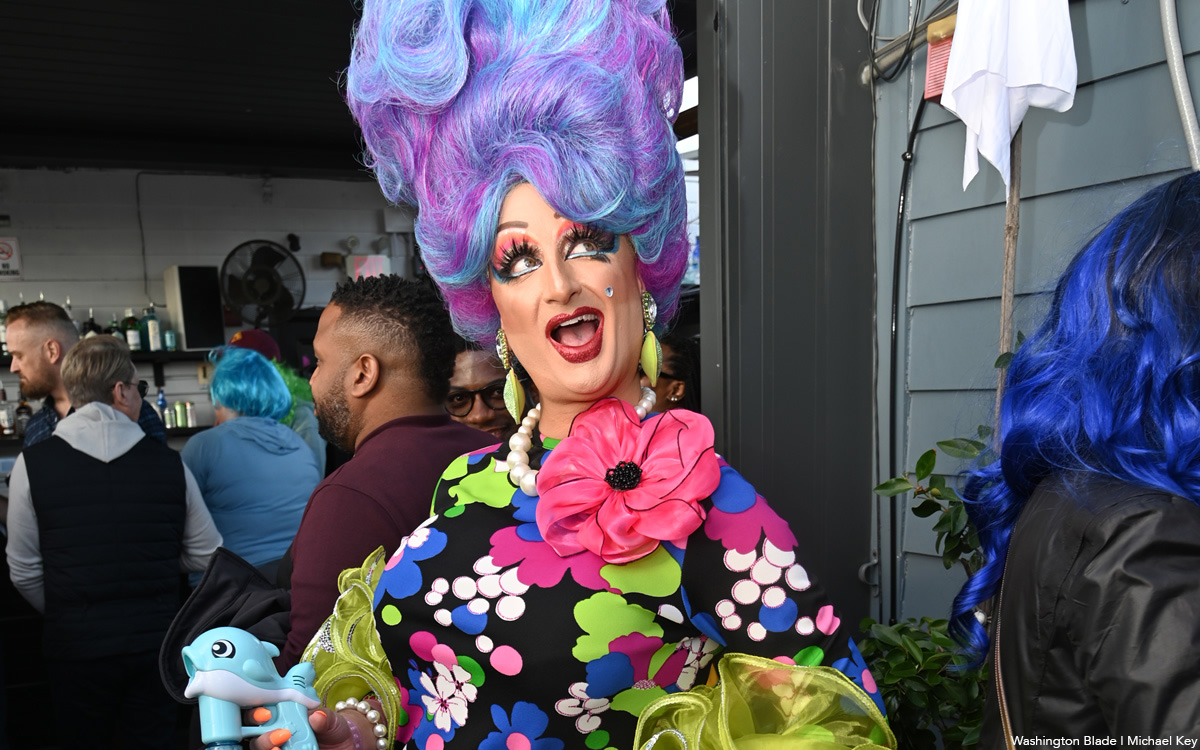 Police cordoned off a popular strip in Takoma Park on Saturday after a bomb threat shut down businesses, including a holiday performance by drag artist Tara Hoot.
MotorKat General Manager Mike Rothman told the Washington Blade that Takoma Park police notified them of a bomb threat to their business around noon.
Tara Hoot was delivering a holiday brunch performance at the MotorKat when the evacuation order came in.
Rothman said they were notified "five minutes into her final performance." Tara Hoot herself told the audience to leave for their safety.
Police proceeded to tape off the area and evacuated all businesses between Eastern and South Carroll Avenues, including TakomaBevCo, which is co-owned by MotorKat Wine Director Seth Cook.
Cook told the Blade that police brought in "bomb-sniffing dogs" to clear the area before allowing businesses to reopen around 2 p.m.
"The timing is unfortunate as this is one of the busiest weekends before the holidays," Cook said.
Rothman was also disappointed by the lost revenue due to what ultimately was a false threat, but he was firm that the Takoma Park LGBTQ community is resilient and would continue to thrive despite this setback.
"Takoma Park is a pretty proud and resilient community," he said. "I don't expect people to lay down and be scared by this."
MotorKat and TakomaBevCo reopened for business around 3 p.m.
Comings & Goings
Jimmy Alexander joins WTOP News as a feature reporter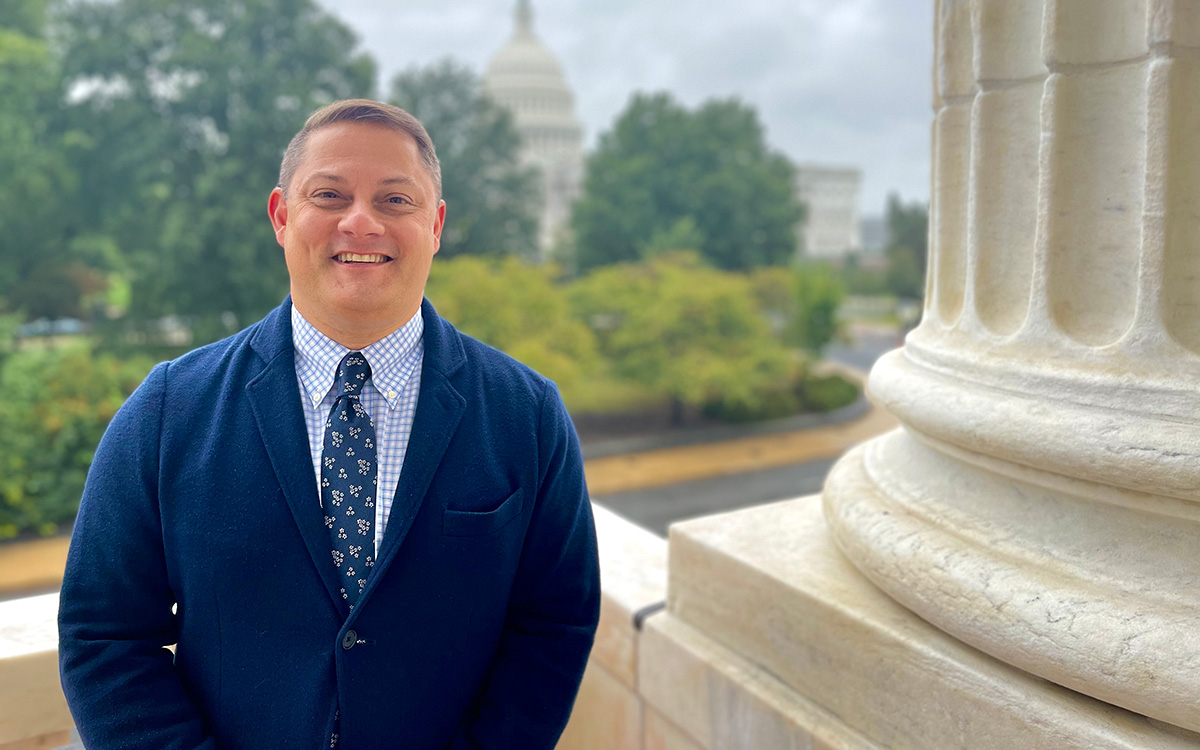 The Comings & Goings column is about sharing the professional successes of our community. We want to recognize those landing new jobs, new clients for their business, joining boards of organizations, and other achievements. Please share your successes with us at: [email protected]. 
Congratulations to Jimmy Alexander who has been hired at WTOP News as a feature reporter. Over the last four years Alexander has been covering stories as varied as the Jan. 6 insurrection to the 17th Street High Heel Race. He has been working as a co-host on the Jack Diamond Morning show on Cumulus Media, Manning Media. On his acceptance of the new position Alexander said, "I'm thrilled that at WTOP News, I will be able to focus on events and people that bring hope to your heart and a smile to your face."
Alexander is a versatile multimedia broadcaster with more than two decades of experience covering both major news events in Washington D.C., and important human-interest stories outside the Beltway. He is an engaging interviewer with a track record of having compelling conversations with the biggest names in government and show business, from presidents to Paul McCartney. Prior to this he worked as a freelance feature reporter with WDCW50-DC News Now. He is also with Writer-20, Twenty Country Countdown, United Stations Radio Networks. There he developed a concept for a countdown show featuring country music's weekly top songs on-air and online and prepared weekly scripts for a three-hour show.
Alexander conducted the only Jan. 6, 2021 interview with "The QAnon Shaman" Jacob Chansley. Since 2016, he has served by request of the D.C. mayor as official host of the 17th Street High Heel Race, the city's second largest LGBTQ event of the year. He is featured in the documentary "Joan Rivers: A Piece of Work," and is a frequent guest on CNN's Morning Show "New Day." He covered White House visits by Queen Elizabeth, the Pope, and the yearly Easter Egg Roll. He also won $10,000 on the game show "Pyramid."
LGBTQ University of Maryland students prepare to celebrate Hanukkah
Eight-day festival to begin Thursday night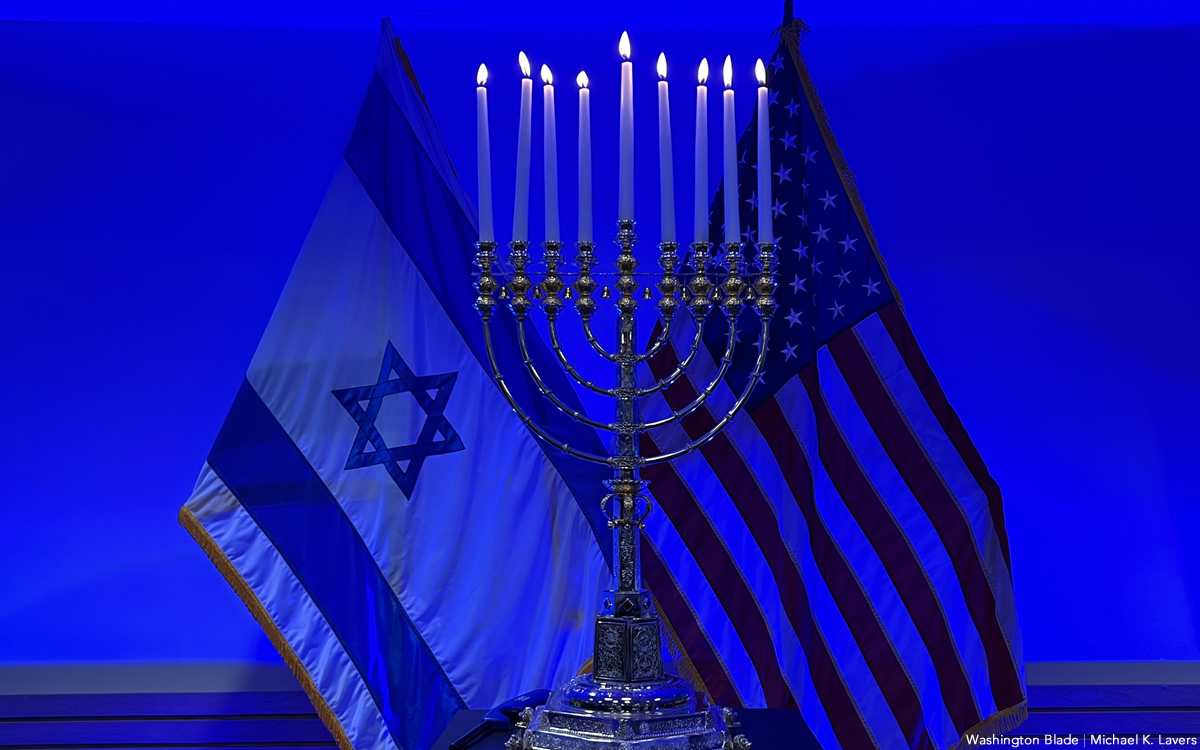 A number of Hanukkah events for LGBTQ students will take place at the University of Maryland this week.
Queer Jewish students and allies are welcome to attend Crazy Cozy Chill Chanukah Celebration on Sunday at the University of Maryland Hillel. Hamsa, home to queer Jewish life on campus, hosted a study break with hot drinks, snacks and games and a chance to welcome Hanukkah early. 
The first night of Hanukkah is Thursday.
Chabad UMD is hosting a menorah lighting on Thursday in front of McKeldin Library and plans to mention the war between Israel and Hamas, according to Rabbi Eli Backman of Chabad UMD. The event is going to be a focus on the positivity and the message of the Hanukkah story.  
"We've been around for thousands of years and all those who've tried to make sure that we didn't live to see the next generation (is) no longer here," Backman said. "That message will really resonate at home for the holiday."
The story of the Maccabees is one of the few stories where Jewish people fought, Backman said. In Jewish history, people don't see a military response in many of the other holiday moments.
"It should give us a boost of energy," Backman said. "A boost of strength (and) a boost of hope."
Part of the Hanukkah story's message is that Jewish people were in a position that they needed to form a military to secure their borders, Backman said. And they succeeded. 
For some, celebrating Hanukkah depends on the people they're around, Florence Miller, a sophomore English and Women, Gender and Sexuality Studies who is Hamsa's president, said.
Miller is agnostic and does not find themself to be a religious person, but the thing that has kept their Jewish faith is the people about whom they care are Jewish and the sense of community that comes from being Jewish.
"I just wanted to do a Hanukkah event," Miller said. "It's been a good refresher with how the semester has been."
Miller last year attended a Hanukkah party and played a game of dreidel, a spinning top with four sides marked with a Hebrew letter. The people who were in attendance wanted to bet something, but the only thing they could find were pinto beans.
"When I took them out of my pocket one got stuck in there," Miller said. "I still have that bean."
For some Jewish students it's important to go to Hanukkah events like Hamsa's celebration to be around like-minded Jewish people, Yarden Shestopal, a sophomore American Studies major, said.
"Which is why I like Hamsa," Shestopal said. "Since we're all queer people or allies we kind of share that mentality of acceptance."
Being part of the Jewish community at the University of Maryland has opened Shestopal up to how diverse the LGBTQ and Jewish communities are. Shestopal this year, however, debated whether or not to put his menorah up on the windowsill of his apartment because of the rise in anti-Semitism due to the war in Israel.  
"I'm pretty sure I am going to put the menorah in my window," Shestopal said. "The only way to combat anti-Semitism is to stay visible." 
Several University of Maryland students lived in Israel before or during their time at the university.
Elisheva Greene, a junior animal science major, went to seminary, a school for women to learn about Torah, during the pandemic. Greene said celebrating Hanukkah while a war is happening is going to be a similar feeling. 
"I'm able to do what I can from over here by supporting my family and friends," Greene said. "The biggest thing I can be doing is living my life as a Jewish person and showing that I express my Judaism and I'm not afraid."
Greene recalled they could not go more than 1,000 feet from home for two months and Hanukkah took place during that time. While it was difficult, Greene said people still put their menorahs on their windowsill.
"Knowing the resilience the Israelis have and the fact people like to show their Jewishness (is not) gonna stop me," Greene said. "Like there's a war going on but you're gonna be a Jew and you're gonna flaunt that."