February 24, 2021 at 10:16 am EST | by Chris Johnson
Sen. Merkley hints at support for scrapping filibuster to pass Equality Act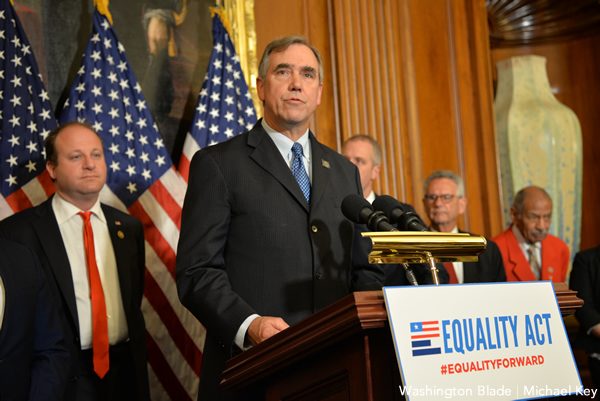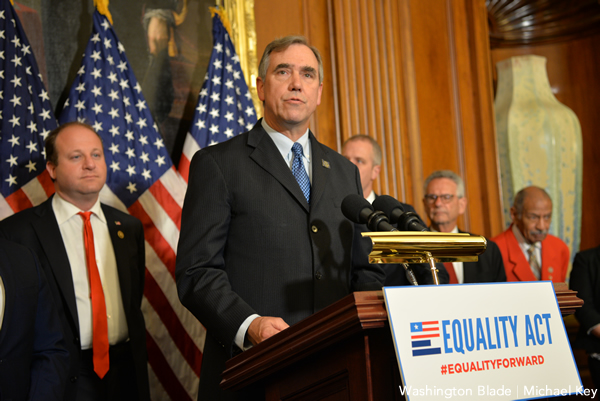 Sen. Jeff Merkley (D-Ore.), the chief sponsor of the Equality Act, hinted at support Tuesday for scrapping the legislative filibuster in the U.S. Senate to advance the comprehensive LGBTQ legislation.
Merkley, speaking with the Washington Blade in a phone interview, said the filibuster amounts to a Republican caucus veto when asked whether the Equality Act merits scrapping the 60-vote threshold to advance legislation.
"I don't believe that Mitch McConnell should have a veto over fundamental rights and I've been very clear about that over time," Merkley said.
Merkley, a longtime proponent of filibuster reform, based his grounds for potentially ending the legislative filibuster squarely in terms of the Equality Act, which would amend the Civil Rights Act of 1964 to expand its prohibition on anti-LGBTQ discrimination.
"I don't think [McConnell] should be able to veto legislation that enables every American to participate fairly in the housing market and on juries and in financial transactions and public accommodations," Merkley said. "I think most Americans are still stunned to learn that in the majority of America's states you can still be thrown out of a restaurant, legally, because of who you are or who you love. It's an outrageous situation and it needs to be remedied and Mitch McConnell should not have a veto."
Progressives are already calling for an end to the legislative filibuster, which is criticized as a relic of structuralism racism, as the only way to make sure the Equality Act reaches Biden's desk.
At the same time, Merkley recognized that option, which would require a majority vote in the Senate and is opposed within the Democratic caucus by Sens. Kyrsten Sinema (D-Ariz.) and Joe Manchin (D-W.Va.), may not be immediately available.
"If your question is the Senate on the verge of eliminating the filibuster, and the timeframe that we hope to pass this bill, it does not appear so," Merkley said. "And so I think the appropriate model is the model we had in 2013 to pass employment non-discrimination and build that super majority, and that's what I and fellow advocates and civil rights groups are going to do everything in our power to achieve."
In the meantime, Merkley is buoyed in his pursuit of the traditional path of finding 60 votes in the Senate by an upcoming House vote and a supportive administration in the White House.
"I think we're starting in a very exciting place, a place with a lot of momentum," Merkley said in the interview, which was held shortly after he introduced the bill.
Reflecting on the first time he introduced the comprehensive LGBTQ bill in 2015, Merkley said progress had already been made upon introduction of the legislation this time around.
"We're kicking this off with some 600 organizations endorsing it, some 300 businesses endorsing it," Merkley said. "Two years ago, we had 47 sponsors, now we have 49 sponsors. We have the Supreme Court ruling in Bostock, a ruling that adds to the momentum. Just the fundamental sense that discrimination against LGBTQ Americans is absolutely wrong continues to grow across the land."
But the cherry on top, Merkley said, is having President Biden in the White House, who campaigned on the Equality Act as his No. 1 legislative priority.
"In addition to everything else I just mentioned, we have a president who would sign the bill, so it's fast forward," Merkley said.
Finding 60 votes in the Senate to end a legislative filibuster, which means having 10 Republicans in addition to a united Democratic caucus in a 50-50 Senate, is a clear hurdle, especially after comments from Sens. Mitt Romney (R-Utah) and Susan Collins (R-Maine) against supporting the bill.
Merkley, however, was unfazed when asked about the challenge and said it was "the exact question I was asked back in 2013" when he brought the Employment Non-Discrimination Act to the floor. Although there was no certainty about having 60 votes, they came together.
"We're reaching out to Republican colleagues to hold individual conversations about the bill and get them answers to questions that they are raising," Merkley added. "And so we hope that just as we were able to build eight years ago a super majority support for the bill, we're going to apply ourselves to do the same this time around."
Merkley said a Senate Judiciary Committee hearing is planned for the Equality Act, but the timing isn't yet certain. A Democratic aide said no information was immediately available on when the hearing will be.
But with 49 co-sponsors, the entire Democratic caucus isn't united in supporting the Equality Act. Merkley wouldn't name who it was, but Manchin wasn't a co-sponsor in the previous Congress. Manchin's office hasn't responded to repeated requests for comment in the past week on whether he'd support the legislation.
"Not sponsoring doesn't mean you're going to vote against against the bill," Merkley cautioned. "It may often mean for a Republican or a Democrat you have additional questions that you desire to get answered, or you simply don't want to prejudge your position until you heard the issues raised in an upcoming hearing."
Generally speaking, the Republican caucus is expected to oppose the Equality Act fiercely. Sen. Rand Paul (R-Ky.) has already staked out a position about the participation of transgender girls in school sports, saying it amounts to allowing boys to take part in girls' events and calling it "bizarre." Romney said he concurred with Paul on the issue
Asked about the nuts and bolts of the wording of the Equality Act, including whether he'd rule out any changes to accommodate concerns from Republicans like Paul and Romney, Merkley hedged.
"In terms of the dialogue that is held between the two chambers and with the Republican colleagues, that dialogue will happen in close consultation with the civil rights groups that have enormous expertise and working to make sure that no modification or clarification is anything that undermines the opportunity of LGBTQ Americans to thrive in our society," Merkley said.
Merkley also paid heed to the organizations that are supporting the legislation, including the Human Rights Campaign and the NAACP.
"What made it work in 2013 was very close engagement and collaboration with our civil rights groups at every stage of the process, and we're going to be engaged in that very, very much the same way this time round: Close consultation with those groups — including groups like HRC, NAACP and so forth that have strong civil rights backgrounds — to take this forward as we work to get this enacted into law," Merkley said.
Biden, in his role as chief legislator as president, would also be expected to play a role in bringing support to the Equality Act. Merkley, asked whether Biden would be able to keep his campaign promise to sign the legislation within 100 days, beamed over the White House issuing a formal Statement of Administration Policy on Tuesday signaling Biden "strongly supports" the legislation.
Asked whether the White House was being helpful behind the scenes, Merkley said the priority is passing Biden's coronavirus package, but he expects that to change soon.
"I have no doubt that Joe Biden and his team will be working very closely with us to help get this passed at every point," Merkley said. "He's affirmed his administration's strong support for equality to end discrimination in every sphere of American life. He made an executive order right at the beginning of this administration to review all the different departments of the federal government to make sure they're operating without discrimination and provide additional recommendations. I think we have a real champion for equality of opportunity for all Americans in the White House."
The new effort to pass the Equality Act is sandwiched between two U.S. Supreme Court rulings: A landmark decision for LGBTQ rights last year in Bostock v. Clayton County, which determined anti-LGBTQ discrimination is an illegal form of sex discrimination, and an imminent decision in Fulton v. City of Philadelphia, which will determine whether religious-affiliated foster care agencies have a First Amendment right to reject same-sex couples.
Merkley said the Bostock ruling "has been a very positive factor" in efforts to advance the Equality Act, saying it has demonstrated the lack of issues with LGBTQ non-discrimination protections in place.
"I do a lot of town halls," Merkley said. "Nobody in a town hall has said, 'Oh my goodness. What's the story with Bostock?' Americans have come to fundamentally understand this type of discrimination is wrong."
Merkley, however, declined to comment on the potential impact of the forthcoming Fulton decision, saying he'll "leave it to legal experts to plumb the ins and outs of Fulton or other cases." 
Another wrinkle may be the alternative Republican bill set for introduction Wednesday billed as a middle ground between LGBTQ rights and religious freedom known as the Fairness for All Act, which critics have decried as an attempt to legalize discrimination in the name of religion.
Merkley downplayed the bill, saying as of Tuesday it was not made public and expected "it will not be as powerful, as strong in ending discrimination as we should be to give LGBTQ Americans every opportunity to thrive in the United States."
Asked if the bill could be a starting point to get its supporters on board with the Equality Act, Merkley held firm.
"We haven't seen that bill yet. I don't anticipate that it will be of the powerful force to end discrimination that the Equality Act is, but you're welcome to call me after we actually have text of it," Merkley said.