February 26, 2021 at 12:00 pm EST | by Staff reports
Pepco empowers employees through amplified DEI efforts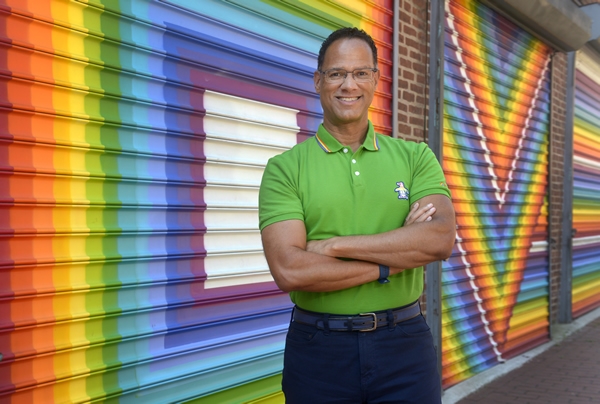 Diversity, equity, and inclusion, or "DEI," is quickly becoming one of the most widely talked about topics in business, media, the nonprofit community and many other sectors. From startups, to boutique agencies to Fortune 100 companies, DEI is critical and expected, especially from an employee's point of view. It's an employer's job to foster an environment that empowers employees in every way, being aware of and removing barriers, encouraging opinions to be voiced, and creating avenues for all to succeed professionally. Feeling seen, heard and represented is key.
After the tumultuous 2020, we caught up with Robbie Atkins, Pepco's Manager of Energy Supplier Services, who was featured in the Blade in 2019, to ask about changes to DEI efforts within the company, and whether or not representation has taken on a greater meaning.
Atkins has been with Pepco for more than 30 years. Out of all of the memories he has at his job, one of his most cherished moments was coming into work one day in October 2014, after just tying the knot with his husband, Joe, to a surprise wedding cake and gift from his entire department. "I walked into the conference room and they had an actual wedding cake," he says. "I was totally blown away by that. I never expected them to acknowledge my wedding!"
That moment was a turning point for Atkins as he began to witness what looked like a more culturally sensitive and inclusive environment in the workplace.
When Pepco President and CEO Dave Velazquez filmed a video on the 50th anniversary of the Stonewall riots in 2019, Atkins felt it was an "amazing moment" as that "would have never been seen five or even 10 years prior."
More recently, Atkins beamed as he described how fulfilled he was participating in the Capital Pride parade in 2018. "This still gets me emotional, especially thinking about how we couldn't walk in the parade this past year due to the Coronavirus pandemic," says Atkins. "When I replay the spectators chanting 'Yay Pepco' from the sidelines, and I think about the unity we displayed that day, I am filled with such honor. I honestly never thought I would see the day when that would happen."
This is far different from Atkins' prior experiences in the '80s and '90s. He remembers his failed attempt at raising money for the 1988 AIDS Walk, stating that his colleagues simply said "I can't give to that." Yet they had no problem asking for donations for their kids' popcorn and candy fundraisers, he recalls. There were also times where his own colleagues made insensitive gestures that he remembers "clear as day."
Today, Atkins is an active member of a company-sponsored employee resource group, focused on the needs of LGBTQ employees and the issues and interests of the community at large. He is also a member of the company's LGBTQ Group Mentoring Circle, which is readying for its first session, "LGBTQ Visibility in the Workplace," designed to offer insight into how LGBTQ employees experience the workplace and to share reflections, both positive and negative, with the goal of creating a more inclusive workplace.
As the world attempts to recover from a devastating and life-changing year that was 2020, with a pandemic and stark incidents of social and racial injustice, efforts to foster understanding have become even more critical. "As an African American, witnessing all of this while in the middle of the pandemic, it certainly presented some challenges, both mentally and emotionally for a lot of us. Pepco provided outlets for employees to discuss how we were being affected, from small groups to executive moderated sessions on topics ranging from 'Defunding the Police' to 'Artifacts – History or Offensive.' All employees were encouraged to be open with our feelings, frustrations, anger, and our thoughts for the future of our community and country," said Atkins. "I am happy to see that this was not a 'one and done' effort, but a part of Pepco's ongoing commitment."
He referenced a company initiative launched at the beginning of 2021 to include DEI in the performance goals and evaluations of all employees in office-based positions. "This will get more people talking about issues that affect many of us, as part of regular, daily business conversations," said Atkins. "It will also allow us to celebrate our differences."
This month, the company is celebrating Black History Month with a series of actions including hosting powerful guest speakers at employee events and a social media campaign highlighting African American inventors in the energy and technology fields.
"When you see yourself represented, you are able to aspire for more and work toward a higher goal. And by doing that, you then inspire the next generation and the next generation and so on. But in order for that chain reaction to begin, we must be represented and heard," said Atkins.
For more information visit: thesource.pepcoholdings.com/pepco