March 2, 2021 at 4:10 pm EST | by Karen Ocamb
Tribute to 'give 'em hell' lesbian feminist pioneer Ivy Bottini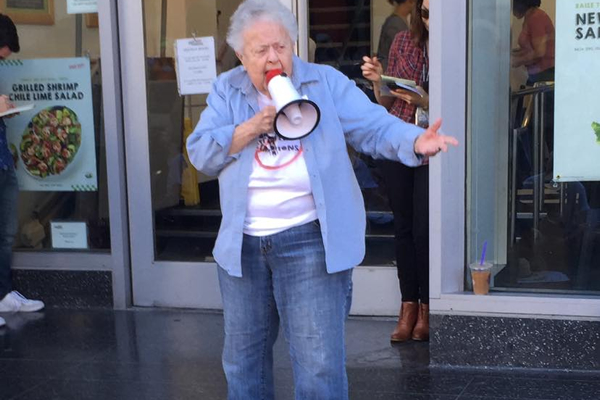 WEST HOLLYWOOD – Kick ass. If Ivy Bottini was pissed off at an injustice, you heard about it. The whole room heard about it. And by the end of her righteous rant, whether at a Stonewall Democratic Club meeting or before the West Hollywood City Council, even nonchalant shruggers applauded her passion. Time finally did what Bottini's critics could not: her voice was silenced on Thursday, Feb. 25 at her daughter Lisa's home in Florida. Ivy Bottini was 94.
Unlike other lesbian feminists of her generation, Bottini did not strike withering fear in the pants of men in power. Perhaps it was because she exuded a subliminal sense of caring and flashes of humor during even the fiercest of diatribes. She hated the old tropes that lesbians hated men and had no sense of humor — traits that made her accessible to those in need from 1950s and 1960s housewives newly aware of the traditional shackles of sexism to the desperate dying gay men deemed untouchable by government, society and often even family in the early days of AIDS.
Bottini's power emanated from her authenticity. Discrimination burned Bottini to the core. She felt the pain. But she didn't just jawbone about it; she translated the searing anger and pain from her own awakening into activism to alleviate the pain of others, becoming a freedom crusader for women, for LGBTQ people — for anyone suffering from oppression and internalized oppression sickness.
"Thousands of deaths and no one cares! No one cares – except us," an emotional Bottini told Andy Sacher of the Lavender Effect about the early days of AIDS. "That was inhuman what was really happening to gay men. It was inhuman how they were demonized."
Throughout her life, each heightened moment fraught with systemic classism, sexism, racism, homophobia and transphobia exploded into a personal epiphany, emerging in her artist's conscious as empathy for others, especially in recent years, over the profound and ubiquitous discrimination experienced by transgender youth.
In a 2017 interview, Los Angles Blade publisher Troy Masters asked Bottini: "If your life were a book, what would the title be?"
"Give 'em Hell," Bottini replied. In fact, the book about her life, as told to Judith V. Branburg, Ph.D., has a more expansive title: "The Liberation of Ivy Bottini: A Memoir of Love and Activism." It opens with a March 17, 2016 gathering at the West Hollywood Public Library where Bottini was being honored by Hollywood NOW and California NOW under the theme "The Unsinkable Feminist Spirit of Ivy Bottini" during a week of being honored for her life's work. "I guess that since I was eighty-nine years old, people figured if they were inclined to honor me at all, they had better do it before I croaked," she wrote.
Bottini's history with the National Organization for Women was itself historic, helping found and led the first chapter of NOW in New York in 1968. The following year, she designed the national NOW logo at the request of then-NOW President Aileen Hernandez.
"We were challenging things that women had lived with for years, centuries, and never questioned. And here we were questioning some of the most basic beliefs about women," Bottini said in a 2015 interview broadcast by MSNBC. "One of the things I thought about when I joined NOW was 'maybe I'll meet a real lesbian' because I had no clue who was a lesbian. I thought I was the only one. And I thought the Women's Movement can't be for just straight women. It's got to include lesbians. They're women! Women are women — it doesn't matter what your sexual orientation is."
It was a long hard road to that revelation. Bottini was born on Aug. 15,1926 to Long Island cab driver and former boxer Archie Gaffney and his "unhappy" housewife, Ivy. An only child, Bottini was an athletic tomboy with a penchant for art. Life was good until her father died in a car crash in 1944. Bottini was 18 and suddenly money was short. In an extremely lucky stroke for young women at the time, she got a full scholarship to the Pratt Institute of Art and Design to study advertising, graphic design and illustration.
After graduation, she worked in New York City art and advertising agencies, and following the inevitable plan for all women of the era, in 1952, she married the young man across the street, Eddie Bottini, had two daughters, Laura and Lisa, and silently struggled with her attraction to women.
"After falling in love with all my gym teachers—that was a clue—and with all other teachers in grammar school and then junior high and high [school], I really was struggling growing up with how I felt about girls and women," Bottini told the Los Angeles Blade in 2019. "I was still falling in love with women quietly, silently."
In 1955, Bottini got a job as an art director and illustrator at the Long Island newspaper Newsday. Eleven years later, in 1966, Newsday reporter Dolores Alexander told Bottini about her an interview with Betty Friedan, whose book "The Feminine Mystique" "was all the rage." Dolores took Bottini to a women's meeting in New York City "and soon I was helping to found the first chapter of the National Organization for Women (NOW)" with Dolores. Bottini also joined national NOW where she served on the board for three years.
Meanwhile, Bottini finally mustered up enough courage to call an old closeted lesbian school friend to take her to a gay bar. Eventually, she asked a woman to dance. "That changed my life that evening. I just felt when I walked in there by myself, I felt like I had walked into my home, where I was supposed to be. So, over the next handful of years, I struggled," she told the LA Blade.
By September 1968, "I just had had it," living a secret double life. Ivy Bottini had a breakdown — that led to a breakthrough. "I was on the Long Island Railroad in a snowstorm coming back from a New York NOW meeting and when we got to Garden City, I just got off the train," Bottini said. It was cold. Struggling, she found a payphone, called her psychiatrist, and through tears, explained her circumstances. "I can't go home anymore. And he said, 'sorry,' and hung up. And so I yelled out—it was late at night—I yelled out 'fuck you!' I was so angry at him." She called a friend in Levittown who took her in. She told her husband she couldn't come home as long as he was there.
Eventually he left but they didn't actually divorce until 1972. Bottini secured a condo on the Upper West Side. Her daughter Laura moved in with her while Lisa moved in with her dad. "My life became totally different in one fell swoop." Bottini came out inadvertently in 1968. She was answering a question at a NOW/NY press conference when, without realizing it, she referred to herself as a lesbian. "I accepted that I was a lesbian and as I accepted this, my life changed considerably."
That awareness led to action and intense interest from other NOW chapters in her consciousness raising groups. In 1969, Bottini put together a panel called "Is Lesbianism a Feminist Issue?" The place was packed. "Oh my god. I think I've hit sort of a nerve," she said later.
Bottini organized the infamous Aug. 10, 1970 NOW/NY three-hour takeover of the Statue of Liberty, unfurling a banner "Women of the World Unite!" from the base. She also organized the Aug. 26, 1970, Women's Strike for Peace and Equality commemorating the 50th anniversary of the 19th Amendment granting women the right to vote.
That spectacular women's march down Fifth Avenue drew an estimated 50,000 people. But it also signaled ugly trouble ahead. When Bottini handed out lavender armbands to show solidarity with the oppression of lesbians, feminist leaders such as Gloria Steinem accepted them but Betty Friedan, the "mother" of the feminist movement, threw the armband on the ground and twisted it with her heel.
"My point was, 'How can you have a women's movement and leave a huge amount of women out?'" Bottini later told the Los Angeles Times. "But Friedan just never got that. She doesn't understand that lesbianism is the bottom line of the women's movement. If you can't get past the fear of being thought of as a lesbian, whether you are or not, then you never are really free….Sexual politics is civil rights."
Friedan called Bottini a "lavender menace" and plotted a "purge" of lesbians, maneuvering to get Bottini voted out of NOW leadership. The LA Times notes that in a subsequent 1973 Friedan essay in New York Times Magazine "smacked of downright paranoia; Friedan even claimed a woman was sent to seduce her and then blackmail her into silence while unnamed lesbians took over NOW." Bottini left NOW and left New York for Los Angeles in 1971.