Palm Springs remains an ideal outdoor getaway
Safe fun with hiking and other socially distanced activities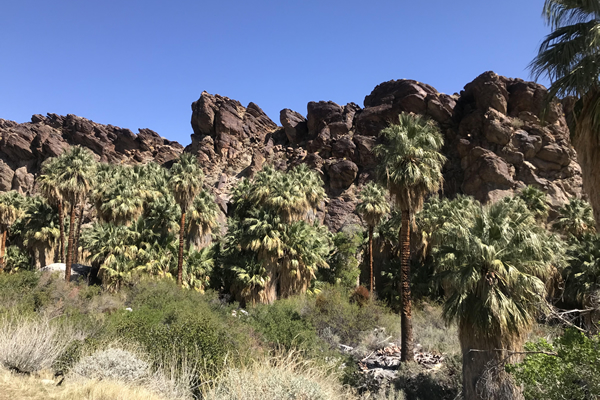 Palm Springs, Calif., is a perfect vacation destination when you feel safe to travel again. With outdoor hiking and adventures, there is plenty of room to spread out and enjoy the desert and mountain scenery. The LGBTQ life is back open (socially distanced, outdoor dining and drinking, masks required). The LGBTQ scene includes a vibrant downtown street, Arenas, where most (but not all) of the bars are located.
The city is nestled against the dramatic San Jacinto Mountains. The often-snow-capped peaks tower over the desert community, which is arguably the most LGBTQ friendly in the country. Palm Springs is one of seven or so cities in the Coachella Valley.
GETTING THERE: I took Southwest Airlines, which has stared service from Oakland, Denver, and Phoenix, to the very handy Palm Springs Airport. To get downtown, walk across the street to the Civic Center bus (#2) to get to your hotel. I took American back through Phoenix. Service was top notch on my favorite legacy carrier, which had great in-flight entertainment and charging stations for your devices in the seat. You can also take Amtrak direct three times a week or do an Amtrak bus/train combo to get to Palm Springs. The Sunline system also runs a bus to Riverside to connect with the commuter rail system into Los Angeles.
WHAT TO DO: Hike the Indian Canyons, the ancestral home of the Agua Caliente Band of Cahuilla Indians. The desert oasis features the native Washington fan palm trees, which are the only palms actually native to the Golden State. Both Andreas and Murray Canyons are great for hiking. Palm Canyon runs along a river filled with palms and is an easy hike for all. Bring plenty of water as it can get hot on the trail.
Also hike the Henderson Trail as well or the trails at the end of Ramon Street. Both are free. Check out the modern mid-century architecture including north of downtown.
Don't miss the LaQuinta Farmers Market on Sundays in Old Town LaQuinta (down the valley a bit). The LaQuinta Resort nearby was the destination for movie stars like Greta Garbo where you can still see her house. The beautiful grounds are worth a visit even if you don't stay at this posh resort. Stop by Lulu's Home and Fashion Accessories in Old Town La Quinta.
Visit the Lotus Garden Center in Palm Desert for art work and garden accessories. Take the Tram to the top of the mountain. Advance reservations are required.
Early risers may want to go for a walk or a run with the Palm Springs Front Runners/Walkers. Get the meeting times and locations at psfr.org. Work out at the World Gym. Day passes available.
WHERE TO EAT: The Public Greens Café has great juices. Enjoy the French pastries at Peninsula Pastries. Bouschet Wines also serves food in the parking lot on weekends. The creative bistro food is a must (www.boushet .com). You will find all three just south of downtown in the Sun Center strip mall. Nature's Health Food (555 Sunrise) has great and healthy salads and other treats. Enjoy the take-out food at the park across the street.
Sherman's Restaurant is great for New York-style deli food. You will find them downtown. The Native Food Café has a great meat free taco salad. Casa Mendoza's Restaurant in La Quinta has great Mexican Food.
NIGHTLIFE: There's a bar for everyone on Arenas Avenue downtown. Stacy's has jazz and piano. Hunter's is great for happy hour. You will find the leather crowd at the Eagle 501. Quad Z and Chill Bar are also fun as are Black Book Bar and Grill and Streetbar. Do some shopping at Gay Mart while you are in the neighborhood. All have set up outside seating to maintain social distancing and masks are required.
The Tool Shed at 600 E. Sunny Dunes Road is also fun. Enjoy a slice of pizza for $1. Farther out is the Barracks, which has a packed Sunday beer bust.
WHERE TO STAY: You cannot beat the value of the Motel 6 Downtown (660 S. Palm Canyon Drive). Just steps from Starbucks, the French Bakery, the Organic Restaurant, the Antiques District, and the Tool Shed Bar. Other options include the LGBTQ resorts, including those on Warm Sands Drive (just east of downtown). The Best Western downtown is also handy (and is right next to the Arenas area). I have also stayed at the Courtyard by Marriott. Also recommended is the Ace Hotel and Saguaro. You will find the LGBTQ resorts on Warm Sands and other locations. The Santiago resort is also very nice.
UPCOMING EVENTS: The Dinah Shore golf tournament has been moved to this fall. The Pride Parade may (or may not) be held in November.
TRAVEL TIPS: Summer is your value season as temps can be toasty. Also, you will need a reservation on weekends as the city is quite popular with the LA crowd. During the week is quieter.
Check current COVID-19 restrictions before any travel. When I was there, masks were required everywhere – inside and out including on hiking trails and sidewalks. Check COVID-19 travel recommendations from the CDC, the state of California, and Riverside County before booking your reservation to the area.
For more information, Visit Palm Springs, the official tourism website, has all you need to plan your Palm Springs vacation (visitpalmsprings.com). Check out their LGBTQ guide which has all the information you need including on the variety of LGBTQ resorts.
Bill Malcolm is America's only LGBTQ value travel writer. Based in Indianapolis, he has written more than 30 columns that have appeared in LGBTQ publications around the country. His opinions are his own. He is not recommending travel unless authorized by the CDC, the State of California, and Riverside County. Check current COVID travel recommendations and restrictions before deciding to travel.
'A piece of heaven' awaits in Easton, Md.
Historic charm, culture, and fine dining just 90 minutes from D.C.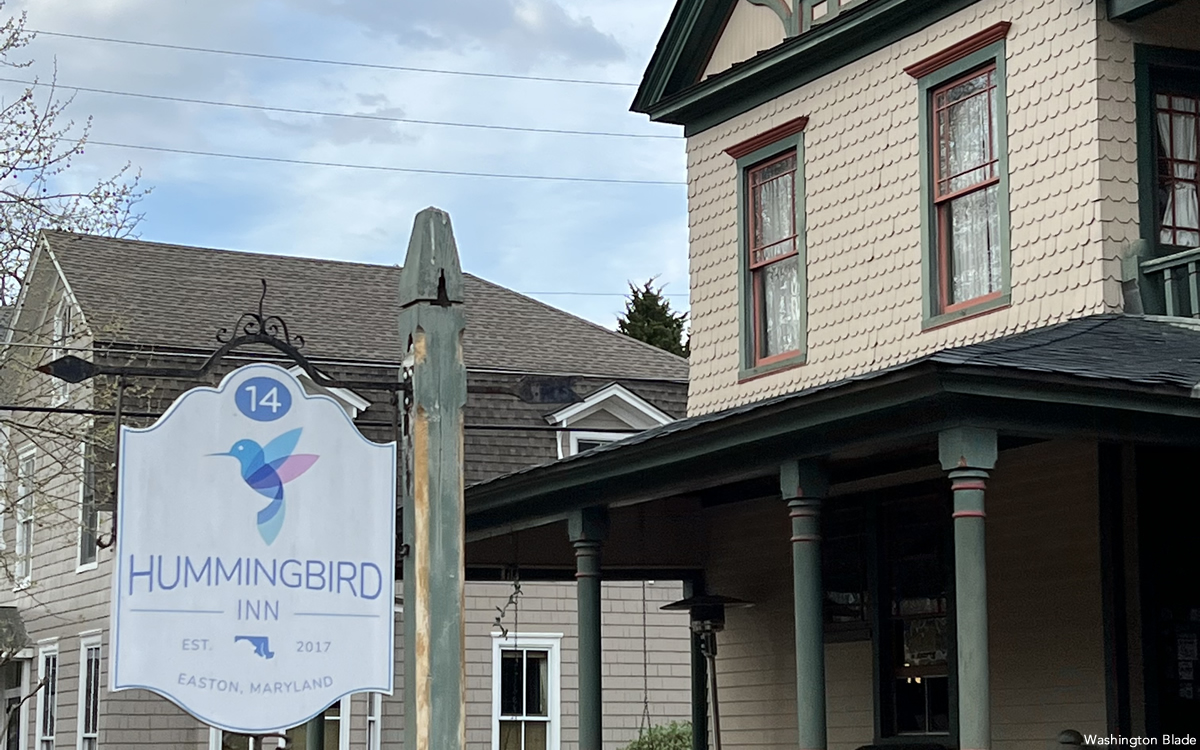 If you've always zoomed past Easton, Md., on your rush to Rehoboth Beach, then you're missing out.
Historic and charming Easton offers stylish and friendly accommodations, an array of eclectic shops and galleries, award-winning restaurants, and more in a welcoming environment for LGBTQ visitors.
Indeed, some of the town's most prominent and successful businesses are gay owned and Easton aims to attract more LGBTQ visitors this year, in part by hosting its first-ever Pride celebration in June.
"This is a welcoming and safe place where people can be who they are and it's a prime location for a more developed gay community," said Eric Levinson, owner of the Hummingbird Inn. Levinson is among the organizers of Easton Pride, scheduled for June 17-19.
Levinson moved to Easton in 2017 and opened the Inn. He says he was anxious about being openly gay because there weren't many gay-identified businesses. When someone stole his Pride flag that year from the Inn's front porch, Levinson blogged about it and says he had a supportive response from the town. Owners of a nearby bed-and-breakfast bought him a new Pride flag and there haven't been any issues since.
In fact, on a recent Blade visit to Easton, Maryland gubernatorial candidate Tom Perez was in town for a campaign stop and one of the first questions he faced from the community was about his platform on LGBTQ issues.
"When I talk about jobs, justice, and opportunity, LGBTQ inclusion has been a huge part of it," Perez said. "One of the privileges of my lifetime has been to work on those issues."
Easton is home to about 15,000 residents in Talbot County, and was incorporated in 1790, though its founding dates to the early 1700s when the Assembly of the Province of Maryland selected it as the site for a courthouse to serve the pre-Revolution population of sea merchants and farmers, according to Discover Easton. It's a mere 90-minute drive from Washington, D.C., and about the same from Rehoboth Beach.
Start your visit by checking into the Hummingbird Inn (14 N. Aurora St.), just a short walk from town, which offers six en suite rooms each named for Eastern Shore towns. The Queen Anne Victorian Inn is fully updated with modern baths. Try the newly renovated and spacious Crisfield Room with its contemporary style and multiple seating areas on the third floor. The Inn is dog friendly and in the mornings, Levinson capably assumes the role of chef, wowing guests with an unrivaled, multi-course breakfast cooked to order. He says his experience traveling to 70 countries around the world informs his approach to hospitality.
"I pride myself on our attention to detail," he says. "I modeled the inn on my travel experience. If I'm going somewhere this is what I'm expecting — I need great products, towels, pillows. That's where I got the experience to know what's expected as a traveler."
And his approach is working — he says at least six former guests have since bought homes in Easton.
Levinson even accommodates those with dietary restrictions at his famed breakfast, noting, "Just because you have a restricted diet doesn't mean you shouldn't have a good time."
Talking with locals, everyone seems to have enjoyed Levinson's breakfast feast; it truly is something to behold, starting with a selection of homemade breads. On a recent visit, there was a baked egg dish and a delicious French toast course. Be sure to indulge — you won't need lunch.
As for Pride, Levinson says he was approached by Delmarva Pride about planning an event. The 2020 plans were scrapped due to COVID. But this year's inaugural event will be a three-day celebration with a drag show, a Pride dance at the Inn, along with a street fair and Sunday brunch. Call the Inn for reservations as special ticket packages will be offered (410-822-0605). The Inn celebrates its five-year anniversary on Aug. 6 with food, drinks, and a band. And if you're planning a wedding, Levinson is ordained and has officiated at numerous same-sex ceremonies.
"I want people to know it's not just a B&B and more than just a place to sleep because we do so many events here," Levinson says.
One of the largest such events is Easton's 18th annual Plein Air festival set for July 15-24, the largest such festival in the country. According to the event site, "Plein air painters produce art from life (as opposed to in the studio)" and this year 58 artists will be juried into the competition. The artwork is for sale and the 2021 event brought nearly $500,000 in sales. Visit pleinaireaston.com for details.
In addition to the Hummingbird, you'll find all sorts of accommodations from quaint B&Bs to the grand dame of Easton, the Tidewater Inn, a large hotel and conference facility that dates to 1947. Its restaurant, Hunters' Tavern, is known for the snapper soup, and the bar is cozy with friendly staff.
Once you're checked in, explore the vibrant scene of shops and galleries. Rediscover the lost pleasure of browsing a bookstore at Vintage Books & Fine Art (4 N. Washington St., vintagebooksmd.com). You'll discover all sorts of fascinating local history and maritime-themed tomes.
Among the local galleries, Studio B Art Gallery stands out. Owner Betty Huang, herself an accomplished artist, represents many esteemed painters and the gallery will host a plein air workshop with Master Jove Wang on July 11. Visit studiobartgallery.com for details.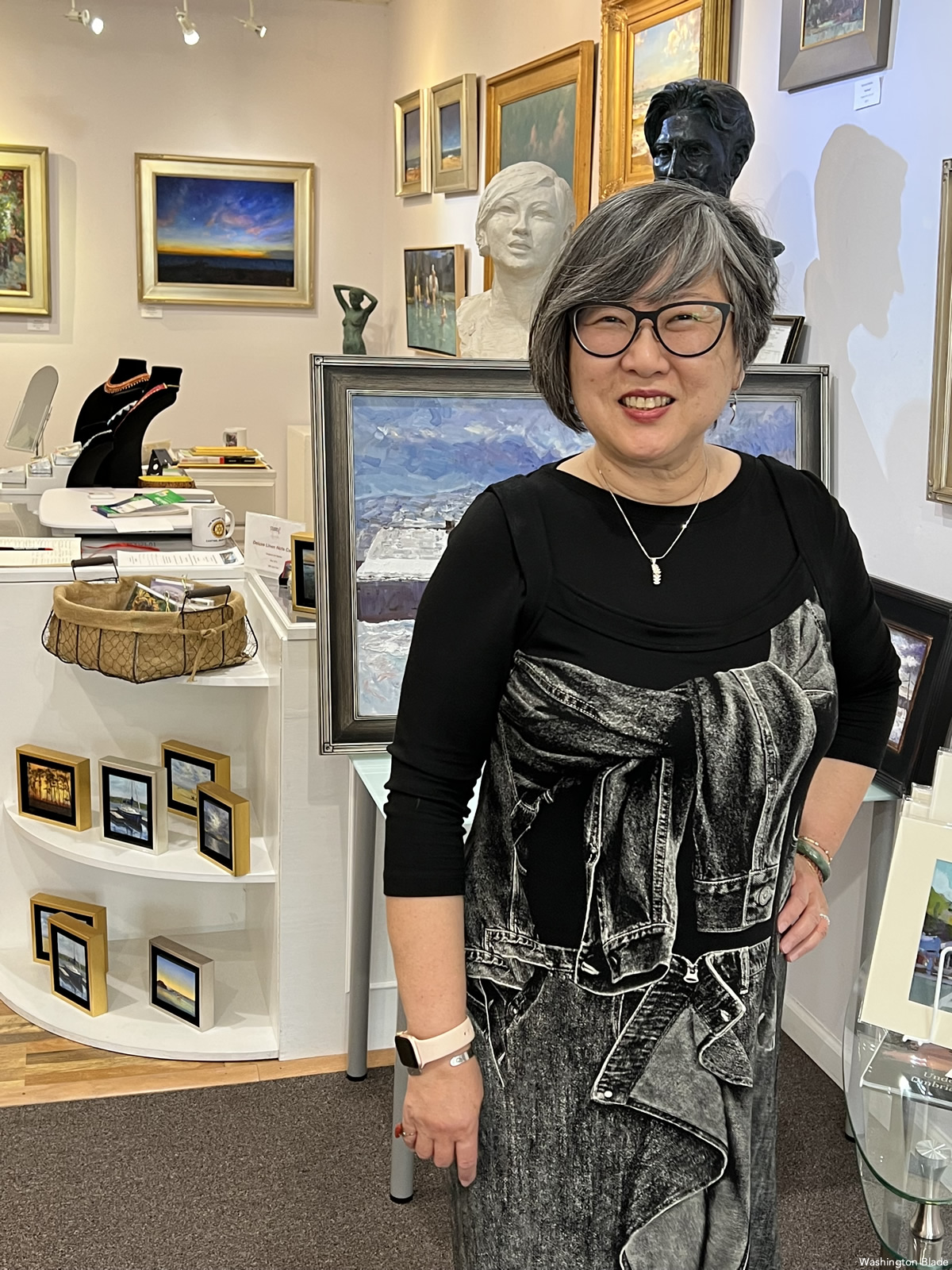 Shopping for clothing? Don't miss Marc Randall boutique (3 E. Dover St., marc-randall.com), offering a mix of classic and edgy women's clothing with a smaller selection of men's wear.
Marc Del Pino owns the boutique and sits on the board of Discover Easton. Over drinks at happy hour, he also seems like the town's unofficial mayor as everyone who enters stops by to say hello. Originally from Trinidad, Del Pino moved to New York and then to Easton. He's been in business in Easton for 29 years.
"I thought I would have a problem moving here but never did," he says. "I never felt like an outsider or out of place; I felt like I came home when I came here for the first time. … I was tired of New York City, it reminds me of Trinidad here being smaller with a charming downtown."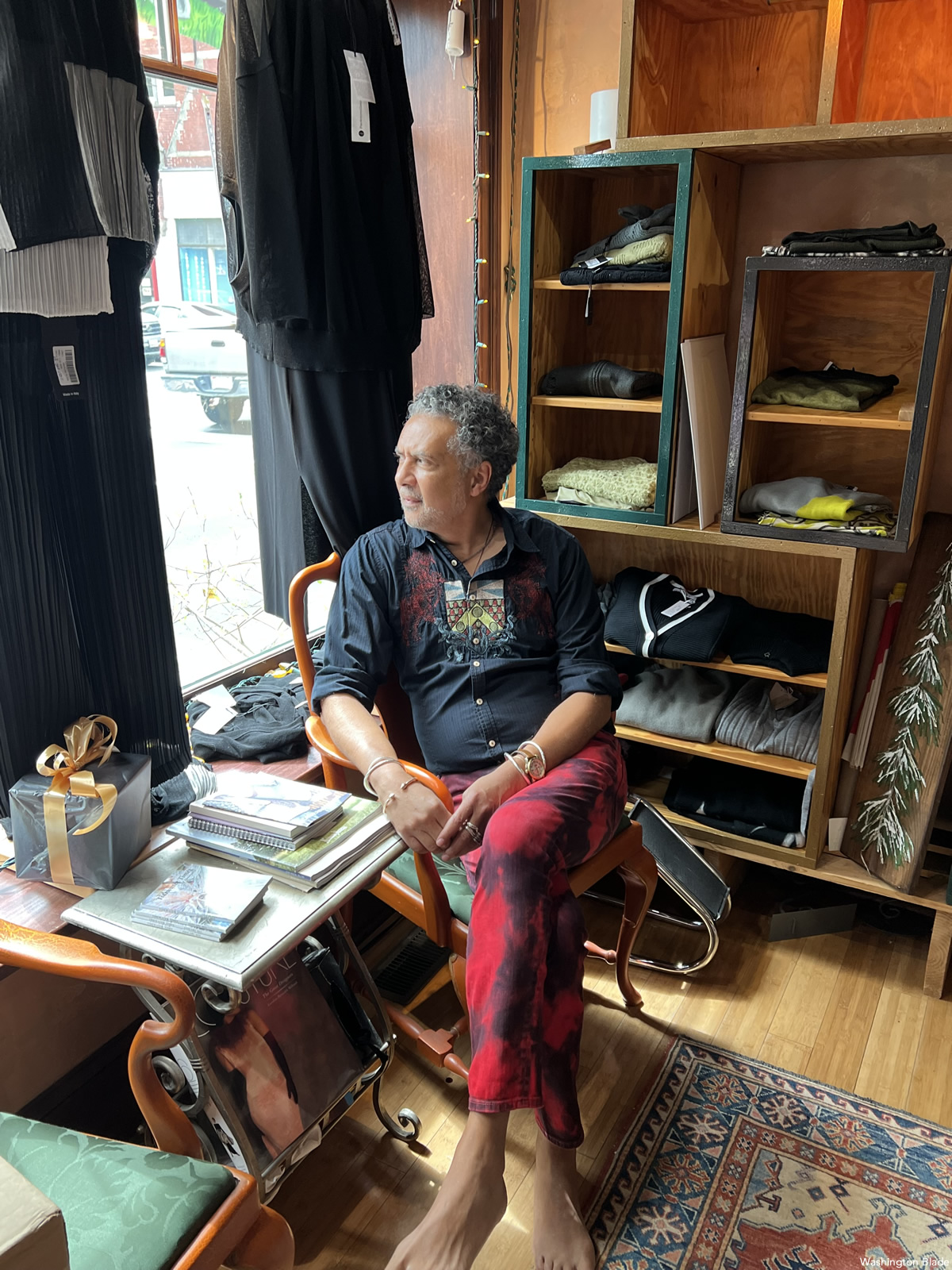 All that shopping will leave you hungry and there's no shortage of restaurants to try. Among the best is Scossa (8 N. Washington St.), owned by Chef Giancarlo Tondin who was born in Italy and began his career at Harry's Bar in Venice. He later worked for the Cipriani family's many New York City restaurants, including the Rainbow Room before relocating to Easton. He specializes in Northern Italian cuisine.
Another standout is Out of the Fire (22 Goldsborough St.), a farm-to-table bistro featuring globally inspired dishes and an open kitchen. Try the warm confit salad of chicken and roasted apples or browse an extensive pizza menu, including everything from duck sausage to a vegan option.
The Wardroom (108 N. Washington St., thewardroom.com) offers a market along with lunch and dinner fare like homemade pastas and enticing selections of charcuterie, cheeses, and wines.
After dinner, head to the historic Avalon Theatre. The building dates to the early 1920s but has been renovated and reinvented through the years. Today the Avalon presents musical and dramatic theater, symphony orchestras, national musical acts along with local talent, according to its site. This summer brings a wide array of programming, from "Hamlet" to a free community talk on parenting. Visit avalonfoundation.org for more information.
For a laid back, welcoming getaway without the summer beach crowds, Easton is a relaxing destination full of history, culture, premier dining, and high-end shopping in an LGBTQ affirming town convenient to D.C.
As Del Pino put it, "I could go anywhere in the world, but I go across the Bay Bridge and I'm home — a piece of heaven."
New York City is ready to dazzle visitors again
New York City felt like it was almost its bustling self again.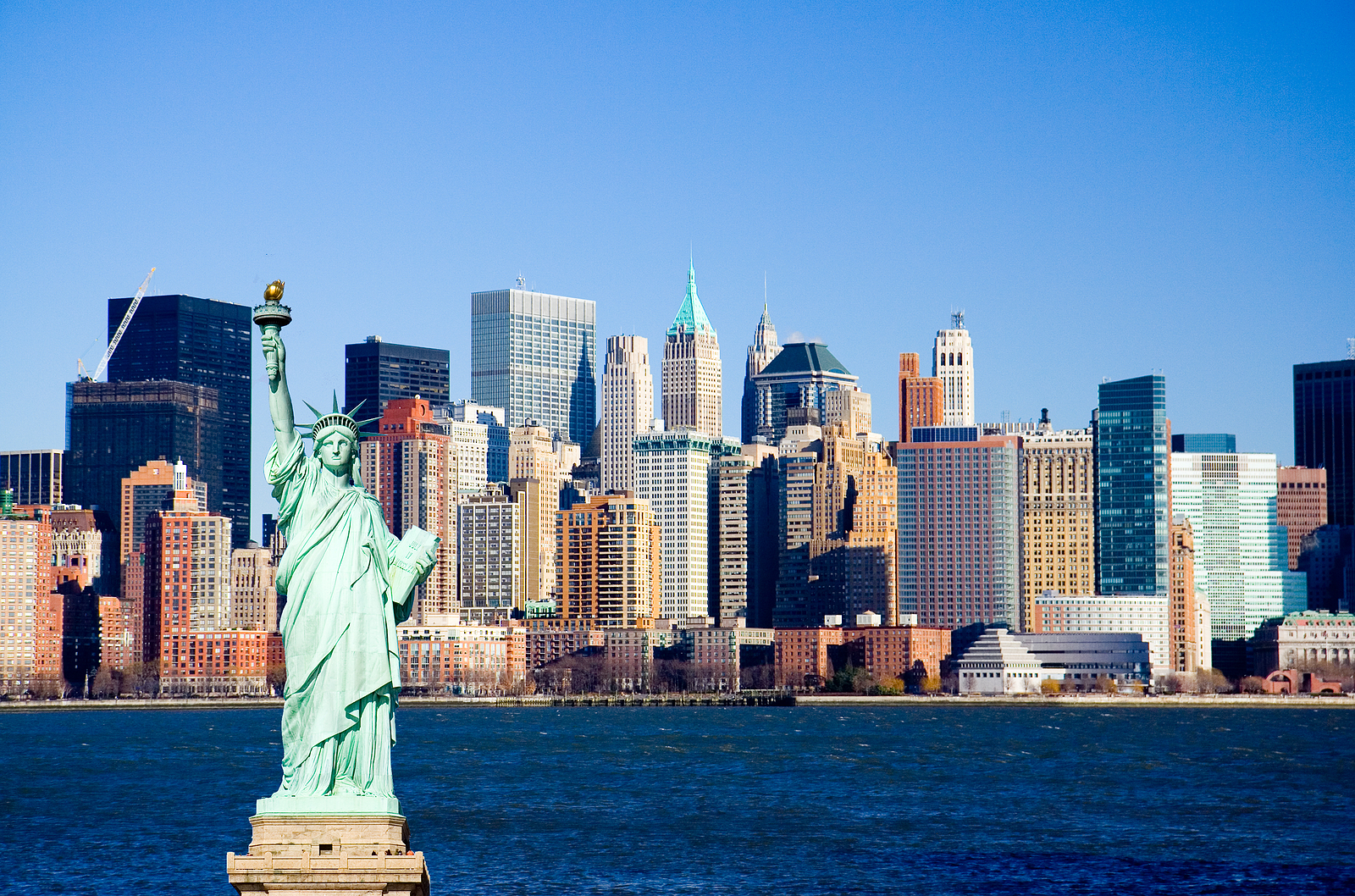 New York City felt like it was almost its bustling self again as I walked through the streets enjoying the warm spring weather during a recent trip.
The city, like many others, is forever changed after more than two years of the COVID pandemic, but in true New York fashion, the Big Apple is coming back. It was my second trip within six months after about a two and a half year break.
New Yorkers rolled up their sleeves (more than 80% are vaccinated), masked up, and have done pretty much everything they can to get their groove back. However, COVID subvariants continue to emerge in the ongoing pandemic. Some venues are still enforcing proof of vaccination and masks. Face coverings are still required on all public transportation until further notice and in Broadway theaters at least until May 31.
Recently, COVID cases have been on the rise in New York due to the new highly contagious Omicron subvariant, BA.2.12.1. People planning to visit should check the city's visitor site (under Basic Information) for the latest.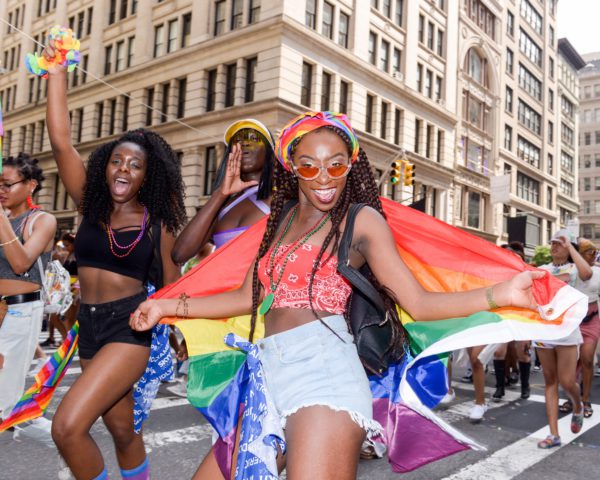 Some Broadway shows have canceled performances due to COVID. Other shows are taking place. New restaurants are opening, and reservations are harder to get than ever before. New museum exhibits are opening. Big events are coming back like New York Pride, which returns in-person June 26 with the theme "Unapologetically Us."
"Our community has been through tremendous hardships over the past few years, beginning with the pandemic, and continuing with a reckoning with social justice, threats to our democracy, and more recently armed conflict overseas," stated NYC Pride's new executive director, Sandra Perez, in a March 25 news release. "Compounding these struggles is the onslaught of legislation around the country that directly targets LGBTQIA+ individuals.
"In spite of these challenges and attacks, we are here to tell the country and the world: we will not be erased," Perez continued, stating that the community will stand together to face the attacks on the LGBTQ community across the country and around the world. "We will continue to love and live our truth and be our full and complete selves – and we are not going to apologize for it."
NYC Pride board Co-Chair Sue Doster noted the importance of the annual celebration that attracts upward of two million people from across the United States and all over the world.
"We're thrilled to be able to finally invite everyone back," she stated.
Tourism officials said the city is rebounding.
"The city is as vibrant as ever," said Chris Heywood, a gay man who's executive vice president of global communication of NYC & Company, New York City's destination marketing and convention and visitors bureau.
The pandemic did not completely stop New York from retrofitting, innovating, and building new hotels, spectacular sites, and opening new restaurants.
"That's the beauty about New York," Heywood continued. "Resilience is really our middle name. People are going to encounter a city that is continuing to come back."
New attractions
Some of the new things to see in New York are Summit One Vanderbilt, the Moynihan Train Hall, and Little Island, the latest park near the Chelsea Piers.
The city's newest vantage point is at Summit One Vanderbilt. The Summit is a 65,000 square foot space at the top of the 93-story office and residential building at One Vanderbilt adjacent to Grand Central Station.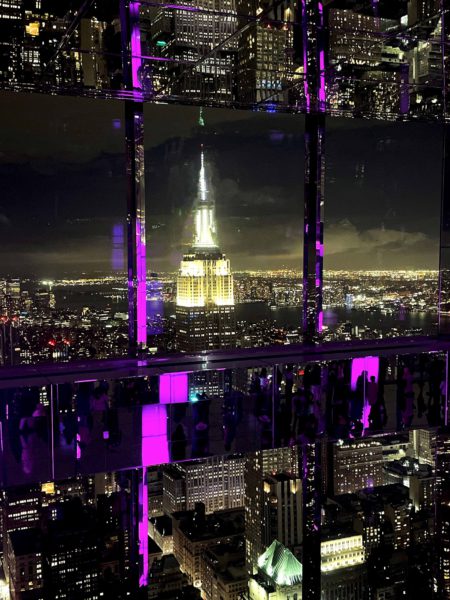 The observatory deck opened in October 2021. It is much more than the highest view (for the moment) of New York City; it's an experience with a view. Each room is an art installation accentuating the feeling of being high in the sky or in the clouds. At the very top are Apres and the Summit Terrace, where my girlfriend and I enjoyed a cocktail while admiring New York's sparkling skyline under the night sky.
Tickets to catch the sunset view cost about an extra $16. The Summit does not itemize what the extra amount is at checkout, but it's for experiencing the Summit at the golden hour, the optimal time of day.
It wouldn't be New York City without the many opportunities to see art. This spring and summer visitors can catch the 80th edition of the Whitney Museum of American Art's "Biennial 2022: Quiet As It's Kept," which opened April 6. The two-floor exhibit brings together a survey of 63 American artists exploring the darkness and disruption of 2020. The title is a colloquial phrase taken from the late novelist Toni Morrison. The show runs through September 5.
Henri Mattise lovers can take in a rare exhibit of the French artist's early works that formed modern art at the Museum of Modern Art exhibition "Mattise: The Red Studio," which opened May 1. The show runs through September 10.
The Brooklyn Museum is featuring "Andy Warhol: Revelation", showing now through June 19.
Brooklyn Academy of Music is featuring the DanceAfrica Festival, which is celebrating its 45th anniversary through the end of this month.
I rarely leave New York without seeing at least one show on Broadway. Right now, it's all about the classics and some new musicals ("Wicked," "Chicago," and "Funny Girl") and plays ("Plaza Suite" and "To Kill A Mockingbird").
Dining and drinking
Food draws my girlfriend and I to New York just as much as Broadway's musicals. For this trip, I sought out restaurants that were old favorites that survived the pandemic, some that were reborn, and others that were new.
During the day we lunched at the fun, cheeky and very gay diner Cafeteria; a Chelsea neighborhood staple, Elmo; and famed chef and restaurateur David Chang's Momofuku Noodle Bar.
At night we hit the town enjoying dishes crafted by some of New York's finest lesbian chefs. Chef and restaurateur duo Rita Sodi and Jody Williams' beloved Via Carota lived up to the hype. You can't go wrong with pasta, but this is exceptional pasta. I also dined at the culinary couple's newest venture The Commerce Inn. It veers away from the chefs' usual turf, French and Italian cuisine, exploring and modernizing American Shaker dishes that hit the mark.
Lesbian executive chef Hillary Sterling crafted a distinctive Italian menu at Ci Siamo restaurateur Danny Meyer's latest culinary venture. Lesbian executive chef Mary Attea at the Michelin-rated The Musket Room serves a revisioned world on your plate. There was no doubt that I wouldn't enjoy chef and restaurateur Mark Strausman's new restaurant Mark's Off Madison, which has a warm atmosphere and incredible, flavorful comfort food.
Two unique restaurants that might signal a shift in the queer culinary scene in New York are Tagmo and Hags. Both restaurants are queer-owned and -operated. They actively hire LGBTQ staff and are deeply involved in the community.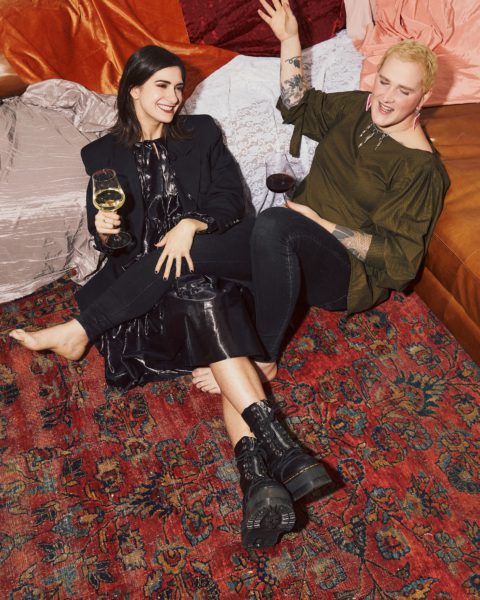 Queer chef Surbhi Sahni is the heart behind Tagmo, an Indian restaurant that opened in Seaport, a small shopping and dining center near One World Trade Center, in September 2021. Tagmo is not your average Indian restaurant. Dining there is a gastronomic adventure through India with all its diverse cuisines.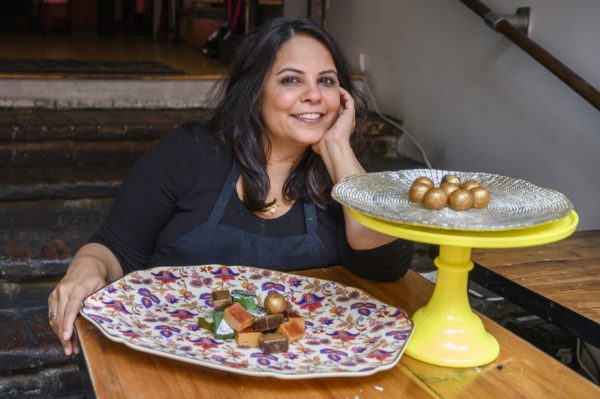 The much-anticipated Hags is targeted to open just ahead of Memorial Day weekend, May 25. The Lower Eastside restaurant aims to be the first upscale queer restaurant, according to business and life partners Telly Justice, a transgender woman, and Camille Lindsley, a queer woman.
New York's nightlife isn't quite what it used to be like yet. My girlfriend and I enjoyed early nightcaps at Tiny's & The Bar Upstairs in Tribeca, the historic Stonewall Inn in Greenwich Village, and Bar Veloce in Chelsea.
Village lesbian bar mainstays – Henrietta Hudson and Cubbyhole – and Brooklyn's Ginger's Bar got makeovers during the pandemic and recently reopened. Catch roving lesbian events hosted by Dyke Beer and Dave's Lesbian Bar on their websites or follow them on social media.
The boys are back in action from Midtown to Harlem with bars and nightclubs for every stripe in the rainbow flag. Check out Midtown's swanky The Townhouse of New York. Head to the West Village's Playhouse or get nostalgic at New York's oldest gay bar Julius' and the historic Stonewall Inn. Head uptown to Harlem for the last remaining Black-owned gay bar Alibi Lounge.
Where to stay
My girlfriend and I stayed at the Smyth Tribeca. The newly renovated modern 100-room hotel opened in September 2021. The hotel is comfortable, chic, and perfectly located on the corner of Chambers Street and West Broadway above the Westside's 1 line. The subway line is a direct vein to Broadway, the Village, and many of New York's most popular destinations.
Getting around
New York's metro is going touchless with Omny, an app that allows riders to tag on and off the subway and buses with their smartphones and other smart devices. Riders can choose to use the Metro Card or the app to get around the city.
4 fabulous brunch options in Palm Springs
Good food, plentiful cocktails, and high style to start the day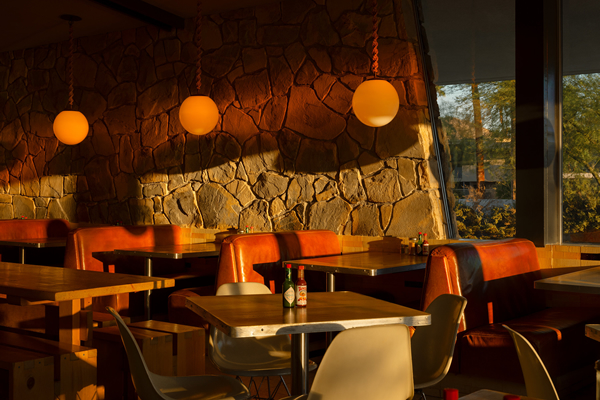 Brunch — that all-day weekend affair — is where days can begin, and end. In a town that already wakes up early, brunch has a special place among meals. With the cooler weather, there's no better time to head to Palm Springs for a taste of the brunch festivities it has to offer. Below, four distinctive – and distinct – brunch options.
Jake's: Helmed by industry veterans (and gay men) Chris Malm and Bruce Bloch, Jake's is an institution, as much a destination as it is a spot for locals. The goal of Jake's, says Malm, is to make it "a hip, fun dinner party with good friends."
At brunch time, plan to spend some time with other new besties, Mary and Rita. Jake's offers one of the most extensive and diverse brunch cocktail lists in Palm Springs: 10 Bloody Marys, six mimosas, six margaritas, seven "refreshers," several other cocktails, and of course, rosé. It's no surprise that the bartender has collected awards.
The shaded, cozy patio is also a hit. Lined with soaring, 20-foot Ficus trees, locals refer to it as "The Ivy" of Palm Springs. In the winter, there's space for heaters; summertime brings in misters.
As for the dishes, it's the crab cake benedict that repeat customers dive in for. There's also a tempura softshell crab BLT that's a menu mainstay. Malm points out that the tater tots, infused with truffle, "are incredibly popular."
Finally, if you're especially lucky, you'll meet Jackson: a West Highland Terrier who serves as mascot (though he won't serve your mimosa).
Oscar's: Located in the heart of Palm Springs, Oscar's is the town's epicenter for full-octane energy. While the party rarely stops at Oscar's, Sunday brunch turns it up to an 11.
The restaurant didn't hold back by christening its Sunday event as the "Bitchiest Brunch." It doesn't hold back. The show's drag queen star is Anita Rose; she's supported by a rotating cast, bringing distinctive attitude and style to brunch. Soon after pandemic restrictions were lifted, Oscar's restarted the brunch party, taking advantage of one of its biggest selling points: a patio that can seat up to 120.
Dan Gore, the owner and a gay man, said that the restaurant quickly outgrew one showtime. They quickly added a second. There's now a full three seatings (9 a.m., 11 a.m., and 1 p.m.); two outside and one inside.
One of the reasons that this brunch has been wildly popular is that Oscar's can draw "different kinds of families and feel welcome and accepted. It's not just entertainment by fabulous performers, but also a loving, safe space. It's an all-ages event."
Of course, Oscar's serves bottomless mimosas; there are also super-size (16-ounce) Bloody Marys.
To dine, it's a classic egg-focused menu, with omelets and eggs Benedicts. Pancakes, French toast, breakfast tacos, and bagels and lox round out the menu.
After brunch concludes, adult diners tend to hang out for another of Oscar's mainstays: afternoon tea dance.
Parker: As quintessential Palm Springs as it gets: Parker is an upscale resort designed by Jonathan Adler. Its restaurant, Norma's, distills that chic styling into brunch. Norma's serves breakfast all day and all night, but brunch is the time to see and be seen. The extensive patio and wraparound orange banquette allow for both people-watching and nature-watching. Inside, white stone and wooden accents keep things cool.
A Parker representative notes that "the concept of breakfast at Norma's can be a no-holds-barred extravaganza of decadent proportions," something that certainly extends to brunch time.
Diners can start off minimalist with an egg white omelet – or go maximalist with the "zillion dollar lobster frittata," on which diners can toss an ounce of Sevruga caviar. There's a slew of traditional carb-heavy diner items, like blueberry pancakes and chocolate French toast. Gluten-free, vegan, and vegetarian options abound.
In terms of cocktails, there's a short list of classics (Bloody Mary, mimosa), plus French and Californian roses, as well as glasses (or bottles) of Dom Perignon and Veuve.
King's Highway: Infused with the desert spirit, King's Highway brings chic to cactus country. Snug inside the Ace Hotel & Swim Club, King's is a roadside diner with retro nods (it used to be a Denny's) and handsome saddle leather banquettes. Khuong Phan, food & beverage communications director at the hotel, notes that "we've kept that same diner vibe and spirit… but we've completely made it Southern California contemporary."
Beveled mirrors slope above the bar for some surreptitious people-watching; the outdoor patio is just as welcoming, situated as it is next to the popular pool.
Beyond coffee and pastries, substantive and diner-forward entrees include Belgian waffles, bagel sandwiches, and biscuits and gravy built on pork sausage. East Coast visitors will feel comfortable with the salmon lox plate; locals dig in to the homey and filling King's Highway Breakfast of eggs, potatoes, and sausage. Additional salads, sandwiches, and burgers are available after 11 a.m.
To drink, detoxers may wish to choose the Sunrise (orange, coconut water, lemon, ginger, turmeric). The date shake is concocted with local dates, plus oat milk and vanilla ice cream. Naturally, there's a Bloody Mary, using housemade mix. Another tropical-style drink is the Pina Antigua: pineapple rum, rye, and creme de banana. A popular local bottle shop, Dead or Alive, curates the wine list.