Saugatuck/Douglas is the art coast of Michigan
Beaches and peaches abound in this LGBTQ-friendly escape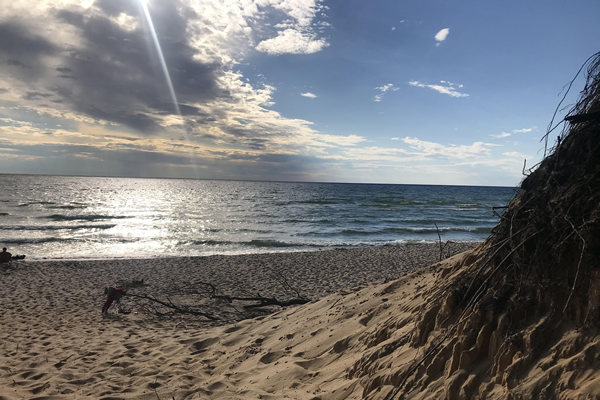 The Saugatuck-Douglas villages in Southwest Michigan are the only LGBTQ-focused vacation areas between Provincetown and the Russian River in California. Nestled with sandy beaches along Lake Michigan (and fresh, shark-free waters), the area is not only an artist colony but now features a plethora of wineries and microbreweries and is a fruit basket (blueberries, peaches, apples, and more are all grown here). With two LGBTQ+ resorts (Dunes Resort and CampIt), there is something for everyone and for every budget. Don't forget to take home some blueberries and peaches.
WHAT TO DO
Oval Beach in Saugatuck is an award winner. The sunsets are incredible. You can hike for miles in the nearby dunes or walk along the beach. You can also climb to the top of nearby Mount Baldhead, a high sand dune on the west side of the river. 
Take a tour of the Kalamazoo River out to Lake Michigan on an authentic stern wheel paddleboat. I loved the sunset cruise. Snacks and drinks available (cash only). You will find them at 716 Water St. in Saugatuck (saugatuckboatcruises.com). Check out the new 1860s era fish shanty and Fish Market next door. It features posters telling about the colorful fishing history of Saugatuck. 
Take a hike to the beach at the Wau-Ke-Na Nature Preserve at 116th St. just south of West Side County Park. Further north you will find the historic Pier Cove Beach (2290 Lakeshore Dr., Fennville).
North of Saugatuck you can take a hike up the dunes and down at Laketown Beach. It's free but parking is limited.
Take a walk around historic downtown Douglass, which even has a park honoring the Dunes Resort founders who turned the area into an LGBTQ destination. Enjoy "Unmasked: Photographic Portraits After 2020" at the new Douglas Library.
The Saugatuck Center for the Arts has shows all summer including "Dixie's Tupperware Party" and "Just Too Big: Songs from Broadway Blockbusters." Details and tickets at sc4a.org.
Pick blueberries at Blue Star Farms or just grab a pint to go. (bluestarblueberries.com)
Take a hike through the sand dunes and forest down to the beach at Saugatuck Dunes State Park.
WHERE TO STAY
The Dunes Resort in Douglas (333 Blue Star Highway) offers cabins and motel rooms that are affordable at the weekday special rate (Monday-Wednesday). Don't miss the bar scene, the outdoor bar and dance floor, and the many special events. The T Dance on Sundays includes a barbeque. The pool scene includes cocktails and food to order as well as cabanas. It's another must and is great for people watching.
Upcoming events include:
Aug. 6-8 Mardi Gras Weekend
Aug. 20-21 White Party Weekend
For more information, go to dunesresort.com.
Other nearby motels include The Blue Star Motel next to the Dunes or the AmericInn just down the road, both in Douglas. The Northern Lights Condos also are an option.
Down in Fennville, stay at the Camp It Resort, located at 6635 118th Ave. in Fennville (campitresort.com). This Michigan LGBTQ resort welcomes everyone. They just had their first trans week. Camping, cabins, bunk house, and other lodging options make this a place your affordable option. The Biggie Food Truck is perfect for a meal or snack. The pool scene is a lot of fun and they often have shows. Set on 33 acres, there store has everything you need and is open late on weekends. They too have a lot going on this season including:
July 23-25 Christmas in July
Sept. 17-19 Wine and Dine Weekend includes a tour of nearby wineries
Oct. 8-10 includes a tour of 3 new nearby microbreweries
WHERE TO EAT
The new women-owned Guardian Brewery and restaurant has a great Sunday Brunch. Their micro brews are very good. They are just off exit 41 off I-196 in Saugatuck.
The Farmhouse Deli (100 Blue Star Highway, Douglas) features farm to table deli sandwiches, soups, and fresh squeezed juices. They are at 100 Blue Star Highway in Douglas. Try the carrot blend, Zing, fresh juice creation.
The new Isabel's Market and Eatery (across from the Dunes Resort at 310 Blue Star Highway) features local products and has an Italian theme. Try the pastrami sandwich. You can even take a cooking class.
Don't miss the pizza and subs at Lakeshore Convenience and Pizza, 155 Blue Star Highway in Douglas.
The Uncommon Coffee Roasters in downtown Saugatuck is perfect for a coffee. Pick up some beans to go.
The What Not in Fennville is another local favorite. Don't miss the fish fry on Fridays.
GETTING THERE
The area is about two hours from Chicago and three hours from Detroit. You can also fly into Grand Rapids or take Amtrak to Holland. If you stay at the Dunes, you might be able to get away with no car. Otherwise you need one although they do have an on-demand bus and bike rentals in downtown Saugatuck.
FOR MORE INFORMATION
Stop by the Saugatuck Douglas Visitors Information Center in Douglas (95 Blue Star Highway) or visit their website, Saugatuck.com.
Bill Malcolm is the nation's only LGBTQ+ value travel columnist. Based in Indianapolis, his columns have appeared in publications across the country. His opinions are his own. Special thanks to Oval Beach, the Saugatuck Douglas Area Convention and Visitors Bureau, Douglas Dunes Resort, and Camp It Resort.
Palm Springs remains an ideal outdoor getaway
Safe fun with hiking and other socially distanced activities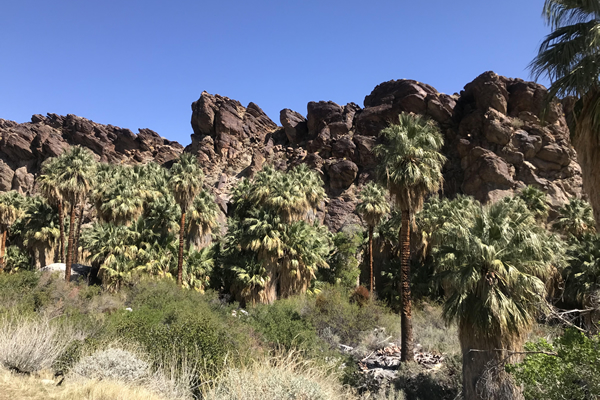 Palm Springs, Calif., is a perfect vacation destination when you feel safe to travel again. With outdoor hiking and adventures, there is plenty of room to spread out and enjoy the desert and mountain scenery. The LGBTQ life is back open (socially distanced, outdoor dining and drinking, masks required). The LGBTQ scene includes a vibrant downtown street, Arenas, where most (but not all) of the bars are located.
The city is nestled against the dramatic San Jacinto Mountains. The often-snow-capped peaks tower over the desert community, which is arguably the most LGBTQ friendly in the country. Palm Springs is one of seven or so cities in the Coachella Valley.
GETTING THERE: I took Southwest Airlines, which has stared service from Oakland, Denver, and Phoenix, to the very handy Palm Springs Airport. To get downtown, walk across the street to the Civic Center bus (#2) to get to your hotel. I took American back through Phoenix. Service was top notch on my favorite legacy carrier, which had great in-flight entertainment and charging stations for your devices in the seat. You can also take Amtrak direct three times a week or do an Amtrak bus/train combo to get to Palm Springs. The Sunline system also runs a bus to Riverside to connect with the commuter rail system into Los Angeles.
WHAT TO DO: Hike the Indian Canyons, the ancestral home of the Agua Caliente Band of Cahuilla Indians. The desert oasis features the native Washington fan palm trees, which are the only palms actually native to the Golden State. Both Andreas and Murray Canyons are great for hiking. Palm Canyon runs along a river filled with palms and is an easy hike for all. Bring plenty of water as it can get hot on the trail.
Also hike the Henderson Trail as well or the trails at the end of Ramon Street. Both are free. Check out the modern mid-century architecture including north of downtown.
Don't miss the LaQuinta Farmers Market on Sundays in Old Town LaQuinta (down the valley a bit). The LaQuinta Resort nearby was the destination for movie stars like Greta Garbo where you can still see her house. The beautiful grounds are worth a visit even if you don't stay at this posh resort. Stop by Lulu's Home and Fashion Accessories in Old Town La Quinta.
Visit the Lotus Garden Center in Palm Desert for art work and garden accessories. Take the Tram to the top of the mountain. Advance reservations are required.
Early risers may want to go for a walk or a run with the Palm Springs Front Runners/Walkers. Get the meeting times and locations at psfr.org. Work out at the World Gym. Day passes available.
WHERE TO EAT: The Public Greens Café has great juices. Enjoy the French pastries at Peninsula Pastries. Bouschet Wines also serves food in the parking lot on weekends. The creative bistro food is a must (www.boushet .com). You will find all three just south of downtown in the Sun Center strip mall. Nature's Health Food (555 Sunrise) has great and healthy salads and other treats. Enjoy the take-out food at the park across the street.
Sherman's Restaurant is great for New York-style deli food. You will find them downtown. The Native Food Café has a great meat free taco salad. Casa Mendoza's Restaurant in La Quinta has great Mexican Food.
NIGHTLIFE: There's a bar for everyone on Arenas Avenue downtown. Stacy's has jazz and piano. Hunter's is great for happy hour. You will find the leather crowd at the Eagle 501. Quad Z and Chill Bar are also fun as are Black Book Bar and Grill and Streetbar. Do some shopping at Gay Mart while you are in the neighborhood. All have set up outside seating to maintain social distancing and masks are required.
The Tool Shed at 600 E. Sunny Dunes Road is also fun. Enjoy a slice of pizza for $1. Farther out is the Barracks, which has a packed Sunday beer bust.
WHERE TO STAY: You cannot beat the value of the Motel 6 Downtown (660 S. Palm Canyon Drive). Just steps from Starbucks, the French Bakery, the Organic Restaurant, the Antiques District, and the Tool Shed Bar. Other options include the LGBTQ resorts, including those on Warm Sands Drive (just east of downtown). The Best Western downtown is also handy (and is right next to the Arenas area). I have also stayed at the Courtyard by Marriott. Also recommended is the Ace Hotel and Saguaro. You will find the LGBTQ resorts on Warm Sands and other locations. The Santiago resort is also very nice.
UPCOMING EVENTS: The Dinah Shore golf tournament has been moved to this fall. The Pride Parade may (or may not) be held in November.
TRAVEL TIPS: Summer is your value season as temps can be toasty. Also, you will need a reservation on weekends as the city is quite popular with the LA crowd. During the week is quieter.
Check current COVID-19 restrictions before any travel. When I was there, masks were required everywhere – inside and out including on hiking trails and sidewalks. Check COVID-19 travel recommendations from the CDC, the state of California, and Riverside County before booking your reservation to the area.
For more information, Visit Palm Springs, the official tourism website, has all you need to plan your Palm Springs vacation (visitpalmsprings.com). Check out their LGBTQ guide which has all the information you need including on the variety of LGBTQ resorts.
Bill Malcolm is America's only LGBTQ value travel writer. Based in Indianapolis, he has written more than 30 columns that have appeared in LGBTQ publications around the country. His opinions are his own. He is not recommending travel unless authorized by the CDC, the State of California, and Riverside County. Check current COVID travel recommendations and restrictions before deciding to travel.
Essential tips for COVID-free travel
Be ready for a patchwork of confusing rules this summer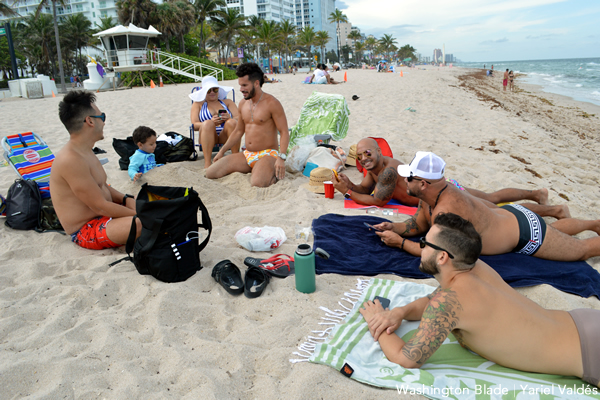 COVID-19 will make travel a bit more complicated this summer. Going to Europe? Taking a cruise? Visiting Hawaii, San Juan or St. Lucia? Or maybe you are planning a road trip? The rules for traveling responsibly during COVID vary greatly. Be ready to encounter a patchwork of confusing rules and requirements this summer.
Depending on what you choose to do for your well-earned escape, it is going to be necessary to educate yourself on what to expect; how to travel by the rules; and be ready to prove you have a negative COVID-19 test (and it may cost you to prove it). Trust, prepping for your trip in advance will pay off.
Your health, safety, peace of mind, and fun are an important part of the travel experience. Here are five essential tips for to ensure you have a fabulous summer getaway.
1. Research before booking your trip. Before you book your trip, be sure to understand how COVID-19 has changed the experience. Nearly everything about travel has changed due to COVID-19. Hotels, airplanes, trains, theme parks, destinations and resorts have all have modified safety precautions in place. The good news is that you will likely find fewer crowds, more space and enhanced cleaning. You may also find limited services such as curfews with bars and restaurants closing early. A driving trip within the U.S. likely will find fewer restrictions compared to an island trip.
2. Make reservations and buy tickets in-advance. Before leaving for your trip, you should book your restaurant reservations and reserve your tickets to a museum or attraction. While you might not like having to plan out your vacation in advance, you will likely find it hard to do all the things you want to do by waiting. COVID-19 means capacity restrictions, so there is limited availability especially on weekends and during peak periods. You can always make changes when you are there.
3. When flying give yourself extra time at the airport. Many stores and food establishments may still be closed or have limited service, so it will take longer to buy food and drink. Some airlines have also eliminated beverage and snack service in coach, so be ready to "Bring Your Own." If you are used to flying first class, be ready for a curtailed (i.e. downgraded) experience as well.
4. Stay at a trusted hotel. Staying at a hotel is perhaps one of the most important travel decisions you will make. Most hotels have developed respected cleaning protocols to keep you and their employees safe. Among the hotel industry's leaders is The Four Seasons. The Four Seasons has developed "Lead With Care" that includes both obvious hotel guest protocols and enhanced procedures behind-the-scenes including employee trainings. The Four Seasons also developed an app that provides guests with the high-standard customer service the luxury chain is known for while providing guests with privacy and limiting interactions with the team. COVID-19 has increased the costs for many hotels so it is important to stay with a trusted brand that you can count on to deliver on the safety measures promised.
5. Proof of a negative COVID test. The most complicated and expensive part of COVID-free travel will be meeting a requirement, if needed, to prove you have a negative COVID test. Hawaii, San Juan, cruise ships and other travel experiences are requiring that travelers prove they are COVID negative upon arrival at the destination or before starting your trip. Some destinations even require a mid-trip test to prove, again, that you are still COVID negative. Hawaii implemented a program that requires travelers to the islands to use a 'trusted partner' (so you can't use any test and vaccinations are not accepted). You must create an account at travel.hawaii.gov, download an app, and submit results upon arrival from a COVID test within 72 hours of arrival from a trust partner. Coming from Philadelphia through Chicago, that means I had to order an expensive test from American Airlines that was sent to me by UPS, the test included a virtual call to prove my identity and a virtual assistant to show me how to properly take the nasal smear.
Within a day of sending my test back via UPS, I had my results. I printed out my negative test, uploaded my results and also downloaded the QR code to my phone. Aloha! Are you negative? Mahalo.
Jeff Guaracino is the author of two books on LGBT travel, a syndicated travel columnist and a tourism executive with more than two decades in the industry.
Recharge in Woodstock, Va.
From parks to wineries, this bend in the river has much to offer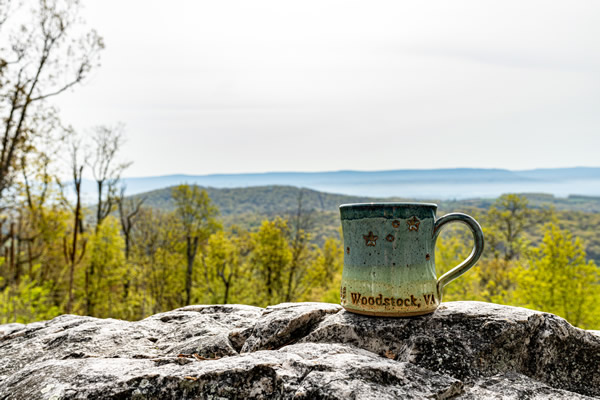 When I think of a relaxing weekend getaway, I generally think of a quaint beach town (Rehoboth), or some fabulous scenery to really get lost in (Lost River). I've already been to those places, to ALL of those places, so I wanted to see what else was in my backyard. On many a trip west, I've often wondered what lies between my D.C. apartment and my usual destination, so I decided to find out. I'm so glad I did!
About 90 minutes west of D.C., just about where 66 ends and you head south on 81, I found a charming little town called Woodstock (not that one, but the Virginia version). I've often pulled off the road here to load up on some provisions before continuing my journey, but this time I made this my destination.
The winery, Muse Vineyards, where I used to pop in, grab some bottles to go and order some paté for the road was always a place where I'd spend a little time, but I didn't realize that what I thought was an oasis was just the tip of the iceberg. In chatting with Sally, the owner and tasting room hostess extraordinaire (also a D.C. transplant, although to say she's from D.C. when her storied career as an ambassador and much more has taken her all over the globe, is rather limiting), she shared some of her favorite places to go when not in the tasting room and all of them were dog friendly.
I've crossed this river countless times in traversing to this place but really had no idea how accessible this area was. With a fantastic and brand new state park just next door, this little bend in the river has so much to offer. I headed out from Muse to Seven Bends State Park, just a two-minute drive away. I wasn't necessarily ready to go on an epic adventure, but a few miles of level terrain, meandering along the river were just what I needed to unwind and my pup was thrilled to stretch his legs and be out of the car. After having loaded my trunk with Muse wine, not just bottles but also some cans of their absolutely marvelous rosé, getting my steps in at the park and filling my lungs with fresh air I decided it was time to grab a bite to eat.
I followed Sally's advice and headed just a few short miles away to downtown Woodstock. It could be out of central casting, the street is even named Main Street (you can't make this stuff up). I wasn't in my Sunday best, had my pup in tow, and, having just logged a few miles, I decided I would sit outside, so I found myself at The Woodstock Brewhouse.
Having hiked at Seven Bends State park, their Seven Bender IPA called my name. I sat on their gorgeous outdoor deck, feasted on a Bavarian pretzel and sipped my beer in the sunshine— a perfect setting. As I sat there, a few locals filled me in on some of the other wonderful shops and dining options around town. Apparently, another D.C. transplant is churning out some wonderful dishes with locally grown produce and ingredients, the notion of farm to table is truly a way of life here, not a gimmick on the menu.
Since this was somewhat of an impromptu adventure and I started my day at the winery, followed by a hike, and now at a brewery, I thought making my day trip an overnight stay would be best. Though I'd generally look for the charm of a B&B, this was a spur of the moment adventure, I stumbled upon the perfect fit for my night's rest. The Hampton Inn here in Woodstock is locally owned and has some lovely personal touches, from showcasing a revolving cadre of local art to carrying wonderful local products. The cleanliness was what you'd expect from a major brand, and the location was truly perfect. All in all, it was the ideal spot to recharge.