'Ex gays' hold rally on Washington Monument grounds
Speakers claim faith in Jesus helped them leave 'LGBTQ identities'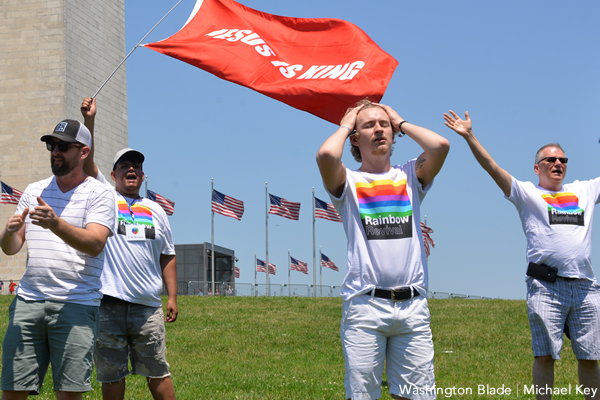 About 200 people gathered at the outdoor Sylvan Theater on the grounds of the Washington Monument on June 5, for a rally and march to promote the debunked belief that people can change their sexual orientation from gay to straight through faith in Jesus Christ.
The event, which organizers called Freedom March, was led by an organization called CHANGED, which says on its website that it provides support for men and women who are sexually attracted to the same sex or who are "uncertain of their gender" who seek a transformation away from those characteristics.
More than a dozen people who self-identified as having changed their sexual orientation or gender identity spoke on the Sylvan Theater stage with a four-member band playing background music. A male vocalist sang religious hymns, creating an atmosphere of an Evangelical Christian church service.
"It is not about going from gay to straight," said a man who identified himself as a minister named Joshua. "It is about going from lost to saved."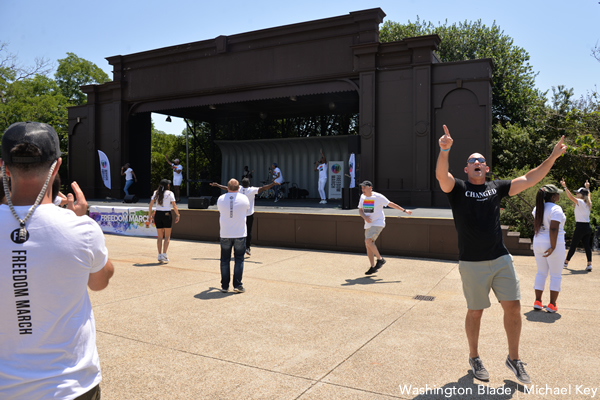 Among the speakers were Ken Williams and Elizabeth Woning, who were identified as co-founders of CHANGED or the "Changed movement."
"I'm a father of four and I'm a former LGBTQ identified person," Williams told the gathering.
Like many of the speakers, Williams offered a prayer in which he said Jesus Christ saved him and many others by guiding them away from "temptations" leading them to same-sex attractions they do not want.
"I pray Father that you would wake up the people that are supposed to be crossing this path this afternoon," he said. "I pray that those that are trapped, those that are sad, those that are depressed, those that don't know you personally, that you would have them get up from whatever they're doing and come through here this afternoon."
Williams added, "Would you offer a brand-new life to every person who's confused about their identity, who's confused about their sexuality, who feels that there are labels placed upon them that they can't remove but don't want?"
Organizers announced plans upon the conclusion of the speakers to walk from the Sylvan Theater around the Washington Monument grounds to the Lincoln Memorial reflecting pool and back to the theater, where the event would end.
Among those attending the event as observers were Wayne Besen, executive director of the LGBTQ advocacy group Truth Wins Out, which since 2006 has waged public awareness campaigns opposing the "ex-gay" movement; and Jared Dixon, an official with Conversion Therapy Survivors, a group that provides support for people who have experienced what the group says were harmful effects of conversion therapy.
Dixon, who describes himself as a gay man in a fulfilling relationship with another gay man for the past nine years, said he entered conversion therapy back in 2011 as a 21-year-old college student at the urging of his parents, who raised him in a religious setting. He said the conversion therapy caused him to suffer depression that led to a suicide attempt.
He said he joined and became a member of the leadership team of Conversion Therapy Survivors, known as CT Survivors, after several years of therapy with LGBTQ supportive therapists who helped him fully accept himself "for who I am."
Besen said he believes his group has been successful in debunking what he and other LGBTQ advocacy organizations have long pointed out – that attempts to change someone's sexual orientation or gender identity through so-called conversion therapy or "reparative" therapy are strongly opposed as being harmful by all of the nation's major medical and mental health professional associations, including the American Psychiatric Association and the American Medical Association.
Besen said widespread reports of how conversion therapy, including religious oriented "counseling" programs seeking to change people's same-sex attractions have led to serious mental health problems, including suicide, led to the disbanding of several prominent "ex-gay" organizations, including Exodus International about five years ago.
But Besen said CHANGED, the group that organized the June 5 event on the Washington Monument grounds, reflects what he believes is an effort to revive the "ex-gay" movement through the use of sophisticated social media campaigns that he says will put many vulnerable people, especially young LGBTQ people, at risk.
"What we're witnessing here is disturbing to me," Besen said. "What we're looking at is a slick rebranding and rebooting of the same toxic message," he told the Washington Blade. "And they're getting better at it."
Besen noted that ex-gay organizers appear to have abandoned the "fire and brimstone" approach of denouncing homosexuality and LGBTQ people who don't want to change and instead are expressing an outward "love" and "support" for LGBTQ people with the aim of leading them to become "free" from same-sex attractions if they choose to do so.
Many of the speakers at the June 5 Freedom March wore white T-shirts with a rainbow-colored design above the slogan, "Rainbow Revival."
"So, we're seeing a new and improved ex-gay industry right now," Besen said. "And that's why we're upping our game too, in fighting them with our new campaigns."
Besen was referring to Truth Win's Out's newly launched social media campaign to challenge what it calls a resurgent "ex-gay" industry.
"You can't 'pray away the gay' and efforts to do so inevitably lead to denial, depression and despair," Besen says in a statement released by his group. "Our videos will debunk the lies peddled by the Freedom March and other 'ex-gay' programs in an effort to educate and save lives," he said.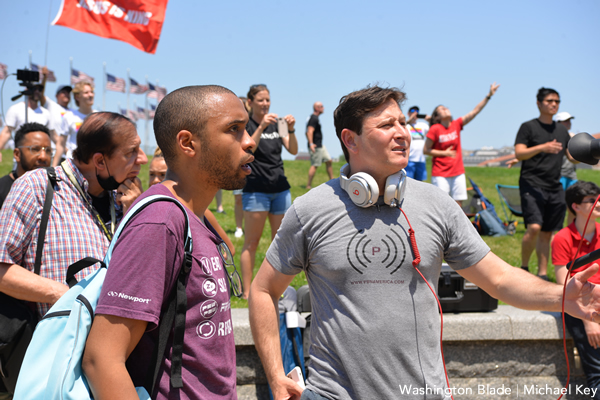 Glenn Youngkin sworn in as Va. governor
Republican backed teacher who opposed trans student guidelines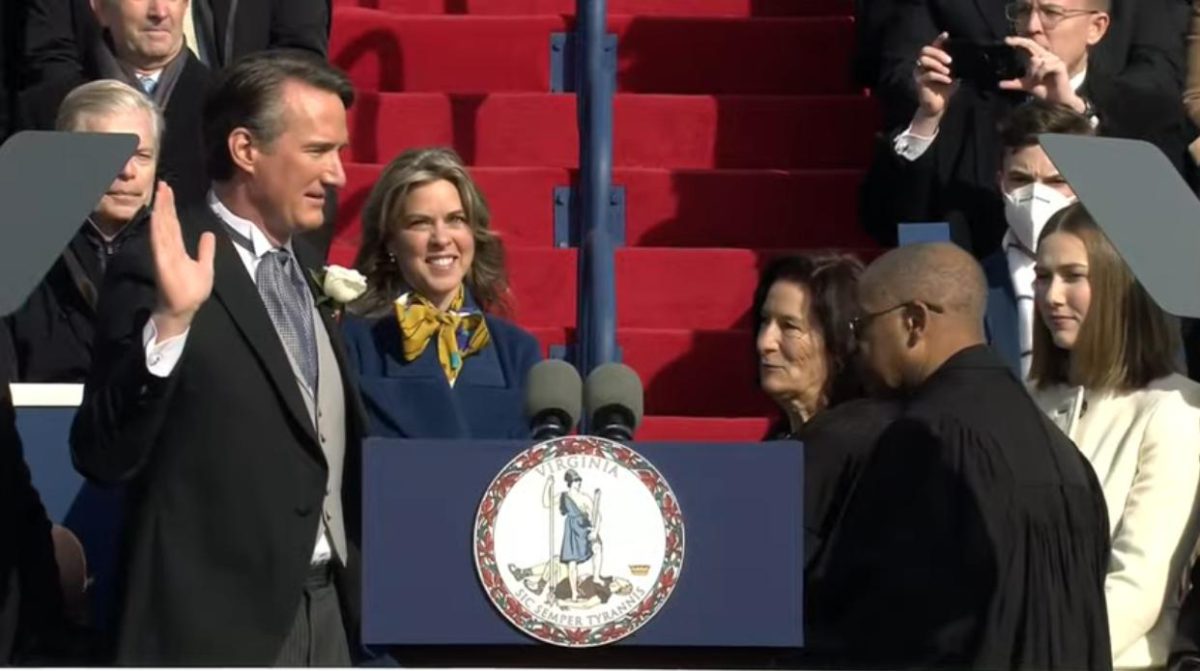 Republican Virginia Gov. Glenn Youngkin took office on Saturday amid concerns that he will seek to curtail LGBTQ rights in the state.
"Today we gather not as individuals, not as Republicans and Democrats," said Youngkin after his swearing in. "Today we gather as Virginians."
Former Gov. Ralph Northam and U.S. Sen. Tim Kaine (D-Va.) are among those who attended the ceremony that took place at the State Capitol. Terry McAuliffe, who Youngkin defeated in the general election, did not attend because of a COVID-19 scare.
Youngkin during his campaign against McAuliffe expressed support for Tanner Cross, a gym teacher at a Leesburg elementary school who was suspended from his job after he spoke out against Virginia Department of Education guidelines that are designed to protect transgender and non-binary students. Youngkin has also said he does not support allowing trans children to play on sports teams that are consistent with their gender identity.
Youngkin on Thursday named Elizabeth Schultz, an anti-LGBTQ former member of the Fairfax County School Board, to his administration.
"We will remove politics from the classroom and focus on the essentials," said Youngkin in his inaugural speech, without specifically mentioning LGBTQ students.
He added "parents should have a say in what is taught in schools."
Youngkin has also expressed his opposition to marriage equality, but stressed it is "legally acceptable" in Virginia and would "support that" as governor.
Lieutenant Gov. Winsome Sears and Attorney General Jason Miyares also took office on Saturday.
Winsome, a former member of the Virginia House of Delegates, is the first woman and first female of color elected lieutenant governor. Miyares, a former House member whose mother was born in Cuba, is Virginia's first Latino attorney general.
Youngkin in his inaugural speech noted "the people of Virginia just elected the most diverse leadership" in the state's history. Youngkin's first executive order ends "the use of" so-called "critical race theory" (which is not taught in Virginia schools) and other "divisive concepts" in Virginia's public schools.
The General Assembly's 2022 legislative session began on Wednesday.
Republicans control the House by a 52-48 margin. Democrats have a 21-19 edge in the Virginia Senate.
Va. school board names new chair who called for burning books
Kirk Twigg backed torching of materials with "sexually explicit" content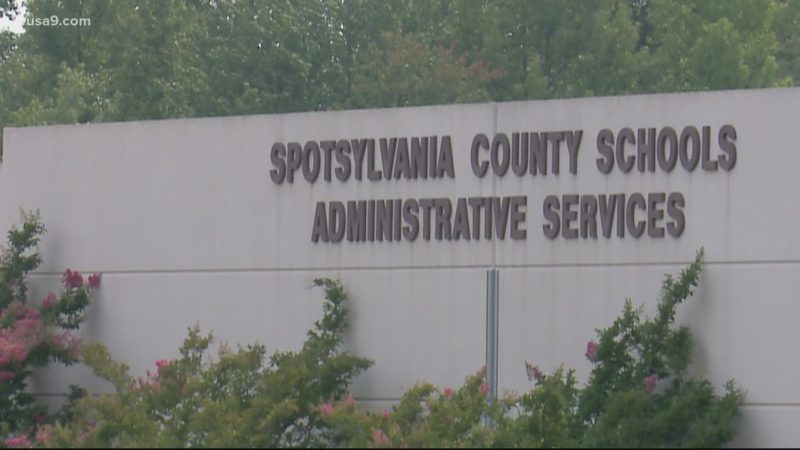 The Spotsylvania County School Board voted Monday to name Kirk Twigg, who advocated for burning books he deemed "sexually explicit" in November, as its new chair. 
His win gives conservatives the majority on the board as Republicans across the country continue an effort to ban books dealing with LGBTQ issues and racism from schools.
Spotsylvania County has been involved in the controversy from the beginning, voting last year to remove books containing "sexually explicit" materials — only to rescind the order a week later.  
Monday's board meeting, Twigg's first as chair, would prove to be disorganized and, at times, unruly.
Twigg's first order of business was to call an unscheduled, closed-door session, which may have violated Virginia's open meeting requirements. According to Virginia Code, a closed meeting cannot be called without a public body approving a motion that states the subject matter and the purpose of the meeting, as well as an applicable exemption from open meeting requirements.
After the board returned from the closed-door session, Twigg said well-regarded Superintendent Dr. Scott Baker would be fired without cause. Baker had already announced he would be resigning at the end of the school year in December.
After Baker decided to resign, a longtime Spotsylvania resident penned a letter in the Free Lance-Star, calling him "the finest superintendent, by far."
"Dr. Baker is trusted and respected by parents, students and employees of Spotsylvania Schools; and he never lost sight of his mission for good reason," it read. "He did so despite the noise and disruption from those few board members dedicated to bringing political disruption and dissidence into our public educational system. Shame on the few."
As Twigg made the announcement, another member of the board interrupted him, saying: "Um, Mr. Twigg, no he is not. You need to make a motion — there needs to be a motion and a vote."
Board members continued to speak over each other as conservative members attempted a vote. But Board Member Nicole Cole told the chairman she had comments.
"I believe that the board members who have lodged this termination owe our citizens and our students of Spotsylvania County a justification for firing Dr. Baker," said Cole. "You have not stated any justification or ability to fill the position. How is this good for the students, the children of Spotsylvania? How does this make sense?"
In a rebuke of the chaotic meeting, she added that Twigg "couldn't even properly chair a meeting."
After approximately 7 minutes of heated discussion where members from both sides got noticeably frustrated, the board voted 4-3 to fire Baker.
Twigg, Lisa Phelps, April Gillespie and Rabih Abuismail, who also advocated for burning books, voted in favor.
The Free Lance-Star reported that Baker was escorted from the building before the board returned from the second closed-door meeting.
An emergency meeting has been scheduled for Friday to name an interim superintendent.
"It's just very sad to hear that a superintendent who has been fully engaged in this community for 10 years is just let go with no rhyme or reason," said Board Member Dawn Shelley, while noting Baker's accomplishments.
Melissa Etheridge to host Heather Mizeur fundraiser
Virtual event to take place on Tuesday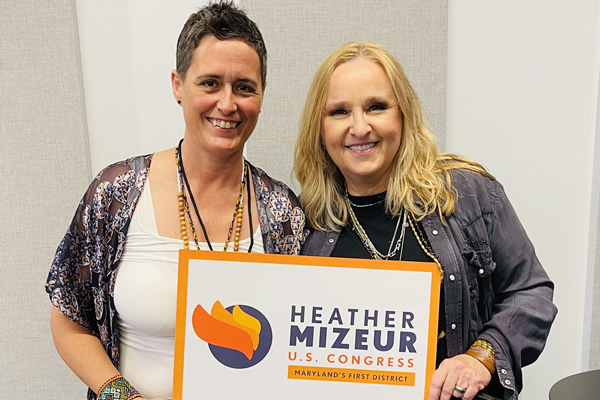 Singer Melissa Etheridge next week will hold a virtual fundraiser for Heather Mizeur's congressional campaign.
The fundraiser will take place on Tuesday at 8 p.m. with tickets starting at $50. Supporters who donate at least $250 will be able to speak with Etheridge and Mizeur in a private Zoom room.
Mizeur, a former member of the Maryland House of Delegates who lives on the Eastern Shore with her wife, is running against anti-LGBTQ Republican Congressman Andy Harris in Maryland's 1st Congressional District. Mizeur ran for Maryland governor in 2014.
Mizeur on Thursday noted to the Washington Blade that her congressional campaign has raised more than $1 million.
"It's going really, really great," said Mizeur.