Legendary activist gets his due in 'Hating Peter Tatchell'
'Don't accept the world as it is'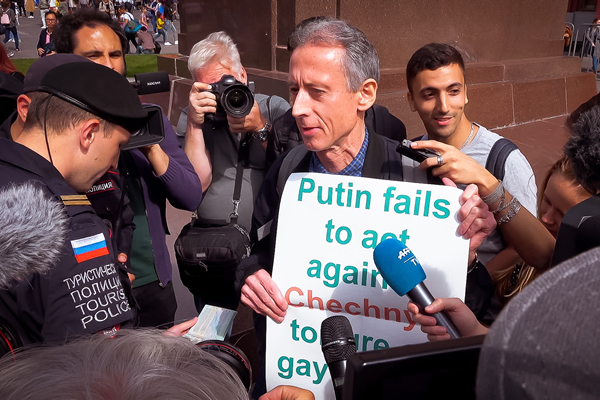 Looking at the fight for LGBTQ equality from inside the bubble of the United States, it's easy to get the impression that the movement essentially started at Stonewall, and that most of our progress is the result of work from our own homegrown activists. That's obviously not the case; though there have been plenty of American heroes that have done more than their fair share in the effort, the contributions of others who join the fight on the international front deserve recognition, too.
"Hating Peter Tatchell," available now on Netflix, is a great introduction to one of them.
It's a documentary from director Christopher Amos that chronicles the life and work of a tireless champion for LGBTQ rights – and human rights in general – whose six decades of campaigning have made him simultaneously one of the most lauded and loathed men in the world. He has shaken up the British establishment with his radical acts of civil disobedience, aggressively pushed for change in global attitudes about homosexuality, and stood up against tyrannical world leaders – and he's done it all from the front lines.
Amos' brisk but informative film takes us on a tour of Tatchell's career, bolstered by plenty of archival footage (much of which only exists because Tatchell saved the VHS tapes himself) and given perspective through evocative interviews with the likes of activist Angela Mason, actor Stephen Fry, and Tatchell himself, who also engages in an ongoing conversation with actor and fellow LGBTQ activist Ian McKellen about what motivates his lifelong fight for equality. Along the way, we get insights into Tatchell's personal life, in particular his relationship with his deeply religious mother. The film culminates with his riskiest crusade yet, the disruption of 2018's FIFA World Cup in Moscow to draw attention to the persecution of LGBTQ+ people in Russia and Chechnya.
Tatchell, we're happy to say, survived that journey, and is still fighting tirelessly through the Peter Tatchell Foundation, a small London-based human rights organization that also supports democracy, LGBTQ+ and human rights movements in countries like Russia, Uganda, Iran and Pakistan. But busy as he is, he took time to join director Christopher Amos for a conversation with the Blade about the film.
BLADE: Peter, a lot of hard-working activists often struggle with burnout. How do you find a balance between your activism and your day-to-day life?
PETER TATCHELL: My life has been tough. I've campaigned 12+ hours a day for 54 years, been violently assaulted over 300 times and still receive masses of hate mail and death threats, mostly from homophobes and far right extremists. I'm perpetually tired. It's made relationships difficult to sustain. But I love the human rights work that I do. What motivates and sustains me is my many successes and the positive feedback from the 20,000+ individuals and campaigners that I've helped over the last five decades.
BLADE: Your activism even extends into your relationship with your mom.
TATCHELL: I've seen my mother's regressive views as a challenge and never ceased engaging with her. As a result, she's been on a journey of growing understanding and acceptance. Although homosexuality is against her Christian beliefs, she doesn't see it as a major sin. Moreover, she mostly supports my LGBTQ+ work, says LGBTQ people should be treated with respect and has accepted my partner. It shows that patience and perseverance can change hearts and minds.
BLADE: On that subject, the movie features a lot of footage from an era when a lot of people were opposed to your confrontational methods. Some of that persists even in the contemporary interviews. Christopher, was that an intentional choice?
CHRISTOPHER AMOS: As much as I support Peter's work, achievements, and sensibilities, I knew it was important to also present opposing opinions. It's important, for progress, to listen to opinions that are different from our own, even when we disagree. And it's important that we don't hide history, we can learn from it. When I was watching the hundreds of hours of archives, I was shocked by some of the views which made it onto television talk shows at the time. Hindsight is a powerful way of highlighting just how much progress has been made.
BLADE: In this case, it certainly highlights that some of Peter's more "radical" positions have been vindicated over the years, in spite of the naysayers.
AMOS: Peter was ahead of his time. He has a natural instinct for what is fair and equal in society.
BLADE: Is that what drew you to him as a subject for a film?
AMOS: Peter's activism inspires me, and perhaps identifying with the journey of an Aussie moving to London made his story especially significant to me. We first met in 2000, when I was editor of Bent magazine, and Peter regularly contributed articles. I was always surprised by how many of the LGBTQ community derided his work, despite the huge contribution he was making to advancing our rights. This struck me as an interesting premise for a story about his life, something which adds a layer to the biographical account of his life. I wanted to highlight his achievements but also explore his motivations.
BLADE: What do you want audiences to take away from his story?
AMOS: Peter's journey over the past half-century highlights the advances in the gay liberation movement. That gives me hope for the future and I hope will give others hope too. But it can also inspire us to take action, to use our voice. I want viewers to be moved, but also feel motivated to carry on this fight for equality. Many people often ask what they can do, but Peter doesn't wonder, he just does something.
BLADE: Peter, is there an action you've taken that you are particularly proud of?
TATCHELL: I don't spend much time relishing my successes. Once a victory has been secured, I focus my mind on the next challenge. But I'm pleased that I ambushed Mike Tyson and got him to express his opposition to homophobic discrimination, and that I staged the first LGBT+ protest in a communist country (East Germany, 1973). And also, I twice attempted a citizen's arrest of the Zimbabwean dictator and homophobe, Robert Mugabe.
BLADE: What do you think is currently the most crucial fight or fights for the future of queer rights?
TATCHELL: In the West, the biggest battles are to ban conversion therapy, defend the trans community and support other progressive movements, like Black Lives Matter and #MeToo. Globally, the main challenge is to decriminalize homosexuality in the 70 countries that still outlaw it, and then to secure legislation against anti-LGBT+ discrimination and hate crimes.
BLADE: What would you say to people who want to become more involved but don't know where or how to start?
TATCHELL: Join a LGBT+ organization. There is strength in numbers. All our gains are the result of our collective efforts. Don't accept the world as it is. Dream of what the world could be — and then join with others to help make it happen.
Holiday movie and TV preview
Lesbian romance, 'Rent' adaptation, and Lady Gaga make the season bright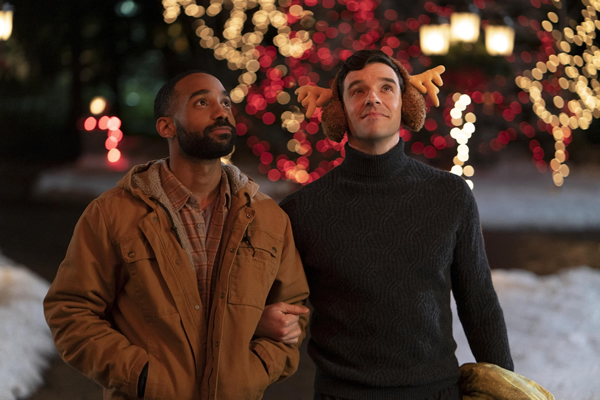 It wasn't all that long ago – barely one or two Decembers ago, really – that the holiday lineup of movies and TV shows offered very little in the way of LGBTQ inclusion. It may have been the time of year to don our gay apparel, but the closest thing to gay representation we were likely to get on our screens was an elven dentist and a few misfit toys.
This year, however, is a different story. The seasonal entertainment landscape of 2021 brings with it the usual crop of mainstream (read: straight) crowd-pleasers with queer appeal (Lady Gaga as scheming real-life social-climber and Gucci murderer Patrizia Reggiani? Yes, please!), but it also comes bearing a much heftier-than-usual bag of gifts in the form of actual queer content, with actual queer characters and stories, and with some of our favorite stars. Not all of them are holiday stories, of course, but that doesn't mean they don't all make the season brighter – and the Blade is here to help you sort through the bounty with our annual Holiday Preview, a roundup of titles our readers will want to check out. The list is below:
tick, tick…BOOM! (Netflix and in theaters 11/ 19): Perfect for Broadway lovers, this is the hotly anticipated film adaptation of the posthumously produced autobiographical musical by Jonathan Larson, who revolutionized musical theater as the creator of "Rent" but died suddenly of an aortic dissection at 35 before he could see it grow to a global phenomenon. The film follows the young theater composer – played by Andrew Garfield – as he struggles to write what he hopes will be the next great American musical while waiting tables in a NYC diner, dealing with pressures in his personal life, and watching the artistic community around him be ravaged by the ongoing AIDS crisis. Fittingly enough, this hotly anticipated film about a Broadway giant is the feature directorial debut of another Broadway giant – none other than "Hamilton" and "In the Heights" creator Lin-Manuel Miranda, himself. Written by Tony-winner Steven Levenson ("Dear Evan Hansen"), it also stars Alexandra Shipp, Robin de Jesús, Joshua Henry, Mj Rodriguez, Bradley Whitford, Tariq Trotter (aka Black Thought of The Roots), Judith Light, and Vanessa Hudgens.
House of Gucci (In theaters 11/24): As mentioned above, this tale of true crime and high fashion stars LGBTQ ally Lady Gaga, and it's already been called "disappointing" by the real-life Gucci family – so you know it's going to be juicy. Inspired by the shocking true story of Patrizia Reggiani (Gaga), whose marriage into the family behind the Italian fashion house takes center stage as the film chronicles three decades of love, betrayal, decadence, revenge, and ultimately murder. Directed by multiple Oscar-nominee Ridley Scott, this sure-fire award season contender also stars Adam Driver, Jeremy Irons, Salma Hayek, Al Pacino, Reeve Carney, and an unrecognizable Jared Leto as Paolo Gucci.
The Humans (Showtime and in theaters 11/24): Another import from the Broadway stage, this seasonally appropriate adaptation of Stephen Karam's Tony-winning drama centers on a dysfunctional NYC family as they help their youngest daughter Brigid (Beanie Feldstein) move into her new apartment with her boyfriend (Steven Yuen) on Thanksgiving Day. This sets the scene for a relatable – if occasionally uncomfortable – holiday dinner in which personal issues become fodder for discussion and family conflicts start rearing their ugly heads. More than just another cutting domestic drama for the holidays, this one goes deep to offer a slice-of-life observational commentary on the state of family life in America today. Amy Schumer co-stars as Brigid's older lesbian sister Aimee, and Jayne Houdyshell reprises her acclaimed Broadway performance as the girls' mother, in an ensemble cast that also features Richard Jenkins and June Squibb. Playwright Karam not only wrote the adaptation himself, but also directed, making his debut behind the camera and ensuring that this one is sure to be a must-see for fans of theater and film alike.
Saved by the Bell, Season 2 (Peacock TV 11/24): Peacock's reboot of the classic '90s sitcom returns for a second round, and besides the obvious appeal in the camp and nostalgia departments, it also features a trans leading character portrayed by a trans actress. Populating the halls of Bayside High is a cast that includes Elizabeth Berkley Lauren, Mario Lopez, John Michael Higgins, Haskiri Velazquez, Mitchell Hoog, Josie Totah, Alycia Pascual-Peña, Belmont Cameli, Dexter Darden, Mark-Paul Gosselaar, Tiffani Thiessen, and Lark Voorhies (Lisa Turtle).
Single All the Way (Netflix 12/2): Yet another Tony-winner (Michael Mayer) directs this promising entry to the Holiday roster, Netflix's first-ever gay-themed Yuletide romance starring Michael Urie ("Ugly Betty," Broadway's "Torch Song") as a gay man who asks his best friend (Philemon Chambers) to pose as his boyfriend at his family's Christmas dinner to avoid being questioned about his perpetually single status. Unbeknownst to him, his mom (Kathy Najimi) has already planned to set him up with her handsome personal trainer (Luke MacFarlane) – which obviously means that festive hijinks are sure to follow. This slice of seasonal sweetness also features Barry Bostwick ("The Rocky Horror Picture Show") and Jennifer Robinson, and capping it off is the incomparable Jennifer Coolidge, rounding out her "White Lotus" year with what will undoubtedly be another mesmerizingly dotty performance in a supporting role.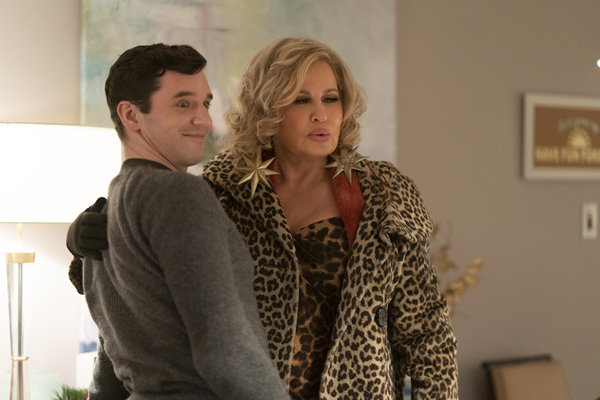 The Bitch Who Stole Christmas (VH1 12/2): In the "why didn't they do this sooner?" category is this holiday special from Emmy-winning TV icon and "Drag Race" legend RuPaul, who takes the screen as "a workaholic big-city fashion journalist" who (according to the show's official description) goes on assignment to "a Christmas-obsessed small town" and "finds herself in the middle of cut-throat housewives, a high-stakes 'Winter Ball' competition, and a sinister plot that could destroy Christmas fore-evah!" Joining Mama Ru onscreen will be 20 "Drag Race" winners and a host of other celebrities. We're there.
With Love (Amazon Prime 12/17): From Gloria Calderón Kellett, the critically acclaimed showrunner of the queer-inclusive reboot of "One Day at a Time," comes Amazon Prime Video's first holiday miniseries, complete with a heavily inclusive LGBTQ cast and queer storylines that feature a gay couple (played by Mark Indelicato and Vincent Rodriguez III) and one of the first transgender love stories ever to be found in a holiday rom-com. The series consists of five hour-long episodes tracking the Diaz family as they search for love and purpose across five different holidays during the year. Also starring are Emeraude Toubia, Desmond Chiam, Rome Flynn, Isis King, Todd Grinnell, Constance Marie, and Benito Martinez.
Under the Christmas Tree (Lifetime 12/19): Lifetime's first-ever lesbian romance begins when "Christmas tree whisperer" Charlie Freemont (Tattiawna Jones) finds the perfect tree for the governor's holiday celebration – in the backyard of marketing whiz Alma Beltran (Elise Bauman). The two women spar, naturally, but it's not long before – with a little help from the tree and "some Christmas fairy dust" from the town's resident pastry chef (Ricki Lake) – the romantic sparks begin to fly.
Michael Kearns, the godfather of LGBTQ authenticity
First 'out' actor in Hollywood on his road from porn to fatherhood to latest film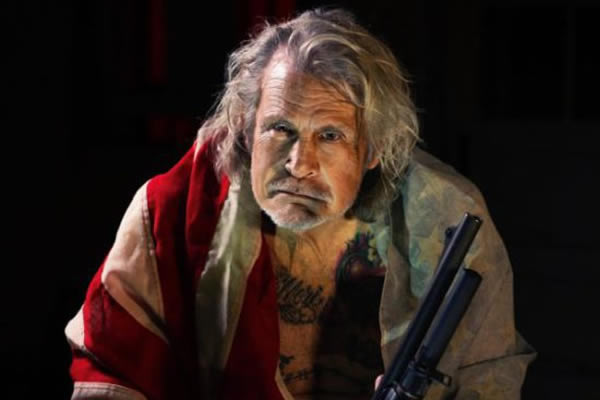 The arc of LGBTQ+ history over the past 50 years has been one of constant upheaval and evolvement. From a period when it was both illegal and insane to be gay, through the achievement of being able to serve openly in the military, to marriage equality and the ability to create families to today's fight against the tyranny against Trans people, the movement has not stopped to take a breath.
Michael Kearns, the first recognized "out" actor on the Hollywood landscape, has been a visible presence through it all. More importantly, he has always been visible on the gay scene. In the seventies he epitomized the free love and erotic freedom that many gay men lived. He was featured in classic gay porn movies and did a PR stint as the face of the "happy hustler."
"That was my introduction to a lot of people," Michael told me when we sat down for a chat on Rated LGBT Radio. "I kind of captured the zeitgeist of the times, the freewheeling seventies. We forget that there was that period of time when sexuality was joyful and exciting and thrilling."
In the eighties he was visible in mainstream media as a gay man playing gay men characters. In 1983, Michael was cast in a minor role on the "Cheers" Emmy-winning episode "The Boys in the Bar." He was instantly recognized for his gay sexual iconic status by LGBTQ audiences, even though the population at large did not know who he was. The casting director who fought for his casting was Stephen Kolzak, who would himself become a prominent AIDS activist before he died at 37 in 1990. Stephen cast Michael to make a statement. He wanted to signal to the LGBTQ community that "Cheers" had our backs. "He was one of the only ones that had the guts," Michael remembers.
"There were a lot of stereotypes in television regarding gay portrayals. I was pegged and cast in some of those roles. I did play the stereotype, but rather than a straight guy playing those roles, I brought authenticity. I was real. Straight guys playing gay would always spoof the role. They were always 'winking' and signaling to the camera 'I am not really that way.' So, the performances are by in large horrible, even with some Academy Award winners. The actors were constantly saying that it was not who they were — if they weren't making that clear on the talk shows, they were doing it in the performance itself," Michael says.
Michael soon morphed into an HIV-positive man playing HIV-positive characters, while off camera becoming a visible and vocal AIDS activist. "It was a new kind of cliché. They had to always make me look horrible. The ghastlier the better. They could not have an HIV character who looked normal — as I did when I arrived at the set. Finally, I had enough and refused to do that anymore." Michael then immersed himself in theater where he found greater character honesty and truth.
As gay men captured their identities in the '90s as husbands and fathers, Michael was there too — becoming one of the first gay men to adopt a child. It is that role, as a father, that Michael has said is his greatest.
Today, Michael has been a driving force behind QueerWise, a multigenerational writing collective and performance group. Through QueerWise, Michael gives poetic voice to talent that would otherwise be voiceless. Its members include published poets, writers of fiction and non-fiction, playwrights, singers, musicians, social activists, dancers, actors, artists and teachers.
QueerWise launched its latest work last month, "The Ache for Home."
"The Ache for Home is a video presentation of heartfelt stories from formerly homeless/unhoused individuals in and around West Hollywood. It was developed through a mentorship program facilitated by QueerWise members. The production represents citizens-turned-writers who share their inspirational stories from those glamorous streets and sidewalks, ranging from soaring self-acceptance to narratives of truth-telling defeats," said Michael. The production can be seen on QueerWise's YouTube channel.
The "Ache for Home" features a young cis male with a passion for music and art, who finds joy "when I can put a smile on someone's face and give back", a retired mixed race bisexual government worker who is a voracious reader and literacy advocate, two trans males who share their experiences of living on the street, and a former resident playwright who was homeless for 44 days and nights in the city. "I am thrilled at our inclusion of trans men in this work," Michael says. "It is a poorly represented community within a poorly represented community."
On current controversies, particularly the Dave Chappelle issue, Michael notes, "I am glad it is generating passion. It is bringing up conversation on the plights of Black trans women who are victimized at an alarming rate, we should not say victimized… we should say murdered. I am glad we are shedding light on that."
Michael's work has been described as "collisions of sex and death, of eroticism and grief," but he has truly dug to an even deeper level. "The Ache for Home" takes its inspiration from the Maya Angelou quote, "The ache for home lives in all of us, the safe place where we can go as we are and not be questioned." Michael Kearns' work has always encouraged us to go, and live, "as we are." He is the amalgamation of eroticism, grief, healing, and appreciating the richness of life itself.
He is the godfather of LGBT+ authenticity. In earlier days, he may have represented sex; he may have walked us through a period of darkness and death into the arms of the creation of the new family. He has now brought us home, and when we look at him, we see a new quality: wisdom.
'Mayor Pete' emerges as a likable enigma in new doc
An early snapshot of a history-making figure in the making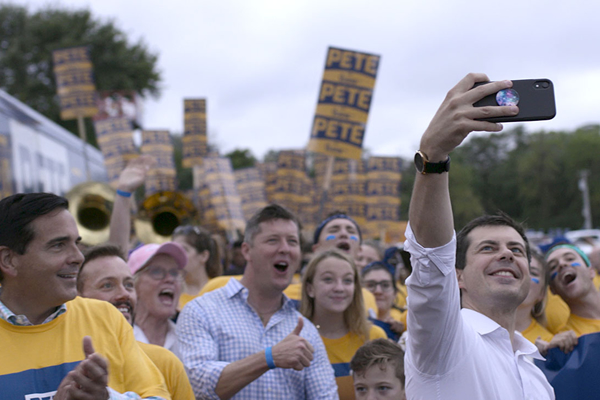 For reasons that should be obvious, it's difficult for a filmmaker to avoid adopting a subjective stance in a political documentary. Many such movies have a tendency to feel like they've crossed the line between journalism and propaganda, which may not seem like such a bad thing to a viewer who is on the same "side, but can be infuriating to those whose political ideas run in the opposite direction. It goes with the territory.
Amazon's much-touted "Mayor Pete," which drops on Prime Nov. 12, is bound to incur those kinds of reactions from its audience, even though it makes an effort to avoid the kind of divisive politicizing that now seems like business as usual. After all, it is the story of the first openly gay man, who is both a millennial and a Democrat, to become a serious contender for the office of president of the United States. Depending on where you stand with regard to the plethora of potentially thorny issues raised by those circumstances, you're undoubtedly going to have strong feelings about this movie, one way or another.
Filmed over the course of a year by a film crew granted unprecedented access to Pete Buttigieg (as well as his husband Chasten and his ambitious young staff) on the campaign trail, it offers a briskly paced profile of the titular candidate during his bid for the Oval Office, from throwing his hat in the ring to his victory in the Iowa primary and beyond, culminating in his historic appointment by eventual winner Joseph Biden as Secretary of Transportation. It's a chronicle that will be fresh and familiar to the many viewers who undoubtedly followed it in real time, and one that we know will take a disappointing turn before the triumphant twist in which America gets its very first out Senate-confirmed LGBTQ Cabinet member.
What makes it more than merely a left-leaning rehash of recent events, however, is the way director Jesse Moss takes a once-in-a-lifetime opportunity to get up close and personal with a presidential hopeful — and his steadfastly supportive husband — and turns it into a springboard for a wider contemplation of Buttigieg and his place in American political history. Through extensive interviews conducted over the course of the candidacy with both Pete and Chasten, we are allowed to get to know them both at a far more intimate level than we are usually allowed with political figures; this is enhanced and illuminated by behind-the-scenes footage, which provide us with in-the-moment glimpses of them each in action that perhaps tell us as much or more about who they really are than anything they say or show us in the controlled environment of their interviews; finally, through the inevitable exploration of Buttigieg's status as a gay man and the impact (or lack of it) that has on his viability as a candidate, we get a snapshot of an American culture at a time when it is perhaps more accepting and evolved around the subject of sexuality than anyone really expected — despite the occasional purveyors of virulent homophobia who predictably turn up to spout their bigotry every chance they get.
While it's always interesting to gauge public reaction to an out-and-proud public figure (particularly when that public figure is able to arrive at a place where the American presidency is almost within his grasp), what is most fascinating about "Mayor Pete" is Mayor Pete himself. His face, his voice, and his famously hard-to-pronounce name may already be familiar, but here we are given a fuller and more detailed view. The man that emerges for us is a bit of an enigma, a light-hearted stoic who exudes sincerity even as he fine tunes the optics of his public image with his team, but somehow that manages to make him even more compellingly charismatic. After all, before he ever ran for any office he was a real American hero, a military veteran whose tour of duty clearly helped to shape what he would become. His entire manner belies his background; his respect, his sense of duty, his patriotism, unflappability and get-it-done determination — all these are the hallmarks of a former soldier. He even carries himself like a soldier.
Unfortunately, though, the self-assured calmness born of Buttigieg's military service proved to be an issue that, as the documentary reveals, became an issue that would plague him throughout his bid to become the youngest American president in history. His even-tempered demeanor was interpreted by many as coldness, an emotional distance that made it difficult for would-be supporters to connect with him. Worse, his compassionate idealism was seen by seasoned politicos as too good to be true, and some suggested that his inspirational rhetoric was ultimately just a disguise designed to conceal a lack of substantive policy ideas.
Watching Buttigieg through the candid lens of Moss' profile, it's easy to see how someone with a cynical bent might draw such conclusions; there's something about his careful, contemplative discourse that suggests things hidden below the surface. Yet at the same time, as the film (and his quest for victory) progresses, there's a cumulative effect that reinforces the first impression served up by his infectious blend of old-fashioned optimism and forward-thinking ideology and makes it difficult to believe he is anything less than authentic. Rather, we get the sense that he is evolving as he goes, holding back his deepest thoughts because he himself is still weighing and considering them, and that he is taking us with him on the journey as he goes. The end point may be uncertain, but we somehow seem to know he's on the right track.
Pete is not the only Buttigieg in the movie, however, and his husband Chasten comes close to stealing the show from him, matching him every step of the way in terms of positivity and dedication, and adding to the mix the kind of steadfast support that any man — or any person at all, for that matter — dreams of having from their spouse. Best of all, Moss gives us several quiet, fly-on-the-wall scenes that show the tenderness of their connection, the strength of their bond, and the thrill of their love for each other. They are, quite simply, an adorable couple, and they go a long way in the film (as they continue to do in real time) toward erasing old prejudices and assumptions about gay relationships that, sadly, still linger in the imagination of social conservatives and religious fundamentalists who are too caught up in their fear of change to see the beauty in two human beings loving each other that completely.
In the end, the greatest value of "Mayor Pete" may eventually be as an early snapshot of a political giant in the making, depending on Buttigieg's future career trajectory, of course. In the meantime, though, it's a thoughtful, personable, and — yes, I'll say it — inspiring look at Buttigieg as a man, rather than a phenomenon or a political event.
And somehow, it makes it even clearer that he is all of these things at once.