Trans woman found murdered in P.G. County apartment
Police seek help from community in identifying suspect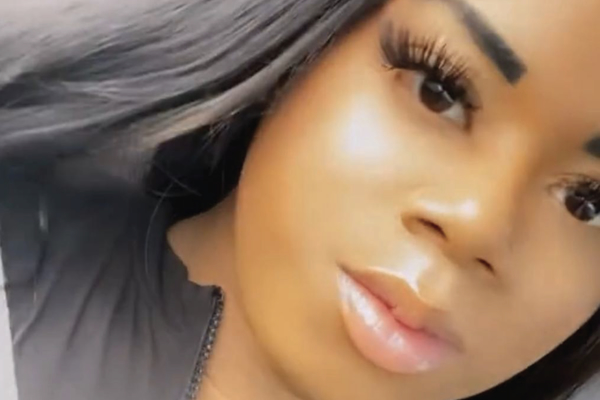 A 20-year-old transgender woman was found shot to death in her apartment in the D.C. suburb of Suitland, Md., on Saturday, July 17, shortly before 10 p.m., according to a statement released by Prince George's County police.
The statement identifies the victim as Taya Ashton, who lived in an apartment on the 2300 block of Brooks Drive in Suitland, where police were called to respond to a shooting.
"The victim was located inside her apartment suffering from a gunshot wound and was pronounced dead on the scene," the police statement says.
"Detectives are working to identify a suspect(s) and determine a motive," according to the statement. "Based on the preliminary investigation, at this time, detectives do not believe this was a random crime," the statement continues.
"At this point in the investigation, we have uncovered no evidence suggesting Taya's murder was due to her gender identity, but as in all cases, we explore all possibilities," the statement says.
The statement adds, "We are asking anyone with information that could help detectives to please reach out by calling 301-516-2512. Callers wishing to remain anonymous may call Crime Solvers at 1-866-411-TIPS, go online at pgcrimesolvers.com, or use the 'P3 Tips' mobile app." The statement says callers are asked to refer to Case 21-0032181.
D.C. resident Stuart Anderson, Taya Ashton's grandfather, told the Washington Blade that her parents and extended family members accepted Ashton's status as a transgender woman and are devastated over the taking of her life by violence.
Anderson said he arrived at his grandchild's apartment after being alerted to the shooting by another family member minutes after police arrived. He said he and other family members did not observe any signs of a forced entry into the apartment, leading them to believe Taya Ashton may have known the assailant and possibly invited the person to her home.
"We saw her. It looked like a struggle might have taken place," Anderson said.
P.G. County police spokesperson Corp. Nicholas Clayton told the Blade on Monday that detectives were actively investigating the case and would be looking for any and all available evidence to identify the person responsible for Ashton's murder.
He said police could not disclose details related to the condition of the body or other evidence found at the scene, including whether or not there was a forced entry into the apartment, because doing so could jeopardize the investigation.
"Today is a somber and sad day for the Transgender Community as we remember yet another life so precious taken away," said D.C. transgender advocate Earline Budd in a statement responding to the announcement by P.G. County police on Monday that the murder had occurred.
"This murder only reminds us of the tragic shooting in 2019 of both Ashanti Carmon and Zoe Spears," Budd said in her statement. "Both were brutally gunned down between March 30 and June 19 of 2019, less than a mile from each other."
Budd was referring to the location in Fairmont Heights, Md., also in Prince George's County near the D.C. border, where the two trans women were fatally shot. P.G. County police arrested 33-year-old Baltimore resident Gerardo Thomas later that year for the Spears murder. No arrest has been made in the case of Carmon's murder.
"Transgender individuals are experiencing violence locally and around the country almost every day," Budd said in her statement. "D.C. and P.G. County are only separated by a line, and we must come together as one community to address this violence."
Budd added, "There should be no rest in the LGBTQ community when something as tragic as this happens. Our prayers go out to the family of Taya."
Anderson said he and other family members were making arrangements for a vigil in Taya Ashton's honor at 4 p.m. on Wednesday, July 21, at River Terrace Park, which is located in D.C. at Benning Road and Anacostia Ave., N.E. along the Anacostia River. He said the vigil would take place at or near the site of the park's main gazebo.
Budd said she is helping the family set up the vigil.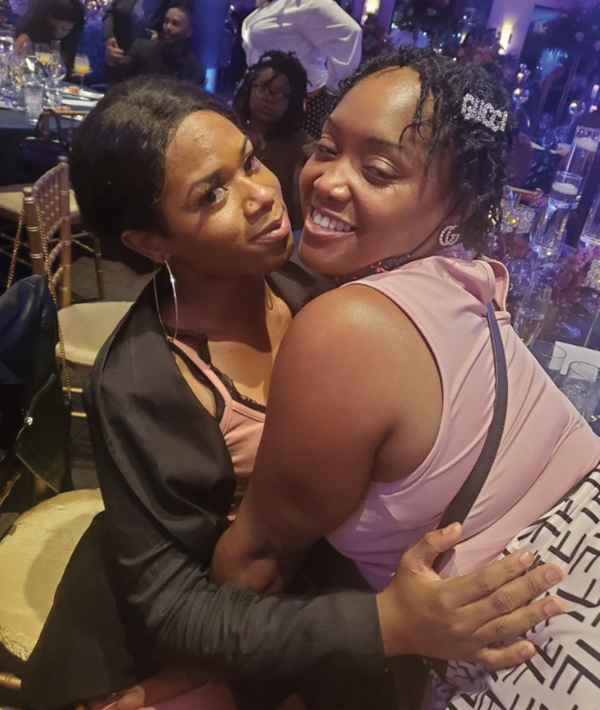 D.C. house with rainbow Pride flag set on fire
Investigators seeking help from public in search for suspect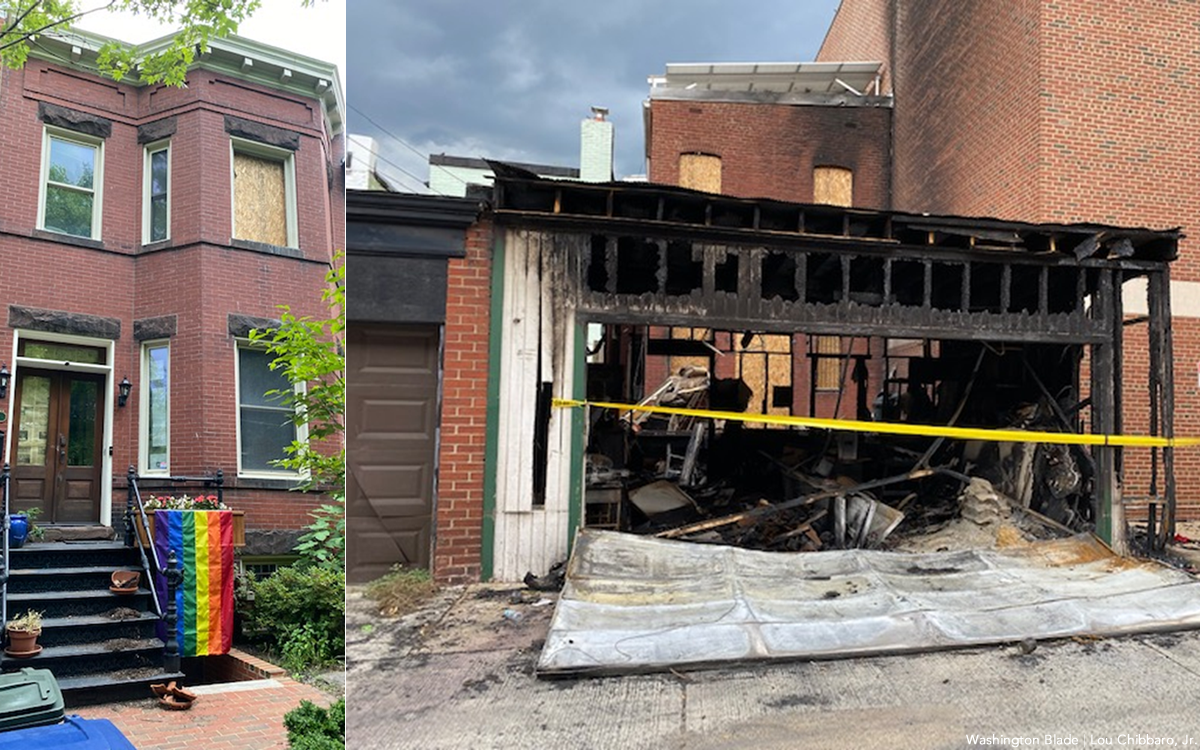 The D.C. Fire and Emergency Medical Services Department has classified as arson a June 19 fire at a two-story row house on the 1800 block of 8th Street, N.W. in the city's Shaw neighborhood that had an LGBTQ rainbow Pride flag prominently displayed on the front of the house.
A Fire & EMS Department spokesperson said the fire was ignited in a detached wooden garage in the rear of the house accessible only through an alley, and fire investigators have yet to identify a suspect or a motive for what evidence shows was an intentionally set fire.
Although the front of the brick rowhouse where the Pride flag was displayed was not damaged, the fire in the garage spread to the rear of the house, destroying a wooden outdoor deck, and caused extensive damage to the kitchen, bathroom, and second floor bedroom. Fire investigators have sealed the house, requiring its three occupants to find a temporary residence as the investigation continues.
One of the three occupants of the house, who was the only one at home when the fire started at about 2 a.m., escaped without injury, according to sources who know the occupants.
"The Pride flag on the front of the house was present at the time of the fire," Jennifer Donelan, director of communications for the Fire & EMS Department, told the Washington Blade. "We do not have any information, at this time, that suggests the arson was related to the presence of the flag, however we are still working on the case," she said.
"We are aggressively working to identify a suspect and a motive," Donelan said. "Until such time, we won't be able to make a determination as to whether or not this was a hate crime."
She said the Fire & EMS Department is seeking help from the public in its effort to identify one or more suspects responsible for the fire. Anyone with information that could be helpful to the investigation is asked to call fire investigators at 202-673-2776.
The fire at the D.C. house with the Pride flag took place less than a week after Baltimore police said a house in that city's Waverly neighborhood on which "Pride décor" was displayed was set on fire on June 15, causing extensive damage to the house and nearby houses.
Baltimore police and fire department officials said a Pride flag on a house across the street from the house set on fire was also ablaze when firefighters arrived on the scene. Two men were hospitalized in critical condition and a woman was listed in serious condition because of the fire ignited in the house.
Baltimore Mayor Brandon Scott released a statement saying fire department officials had yet to determine a motive for the fire.
"At this point, we cannot confirm that this was a hate crime," Scott said. "However, my agencies will bring every appropriate resource to bear to get to the bottom of this tragic event," he said. "I continue to stand in solidarity with our LGBTQ+ community."
D.C. officials vow to fight any GOP effort to ban abortion in nation's capital
Without statehood, District vulnerable to congressional interference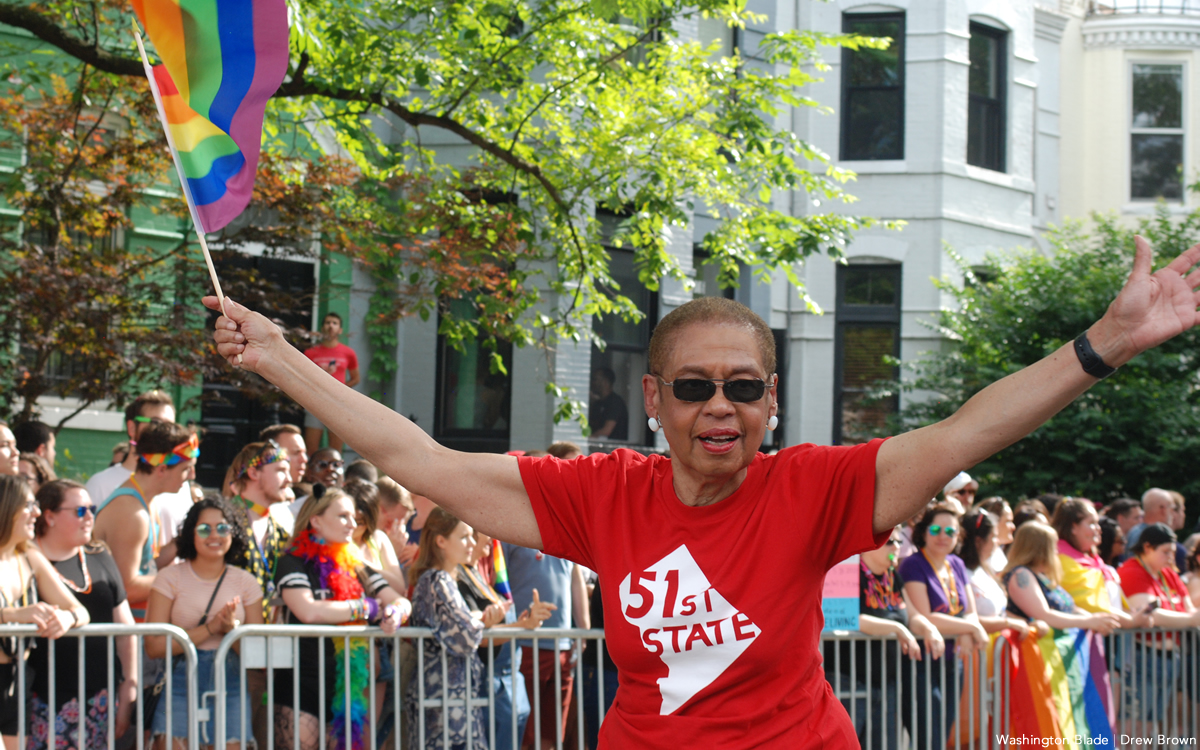 D.C. Mayor Muriel Bowser, D.C. Congressional Del. Eleanor Holmes Norton, and six members of the D.C. Council said they were united in fighting an attempt by Congress to ban abortions in the nation's capital following the Supreme Court's decision to overturn Roe v. Wade.
At a press conference on the day the Supreme Court handed down its controversial decision, the D.C. officials pointed out that unlike any of the states, D.C. is vulnerable to the authority Congress has over the city under its limited Home Rule Charter, including the authority by Congress to pass a law to ban abortions in the city.
The press conference was held at the headquarters in Northeast D.C. of Planned Parenthood of Metropolitan Washington, D.C., whose leaders said they would continue to provide abortion services in the District at the present time.
At this time, "Nothing has changed in Washington, D.C.," Bowser said at the press conference. "Abortion remains legal, and women and girls we know, however, are worried," the mayor said. "We are worried because we know we are vulnerable as a jurisdiction because of our lack of statehood."
Norton told news media representatives and others attending the press conference that she expects at least some congressional Republicans to introduce legislation to ban abortions in D.C. now that the Supreme Court has given them the authority to do that.
"We are subservient still to the House and Senate," she said. "I'm calling on the Congress to immediately codify the right to an abortion in federal law," Norton said. "That is the very least the District needs to save this city from what will surely be an attempt by Republicans in Congress to move first on the District of Columbia to make sure that abortions are not available for women in our city."
Norton added, "We always have more work cut out for us than other jurisdictions. But I assure you I am up to the task. There is a lot to fight for here, and I'm ready for that fight."
Norton and Bowser also pointed out that Congress over a decade ago added a permanent provision to D.C.'s annual budget that prohibits the city from using any of its funds to pay for abortions either directly or through the funding of private organizations like Planned Parenthood that provide abortion related services.
With the prospect that Republicans might regain control of the House or Senate or both in the November congressional elections, D.C. officials said they were especially concerned about an attempt to ban or greatly restrict abortions in the city.
D.C. Council Chair Phil Mendelson said he was hopeful that such an attempt would be blocked by a Democratic-led filibuster in the Senate as well as by a presidential veto if President Biden or another Democrat continues to occupy the White House.
Bowser, Mendelson, and D.C. Councilmember Mary Cheh (D-Ward 3) also pointed out that the legal reasoning used by the justices to overturn Roe v. Wade, especially the rationale given by Justice Clarence Thomas, could be used in future cases to overturn previous court rulings establishing a constitutional right to same-sex marriage and the right to intimate sexual acts between same-sex couples.
"We are about to enter into decades of darkness with this court that we have," Cheh said at the press conference. "And don't be fooled. We're told, OK, it's just abortion," she said. "Don't you believe it. The very reasoning of the case – and I spend a lot of time teaching constitutional law – means that many other liberties will be in jeopardy."
LGBTQ rights advocates have pointed to the concurring opinion handed down by Justice Thomas on the day the court overturned Roe v. Wade that specifically calls on the high court to "reconsider" the 2003 ruling of Lawrence v. Texas, which overturned state laws banning sodomy between consenting adults, both gay and straight. Thomas's concurring opinion also called for reconsidering the high court's 2015 Obergefell ruling, which legalized same-sex marriage nationwide.
Others speaking at the June 24 press conference included Laura Meyers, president of Planned Parenthood of the D.C. area, and D.C. Council members Elissa Silverman (I-At-Large), Christina Henderson (I-At-Large), and Brooke Pinto (D-Ward 2).
Va. delegate comes out as bisexual
Del. Kelly Convirs-Fowler spoke at Hampton Roads Pride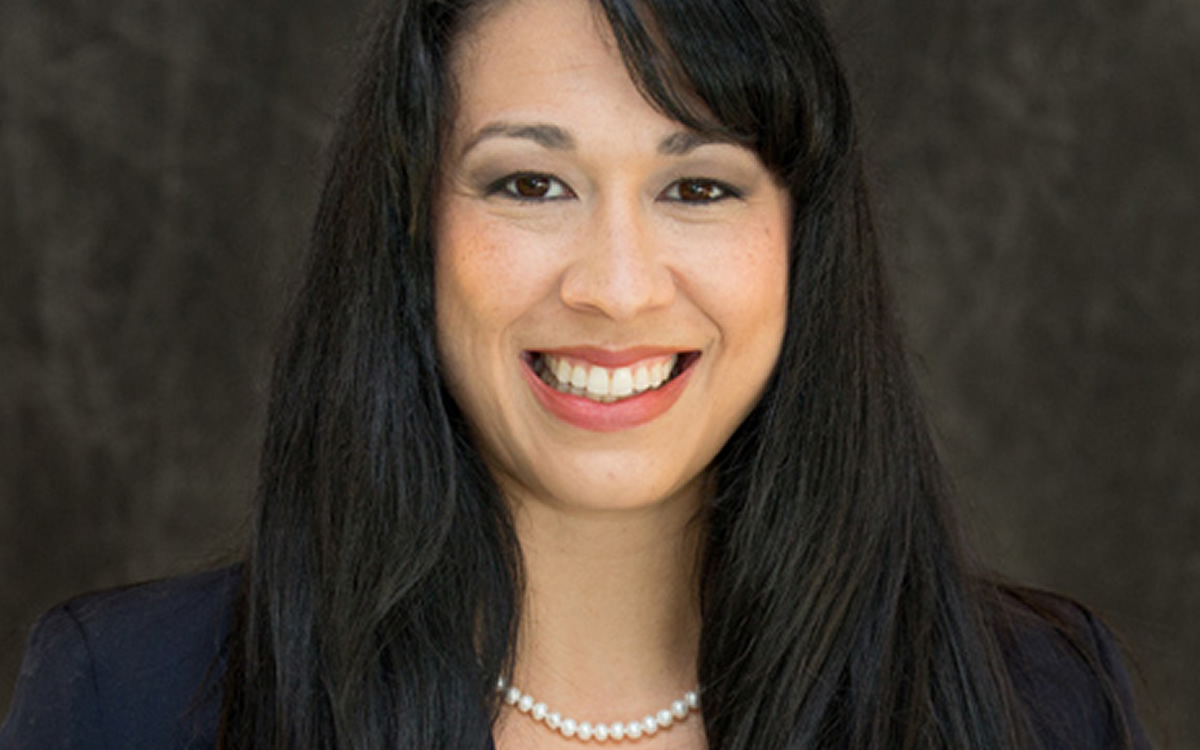 Virginia state Del. Kelly Convirs-Fowler (D-Virginia Beach) came out as bisexual on June 25 during an appearance at Hampton Roads Pride in Norfolk.
"I'm bisexual," the Virginia Beach Democrat told Pride attendees. "I just never felt like I could say that out loud."
I said what I said. I'm Proud. #HappyPrideMonth #loveislove #LGBTQ pic.twitter.com/urAalkWZM1

— Del. Kelly Convirs-Fowler (@FowlerforVA) June 28, 2022
Convirs-Fowler has represented Virginia's 21st House District since 2018.
State Del. Mark Sickles (D-Fairfax County) is gay and state Del. Dawn Adams (D-Richmond) is a lesbian. State Del. Danica Roem (D-Manassas) in 2018 became the first openly transgender person seated in any state legislature in the U.S.
"For those who don't know, Del. @FowlerforVA and I are both part of the Class of 2017 #RedToBlue legislators who flipped seats that Nov. 7," tweeted Roem on Monday. "We've both earned re-election twice since then and I couldn't be more proudof her declaration of Pride =)."