Senate confirms lesbian, trans nominees to high-profile defense roles
Skelly is second out transgender appointee to obtain confirmation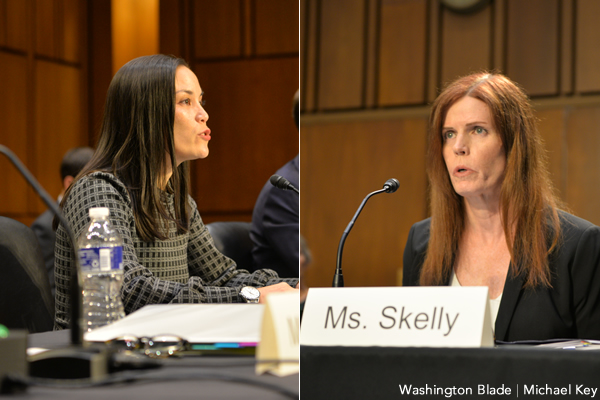 The U.S. Senate confirmed on Tuesday two Biden nominees — one lesbian, another transgender — for high-profile positions at the Defense Department by unanimous consent.
Gina Ortiz Jones, a lesbian former Air Force pilot and Texas congressional candidate, was confirmed as under secretary of the Air Force, and Shawn Skelly, a transgender 20-year U.S. Navy veteran and a defense appointee in the Obama administration, was confirmed as assistant secretary of defense for readiness.
For the second time in U.S. history, the Senate has confirmed an openly transgender person as a presidential appointee — and did so without controversy by unanimous consent.
Just months ago, Rachel Levine was confirmed as assistant secretary of health on a party-line basis after enduring rude, invasive questioning from Sen. Rand Paul (R-Ky.) during her confirmation hearing on transgender health care.
Jones has also made an achievement through Senate approval: She's the first out lesbian to win confirmation to serve in a high-level defense position.
The Senate confirmation of the nominees by unanimous consent is consistent with their confirmation hearing, which both Jones and Skelly breezed through without hostility.
Annise Parker, president of the LGBTQ Victory Institute, pointed out in a statement the two newly confirmed presidential appointees both served in the U.S. military under bans against LGBTQ people in the armed forces.
"Gina and Shawn served their country when living openly could result in discharge and a lost career, so their ascension to key leadership positions is a powerful moment for those servicemembers who served or continue to serve in silence," Parker said. "Their confirmation will transform perceptions of LGBTQ people within the ranks of the U.S. military, but also among the leaders of militaries we work with around the world."
Another out LGBTQ person nominated by Biden for a high-profile defense role is Brenda Sue Fulton, whom Biden nominated to become assistant secretary of defense for manpower and reserve affairs. Her nomination, however, has not even had a hearing in the Senate Armed Services Committee. It's unclear why her nomination hasn't moved forward.
Pelosi to throw first pitch for Tuesday's Washington Nationals Night OUT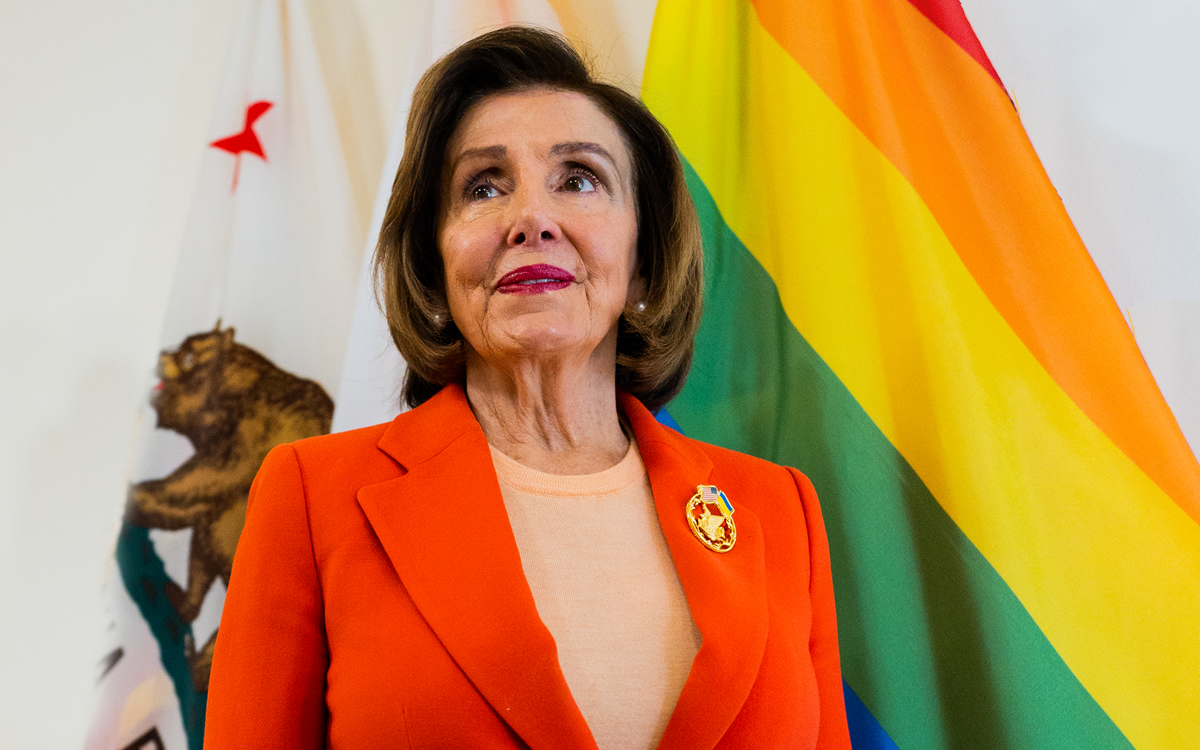 Speaker Emerita U.S. Rep. Nancy Pelosi (D-Calif.) on Tuesday will throw the ceremonial first pitch for the annual Washington Nationals Night OUT celebration, Major League Baseball's longest-running Pride event.
Pelosi will be honored for her work advancing equal rights for the LGBTQ community throughout her career, from her first speech on the House floor addressing the AIDS crisis in 1987 to her leadership codifying protections for same-sex couples through passage of the Respect for Marriage Act last year.
Pelosi, as a special guest of the LGBTQ sports group Team DC, will throw the pitch shortly after Tuesday's game begins at 7:05 p.m. ET.
According to a press release from the Washington Nationals, "The first 20,000 fans in attendance will receive a Screech Night OUT bobblehead, and fans who purchase a special Night OUT ticket will also receive an exclusive T-shirt with $5 of every special ticket purchased donated to Team DC."
Tickets for Night OUT are available for purchase.
Pelosi reflected on her record of advocating for LGBTQ Americans during an interview with the Washington Blade in January, shortly after her planned departure from Democratic leadership, where she had served for two decades, including as Speaker of the House.
"Nancy D'Alesandro Pelosi is the most consequential Speaker in American history and I am humbled by the opportunity to recognize her as Speaker Emerita," Democratic House Leader Rep. Hakeem Jeffries (N.Y.) said last November, following the unanimous vote to bestow the honorific on Pelosi.
The move celebrates "Speaker Pelosi's lifetime of service as a legendary legislator, notorious negotiator and a fabulous facilitator. Our Caucus and our country are better off for her leadership, without question, and this title is but a small token of our gratitude," Jeffries added.
22 ways to celebrate Pride month in Delaware
From Wilmington to Rehoboth, there's something for everyone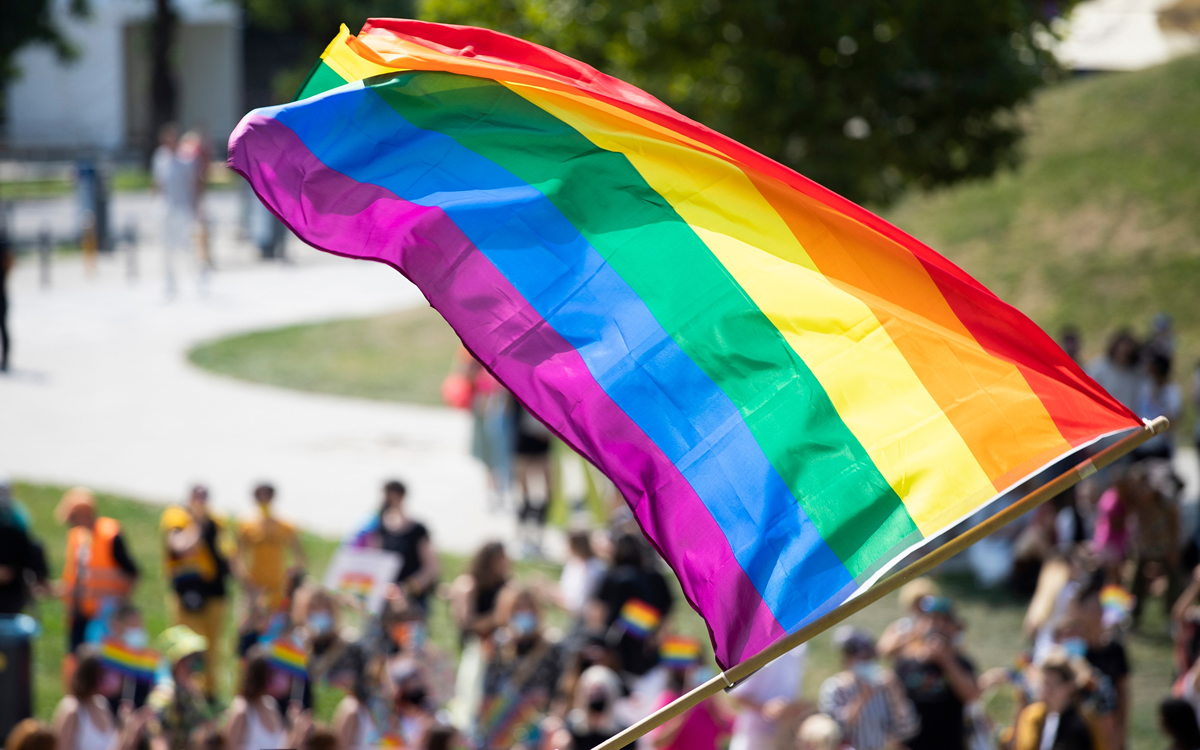 FRIDAY, JUNE 9
QUEER FILM: The Rehoboth Beach Film Society and CAMP Rehoboth kick off the three-day Pride Film Festival featuring 12 movies, ranging from "The Rocky Horror Picture Show" to "Going to Mars: The Nikki Giovanni Project," which explores author Giovanni's life and six decades of work. The schedule has not been announced yet as of publication of this guide. The films will be shown at Cinema Art Theatre at 17701 Dartmouth Rd. #2 in Lewes. $12 per film.
A HISTORY LESSON: Delaware LGBTQ history researcher Carolanne Deal explores the queer history of Sussex County and a new exhibition with parts of Delaware's queer history in the Zwannendael Park by the museum with the same name. 5 p.m. at 102 Kings Highway in Lewes. Free.
SATURDAY, JUNE 10
PRIDE FESTIVAL: Delaware Pride is putting on its annual Pride festival, with more than 100 vendors and many entertainers making up the single largest LGBTA gathering in Delaware, the organization says. Seventeen entertainers are listed on Delaware Pride's Facebook page, including "American Idol" contestant Alisabeth Von Presley – "Lady Gaga meets Pat Benatar with a dash of Michael Jackson," Little Village Magazine writes; Aunt Mary Pat, the drag queen and singer; Jenna Tall, who's won five Miss titles; The Manhattan Prairie Dogs, a dance group that's legal to watch despite prairie dogs being illegal to keep as a pet in New York; and Ryan Cassata, a singer and public speaker on trans issues. That's not even mentioning 83 vendors that are scheduled to attend. 10 a.m.-5 p.m. at 411 Legislative Ave. in Dover. Free.
PRIDE AFTER-PARTY: Double D's Taphouse is hosting an after-party throughout Saturday night for adults 21 and over, hosted by Scarlett Masters (who's also hosting the drag bingo above). 6-10 p.m. at 137 Jerome Drive in Dover. $15.
COUNTRY DANCING: Get yir boots on and saddle up, gays! Atlantic Sands Hotel & Conference Center is hosting a country dance party for gay men and women in Rehoboth. 7 p.m. at 1 Baltimore Ave. on the Boardwalk in Rehoboth. $10.
BRING YOUR GAY ASS OVER HERE: Flash your colors at Wilmington's Crimson Moon bar. Brush up on your gay history to understand why: When it was illegal to be gay, LGBTQ people put a colored handkerchief in their back pocket to signal their queerness to other community members. Community leaders periodically changed that color so they would not reveal their sexuality to undercover cops. Over time, it evolved into what it is today – a way to show who you are and what you're looking for. 9 p.m. at 1909 W. 6th St. in Wilmington. No cover.
SUNDAY, JUNE 11
RUN FOR FUN AT THE FUN RUN: Fun for run, no, run for fun in Rehoboth, organized by a Delaware shoe store, Charm City Run. 8-9 a.m. at 200 Rehoboth Ave. in Rehoboth. Free.
MIDDLETOWN PRIDE: Middletown is hosting its second annual Pride Walk and Festival – with vendors this time. 12-5 p.m. in Middletown. Free.
BINGO FOR A CAUSE: AIDS Delaware is hosting a spring bingo with The Rainbow Chorale in the Mill Creek Fire Company's Chambers, with all proceeds benefitting the two organizations. It's hosted by drag queens Scarlet Masters and Aura Buboyz and organizers encourage guests to dress in Pride attire or your "best ally" attire. Doors open at 5 p.m., games begin at 6 p.m. at 3900 Kirkwood Hwy in Wilmington. $15 for admission and one game board.
SUPPORT AGING LGBTQ+ PEOPLE: Learn about the challenges facing older LGBTQ adults and resources for them in a roundtable discussion hosted by Sussex Pride at the Unitarian Universalists of Southern Delaware's building in Lewes. 6-7:45 p.m. at 30486 Lewes Georgetown Hwy. Free.
THURSDAY, JUNE 15
A NIGHT OUT: Bring your friends and (queer) family to this LGBTQ social event at Constitution Yards Beer Garden. It had a record turnout of about 300 last year, and organizers are hoping to crack 400 this year. 6-9 p.m. at 308 Justison St. in Wilmington. Free.
GAME NIGHT: If going out isn't your thing and you'd prefer a more chill night, fear not: Sussex Pride is hosting a game night in the Epworth United Methodist Church. 6:30-8:15 p.m. at 19285 Holland Glade Rd. in Rehoboth. Free.
FRIDAY, JUNE 16
GET INTO THE HOMO SPIRIT: Listen to CAMP Rehoboth's Chorus singing all-time favorites like Chad & Jeremy's "A Summer Song," Chicago's "Saturday in the Park," and, of course, a Beach Boys medley at Epworth United Methodist Church. Friday and Saturday 7 p.m., and Monday 3 p.m. at 19285 Holland Glade Road in Rehoboth. $25.
GAYEST SONGS EVER: Celebrate the super gay pop hits of yesteryear (and this year) with performer Todd Alsup. 8:30-10:30 p.m. at The Pines, 56 Baltimore Ave. in Rehoboth. $25-150.
SATURDAY, JUNE 17
DRAG BRUNCH: Miss Troy, who is also performing at the Pride Festival, is hosting a drag brunch at The Queen in its Crown Room. The Queen is normally a live music venue but has a history of hosting all kinds of events. 12 p.m. at 500 N. Market St. in Wilmington. $39-61.50
POOL PARTY: If you want to take a splash in the pool while being a little tipsy this is the place to do it. Bring your own booze if desired, and bring food if you wish. 3-9 p.m. at 128 Honey Brook Lane in Felton. Free.
PLAY DUNGEONS & DRAGONS: Take a break from celebrating with a round of Dungeons & Dragons hosted by Sussex Pride at the Groome Church. 6:30-8 p.m. at 601 Savannah Rd. in Lewes. Free.
SUNDAY, JUNE 18
QUEER STORY TIME: Bring your little (or not so little) kids to the Woodlawn Library and read picture books with LGBTQ characters. You must register for the event beforehand here. Masks are strongly encouraged at the event. 11 a.m.-12 p.m. at 2020 W. 9th St. in Wilmington. Free.
BRING YOUR DADDY TO BRUNCH: Goolee's Grill encourages you to bring your dad (or daddy) to this family-friendly drag brunch because it's Father's Day. The event is hosted by the runner up for Rehoboth's Best Drag Queen in the 2019 Blade awards, Regina Cox. 12-2 p.m. at 11 South 1st St. $15.
SATURDAY, JUNE 24
ZOO VISIT: The Brandywine Zoo is holding its annual Pride Day – only the third – with educational programming, a scavenger hunt, and story time. 10 a.m.-3:30 p.m. at 1001 N. Park Dr. in Wilmington. $7 for seniors and youth, $9 for adults.
SUNDAY, JUNE 25
STONEWALL RELIVED: Listen to four actors recreate the 1969 Stonewall Uprising at CAMP Rehoboth with the words of those that were there – reporters, drag queens, trans youth, gay people, and homeless kids that confronted the police, letting out their anger. It wasn't the first LGBTQ uprising of the era, but the most consequential. 4 p.m. & 7 p.m. at 37 Baltimore Ave. in Rehoboth. $25.
FRIDAY, JUNE 30
GAY COMEDY: Standup comedian Jen Kober, an out lesbian from Louisiana, is touring the country and stopping in Rehoboth Beach at The Pines along with Jeff D. She won NPR's Snap Judgment of Comedic Performance of the Year and went viral for her standup about Girl Scout cookies. 7 p.m. at The Pines in Rehoboth.
Did we miss anything? Let the author know at [email protected]
People of Pride: A look at Maryland's LGBTQ community
Prominent activists, leaders spoke with the Baltimore Banner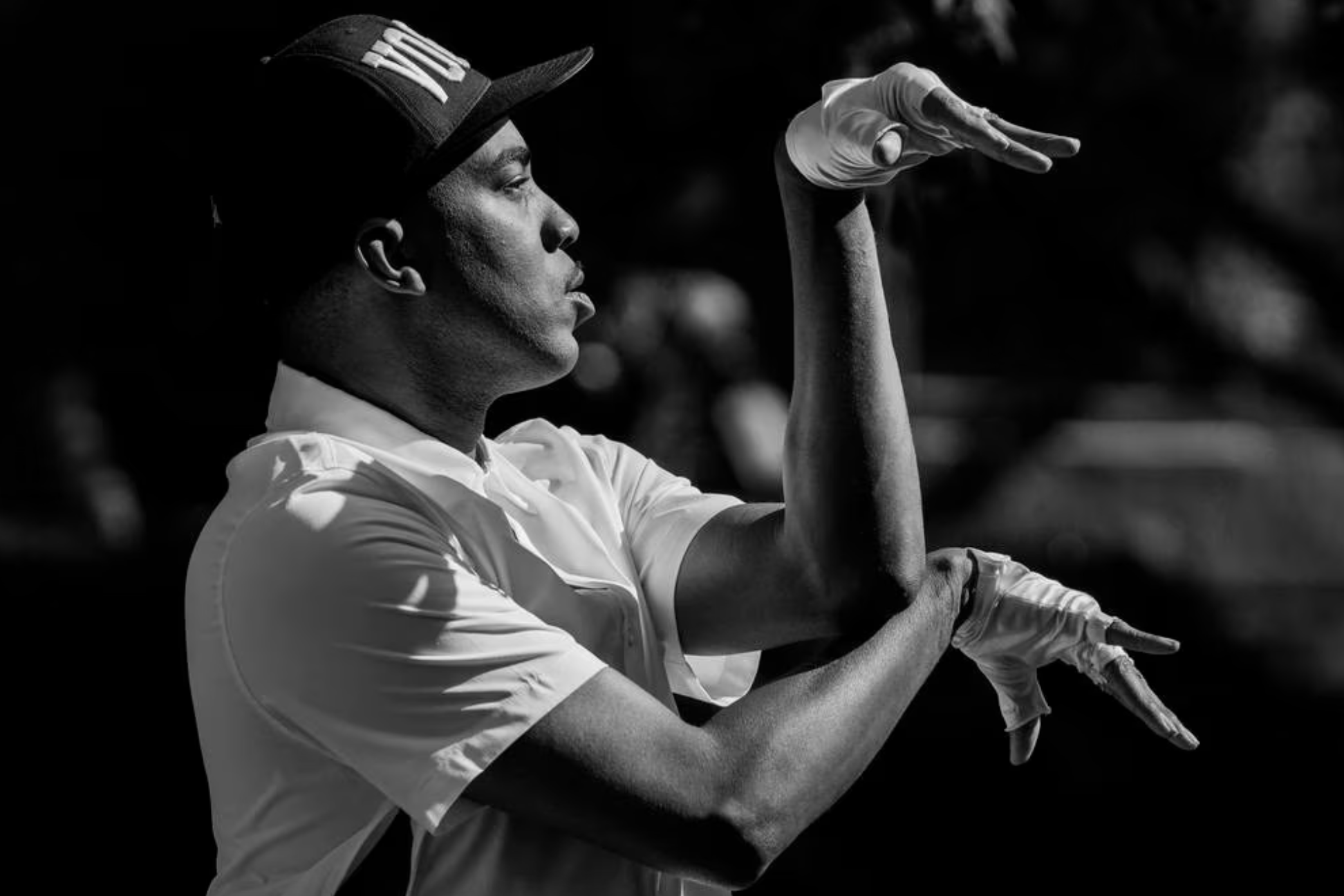 By John-John Williams IV | With the LGBTQ community under assault in many states, LGBTQ Marylanders say Pride month has taken on added meaning this year.
There are an estimated 11 million LGBTQ adults in the United States, with 151,000 in the state of Maryland, according to the Williams Institute on Sexual Orientation and Gender Identity Law and Public Policy at UCLA School of Law. The community covers a diverse spectrum of genders, identities, races and cultures.
The Baltimore Banner spoke and emailed with members of the community about the meaning of pride and the greatest challenges facing the LGBTQ community. Here are their answers, some of which have been edited for length and clarity.
The rest of this article can be found on the Baltimore Banner website.