Senate confirms lesbian, trans nominees to high-profile defense roles
Skelly is second out transgender appointee to obtain confirmation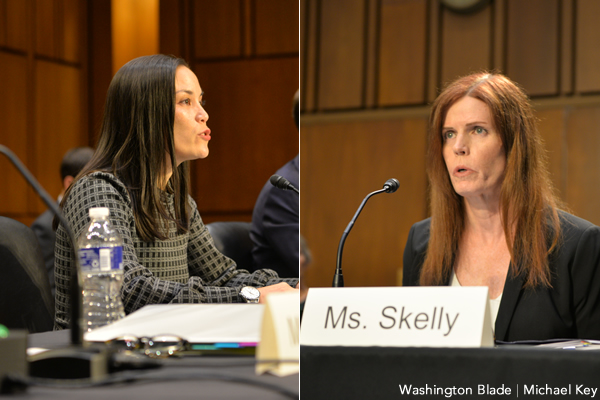 The U.S. Senate confirmed on Tuesday two Biden nominees — one lesbian, another transgender — for high-profile positions at the Defense Department by unanimous consent.
Gina Ortiz Jones, a lesbian former Air Force pilot and Texas congressional candidate, was confirmed as under secretary of the Air Force, and Shawn Skelly, a transgender 20-year U.S. Navy veteran and a defense appointee in the Obama administration, was confirmed as assistant secretary of defense for readiness.
For the second time in U.S. history, the Senate has confirmed an openly transgender person as a presidential appointee — and did so without controversy by unanimous consent.
Just months ago, Rachel Levine was confirmed as assistant secretary of health on a party-line basis after enduring rude, invasive questioning from Sen. Rand Paul (R-Ky.) during her confirmation hearing on transgender health care.
Jones has also made an achievement through Senate approval: She's the first out lesbian to win confirmation to serve in a high-level defense position.
The Senate confirmation of the nominees by unanimous consent is consistent with their confirmation hearing, which both Jones and Skelly breezed through without hostility.
Annise Parker, president of the LGBTQ Victory Institute, pointed out in a statement the two newly confirmed presidential appointees both served in the U.S. military under bans against LGBTQ people in the armed forces.
"Gina and Shawn served their country when living openly could result in discharge and a lost career, so their ascension to key leadership positions is a powerful moment for those servicemembers who served or continue to serve in silence," Parker said. "Their confirmation will transform perceptions of LGBTQ people within the ranks of the U.S. military, but also among the leaders of militaries we work with around the world."
Another out LGBTQ person nominated by Biden for a high-profile defense role is Brenda Sue Fulton, whom Biden nominated to become assistant secretary of defense for manpower and reserve affairs. Her nomination, however, has not even had a hearing in the Senate Armed Services Committee. It's unclear why her nomination hasn't moved forward.
Biden recognizes 10th anniversary of end to 'Don't Ask, Don't Tell'
Pete Buttigieg, Gina Ortiz Jones named in White House statement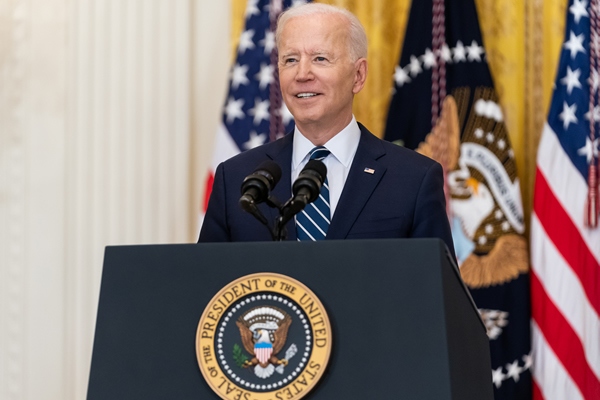 President Biden recognized in a statement on Monday the tenth anniversary of the end to "Don't Ask, Don't Tell," a law that once discharged service members from the military for being openly gay or bisexual.
"Ten years ago today, a great injustice was remedied and a tremendous weight was finally lifted off the shoulders of tens of thousands of dedicated American service members," Biden said. "The repeal of 'Don't Ask, Don't Tell,' which formally barred gay, lesbian, and bisexual service members from openly serving, helped move our nation closer to its foundational promise of equality, dignity, and opportunity for all."
Biden recognized high-profile openly gay appointees in his administrations who are also veterans, naming Air Force Under Secretary Gina Ortiz Jones and Transportation Secretary Pete Buttigieg. Biden also names Shawn Skelly, assistant secretary of defense for readiness, who would have been discharged from the military under President Trump's transgender military ban.
"On this day and every day, I am thankful for all of the LGBTQ+ service members and veterans who strengthen our military and our nation," Biden said. "We must honor their sacrifice by continuing the fight for full equality for LGBTQ+ people, including by finally passing the Equality Act and living up to our highest values of justice and equality for all."
Technically speaking, the anniversary of Obama signing repeal legislation was in December. Today is the anniversary of defense officials certifying the military is ready, which put an end to the policy.
Read Biden's full statement below:
Statement by President Joe Biden on the Tenth Anniversary of the Repeal of Don't Ask, Don't Tell
Ten years ago today, a great injustice was remedied and a tremendous weight was finally lifted off the shoulders of tens of thousands of dedicated American service members. The repeal of Don't Ask, Don't Tell, which formally barred gay, lesbian, and bisexual service members from openly serving, helped move our nation closer to its foundational promise of equality, dignity, and opportunity for all. It was the right thing to do. And, it showed once again that America is at its best when we lead not by the example of our power, but by the power of our example.

Despite serving with extraordinary honor and courage throughout our history, more than 100,000 American service members have been discharged because of their sexual orientation or gender identity—including some 14,000 under Don't Ask, Don't Tell. Many of these veterans received what are known as "other than honorable" discharges, excluding them and their families from the vitally important services and benefits they had sacrificed so much to earn.

As a U.S. Senator, I supported allowing service members to serve openly, and as Vice President, I was proud to champion the repeal of this policy and to stand beside President Obama as he signed the Don't Ask, Don't Tell Repeal Act into law. As President, I am honored to be Commander-in-Chief of the strongest and most inclusive military in our nation's history. Today, our military doesn't just welcome LGBTQ+ service members—it is led at the highest levels by brave LGBTQ+ veterans, including Under Secretary of the Air Force Gina Ortiz Jones and Assistant Secretary of Defense for Readiness Shawn Skelly, who served under Don't Ask, Don't Tell. I was gratified to appoint the first openly gay Senate-confirmed Cabinet member, Secretary Pete Buttigieg, a lieutenant in the U.S. Navy Reserve and Afghanistan veteran who joined the military under the Don't Ask, Don't Tell policy. And during my first week in office, I proudly delivered on my pledge to repeal the discriminatory ban on open service by patriotic transgender service members.

On this day and every day, I am thankful for all of the LGBTQ+ service members and veterans who strengthen our military and our nation. We must honor their sacrifice by continuing the fight for full equality for LGBTQ+ people, including by finally passing the Equality Act and living up to our highest values of justice and equality for all.
JOH llama 'enemigos de la independencia' a defensores de derechos de poblaciones LGBTQ, las mujeres y el territorio
Activistas criticaron al presidente de Honduras por su discurso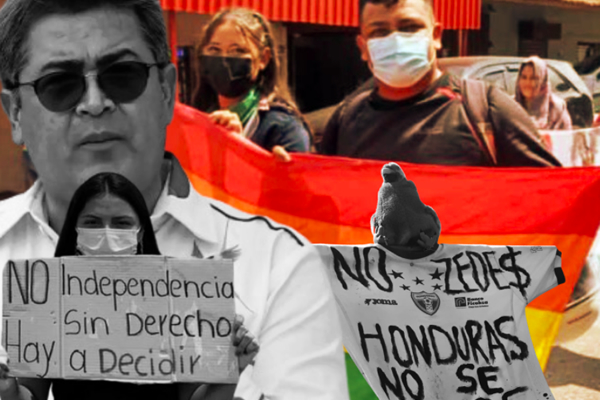 Reportar sin Miedo es el socio mediático del Washington Blade en Honduras. Esta nota salió en su sitio web el 15 de septiembre.
TEGUCIGALPA, Honduras — La oposición desfila al mismo tiempo que los representantes del gobierno hondureño, los discursos oficiales retumban en los megáfonos al lado de los gritos de reclamo de los grupos de denuncia.
Mientras el oficialismo celebra lo que considera sus "logros", la oposición se lamenta por 200 años de desigualdad, discriminación, pobreza, robo, hambre, saqueo, genocidio, corrupción, impunidad, machismo, LGBTI+ odio y expulsión forzada.
En medio del ambiente de contrastes en que se conmemora hoy el bicentenario de independencia en Honduras, sobresale el discurso del presidente hondureño Juan Orlando Hernández, quien llamó "enemigos de la independencia" a los defensores de los derechos de las poblaciones LGBTIQ+, las mujeres y el territorio.
"Hoy salen con más fuerza otros enemigos de la independencia: el ataque a los principios cristianos, el ataque al concepto de la familia, los que promueven los matrimonios entre personas de diferente sexo y la preservación de la vida de los niños no nacidos", dijo JOH en el estadio Nacional de Tegucigalpa durante los actos conmemorativos del bicentenario.
El mandatario hondureño cometió un grave error al decir "los matrimonios entre personas de diferente sexo". Sus críticos opinan que JOH iba a decir "matrimonios entre personas del mismo sexo", pero en el último momento se echó para atrás y cambió la frase por alguna razón.
El gobernante se refirió con la frase "enemigos de la independencia" a las organizaciones que promueven el derecho a decidir sobre el cuerpo de las mujeres, así como los derechos de la diversidad sexual y lxs defensorxs de territorio que están exigiendo a diario que se deroguen las ZEDE.
Este es el primer pronunciamiento público de JOH tras que el 28 de junio de este año, la Corte IDH condenó a Honduras por el asesinato de la trans Vicky Hernández y otros en el marco del golpe de Estado liderado por Roberto Micheletti contra el expresidente Manuel Zelaya.
En su sentencia, el órgano judicial pidió al Estado hondureño continuar las investigaciones del homicidio y llevar a cabo "un acto público de reconocimiento de responsabilidad internacional".
También le solicitó crear la beca educativa "Vicky Hernández" para mujeres trans, capacitar a los cuerpos de seguridad y reconocer la identidad de género en los documentos de identidad y registros públicos.
Finalmente, la Corte IDH le exigió al gobierno instaurar protocolos para seguir e investigar casos de violencia contra personas LGBTI.
En el discurso que duró casi media hora, JOH pronunció en varias ocasiones las palabras "Dios" y "cristianismo". Eso indica que su gobierno tiene una fuerte influencia de las Iglesias evangélicas y católica.
El discurso del mandatario contradice lo que dice la Constitución, la cual señala que el Estado hondureño es laico.
Piden derechos igualitarios
"No hay independencia sin el derecho a decidir", exclamaron las seguidoras del colectivo Somos Muchas en las calles de Tegucigalpa, San Pedro Sula, Choluteca y otros municipios. Somos Muchas exige que las mujeres hondureñas tengan acceso a un aborto seguro y gratuito por las tres causales: cuando el embarazo es consecuencia de una violación sexual, cuando la vida de la mujer está en riesgo y cuando el feto tiene complicaciones graves que le causarán la muerte al nacer.
La directora de Acción Joven, Jinna Rosales, manifestó que el discurso de Hernández es "terrible" y de "doble moral" porque se vive en un estado de narcodictadura, asesinatos, crímenes, etcétera.
"A Hernández se le olvidó la vida de las personas ya nacidas porque todos los días se reportan feminicidios, crímenes contra las niñas, niños, niñes y adolescentes. También miles huyen a diario de Honduras porque no tienen las condiciones básicas para sobrevivir", argumentó Rosales.
Desde ese punto de vista, los grupos conservadores hondureños rechazan el aborto, que consideran un atentado contra la vida. Sin embargo, no toman en cuenta los ataques contra mujeres, pues desde enero hasta el 31 de julio del 2021 se han registrado 174 feminicidios. Además, según las cifras oficiales se han cometido 3,496 homicidios en Honduras en el año 2020. Mientras tanto, la Secretaría de Salud reportó más de 12,000 egresos por aborto en 2019 y 9,749 en el 2020.
Tampoco el gobierno de JOH ha actuado con eficacia para reducir la inseguridad alimentaria, que se ha duplicado en Honduras. Los 1.8 millones de personas sin alimentos seguros antes de la pandemia han subido a 3.3 millones publica la ONU.
Por otro lado, en enero del 2021, el Congreso Nacional criminalizó el derecho a decidir de las mujeres y las uniones igualitarias.
El activista LGBTIQ+ de Honduras, Osman Lara, expresó a Reportar sin Miedo que el mensaje de Hernández es un ataque directo al programa de gobierno que impulsa la candidata Xiomara Castro de Zelaya por el Partido Libre en las próximas elecciones a celebrarse el 28 de noviembre del 2021.
Hernández lo que está provocando es desinformación, según Lara. "Quiere confundir a la población, ya que las personas LGBTIQ+ no buscamos reconocimiento religioso, sino legal, que nos avale y garantice los derechos civiles, económicos, sociales y patrimoniales cuando te unes a otra persona de forma igualitaria", agregó. "Su ataque es misógino, promueve el odio a las poblaciones de la diversidad sexual".
En Honduras, desde el 2009 hasta el 2021 han sido asesinadas 389 personas LGBTIQ+, de las cuales en este año han sido asesinadas 10 gays, tres trans y tres lesbianas, según el monitoreo de muertes violentas que mantiene la Red Lésbica Cattrachas.
JOH le teme al pensamiento distinto
"Nuestros pueblos deben avanzar aceleradamente a la integración económica porque unidos somos invencibles. Los pueblos centroamericanos deben de ser esa nación fuerte, próspera, visionaria por la que lucharon los padres de la independencia", expresó el presidente Hernández en su discurso de bicentenario.
Sobre las palabras del mandatario se pronunció el coordinador general de Arcah y defensor de territorio, Christopher Castillo. Para Castillo, el gobierno nacionalista ha abonado el camino para que la población rechace los avances progresistas.
"Ahora están avalando el más grande proyecto colonialista como son las ZEDE", dijo Castillo. "El Partido Nacional ha caído en popularidad y teme un despertar de las conciencias en temas torales que tratan de impedir que la sociedad avance".
El gobierno de JOH ha respondido a los críticos de las ZEDE asegurando en un comunicado que las ciudades modelos ofrecen "oportunidades de inversión, construcción y operación de empresas de servicios públicos".
Las ZEDE tienen "un régimen fiscal especial, un régimen financiero independiente, están autorizadas a utilizar sus ingresos financieros exclusivamente para sus propios fines", según fuentes gubernamentales.
Por medio de esta iniciativa, Juan Orlando Hernández asegura que va a atraer inversión extranjera supuestamente para lograr un crecimiento acelerado dando empleos masivos y mejorando la vida de la población.
Por otra parte, el defensor de territorio Christopher Castillo agregó que JOH busca, "por medio de su discurso, deslegitimar las propuestas progresistas de los partidos de la oposición que proponen nuevos modelos de familia y nuevas formas de coexistir entre los géneros. Necesitan legitimar la violencia para justificar el uso de más violencia".
Castillo agregó que el discurso de Hernández reconoce que ha avanzado la construcción de un pensamiento distinto.
"Eso les atemoriza porque pone en juego toda esa construcción derechista que han intentado imponer. Tratan de seguir legitimando las propuestas de las ZEDE como Próspera porque traen para ellos una cultura de éxito y de prosperidad del pensamiento capitalista y conservador", dijo Castillo.
El discurso de JOH se da después de que el pasado martes 14 de septiembre unas 29 organizaciones hondureñas pidieron al Consejo Nacional Electoral que sancione las campañas con mensajes de desinformación y discriminación utilizadas por algunos partidos políticos.
"Exigimos al Ministerio Público actuar de oficio contra cualquier persona natural o jurídica, pública o privada que públicamente promueva, incite, difunda mensajes desde cualquier medio o canal de comunicación, a la discriminación, tal como se contempla en el código penal en su artículo 213", señalan las 29 organizaciones en un comunicado.
La reacción de estos organismos se debe a los mensajes de grupos cristianos en las redes sociales contra el plan de gobierno de Libre que promueve el derecho a decidir y el matrimonio igualitario.
Thousands participate in Kyiv Pride march
Event took place without violence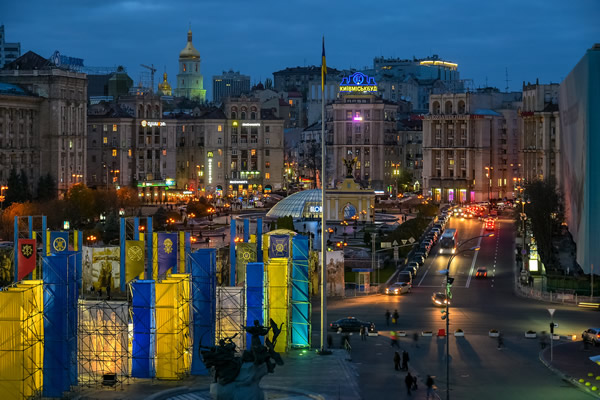 Upwards of 7,000 people on Sunday took part in the Ukrainian capital's annual Pride march.
The Associated Press reported Kyiv Pride participants, among other things, demanded the country's lawmakers allow civil partnerships for same-sex couples and create a law against hate crimes based on sexual orientation and gender identity.
The Ukrainian Cabinet of Ministers has introduced a measure that would make the country's hate crimes law LGBTQ inclusive.
НАС БУЛО 7000! pic.twitter.com/gL91I61RBW

— KyivPride (@KyivPride) September 19, 2021
"We've grown tired of waiting for change and enduring systematic intimidation, pressure, disruption of peaceful events, attacks on activists and the LGBT community," said Kyiv Pride in a statement to the Associated Press. "We demand changes here and now, as we want to live freely in our own country."
The march took place less than a month after President Volodymyr Zelenskyy publicly said his government will continue to fight discrimination based on sexual orientation and gender identity.
"With U.S. support, Ukraine will continue to advance respect for human rights, civil liberties and fundamental freedoms in accordance with international standards and obligations, as well as to fight racism, xenophobia, anti-Semitism and discrimination against the LGBTQI+ community," reads a joint statement the White House released on Sept. 1 after Zelenskyy met with President Biden. "Ukraine plans to strengthen accountability for violence against all persons regardless of gender, race, ethnicity, religion, sexual orientation, or political views, including through legislation."
Far-right extremists in 2019 attacked several people who attended Kyiv Pride. Members of a Ukrainian nationalist group in 2015 injured nine police officers who had been deployed to an LGBTQ rights march that coincided with Kyiv Pride.  
Sunday's march took place without violence.