Poll: 57% of Americans back bipartisan deal on LGBTQ rights, religious liberty
Plurality want Congress, not courts, to resolve issue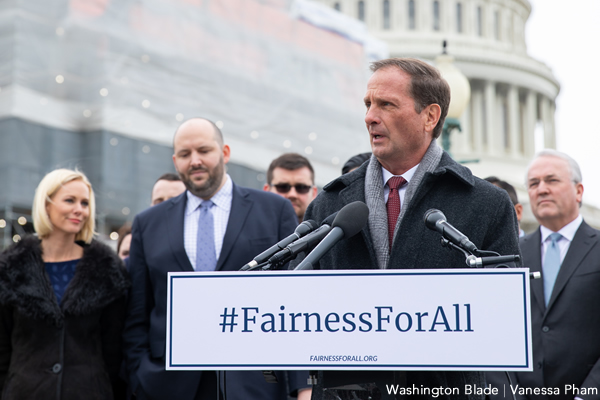 Fifty-seven percent of Americans support a bipartisan deal to reach a compromise on religious freedom and LGBTQ rights, according to new polling shared with the Washington Blade in advance of publication.
With no hope in sight for the Equality Act — legislation to expand the prohibition on anti-LGBTQ discrimination under federal law — the poll suggests a compromise alternative, such as the Fairness for All Act, might be the way to go. The poll was sponsored by Alliance for Lasting Liberty, an organization that advocates for a solution along those lines.
The poll finds supermajorities of Americans expressed strong support for LGBTQ rights across the board, including in health care, homeless shelters and employment. Around three-fourths of Americans polled affirmatively for each on whether they were against anti-LGBTQ discrimination in all areas protected by civil rights laws.


At the same time, the poll found a majority of the public supports religious freedom. For example, 55 percent of respondents said religious schools should be able to have religious codes of conduct, while 54 percent said they shouldn't be denied tax-exempt status over views on marriage and sexuality.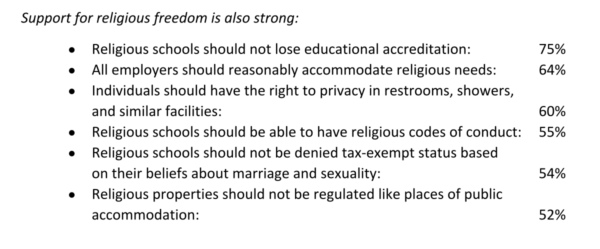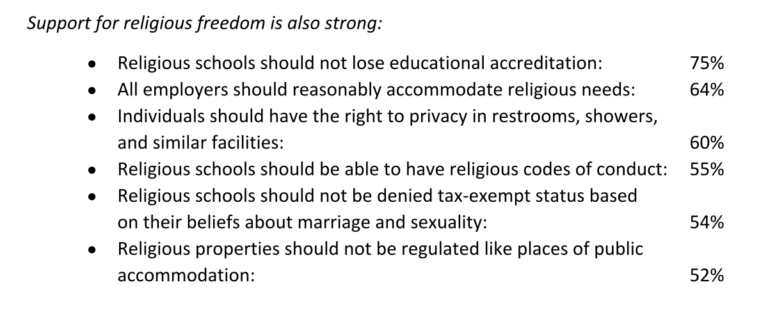 The poll also found a majority of Americans — 57 percent — support a bipartisan solution to resolve the issue of religious freedom and LGBTQ rights. Meanwhile, 63 percent say they'd vote for a lawmaker who supports religious freedom, compared to 57 percent who say they'd vote for a politician who supports LGBTQ rights legislation.


Another point of interest is a question on whether Congress and the courts should be the ones to resolve where the line should be drawn on LGBTQ rights and religious freedom. A plurality of 47 percent said they support having lawmakers address the issue as opposed to the courts, compared to the 15 percent who say they oppose it.
The polling comes out on the day a virtual panel was scheduled to take place with religious leaders making the case for a compromise on religious freedom and LGBTQ rights. Notable among the speakers is Walter Kim, a theologian who last year became president of the National Association of Evangelicals — a group of denominations and institutions not known for their support for LGBTQ rights.
Other speakers are Rev. Marian Edmonds-Allen, an executive director of Parity, a NYC-based national non-profit that works at the intersection of faith and LGBTQ concerns; Shirley Hoogstra, president of the Council for Christian Colleges & Universities; and Justin Giboney, president of the AND Campaign, a Christian civic organization made up of influential Black clergy.
Online registration for the virtual panel, set to begin Monday at 10 am, is here: https://us02web.zoom.us/webinar/register/WN_wO07CXkCT6yIwfAt37laNg
The poll was conducted by APCO Insight in the form of nationally representative survey of 1,000 Americans about their opinions on LGBTQ civil rights and religious freedom. The online survey
was conducted from July 22-23 and has a confidence interval of plus-or-minus 3.1 percentage points.
"Don't Say Gay" student leader says school stopping run for student leadership
Jack Petocz organized a state-wide student protest against Florida's "Don't Say Gay" bill & annoyed administrators suspended him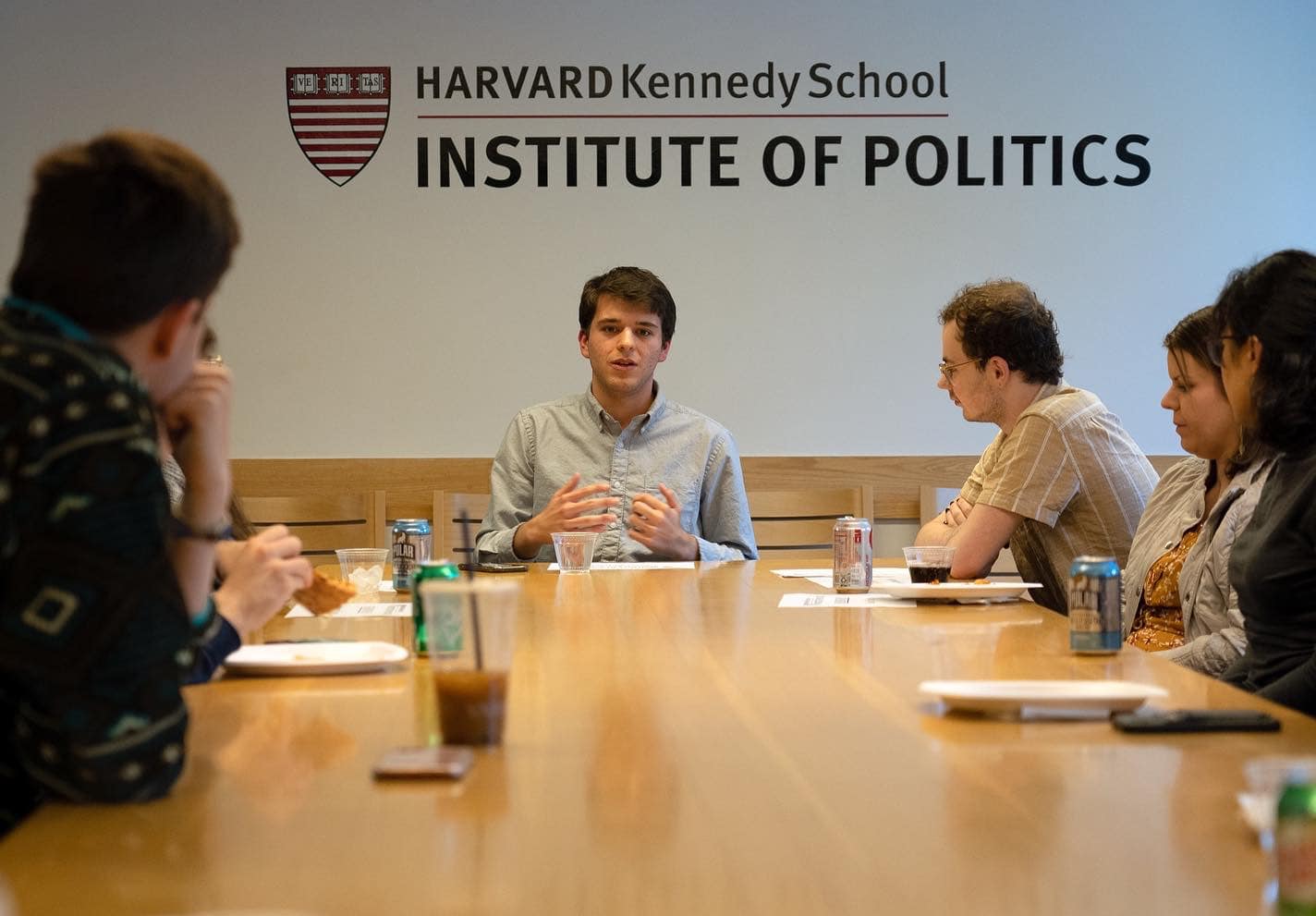 Jack Petocz, a Flagler Palm Coast High School junior, organized a state-wide student protest against Florida's "Don't Say Gay" bill this past March, and at his school, annoyed administrators suspended him.
On Tuesday, Petocz said that the school's disciplinary action is now preventing him from running for senior class president.
"When I returned, the administration assured me that no further disciplinary action would be taken. A month later, they broke this verbal agreement and placed a level 3 referral on my record. Now, due to this high level of discipline, I am being prevented from running for senior class president. I am continuing to be punished for standing up for my identity and against widespread hatred."
The suspension over the student walkout became a viral moment that propelled the 17-year-old into the national spotlight and into the national discourse over a spate of harsh laws targeting the LGBTQ+ community.
17-year-old Cameron Driggers, a student LGBTQ+ activist-organizer of the group Recall Flagler County School Board and co-leader of the walk-out, his friend's suspension inspired him to create a petition on Change.org to pressure Flagler Palm Coast High School Principal Greg Schwartz to rescind his seemingly arbitrary decision to suspend Petocz.
One protest at the school over its suspension of Petocz brought together a grizzled and proud Out gay U.S. Marine Corps veteran accompanied by his fellow vets, who alongside with Driggers and the other young adolescent activists protested in a rally in front of the school at the same time Petocz and his father were inside meeting with Flagler Palm Coast High School Principal Greg Schwartz, hoping to get him to rescind his seemingly arbitrary decision to suspend Petocz.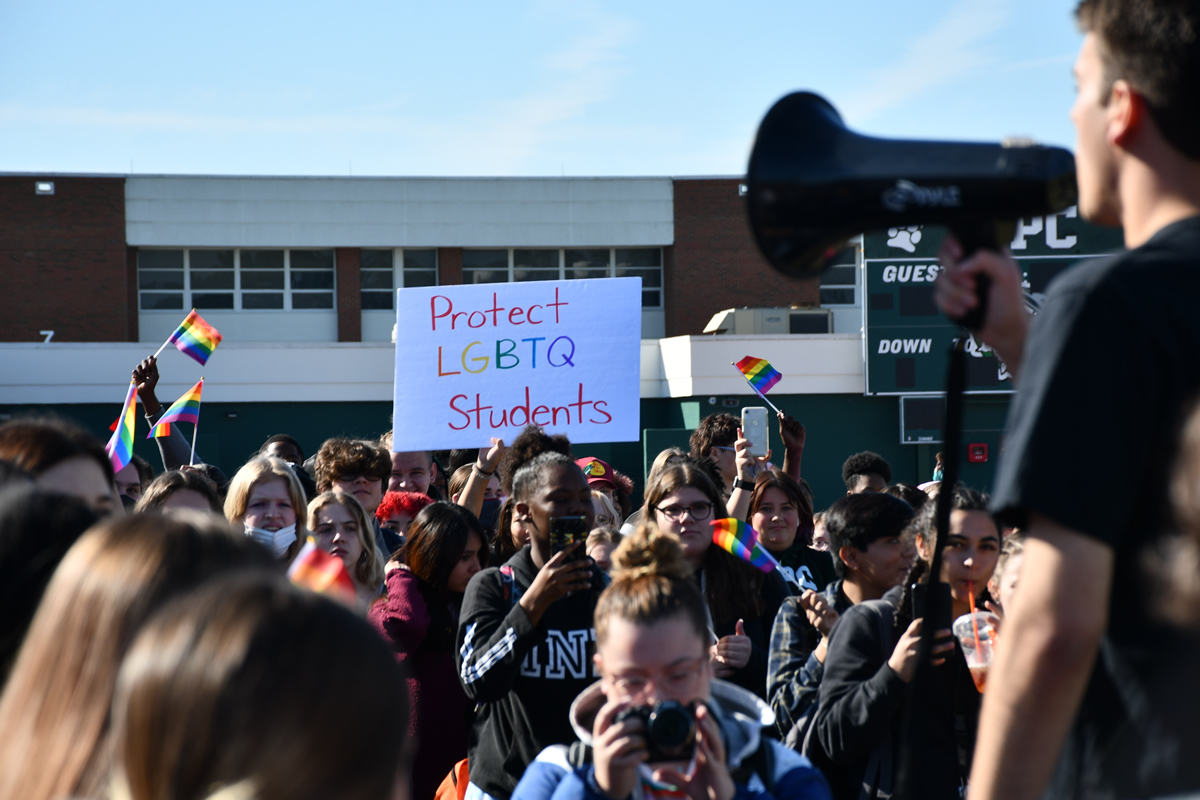 Later on during the day Driggers posted to the Change.org petition the news that Principal Schwartz had backed off.
"Recall FCSB is pleased to announce that Jack's suspension has ended and he is back on-campus. We are grateful for the thousands of people around the globe that shared, tweeted and protested in support of Jack, the organizer behind the state-wide Don't Say Gay Walkout. Over 7500 signatures were collected on a condemnation of Principal Greg Schwartz' conduct last Thursday. With Jack back on campus, Recall FCSB will continue to empower student leaders in and out of school," Driggers wrote.
Principal Schwartz also committed to removing the 'disciplinary action' from Petocz's school record.
On Tuesday, Petocz announced that Principal Schwartz and other school officials are barring him from running for an elected student office.
My name is Jack Petocz. I am the high school junior who led walkouts in opposition to the "Don't Say Gay" bill and was suspended for passing out pride flags. Now, I'm being prevented from running for senior class president. No matter what, I won't stop fighting for my community. pic.twitter.com/5lG6EYIXo2

— Jack Petocz (@Jack_Petocz) May 17, 2022
In response to the news, PEN America issued the following statement from Jonathan Friedman, director of the Free Expression and Education program:
"By going back on their word and imposing a red mark on Jack Petocz's disciplinary record, the Flagler Palm Coast High School administration appears bent on retaliating against him for organizing the walkout against the 'Don't Say Gay' bill. This is unconscionable. Jack exercised his right to protest as a citizen, and he led the walkout with the school's approval. No student ought to be intimidated or punished by school authorities for their political speech, and the school already told him he would not be disciplined. This is especially troubling alongside news of other efforts to censor or intimidate students raising their voices for LGBTQ+ rights across Florida. The leaders of Flagler Palm Coast High School should remove this infraction from his record so that he can run for class president just like any other student."
On Twitter, Petocz urged people to contact his school to get officials to reverse this latest decision.
If you want to help me fight, click the link below to send an email to administrators and the superintendent of my district. It's ridiculous queer kids have to be punished while fighting for our rights. https://t.co/oBOKZDLavb

— Jack Petocz (@Jack_Petocz) May 17, 2022
History making win- Out Lesbian could be Oregon's next governor
"This will be a three-way race for the highest office in our state, and this will be an election unlike anything any of us have ever seen"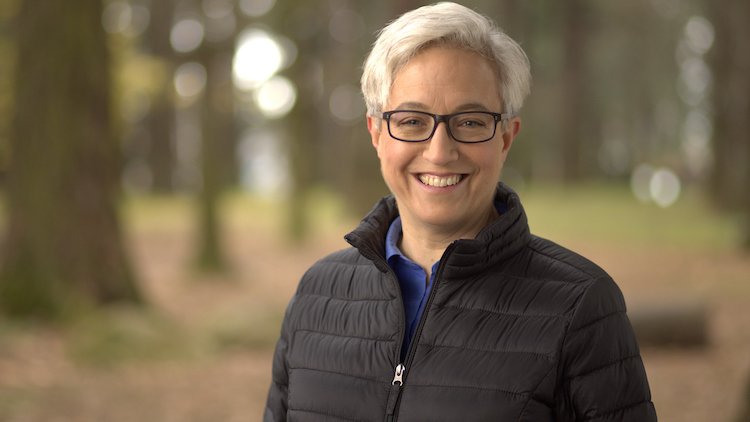 The Democratic gubernatorial primary Tuesday win by Oregon Speaker of the House Tina Kotek, who had announced her run for the governor's seat to replace incumbent Democratic Governor Kate Brown, who is term limited last September 1st, 2021, positions her to become the first Out Lesbian governor in the nation should she win the general election in November.
Kotek's win comes during an uptick in the elections nationwide as more candidates running for office identify as LGBTQ". More than 600 LGBTQ candidates are on ballots this year, according to the LGBTQ Victory Fund.
According to the Victory Fund, at least 101 people ran or are running for the U.S. Senate or U.S. House – with 96 still actively running as of February 21, 2022. That marks a 16.1 percent increase in LGBTQ Congressional candidates compared to the 2020 election cycle, when 87 people ran.
Speaking to her supporters after it became clear she had won over Oregon Treasurer Tobias Read, who was polling second among Oregonian progressives, "This will be a three-way race for the highest office in our state, and this will be an election unlike anything any of us have ever seen," Kotek said.
Republican state legislator Christine Drazan along with an independent candidate, Betsy Johnson are slated to be on the November ballot.
Last Fall when she announced her candidacy, she said, "I am running for Governor because I know that, together, we can reckon with the legacies of injustice and inequality to build a great future for Oregon." She also noted, "Oregonians are living through a devastating pandemic, the intensifying impacts of climate change, and the economic disruptions that leave too many behind. We must get past the politics of division and focus on making real, meaningful progress for families across our state."
"A victory for Tina would shatter a lavender ceiling and be a milestone moment in LGBTQ political history, yet she is running not to make history, but because there are few people as prepared and qualified to serve as Oregon's governor," said Mayor Annise Parker, President & CEO of LGBTQ Victory Fund. "Under Tina's leadership, Oregon has led in passing legislation to improve roads and education, raise the minimum wage and ensure all residents are treated fairly and equally. As governor, Tina will make Oregon a role model for the nation."
Karine Jean-Pierre on her firsts: 'I am a Black, gay, immigrant woman'
High praise for first out WH press secretary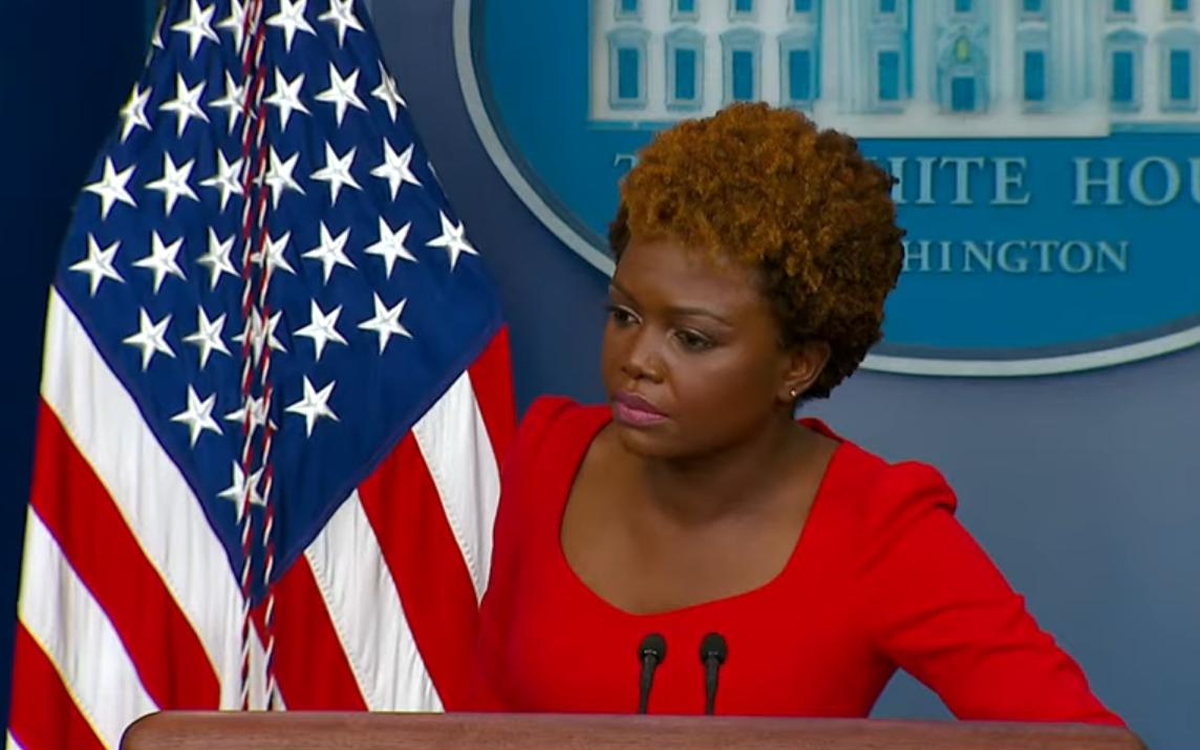 Karine Jean-Pierre is no stranger to progressive politics.
She takes on the role of White House press secretary as part of a long career working on building political coalitions and as a spokesperson for advocates before coming to the Biden administration, which has won her close allies and admirers who continue to cheer her on. Jean-Pierre's new position as top spokesperson for President Biden — and the first Black, first openly gay person to become White House press secretary — is the latest endeavor she pursues in that broader mission.
Rahna Epting, executive director of MoveOn.org, knew Jean-Pierre from when she worked at the progressive organization and she quickly became a rising star "because she's so incredibly skilled at communicating in a way that real people understand."
"She was incredibly relatable to people that were watching her at home on TV," Epting said. "And she could speak to you know, she she did that role during the Trump era for MoveOn and she really spoke to the hearts and minds of what people were feeling and thinking during that time."
It was during Jean-Pierre's time with MoveOn when she was serving as a moderator for a panel with Kamala Harris and famously rose to block an animal-rights activist who was physically threatening the candidate.
When protests emerged during the Trump era over policies such as his travel ban on Muslim countries, efforts to repeal the Affordable Care Act, and the two impeachment votes seeking to remove Trump from office, Epting said Jean-Pierre was key in MoveOn.org being at the front lines of those efforts.
"Karine was on TV and she was representing the movement in ways that sparked or electrified the energy that was actually being felt out there," Epting said.
Jean-Pierre, 45, has a distinctive story of rising to become White House press secretary as an immigrant from a Haitian family whose parents brought her to the United States, where she was raised in Queens, N.Y., from the age of five. Jean-Pierre cared for her younger siblings growing up as her mother worked as a home health aide and her father worked as a taxi driver.
Despite these humble beginnings, Jean-Pierre nonetheless reached astonishing heights. After receiving her master's degree from the School of International & Public Affairs at Columbia University, Jean-Pierre went on to work for President Obama, serving as regional political director for the White House Office of Political Affairs during the Obama administration's first term, before returning to the White House after Biden was elected president.
Michael Strautmanis, now executive vice president for public engagement at the Obama Foundation, worked with Jean-Pierre in the 2008 presidential campaign and at the White House under Obama and said the first thing that came across to him was how she "always had it covered."
"She never came and asked me for advice on something where she didn't already have one or two or three possible solutions to the challenge that she always had," Strautmanis said. "She was always very, very well prepared, so she just sort of stood out to me."
Jean-PIerre brings all this background to the role of White House press secretary in addition to achieving many firsts in the appointment as a Black woman, an LGBTQ person and an immigrant. Her partner is Suzanne Malveaux, a CNN reporter and former White House correspondent.
In her maiden briefing on Monday as White House press secretary, Jean-Pierre said the opportunity granted to her in her new role was not just an achievement, but the culmination of work from many who came before her.
"I am obviously acutely aware that my presence at this podium represents a few firsts," Jean-Pierre said,. "I am a Black, gay, immigrant woman, the first of all three of those to hold this position. I would not be here today if it were not for generations of barriers — barrier-breaking people before me. I stand on their shoulders. If it were not for generations of barrier-breaking people before me, I would not be here."
Asked by April Ryan of The Grio, a Black news outlet, about the many firsts she achieved by taking on the role as White House press secretary, Jean-Pierre recognized the signal that sends and brought up an article from a newspaper that went to her elementary school in Hampstead, N.Y.
"And these kids wrote me a letter," Jean-Pierre said. "And in the letter, they talked about how they can dream bigger because of me standing behind this podium. And that matters. You know, as I started out at the beginning: Representation matters. And not just for girls, but also for boys."
A White House spokesperson said Jean-Pierre was unable to make the Washington Blade's deadline in response to an interview request for this article. Among the questions the Blade planned to ask was whether or not she feels a special obligation to represent and speak for the communities in her role as White House press secretary.
It wasn't a straight line for Jean-Pierre to get to the position as White House press secretary. Although she worked for Harris in the Biden campaign, she came to the White House as deputy White House press secretary under Jen Psakl, who was responsible for Biden. (At the start of the Biden administration, Politico reported that Jean-Pierre's relationship with the vice president became strained and Jean-Pierre was effectively estranged in the final five months of the campaign.)
But Jean-Pierre quickly won high praise in her role as a Biden spokesperson. In May 2021, when she gave her first on-camera briefing as a substitute for Psaki, Jean-Pierre was considered effectively to have knocked the ball out of the park and reportedly won a round of applause from her colleagues upon retuning to the press office.
Ester Fuchs, who was an instructor for Jean-Pierre when she was at Columbia University's School of International & Public Affairs and later her colleague when she returned as a lecturer, said key to understanding Jean-Pierre's success in communications is her balance of optimism and realism.
"She showed really a deep understanding of American politics, and particularly divisions in American politics," Fuchs said. "But she was very much committed to the idea that the American Dream was still real for people like her, but with a kind of realpolitik understanding of what were the roadblocks, and always very committed to equity and fairness and making sure that people who were new immigrants or from high -needs population had a chance to be heard."
The high praise Jean-Pierre receives from her former colleagues and friends undermines the argument in conservative media she was selected for the role of White House press secretary only because she checks off numerous boxes in the base of the Democratic Party's coalition. Tucker Carlson of Fox News, for example, aired a segment last week deriding the appointment as the latest example of identity politics. Carlson mocked supporters for saying being LGBTQ is "the only thing you need to know" about Jean-Pierre, essentially ignoring the commitment and achievement she has made in getting there.
But there's also a boon of having a good personality. Jean-Pierre's smile as a means of being effective in disarming and comforting people was one of her features that came up two times independently among the people close to her the Blade consulted for this article.
Strautmanis said he'll be watching to see whether or not Jean-Pierre's humor comes out in her new role in White House press secretary as well as her capability to make people around her implicitly trust her, but ultimately predicted she would "kick ass."
"She just engenders a tremendous confidence," Strautmanis said. "And so, I think that's the other thing that people are going to see, which is that as she speaks, you're just gonna have a sense that, 'You know, I trust what this person is saying,' and I think that's a really hard thing to do in that in the work that she's done before in that job. But I think that's why she transitioned from being a political staffer into communications, because she has that ability in communications to be up front, be direct, be honest, and yet still kind of push forward a particular agenda. I think that's a rare combination."