Roundup of cities hosting Pride events next month — and those that cancelled
Annapolis, Richmond among postponements in mid-Atlantic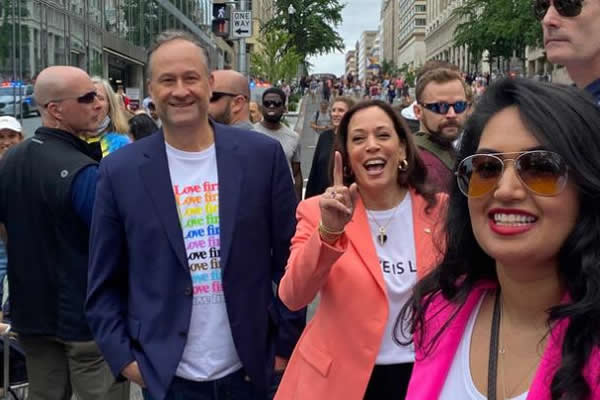 Although organizers are closely watching COVID-19 related developments in their states, at least 15 outdoor, in-person LGBTQ Pride events were scheduled to take place across the U.S. in the fall of 2021, according to the international LGBTQ group InterPride and online announcements by organizers of the Pride events.
Cities in which the fall Pride events are scheduled to take place include D.C.; Fort Lauderdale; Palm Springs, Calif.; Las Vegas; Dover, Del.; and three small cities in Maryland.
The decision to move ahead with those events came shortly after Pride organizers in at least five cities announced they were cancelling their events for this fall due to concern over the COVID pandemic. Among them are Richmond, Va.; Annapolis, Md.; Atlanta; Louisville, Ky.; and San Francisco.
Organizers of a fall Pride event in Philadelphia also cancelled that event, originally set for Sept. 4. But the Philadelphia Gay News reports that the cancellation was not due to COVID but instead was due to objections by members of the community to the policies of the event's organizers and a controversial public statement by one of the organizers considered by some to be derogatory to transgender people.
A statement announcing the cancellation of a San Francisco LGBTQ Pride Freedom Day Fest scheduled for Oct. 20 by its organizers appears to capture the sentiment of organizers of the other fall Pride events that were also cancelled.
"[W]e've determined that to produce a street fair with the safety and health of our communities at top priority, at the quality expected of SF Pride, is just not feasible this fall," the statement says. "We are not cancelling – we're merely postponing. Over the coming months, in addition to some new and returning fundraising events, we're going to focus our energy on Pride 2022," the statement continues.
"We remain as excited as we ever were to capture that spirit of wonder and look forward to bringing Freedom Day Fest to all of you in October 2022," it says.
San Francisco Pride organizers noted that the fall Freedom Day Fest event was to be an addition to the city's regularly scheduled Pride parade and festival that has taken place in June prior to the COVID outbreak but that were cancelled this year and last year.
The Richmond Pride event, known as Virginia Pridefest, was scheduled to take place Sept. 25. The event, which was also cancelled last year due to COVID, has attracted tens of thousands of participants in previous years.
"After consulting with our many corporate sponsors, organizational partners and volunteers we have decided it is in the best interest of the health and safety off our community to postpone VA Pridefest 2021," organizers said in an Aug. 27 statement. "Our preparation puts us on solid footing as we postpone the festival to 2022 when we hope to hold it in June as part of the national observation of LGBTQ Pride Month," the statement says. "This has long been a goal of ours, and this just may give us that opportunity," it says.
Although organizers of Annapolis Pride cited COVID concerns as their reason for cancelling that event, which was scheduled for Oct. 30, activists in three smaller Maryland cities have chosen not to cancel their Pride events.
They include the Howard County Pride Festival scheduled for Oct. 9 in Columbia, Md.; the Upper Chesapeake Bay Pride Festival, also set for Oct. 9 in Havre De Grace, Md.; and Southern Maryland Pride scheduled for Oct. 16 in Solomons, Md.
Like D.C.'s Capital Pride Alliance, Pride organizers in Baltimore cancelled their traditional June Pride parade and festival for the second year in a row and instead held more than a dozen smaller events in June of this year, both in-person and virtual.
In Los Angeles, Christopher Street West, the group that organizes that city's Pride events, including its annual Pride Parade which in pre-COVID years has attracted hundreds of thousands of participants, also cancelled this year's parade for the second year in a row. Like other cities, the group held several virtual Pride events in June.
Los Angeles Blade Publisher Troy Masters organized a Pride Walk in June that attracted a few hundred participants in an effort, Masters said, to hold at least one in-person event to celebrate Pride during the traditional Pride Month in June.
A larger outdoor Pride event did take place in LA Aug. 27-29, called the DTLA Proud Festival, with "DT" referring to downtown LA.
Capital Pride Alliance, which organizes D.C.'s annual Pride parade and street festival that have attracted over 200,000 participants in pre-COVID times, held a scaled back Pride Walk and Pride celebration at D.C.'s Freedom Plaza in June. The group has scheduled an Oct. 17 Pride Street Fair and Block Party on 15th Street, N.W. between P and Q Streets that it's calling Colorful Fest.
On its website, Capital Pride says those entering the block party, which will be in a fenced in area where alcohol will be served, will be required to show proof of COVID vaccination.
"The Capital Pride Alliance is committed to finding opportunities for the LGBTQ+ community to gather together safely, especially as the fall and winter seasons will soon make it more difficult to hold outdoor events and pandemic guidelines will make indoor events challenging," Capital Pride Executive Director Ryan Bos told the Blade. "To that end, we are working closely with the DC Government and following all current COVID-19 guidelines to have a safe outdoor event," Bos said.
The Louisville, Ky., Pride, which had been scheduled for Sept. 18, is among the Pride events cancelled this fall due to COVID concerns, according to its organizers. But a second Pride event held in Louisville each year called Kentuckiana Pride, will take place as planned on Oct. 8-9 with a parade and festival.
Chad Eddings, the Kentuckiana Pride co-director, told the Blade the event would take place in an enclosed outdoor area and participants must show proof of vaccination or a recent negative COVID test as a requirement for admission. He said the event usually draws about 15,000 people.
Cities in which fall Pride events are still scheduled to take place or have already taken place include Burlington, Vt. (Sept. 5); Miami Beach, Fla. (Sept. 18-19); Columbus, Ind. (Sept. 18); North Texas Pride Festival in Plano, Tex. (Sept. 25); Delaware Pride in Dover (Oct. 2); South Florida Afro Pride Parade & Music Festival in Ft. Lauderdale (Oct. 7-11); Las Vegas Pride Parade & Festival (Oct. 8-9); D.C Pride Street Fair & Block Party (Oct. 17) Pacific Northwest Black Pride in Seattle, Wash. (Oct. 29-31); Phoenix Pride Festival & Parade in Phoenix, Ariz. (Nov. 6-7); Palm Springs, Calif., Pride (Nov. 1-7); and Fort Lauderdale, Fla., Pride Parade & Festival (Nov. 20).
InterPride, the LGBTQ organization that keeps track of Pride events "all over the world," released the results of a survey it conducted of 201 worldwide Pride organizations to find out the type of Pride events they were planning for this year. The findings show that the largest number – 40.8 percent – reported they would be holding both in-person and virtual Pride events.
The findings show that 35.3 percent of the Pride organizations planned just in-person events this year; 19.9 percent planned only online or virtual events; and 4 percent either were not planning any events this year or had canceled their events.
The survey results released by InterPride did not breakdown the findings by specific countries.
Art used to spotlight people of color lost to AIDS in the South
National AIDS Memorial, Southern AIDS Coalition created Change the Pattern exhibit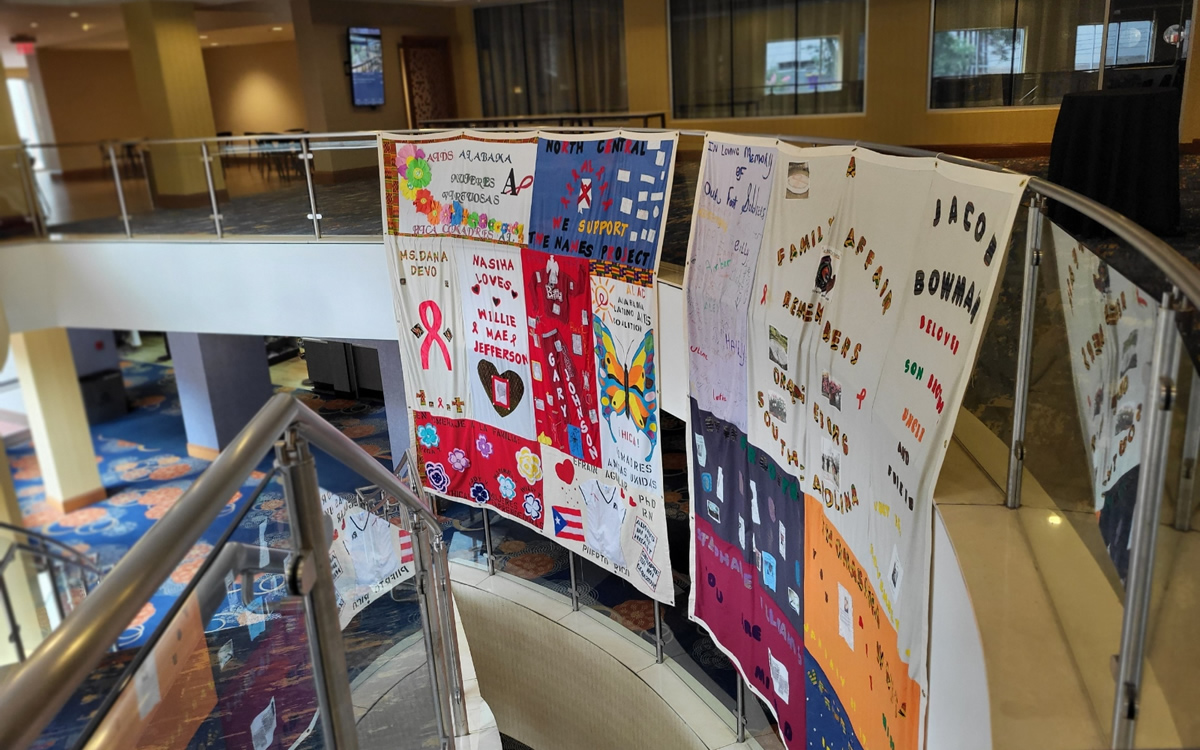 The National AIDS Memorial has joined forces with the Southern AIDS Coalition to stage a series of art exhibitions and educational forums to honor Black and Brown people in the South who have been lost to HIV/AIDS.
The initiative, titled Change the Pattern, began in Jackson, Miss., on Wednesday with curated quilt exhibitions, displays, educational forums, advocacy, storytelling and quilt-making, according to a press release from the National AIDS Memorial. A $2.4 million grant from the biopharmaceutical company Gilead Sciences, Inc., funded Change the Pattern.
More than 500 hand-stitched quilt panels from the area were featured in what the National AIDS Memorial says is "the largest display of the AIDS Memorial Quilt ever" in Mississippi.
"By creating an empowering message and safe spaces for conversation, we can uplift, inspire and make progress toward ending the HIV epidemic, challenge cultural stigmas and continue the legacy of advocacy that the quilt represents," said National AIDS Memorial CEO John Cunningham in the release. 
Change the Pattern was announced in honor of Southern HIV/AIDS Awareness Day during the Southern AIDS Coalition's annual Saving Ourselves Symposium that took place in August.
The conference, which was heavily attended by LGBTQ activists from the South, featured 100 quilt panels, and attendees participated in quilt-making workshops to make new quilt panels representing their loved ones.
Interested LGBTQ advocacy organizations in the South were invited to apply for funding to support local quilt-making workshops in their communities so as to ensure that the legacies of Black and Brown people are captured through newly-sewn panels on the quilt through the Memorial's Call My Name program, according to the National AIDS Memorial press release. 
The application process opened on Sept. 15 with up to 35 eligible organizations receiving as much as $5,000 to support hosting local workshops.
The first major Change the Pattern Quilt was founded 35 years ago as a visual representation of the need to end stigma and provide equitable resources to communities most impacted by HIV/AIDS, according to Southern AIDS Coalition Executive Director Dafina Ward.
"Change the Pattern is a call to action and change in the South," said Ward. "Quilt-making has such a deep cultural connection in the Black community and in the South. The sharing and telling of these powerful stories through the quilt, coupled with advocacy and open dialogue, can help end HIV-related stigma and bring the stories of those we've lost to light."
As the Change the Pattern initiative occurs, conversations about how to handle health epidemics within LGBTQ communities of color have become national topics, especially with the prevalence of monkeypox cases amongst Black gay men.
Despite earlier panic about the disease, the Centers for Diseases Control and Prevention in a report released on Wednesday said that individuals who were vaccinated against the disease were less likely to be affected over the summer compared to those who weren't.
The effectiveness and duration of immunity after a single dose, however, is not known, and few individuals in the current outbreak have completed the recommended two-dose series, according to the report.
The most recent CDC data reports that 25,509 monkeypox cases have thus far been confirmed in the U.S. Only one death has been reported.
Doctor, transgender spouse indicted for passing information to Russia
Jamie Lee Henry first active-duty Army officer to come out as trans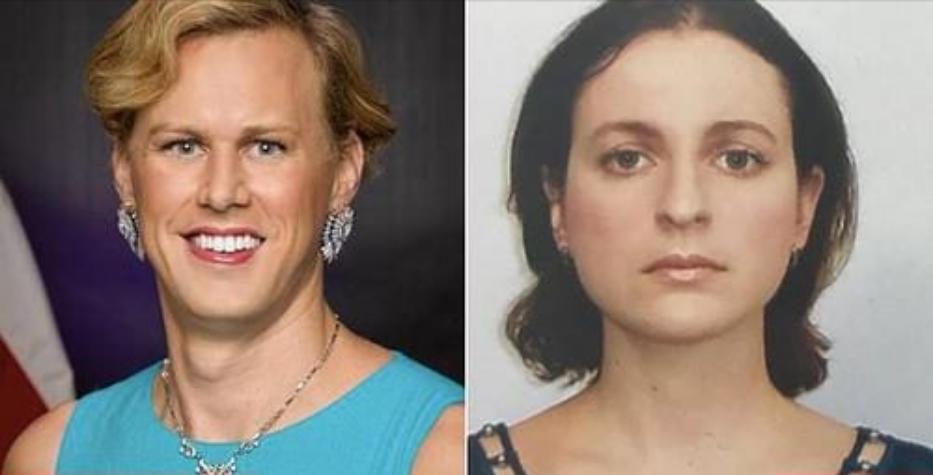 A federal grand jury on Wednesday handed down an indictment of a Johns Hopkins anesthesiologist and her spouse, a doctor and major in the U.S. Army, with conspiracy and for the disclosure of individually identifiable health information related to their efforts to assist Russia in connection with the conflict in Ukraine.
The office of the U.S. Attorney for the District of Maryland in a press release stated Anna Gabrielian, 36, and her spouse, Jamie Lee Henry, 39, both of Rockville, Md., both of whom had secret clearances, were attempting to provide medical information about members of the military to the Russian government.
Gabrielian and Henry met with an individual they believed to be associated with the Russian government, but who was, in fact, an Federal Bureau of Investigation Undercover Agent.
Court documents indicate Gabrielian told the FBI agent posing as a Russian operative that she had previously reached out to the Russian Embassy by email and phone, offering Russia her and her spouses' assistance.
According to the U.S. Attorney's office, Gabrielian told the FBI agent that, although Henry knew of Gabrielian's interaction with the Russian Embassy, she never mentioned Henry's name to the Russian Embassy.
In the narrative released by the U.S. Attorney's office, on Aug. 17, 2022, Gabrielian met with the FBI at a hotel in Baltimore. During that meeting, Gabrielian told the FBI she was motivated by patriotism toward Russia to provide any assistance she could to Russia, even if it meant being fired or going to jail.
She proposed potential cover stories for her meeting with the "Russians" and stressed the need for "plausible deniability" in the event she was confronted by American authorities. Gabrielian also told the FBI that, as a military officer, Henry was currently a more important source for Russia than she was, because they had more helpful information, including how the U.S. military establishes an army hospital in war conditions and information about previous training provided by the U.S. military to Ukrainian military personnel. 
Henry identifies as a "transgender military physician" on their Twitter account.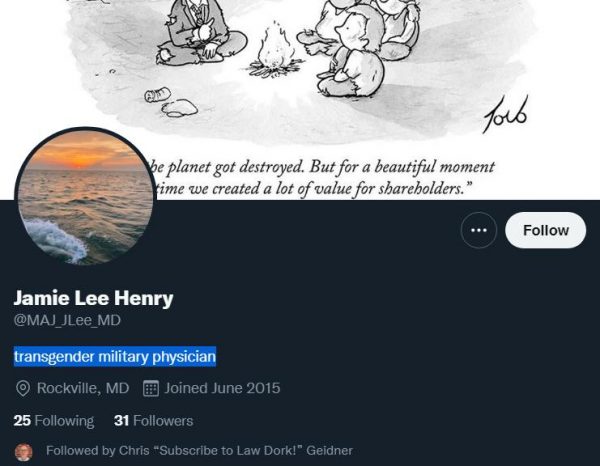 Henry received public attention in 2015 after becoming the first known active-duty Army officer to come out as trans.
Henry was at one point a member of SPARTA, the nation's largest nonprofit representing actively-serving trans U.S. servicemembers. A spokesperson for SPARTA, in an emailed statement commenting on the announcement of the arrest and indictment of Henry and their spouse told the Washington Blade:
"Transgender people are as diverse as the societies to which they belong. One's gender identity neither increases nor decreases a propensity towards alleged criminal activity."
As stated in the indictment, Gabrielian is an anesthesiologist and worked at Medical Institution 1 in Baltimore.
Henry, a major in the U.S. Army who held a secret-level security clearance, is Gabrielian's spouse and a doctor. During the time of the alleged conspiracy, Henry worked as a staff internist stationed at Fort Bragg, the home of the Army's XVIII Airborne Corps, headquarters of the U.S. Army Special Operations Command and the Womack Army Medical Center.
Gabrielian was scheduled to have initial appearance at 11:30 a.m. on Thursday in U.S. District Court in Baltimore before U.S. Magistrate Judge Brendan A. Hurson. Henry is also expected to have an initial appearance today, although a time has not yet been set.
Full statement from SPARTA:
"SPARTA, a non-profit advocacy organization representing transgender Service members in the United States, is saddened to learn of the arrest and indictment of Jamie Lee Henry, an officer in the U.S. Army and a medical doctor.
SPARTA has long advocated for the inclusion and total equity for transgender persons throughout the United States uniformed services. Today, thousands are serving honorably and authentically at home stations worldwide.
The actions alleged in the indictment do not reflect Henry's identity as transgender. Their alleged actions are those of an individual and should not be taken as a representation of transgender people broadly or transgender members of the military specifically.
All people in the United States are entitled to the same rights, including due process and the presumption of innocence in this case. SPARTA does not condone any actions alleged in the indictment and expects the process to play out fairly and equitably as it would for anyone accused of a crime."
The unvaccinated are 14 times more likely to contract monkeypox: health officials
Guidance updated to allow shots in places other than forearm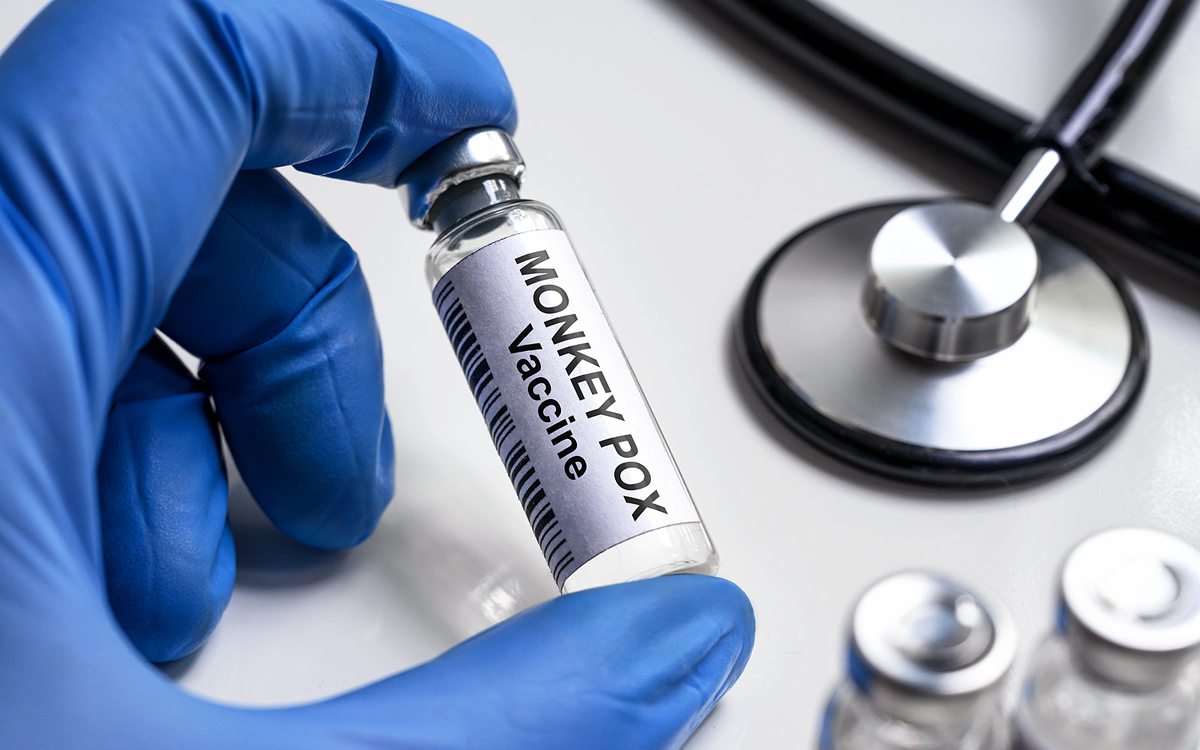 U.S. health officials are celebrating preliminary data on the vaccine used in the monkeypox outbreak, which has led them to conclude eligible persons who didn't get a shot were 14 times more likely to become infected than those who are vaccinated.
The new data, as described by health officials on the White House monkeypox task force during a call with reporters on Wednesday, comes as the overall number of new cases of monkeypox is in sharp decline, although considerable racial disparities persist in the remaining cases as Black and Latino people are overrepresented in the numbers.
Rochelle Walensky, director of the Centers for Disease Control & Prevention, said during the conference call the preliminary data — collected from 32 states between July 2022 and September 2022 — provides an early shapshot of the effectiveness of the vaccine and cause for optimism on the path forward.
"These new data provide us with a level of cautious optimism that the vaccine is working as intended," Walkensky said. "These early findings and similar results from studies and other countries suggest even one dose of the monkeypox vaccine offers at least some initial protection against infection."
Walensky during the conference call admitted the data is incomplete in numerous ways. For example, the data is based on information on individuals who have obtained only the first shot as opposed to both shots in the two-shot vaccination process. (The data showing positive results from individuals who have only one shot contradicts previous warnings from the same U.S. health officials that one shot of the monkeypox vaccine was insufficient.)
The data also makes no distinction between individuals who have obtained a shot through subcutaneous injection, a more traditional approach to vaccine administration, as opposed to intradermal injection, which is a newer approach adopted in the U.S. guidance amid the early vaccine shortage. Skeptics of the new approach have said data is limited to support the idea the intradermal injection is effective, particularly among immunocompromised people with HIV who have been at higher risk of contracting monkeypox.
Not enumerated as part of the data were underlying numbers leading health officials to conclude the unvaccinated were 14 times more likely to contract monkeypox as opposed to those with a shot, as well as any limiting principle on the definition of eligible persons. Also unclear from the data is whether individual practices in sexual behavior had any role in the results.
Despite the positive data on the monkeypox vaccine based on one shot, U.S. health officials warned during the conference call the two-shot approach to vaccine administration is consistent with their guidance and more effective.
Demetre Daskalakis, the Biden administration's face of LGBTQ outreach for monkeypox and deputy coordinator for the White House monkeypox task force, made the case that for individuals at risk obtaining a second dose is "really important."
"So we see some response after the first [shot] in the laboratory, but the really high responses that we want to really get — that you know, level 10 forcefield as opposed to the level five forcefield — doesn't happen until the second dose," Daskalakis said. "So the important message is this just tells us to keep on trucking forward because we need that second dose at arms that people haven't gotten the first should start their series of two vaccines."
Also during the call, health officials said they would be expanding opportunities for vaccines as pre exposure prophylaxis, as opposed to practices in certain regions granting vaccines in their limited supply to individuals who meet certain criteria or have had risk of exposure.
The Centers of Disease Control & Prevention, officials said, is also updating its guidance to allow injection of the vaccines in places other than a patient's arm.
Daskalakis said fear of stigma about getting a noticeable shot in the forearm after obtaining a monkeypox vaccine was a key part of the decision to issue the new guidance on implementation.
"Many jurisdictions and advocates have told us that some people declined vaccine to monkeypox because of the stigma associated with the visible but temporary mark often left on their forearm," Daskalakis said. "New guidance from CDC allows people who don't want to risk a visible mark on their forearm to offer a vaccine on their skin by their shoulder or their upper back. Those are areas more frequently covered by clothes."