Colombia's first openly gay congressman to seek re-election
Mauricio Toro elected in 2018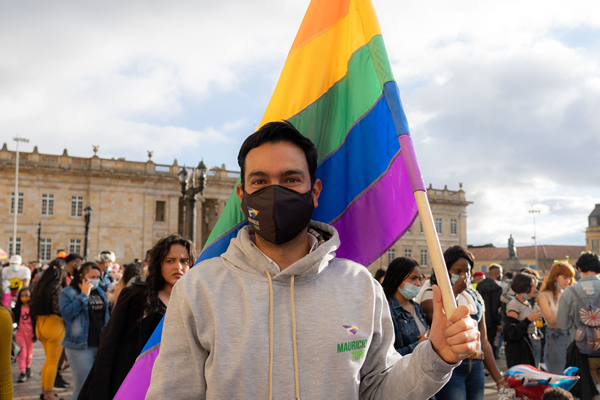 BOGOTÁ, Colombia — The first openly gay man elected to Colombia's congress says he plans to run for a second term in 2022.
"I think that I will be re-elected to the House of Representatives," Congressman Mauricio Toro told the Washington Blade on Sept. 21 during a Zoom interview from Bogotá, the Colombian capital.
Toro, 38, is a member of the Green Alliance, a center-left party known as "Alianza Verde" in Spanish.
Voters elected him in 2018. Colombian Sen. Angélica Lozano, a bisexual Colombian senator and Green Alliance member who is married to Bogotá Mayor Claudia López, is the only other openly LGBTQ person in the Congress.
Toro after his election told the Blade his agenda "is not only an agenda for the LGBTI community." He reiterated that point on Sept. 21.
"The needs of the LGBTI community are not only the guarantee that we have the same rights as any other Colombian," said Toro. "[They are] the right to a dignified and quality job, the right to financing of higher education, the right to a health care system that provides us with quality care, the right to social protest, the right to enjoy a healthy environment and the right today to have and to create a business and generate jobs."
Toro told the Blade the main pillars of his platform remain entrepreneurship "as a model of economic development," more funding for Colombia's public education system, innovation and increased access to technology. Toro stressed LGBTQ Colombians — along with everyone else in the country — will benefit from this agenda.
"We started with those elements from the base," he said. "We said well, as a community we also want the same as any Colombian in addition to reinforcing our rights."
Congress not responsible for LGBTQ rights advances
Colombia is among the Latin American countries in which same-sex couples can legally marry. Transgender people are also able to legally change their name and gender on identification cards and other government documents without surgery.
Then-President Juan Manuel Santos and the Revolutionary Armed Forces of Colombia Commander Rodrigo "Timochenko" Londoño in 2016 signed a peace agreement that specifically acknowledged LGBTQ Colombians as victims of the decades-long conflict that killed more than 200,000 people and called for their participation in the country's political process.
"Colombia is a country that leads Latin America in terms of the rights and guarantees that have been granted to the LGBTI community," said Toro. "Today we have on paper all of the rights that a Colombian citizen who is heterosexual has."
Colombia Diversa, a Colombian LGBTQ rights group, on Sept. 15 issued a report that notes 226 LGBTQ people were reported murdered in the country in 2020. This figure is more than twice the number of LGBTQ Colombians — 107 — who Colombia Diversa said were known to have been killed in 2019.
Sergio Urrego, 16, in 2014 died by suicide after administrators and a psychologist at his Roman Catholic high school in Bogotá bullied him because he was gay. A court in May sentenced Amanda Castillo, the school's former principal, to more than eight years in prison.
Toro told the Blade that LGBTQ rights advances in Colombia have come from the country's Constitutional Court, and not Congress.
"They have been given to us on paper. What's the problem? It is the implementation of them because these rights have not been won through the Congress," he said.
"A law is much more explicit because a law has defined chapters and articles and defines the mechanisms of how a right should be applied and the same government is assigned the duty of regulating each of these applications," added Toro.
Toro specifically criticized President Iván Duque, noting he has asked for congressional hearings over what he described as his government's failure to implement an LGBTQ public policy that Santos announced before he left office. Toro also noted he has introduced bills that would require political parties to have at least one openly LGBTQ representative and implement an economic development plan that specifically advances rights based on sexual orientation and gender identity.
The Green Alliance has also formed "Verdes a Colores," a group that seeks to elect LGBTQ people to local councils, mayorships and other public offices across Colombia.
"Together with the alternative parties, we have been able to work together a lot to guarantee the protection of our community's fundamental rights," said Toro, specifically referring to his party.
"I am the only openly gay congressman in Colombia and I am very alone," he added. "We are around 300 (in the Congress) … I am fighting for our community's flag, but with the support and encouragement of members of other parties that understand that this is a fight for equality, even though they are heterosexual."
Out in the World: LGBTQ news from Europe and Asia
Malaysian prime minister reiterated opposition to LGBTQ rights at UN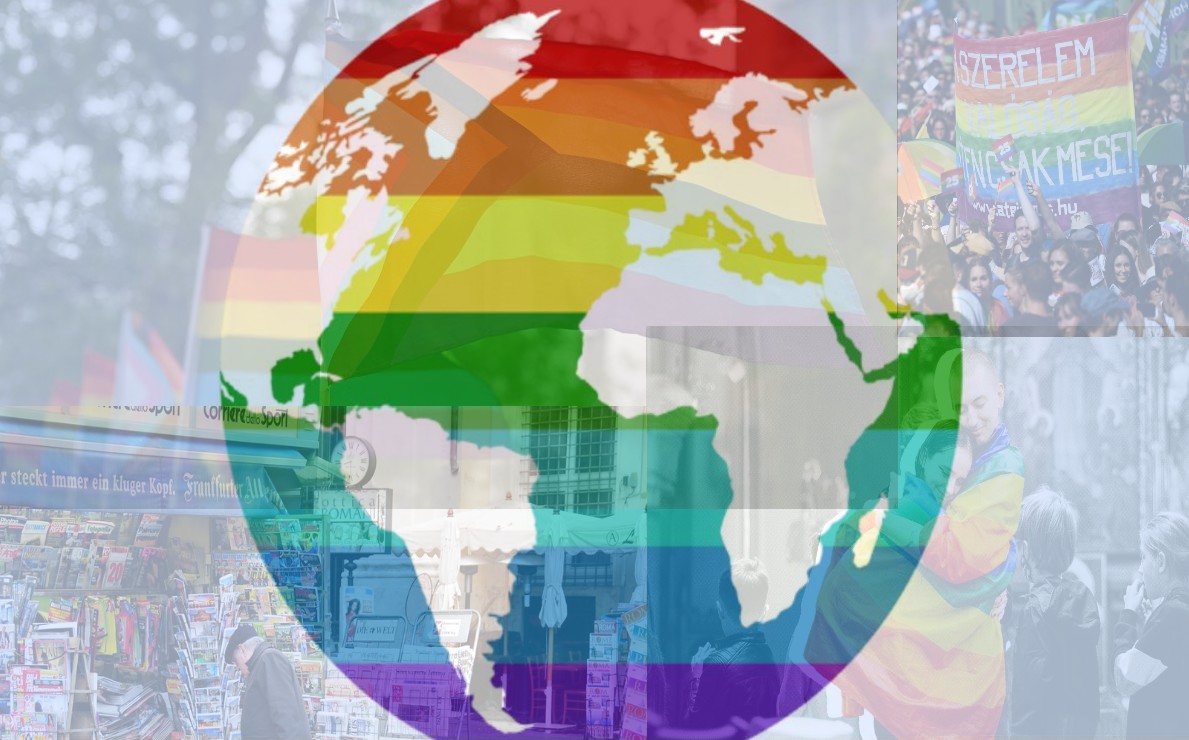 AUSTRALIA
A group has petitioned the Australian Human Rights Commission for an exemption to hold 'Lesbians Born Female only' events that exclude transgender people at the Victorian Pride Center for the next five years.
Lesbian Action Group Melbourne, wrote in their petition to apply for the exemption that the group, exclude "heterosexual, bisexual and gay males, heterosexual and bisexual females, transgender people and queer plus people."
The Sydney Star Observer, Australia's largest LGBTQ media outlet, reported that the event would be held to celebrate International Lesbian Day at the Victorian Pride Center on Oct. 15, 2023.
Under Australian codes the AHRC is empowered under Section 44 of the Sex Discrimination Act of 1984 (Cth) to grant temporary exemptions for up to five years from the provisions of the anti-discrimination law.
According to the Star-Observer, the group said it was set up to promote and organize events for "lesbian born females "without the fear of being hauled before the Victorian Civil and Administrative Tribunal, as we have in the past and told our exclusive lesbian born female events are illegal and having to cancel them." 
The group claimed that over the past two decades, they were able to "organize and hold private lesbian meetings and gatherings over these past 20 years to avoid any more challenges by the transgender community." The application then went on to allege that "lesbians who publicly speak out about lesbian rights are also sacked from their jobs, ridiculed and threatened with all kinds of abuse."
Basketball star suspended over anti-gay remarks
Australian NBL professional basketball star Corey Webster was suspended for two games after he posted homophobic remarks to his X/Twitter social media account. In the now deleted tweets, Webster replying to a post that asked: "What's the first thing that comes to mind when you see this flag," accompanied by the LGBTQ Rainbow Pride flag," said: "mental illness."
After Perth Wildcats fans and followers started calling out him for the blatant homophobia Webster posted a follow-up that read in all caps: "PROTECT THE CHILDREN," and put his social media profile on private.
The team reacted issuing an apology and also released an apology from Webster. In his statement the player said:
"While it certainly wasn't my intent, I understand the hurt my comments have caused and I am sincerely sorry for this. It wasn't how I intended my comments to be perceived and I will take a break from social media and use that time to better educate myself on the impact comments such as this can make on individuals I may have offended."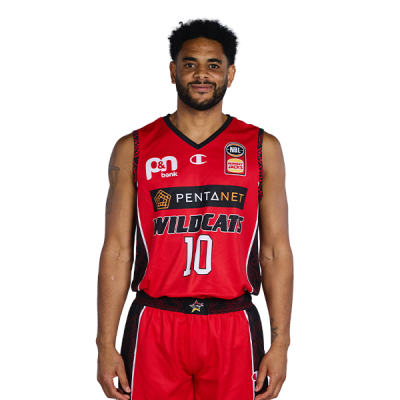 Perth Wildcats team owner Richard Simkiss said: "We are really disappointed in these comments and have made this clear to Corey. They don't reflect our values, and we have committed to working with Corey to help educate him about the harm such comments can bring. As a community driven club, we stand for inclusiveness and have strongly supported the NBL's Pride Round. We look forward to promoting this initiative again in the upcoming season. Our values are clear — we want to bring people together in a positive way and we understand our responsibility as leaders in the community to live these values both on and off the court."
VIETNAM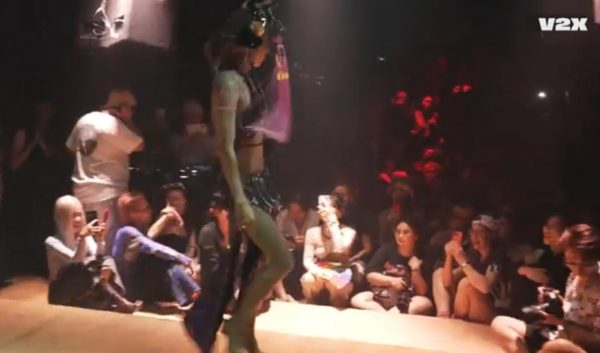 A decidedly queer subculture import from the U.S. that gained rapid popularity this vibrant southern Vietnamese metropolis is providing a safe haven for gay and trans youth. 
Al Jazeera contributor Xuan-Tung Le reported during a recent event, a catwalk for would-be models with fiery dance-off battles, as well as an emotional celebration of kinship between Vietnam's queer people — all rolled into a single evening of deep connections for trans people especially.
Le notes that not to be confused with ballroom dancing, which evolved from the heterosexual courtship tradition of European aristocrats, ballroom culture emerged in the 1960s among marginalized Black and Latino queer people in the U.S.
Gathering at a "ball" function, queer people "walk" to show off their talents in dancing, lip-syncing, performing and catwalk modelling as a way to both compete on the night and, more broadly, transcend the everyday realities of gender identities, occupational roles and social status assigned in society.
Viral videos of voguing battles have also been helped by the digital power of YouTube and TikTok algorithms, giving people around the world access to the dance form Le added.
"Ballroom is more than dancing," Minerva Sun Mizrahi, using a stage name preferring that their real name not be used, told Al Jazeera.
"Here, people can vogue, do runway walk, or simply look and act straight-passing — all are considered talents," Minerva said.
"It is a space to empower queer people."
Another queer performer told Al Jazeera that social acceptance of transgender people also lags behind in Vietnam, even in Saigon where gay men and women enjoy relative acceptance in society. Naomi Sun, also using a preferred stage name, told Al Jazeera: "That is why ballroom events are so unique, as they are one of the few safe spaces in Saigon where trans women can just 'let loose and have fun,'" Sun said.
"You don't have to do anything to your body or take hormones; just dress up as a fem queen [which is the ballroom slang for a trans woman], go there, and live your dream as a fem queen," she said. "It's fine! That's how ballroom is."
Related: Vietnam's "ballroom" culture: A safe space to celebrate trans people (link)
MALAYSIA
In an interview with CNN's Christiane Amanpour, Malaysia's Prime Minister Anwar Ibrahim says Malaysia will never recognize LGBTQ rights. Recently prison sentences were threatened for selling rainbow watches. "I wouldn't defend that," Ibrahim told the veteran journalist. He says he'd like to see things change, but must respect the consensus of the people.
Anwar said that as prime minister, he has to respect the consensus of Malaysians and that they do not accept public displays of LGBTQ (people and issues.) "The Muslims, non-Muslims, Christians, Hindus or Buddhists, they have a consensus in the country. They do not accept this (LGBTQ+)," he said. However, he said while there is a need to exercise some degree of tolerance, harassment has to be avoided.
UNITED KINGDOM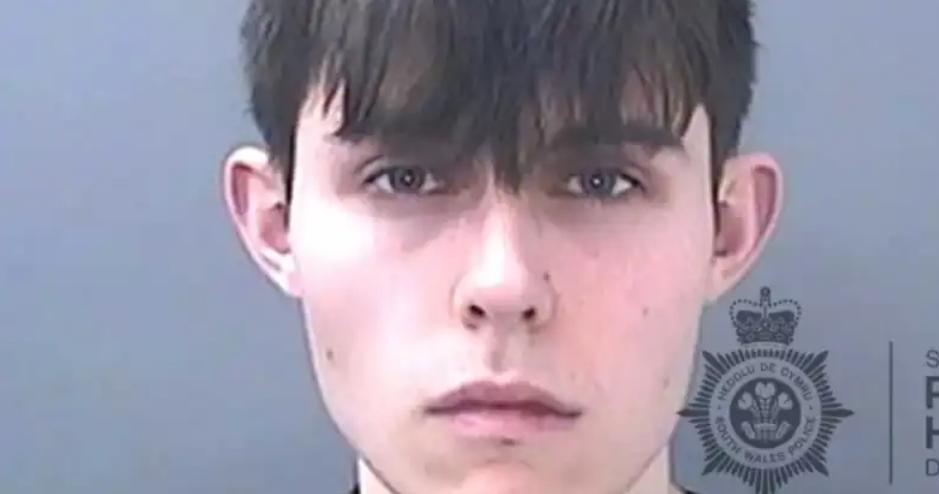 A 17-year-old teenage boy from South Wales has been publicly named after being convicted and sentenced on Sept. 21, for a homophobic and racist vandalism crime spree in South Wales and Cardiff.
Haynes and a second 15-year-old male accomplice carried out several racially and homophobically charged counts of criminal damage across South Wales, including extremist Nazi graffiti on a Windrush mural in Port Talbot where the teen was living at the time.
British LGBTQ media outlet PinkNewsUK reported that just hours after the mural, depicting local beloved nurse Donna Campbell and her mother Lydie, was complete, it was daubed with swastikas, the words "Nazi zone," and a racial slur.
The presiding justice, Jeremy Baker, sent the teen to jail for one year and seven months and ordered the former Royal Air Force Cadet to an additional one year's probation.
According to Sky News, Counter terrorism police in Wales last year began investigating the two teenagers in connection with "several offenses of racially and homophobically aggravated criminal damage."
A smoke bomb was also rolled into the Queer Emporium, an LGBTQ business in Cardiff city center.
The 15-year-old, from Tonyrefail, South Wales, appeared at Cardiff Youth Court and pleaded guilty on Aug. 15 to one charge of criminal damage and four charges of racially aggravated criminal damage. He was given community service for one year, and probation for two additional years and ordered to pay £100 ($122.42) compensation to the Queer Emporium.
In the case of Hayes, Baker said the teen had "essentially became self-radicalized" and held "entrenched" racist, antisemitic and homophobic views.
"I am satisfied that not only did you hold entrenched racist, antisemitic and homophobic views at the time of the commission of these offenses, but that these are views which you have not genuinely disavowed," the judge told him at his sentencing. "It is apparent that you were not someone who limited your behavior to the expression of your views online, but were prepared to put some of those views into action," he added.
The judge also noted, "It is of particular concern that not only had you asserted that one of your goals in life was to kill someone … but you had already carried out research as to the availability of one of the components for constructing a gun."
According to Counter Terrorism Policing Wales Detective Chief Inspector Andrew Williams who spoke at the sentencing:
"For the older boy in particular, it became evident that he was also involved in the online distribution of extreme right-wing material, which clearly fell into the space governed by terrorism legislation," he said.
"The offences were particularly abhorrent in nature and understandably caused upset to many people, both within the communities the boys targeted, and beyond.
"The sentencing today concludes the investigation and enables professionals to work intensively with them in the hope that they can lead far more productive lives in their respective futures."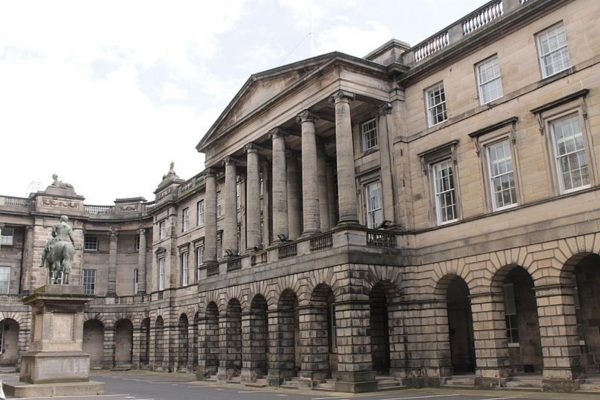 The court battle over to overturn the UK Secretary of State for Scotland Alister Jack's veto block of the Gender Recognition Reform ended this week with a ruling by Judge Lady Shona Haldane of the Court of Session in Edinburgh not expected for "some time" according to a statement from the court.
Haldane said after the judicial review concluded a day earlier than expected — that she will take "some time" to reach her decision on the matter. She added she write her opinion following what she described as a "unique, very interesting and challenging case."
The Gender Recognition Reform bill introduced by the Scottish government to Parliament last spring was passed in a final 86-39 vote days before this past Christmas 2022. The sweeping reform bill modifies the Gender Recognition Act, signed into law in 2004, by allowing trans Scots to gain legal recognition without the need for a medical diagnosis.
The measure further stipulates that age limit for legal recognition is lowered to 16.
Jack had released a statement indicating that with the backing of 10 Downing St., he would use a Section 35 order under the Scotland Act to block the king's signature which is referred to as royal assent.
Under Section 35 of the Scotland Act, UK ministers can stop a bill getting royal assent. Jack can do so if he is of the opinion that a Scottish Parliament bill would modify laws reserved to Westminster and have an "adverse effect" on how those laws apply.
PinkNewsUK reported the legislation itself was not discussed, with the case instead focusing on whether or not the Jack had the legal right to veto the bill.
Whoever loses the case, when Haldane issues her ruling, will have the right to appeal the outcome at the Court of Session Inner House. Whoever loses that appeal will have the option to take the case to the Supreme Court in London.
This means, regardless of the result, the political and legal battle could go on for months, or even years.
Additional reporting from the Star Observer, Al Jazeera, CNN, Sky News and PinkNewsUK
Kenyan lawmaker's bill would further crackdown on LGBTQ rights
Provisions include 50-year prison sentence for gays and lesbians convicted of non-consensual sex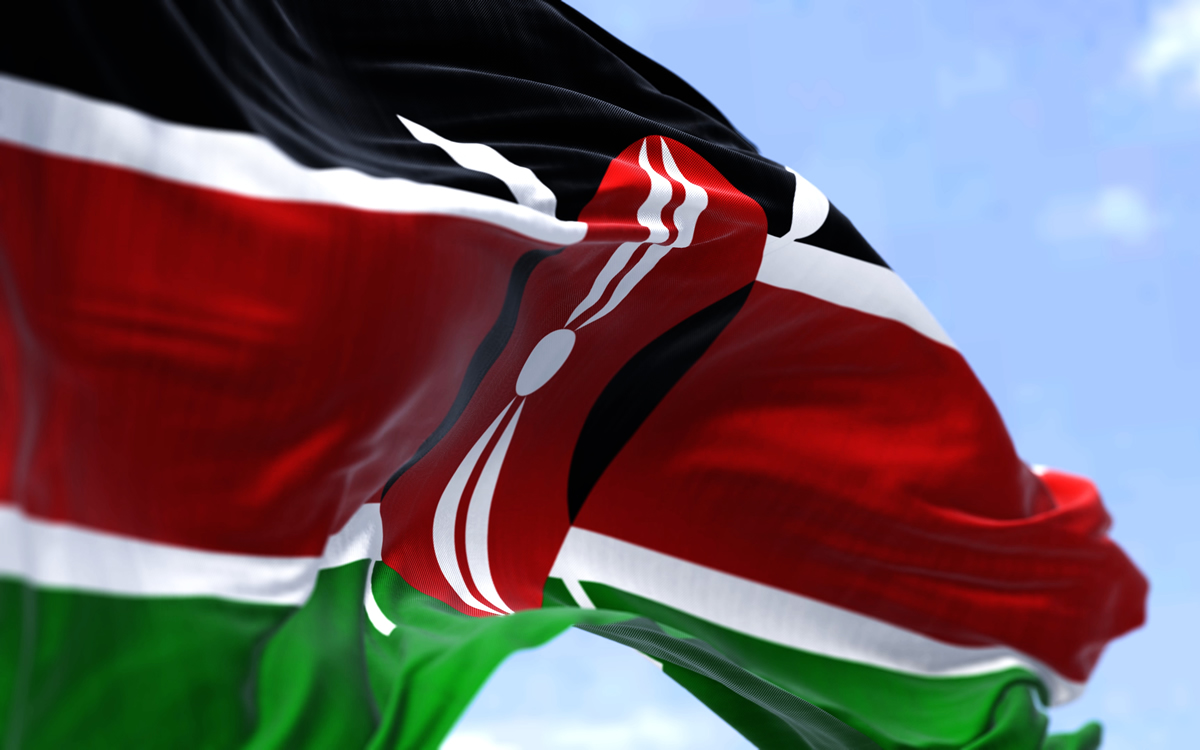 A fresh bid to prevent the recognition of and equal rights for LGBTQ people in Kenya through a constitutional amendment has been introduced in Parliament.
The move is in response to this month's ruling from Kenya's highest court affirming its February decision that allowed the National Gay and Lesbian Human Rights Commission to register as a non-governmental organization.
Opposition MP Peter Kaluma, an outspoken critic of homosexuality, is the sponsor of the new initiative that is part of tightening the noose on LGBTQ people after the Kenyan Supreme Court dismissed his petition that challenged its February ruling. 
Kaluma wanted the ruling reversed since the National Gay and Lesbian Human Rights Commission advocates for homosexuality, which is against the law, and sought the court's clarification on the term "sex" to exclude LGBTQ persons.
Kaluma has already written to National Assembly Speaker Moses Wetang'ula, notifying him of his proposal to have the term "sex" redefined in the constitution by repealing Article 259 (4) which judges perceive to also include consensual same-sex sexual relations.
"This will seal the constitutional gaps the courts are exploiting to introduce homosexuality into the country under the guise of 'judicial interpretation' and secure the legislative mandate retained in Parliament and constitutional-making power remains with the people," Kaluma said.
He faults the judges for interpreting the term "sex" under Article 27 (4) of the constitution to also refer to sexual orientation of any gender, whether heterosexual, lesbian, gay, intersex, or otherwise, not to be discriminated from sexual identity.
The controversial court's verdicts have sparked an uproar in the country since Article 45 of the constitution only recognizes consensual opposite-sex sexual relations and Section 162 of the penal code criminalizes consensual same-sex sexual relations. 
In redefining "sex" in law, Kaluma wants the term to be limited to the biological state of being male or female as assigned at birth and not "foreign sexual orientation and gender identity ideology" which he argues the judges based on wrongly. The MPs proposal to redefine sex, however, would not impact intersex people in Kenya since their recognition and sex identity are protected under a landmark law that took effect in July 2022.
Kaluma notes that the court's ruling renders sex/gender fluidity away from the biological state of being male or female "to over 150 current gender categories abbreviated as LGBTQ+" which has serious consequences for women in terms of equality.
"The courts, unelected arms of government not directly accountable to the people, have been the weakest link in the battle for family values across the world. The Supreme Court of the United States failed the Americans and the European courts have failed the Europeans," the MP said.
Kaluma, who has also sponsored a stiffer anti-homosexuality bill that awaits introduction in the House, added "we are in a war not only to save our society but to salvage humanity from the LGBTQ+ perversion".
The lawmaker has also sought to strengthen his anti-homosexuality measure by adding punitive clauses, including one that would impose a maximum sentence of 50 years in prison for gays and lesbians who are found guilty of engaging in non-consensual sex. Other provisions include a ban on gay Pride parades, assemblies, street marches, cross-dressing in public and all LGBTQ-related activities.
The MP has also proposed proposes a fine of $14,000 or a 7-year prison sentence for owners of premises used for same-sex sexual practices.
"I urge all persons and institutions of goodwill to stand firm and ready themselves to fight against homosexuality. Even when we don't win before the courts as is the case across the world, I am certain we will win before the people's representatives in parliament," Kaluma stated.
Muslim and Christian religious authorities last Saturday staged anti-homosexuality protests in the coastal city of Mombasa, which is the country's second largest city. Protesters condemned and denounced the Supreme Court's ruling and asking President William Ruto to "unequivocally denounce LGBTQ" like his Ugandan counterpart, Yoweri Museveni.
The Kenya Muslims National Advisory Council, a leading Muslim governing body, on Thursday also condemned the Supreme Court and demanded the ouster of Chief Justice Martha Koome and other judges who ruled in favor of the LGBTQ community. The group argues the ruling offends Kenya's social, cultural and religious beliefs while asking the president and Parliament to be "firm" like Uganda, which enacted a harsh anti-homosexuality law in May.
A presidential education reform working group last month in a detailed report presented to Ruto after gathering views across the country recommended the teachers' employers to hire pastors and Imams in elementary and high schools to help fight homosexuality and other so-called immoral practices. This call came after the Education Ministry in March confirmed to MPs its decision to form a Chaplains Committee, led by Kenya's Anglican Church Archbishop Jackson Ole Sapit, to stop the infiltration of LGBTQ practices in schools.
The working group's report has yet to be introduced in Parliament.
Kenya's relentless move to curb homosexuality comes at a time when top government officials, politicians, and during this week's U.N. General Assembly in New York raised concerns over backlash against LGBTQ and intersex rights around the world.
Eight jailed across Canada during anti-LGBTQ sex ed rallies
Prime minister condemned bigotry; counterprotests outnumbered demonstrations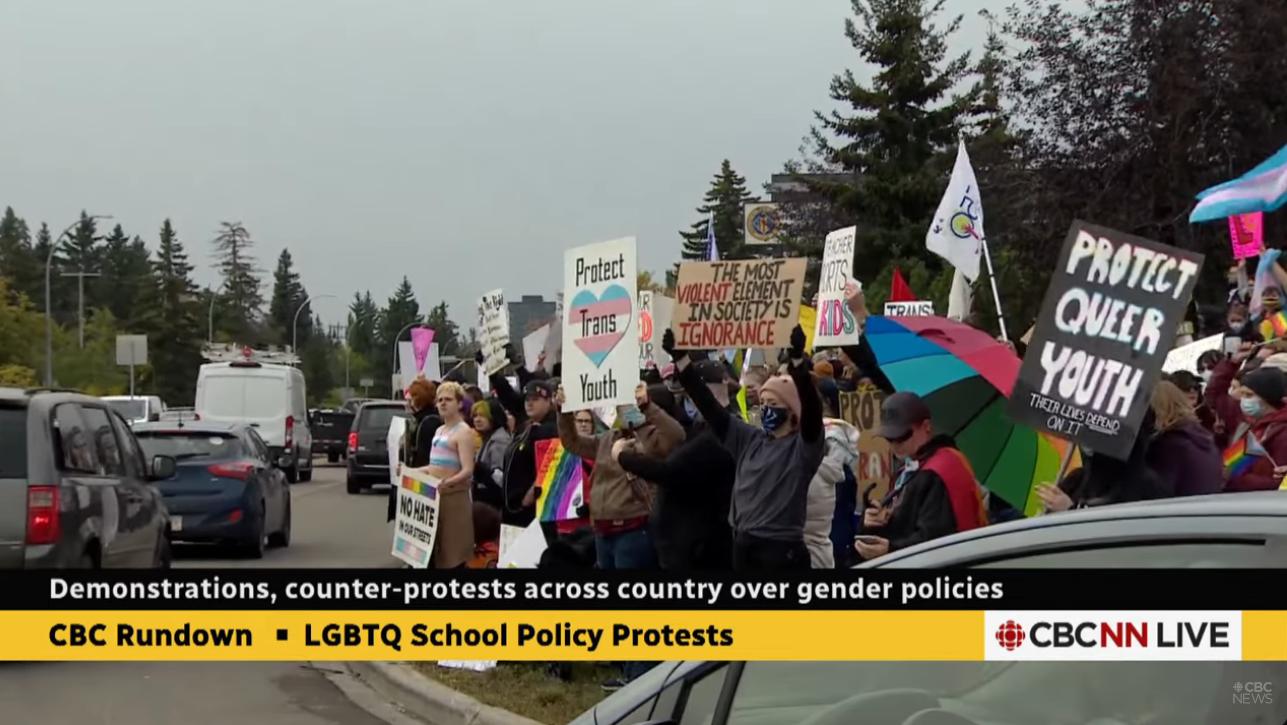 A highly coordinated series of anti-LGBTQ protests rocked more than 80 cities across Canada on Wednesday, in a significant escalation of tactics by Canada's anti-LGBTQ extremists.
The coordinated protests dubbed 1 Million March 4 Children are demanding an end to discussions on sexual orientation and gender identity in Canadian classrooms. They come as several Canadian provinces have enacted policies that require students to have parental permission to change their preferred name or pronoun used in schools, and shortly after the federal Conservative Party adopted a series of anti-trans policies at its national convention.
According to its website, 1 Million March 4 Children is calling for "the elimination of the Sexual Orientation and Gender Identity (SOGI) curriculum, pronouns, gender ideology and mixed bathrooms in schools." The website also lists among its supporters numerous groups that were opposed to masking policies during the COVID-19 pandemic, anti-vaccine groups, groups that promote conspiracy theories, and groups that support the truck convoys that laid siege to Ottawa and several U.S. border crossings last year.
Protests happened from coast to coast, in big cities, suburbs and small towns, but in most cases, they were met with coordinated counter-protests in support of LGBTQ rights who greatly outnumbered the protesters.
CBC reported that counter-protesters numbered roughly double the anti-LGBTQ protesters in St. John's, Newfoundland.
Inclusive sex education has long been part of school curriculums in most provinces in Canada and has generally enjoyed support from all major political parties.
While the protests where mostly peaceful, at least four anti-LGBTQ protesters were arrested after getting into altercations with counter-protestors in British Columbia, and police advised that the protest in front of the provincial legislature had become "unsafe."
Police in Nanaimo, British Columbia, tackled and arrested one man who attempted to flee after allegedly getting into a physical altercation at City Hall. Two protestors were also arrested in Victoria, British Columbia, as they demonstrated in front of the provincial legislature, and another protester was arrested in Vancouver. Police in both cities did not provide additional information.
Ottawa police also arrested two protesters for allegedly inciting hatred and another for causing a disturbance in at the protest in front of Parliament.
And Toronto police arrested 47-year-old protester Julia Stevenson for allegedly bringing a weapon to the demonstration outside the provincial legislature. Police did not give further details about what kind of weapon she is alleged to have been carrying.
Prime Minister Justin Trudeau, who was at the U.N. General Assembly in New York, condemned the anti-LGBTQ protests in a tweet on X, formerly Twitter.
"Let me make one thing very clear: Transphobia, homophobia and biphobia have no place in this country. We strongly condemn this hate and its manifestations, and we stand united in support of 2SLGBTQI+ Canadians across the country — you are valid and you are valued," he wrote.
Conservative Party leader Pierre Poilievre did not put out any statement on the protests, nor did deputy leader Melissa Lantsman, who is openly lesbian and has previously spoken out on LGBTQ issues on behalf of the party.
The leader of the left-leaning New Democratic Party Jagmeet Singh joined the counter-protestors who demonstrated in Ottawa and marched toward Parliament Hill.
"We know that there's a lot of folks that don't feel safe because of the rise in hate and division that's targeting vulnerable people," Singh told CTV. "But then you see a lot of people coming together, and it shows the strength of solidarity, of us supporting each other, of having each other's back."
Alberta Teachers' Association President Jason Schilling says the protesters are part of a North America-wide movement fomenting hatred against queer people using misinformation and lies.
"Using 'parental consent' as camouflage, this rally was part of a coordinated strike across North America to promote misinformation, intolerance and hate toward the 2SLGBTQIA+ community, as well as toward teachers who work to protect the safety and well-being of all students," Schilling said in a statement.
In many cities, the anti-LGBTQ protests were officially condemned by mayors and school boards.
Toronto Mayor Olivia Chow, who has publicly supported LGBTQ rights since the 1980s, issued a strong statement condemning the protests.
"We stand against all forms of discrimination, hatred and bigotry, and for the safety and well-being of all young people. Some wish to target our schools and libraries to spread hate. We know these must be spaces that welcome everyone, especially students," Chow wrote.
The city of Whitehorse, Yukon, issued a statement condemning bigotry in advance of the protests.
"While the city supports people's right to organize and protest, we stand by our 2SLGBTQIA+ community members and their right to live their true selves safely and free of harassment and hate. The promotion of anti-2SLGBTQIA+ ideas has no place in our community and messages that target fellow community members will not be tolerated," the statement says.
However, New Brunswick Primer Blaine Higgs, who was the first to introduce a "parental consent" policy for trans students, joined the protesters in front of the provincial legislature in Fredericton.
"I think our parents should become knowledgeable about what their kids are being taught and what is important for them to learn in schools and what's important for parents to make decisions on with kids that are under 16-years-old," Higgs told reporters.
British Columbia Conservative Party leader John Rustad went further in a statement on the protests. While he says he doesn't "officially" support the protests, if his party wins next year's election, he promised to cancel the province's sex ed curriculum and implied he would ban transgender girls from sports.