Colombia's first openly gay congressman to seek re-election
Mauricio Toro elected in 2018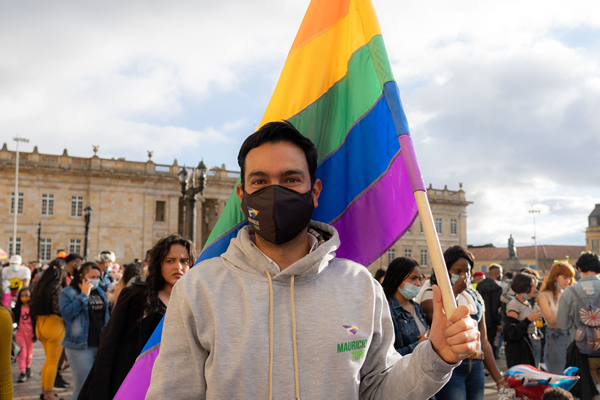 BOGOTÁ, Colombia — The first openly gay man elected to Colombia's congress says he plans to run for a second term in 2022.
"I think that I will be re-elected to the House of Representatives," Congressman Mauricio Toro told the Washington Blade on Sept. 21 during a Zoom interview from Bogotá, the Colombian capital.
Toro, 38, is a member of the Green Alliance, a center-left party known as "Alianza Verde" in Spanish.
Voters elected him in 2018. Colombian Sen. Angélica Lozano, a bisexual Colombian senator and Green Alliance member who is married to Bogotá Mayor Claudia López, is the only other openly LGBTQ person in the Congress.
Toro after his election told the Blade his agenda "is not only an agenda for the LGBTI community." He reiterated that point on Sept. 21.
"The needs of the LGBTI community are not only the guarantee that we have the same rights as any other Colombian," said Toro. "[They are] the right to a dignified and quality job, the right to financing of higher education, the right to a health care system that provides us with quality care, the right to social protest, the right to enjoy a healthy environment and the right today to have and to create a business and generate jobs."
Toro told the Blade the main pillars of his platform remain entrepreneurship "as a model of economic development," more funding for Colombia's public education system, innovation and increased access to technology. Toro stressed LGBTQ Colombians — along with everyone else in the country — will benefit from this agenda.
"We started with those elements from the base," he said. "We said well, as a community we also want the same as any Colombian in addition to reinforcing our rights."
Congress not responsible for LGBTQ rights advances
Colombia is among the Latin American countries in which same-sex couples can legally marry. Transgender people are also able to legally change their name and gender on identification cards and other government documents without surgery.
Then-President Juan Manuel Santos and the Revolutionary Armed Forces of Colombia Commander Rodrigo "Timochenko" Londoño in 2016 signed a peace agreement that specifically acknowledged LGBTQ Colombians as victims of the decades-long conflict that killed more than 200,000 people and called for their participation in the country's political process.
"Colombia is a country that leads Latin America in terms of the rights and guarantees that have been granted to the LGBTI community," said Toro. "Today we have on paper all of the rights that a Colombian citizen who is heterosexual has."
Colombia Diversa, a Colombian LGBTQ rights group, on Sept. 15 issued a report that notes 226 LGBTQ people were reported murdered in the country in 2020. This figure is more than twice the number of LGBTQ Colombians — 107 — who Colombia Diversa said were known to have been killed in 2019.
Sergio Urrego, 16, in 2014 died by suicide after administrators and a psychologist at his Roman Catholic high school in Bogotá bullied him because he was gay. A court in May sentenced Amanda Castillo, the school's former principal, to more than eight years in prison.
Toro told the Blade that LGBTQ rights advances in Colombia have come from the country's Constitutional Court, and not Congress.
"They have been given to us on paper. What's the problem? It is the implementation of them because these rights have not been won through the Congress," he said.
"A law is much more explicit because a law has defined chapters and articles and defines the mechanisms of how a right should be applied and the same government is assigned the duty of regulating each of these applications," added Toro.
Toro specifically criticized President Iván Duque, noting he has asked for congressional hearings over what he described as his government's failure to implement an LGBTQ public policy that Santos announced before he left office. Toro also noted he has introduced bills that would require political parties to have at least one openly LGBTQ representative and implement an economic development plan that specifically advances rights based on sexual orientation and gender identity.
The Green Alliance has also formed "Verdes a Colores," a group that seeks to elect LGBTQ people to local councils, mayorships and other public offices across Colombia.
"Together with the alternative parties, we have been able to work together a lot to guarantee the protection of our community's fundamental rights," said Toro, specifically referring to his party.
"I am the only openly gay congressman in Colombia and I am very alone," he added. "We are around 300 (in the Congress) … I am fighting for our community's flag, but with the support and encouragement of members of other parties that understand that this is a fight for equality, even though they are heterosexual."
Victory Fund honors gay Guatemalan congressman at D.C. conference
Aldo Dávila a vocal critic of country's government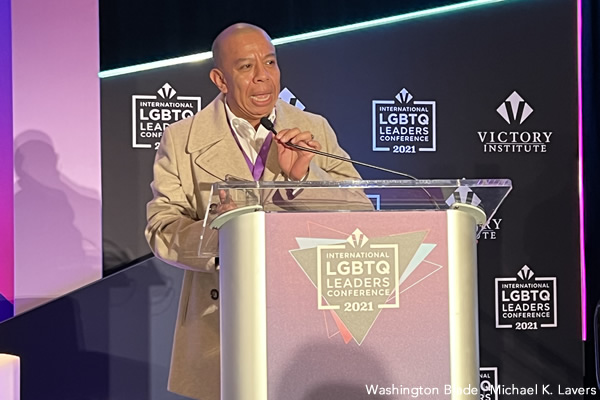 The Victory Fund on Friday honored an openly gay Guatemalan congressman who has faced death threats because of his efforts to fight corruption in his country.
Dávila — a member of the Winaq movement, a leftist party founded by Rigoberta Menchú, an indigenous human rights activist and Nobel Peace Prize winner — in 2019 became the first openly gay man elected to Guatemala's congress. Dávila, who also lives with HIV, had previously been the executive director of Asociación Gente Positiva, a Guatemala City-based HIV/AIDS service organization.
Supporters of President Alejandro Giammattei have lodged several formal complaints against Dávila after he publicly criticized the government over corruption, its response to the pandemic and other issues.
Three men on April 19 approached Dávila's vehicle near Guatemala's National Library and tried to rob him. One of Dávila's bodyguards shot one of the men, but the two other assailants fled the scene before police officers and passersby arrived.
Dávila told the Washington Blade in September during an interview at a Guatemala City hotel that he and his partner installed cameras in their apartment after someone killed their dog.
Two female police officers who arrived at the hotel with Dávila sat in the lobby while he spoke with the Blade. The government a few weeks later reduced his security detail.
"Guatemala is living through the worst democratic crisis in the last 40 years," said Dávila after he accepted the Victory Fund's Global Trailblazer Award at its 2021 International LGBTQ Leaders Conference that is taking place in-person at the JW Marriott in downtown D.C. "Guatemala right now is being paralyzed by corruption and impunity and my voice is uncomfortable because of this."
Dávila became emotional at the end of his remarks.
"I will keep fighting for our rights," he said.
Openly gay man elected to Honduran congress
Víctor Grajeda will serve as Congresswoman-elect Silvia Ayala's substitute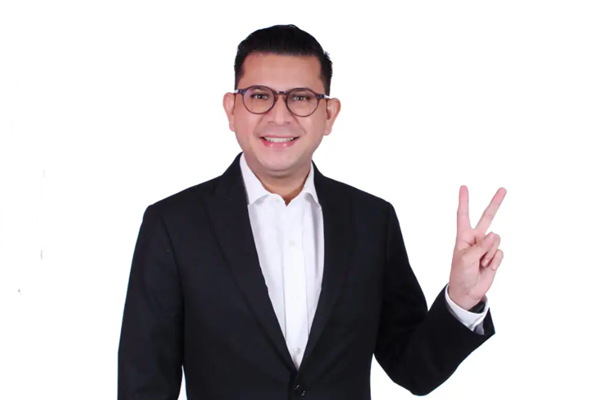 An openly gay man in Honduras made history on Sunday when he won a seat in the country's Congress.
Grajeda will serve alongside Congresswoman-elect Silvia Ayala of the leftist Free Party (Partido Libre), who represents Cortés department in which the city of San Pedro Sula is located, as her substitute.
Reportar sin Miedo, the Washington Blade's media partner in Honduras, and Agencia Presentes, reported Grajeda received more than 100,000 votes. Grajeda is one of five openly LGBTQ candidates who ran for Congress.
"I am looking to open spaces and eliminate discrimination based on sexual orientation or identity," said Grajeda.
Tegucigalpa Mayor Nasry Asfura, a member of outgoing President Juan Orlando Hernández's ruling National Party (Partido Nacional), on Tuesday conceded defeat to President-elect Xiomara Castro of the Free Party.
Castro's husband, former President Manuel Zelaya, was ousted from power in a 2009 coup.
Activists with whom the Blade has spoken say LGBTQ Hondurans continue to flee the country and migrate to the U.S. in order to escape rampant violence and discrimination and a lack of employment and educational opportunities. Castro, among other things, has publicly endorsed marriage rights for same-sex couples in Honduras.
Canadian government introduces bill to ban conversion therapy
Prime minister says discredited practice as 'discriminatory and degrading'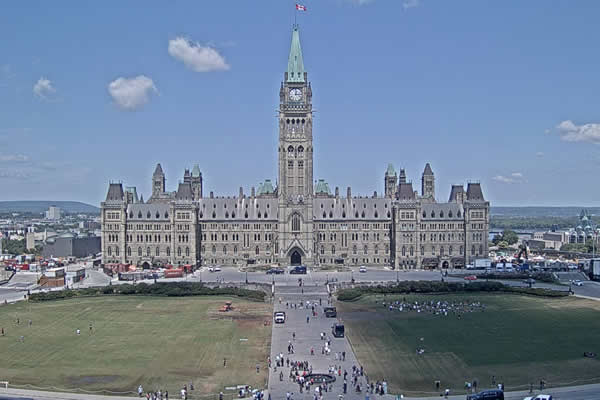 The Canadian government on Monday introduced a bill that would ban so-called conversion therapy in the country.
The bill that Attorney General David Lametti and Women and Gender Equality and Youth Minister Marci Ien introduced would amend Canada's Criminal Code to specifically ban:
Causing another person to undergo conversion therapy
Removing a minor from Canada to subject them to conversion therapy abroad
Profiting from providing conversion therapy
Advertising or promoting conversion therapy
A press release the Canadian government issued said the bill would allow courts "to order the seizure of conversion therapy advertisements or to order their removal from computer systems or the internet."
"The pain and trauma caused by conversion therapy practices continue to have a devastating impact on LGBTQ2 communities across Canada," said Ien. "Our government is focused on promoting equality rights and tackling discrimination against lesbian, gay, bisexual, transgender, queer and two-spirit people. Criminalizing this practice upholds basic human rights, while also ensuring that every Canadian is free to live their authentic lives."
Prime Minister Justin Trudeau in a tweet said conversion therapy "is discriminatory and degrading, and has had devastating impacts on LGBTQ2 Canadians."
"It has no place in our country," he said.
Conversion therapy is discriminatory and degrading, and has had devastating impacts on LGBTQ2 Canadians. It has no place in our country – and that's why, today, @DavidLametti and @MarciIen introduced legislation to ban it once and for all. More details: https://t.co/28jSblDPyR https://t.co/hLhzT1nJbD

— Justin Trudeau (@JustinTrudeau) November 30, 2021
Tourism Minister Randy Boissonnault, who previously advised Trudeau on LGBTQ issues, also applauded the bill's introduction.
"Conversion 'therapy' is akin to torture," said Boissonnault. "I encourage all of my colleagues in the House (of Commons), to support this bill that will move to criminalize conversion therapy in Canada once and for all."
I've said it before, and I will say it again. Conversion "therapy" is akin to torture. I encourage all of my colleagues in the House, to support this bill that will move to criminalize conversion therapy in Canada once and for all. 🏳️🌈 pic.twitter.com/AbCwaMf30w

— Randy Boissonnault 🏳️🌈 (@R_Boissonnault) November 29, 2021
Trudeau, who won re-election in September, has previously called for a prohibition of the widely discredited practice. The Canadian Senate earlier this year tabled a separate conversion therapy ban bill.
The House of Commons on Wednesday unanimously approved the recently introduced bill. It now goes to the Senate.
Canada would join Malta and a handful of countries that ban conversion therapy.