Russian government labels LGBTQ advocacy groups 'foreign agents'
Russian LGBT Network has 17 branches across country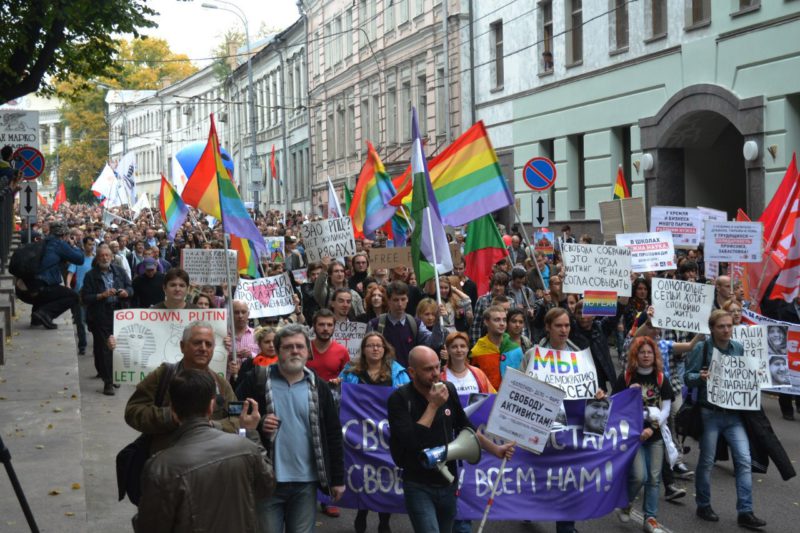 This past Monday, the Russian Ministry of Justice included the Russian LGBT Network and five lawyers from the recently dissolved human rights group, Komanda 29 (Team 29), including its founder Ivan Pavlov, a prominent lawyer, on the list of "foreign agents."
This latest move by Russian authorities is continuing a months-long crackdown on activists, opposition supporters and independent media. The government has designated a number of independent media outlets, journalists and human rights groups as "foreign agents." At least two disbanded to avoid a further crackdown.
The Russian LGBT Network has advocated for civil rights in Russia since 2006 and has 17 branches across the country. The group is well-known both in Russia and abroad for its effort to rescue gay men and lesbians from Chechnya.
They played a crucial role in the exposure of a brutal "anti-gay" campaign in Chechnya during which dozens of men were abducted, tortured and several believed to have been killed for their real or perceived sexual orientation. The group also provided shelter for victims of homophobic attacks from Chechnya and elsewhere around the country, and helped with their relocation to safer locations within and outside Russia.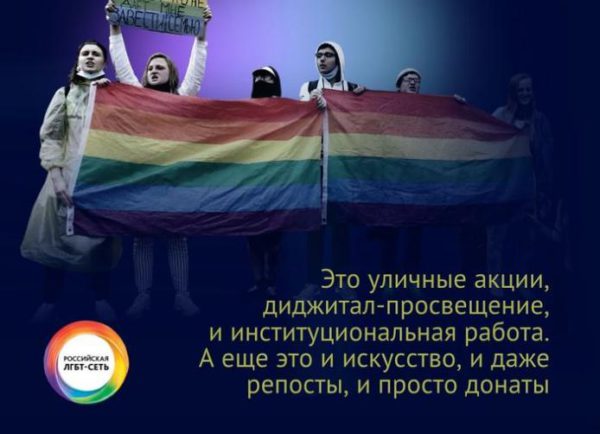 "We don't know why we have been declared a 'foreign agent.' The Russian LGBT Network disagrees with this status. We are not involved in political activities, we offer legal and psychological aid (and) defend the rights of the LGBT+ community," the statement on the group's Facebook page read. The statement added that the group would continue to operate and contest the designation in court.
Team 29, was an association of lawyers and journalists specializing in treason and espionage cases and freedom of information issues. Team 29 shut down earlier this year, fearing prosecution of its members and supporters, after authorities accused the group of spreading content from a Czech nongovernmental organization that had been declared "undesirable" in Russia.
Ivan Pavlov and his colleagues have courageously provided help to civil society and political activists and groups that have been targeted by the authorities, including Aleksei Navalny's Anti-Corruption Foundation.
In April, Russian authorities launched a criminal case against Pavlov, who was representing a former Russian journalist accused of treason. They accused Pavlov, who has since left Russia and resettled in Georgia, of disclosing information related to a police investigation, the Associated Press reported.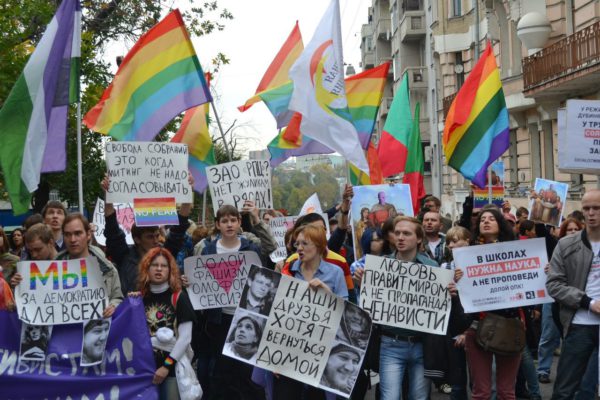 Natalia Zviagina, Amnesty International's Moscow Office Director, in a statement released to international media outlets said:
"Beyond shameful, the justice ministry's decision reveals that committed, principled lawyers defending the rights of people targeted in politically motivated cases and frontline LGBTI rights defenders are unwelcome and 'foreign' in Putin's Russia.
"LGBT-Network has exposed heinous crimes against gay men in Chechnya and helped evacuate people at risk to safety where they can speak about these atrocities. Now LGBT Network is, itself, a victim of the persecution that is being increasingly targeted at all human rights defenders—openly, viciously and cynically.
"The authorities cite the need to protect 'national interests' and resist 'foreign influence' in their incessant destruction of Russia's civil society. But what's really in the national interest is to protect, uphold and respect all human rights for everyone.
"These reprisals against human rights defenders and civil society organisations must stop, and the 'foreign agents' and 'undesirable organisations' laws must be repealed immediately."
In an article published this past July, RadioFreeEurope/RadioLiberty's correspondent Todd Prince explains that a Council of Europe legal advisory body has sharply criticized recent Russian amendments to laws regulating so-called ''foreign agents," saying they constitute "serious violations" of basic human rights and will have a "chilling effect" on political life.
In a report analyzing the amendments, published on July 6, the Venice Commission, which is composed of independent experts in the field of constitutional law, called on Russia to reverse aspects of its "foreign agents" laws such as registration and reporting requirements, or alternatively revise "the entire body" of the legislation by narrowing the definition of a "foreign agent."
The commission warned in its 26-page report that the amendments will have a "significant chilling effect…on the free exercise of the civil and political rights which are vital for an effective democracy."
It further said the broadened scope of the "foreign agents" legislation allows authorities "to exercise significant control over the activities and existence of associations as well as over the participation of individuals in civic life.
Chilean House approves marriage equality bill
Vote took place two days after presidential election's first round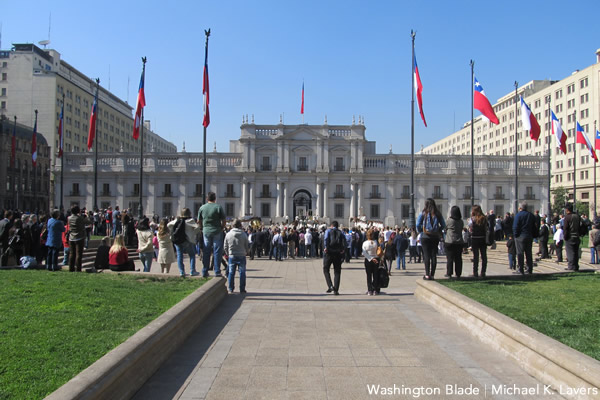 VALPARAÍSO, Chile — The Chilean House of Representatives on Tuesday approved a bill that would extend marriage rights to same-sex couples.
The measure passed by a 101-30 margin roughly three months after the Chilean Senate approved by a 28-14 vote margin.
Two lawmakers abstained. The bill now goes back to the Senate for a final vote.
"After three decades of struggle, there is only one Senate vote left to achieve the so far elusive legal equality that all couples and families deserve," said Javiera Zúñiga, a spokesperson for the Movement for Homosexual Integration and Liberation, a Chilean LGBTQ rights group, in a press release. "We celebrate this new step, now with the total conviction that we are at the final leg."
Tuesday's vote took place two days after the first round of Chile's presidential election.
José Antonio Kast, a far-right former congressman, will face off against Congressman Gabriel Boric, who previously led a student protest movement, in a Dec. 19 runoff. Outgoing President Sebastián Piñera in June announced he supports the marriage equality bill.
Esteban Guzmán contributed to this story.
Israeli deputy foreign minister denies country engages in 'pinkwashing'
Idan Roll, 37, lives in Tel Aviv with husband, two children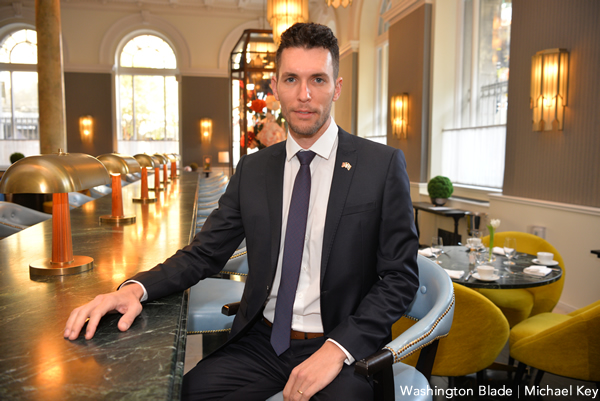 Israel's openly gay deputy foreign minister this week dismissed the idea that his country's government promotes LGBTQ rights in order to divert attention away from its policies towards the Palestinians.
"I would never, ever, put myself in a position that I would be the face of 'pinkwashing' as part of my role because I'm confident that there's no such thing in Israel," Idan Roll told the Washington Blade on Wednesday during an interview at the Riggs Hotel in downtown D.C.
Roll, 37, spoke with the Blade at the end of a 4-day trip to D.C., which took place less than six months after eight political parties formed a coalition government that ousted long-time Prime Minister Benjamin Netanyahu.
The Knesset earlier this month passed Israel's first national budget in three years. Roll, who is the youngest person in the Israeli government, noted to the Blade it earmarks $30 million (NIS 90 million) to LGBTQ organizations across the country.  
Health Minister Nitzan Horowitz in August announced Israel had lifted restrictions on blood donations from men who have sex with men. The Israeli Supreme Court in July ruled same-sex couples and single men must be allowed to have a child via surrogate.
A group of teenagers on Nov. 12 attacked a group of LGBTQ young people near Jerusalem's main bus station as they were traveling to a transgender rights conference in Tel Aviv. Neil Patrick Harris is among the actors who expressed their support for the Tel Aviv International LGBT Film Festival amid calls from BDS (boycott, economic divestment and sanctions) Movement supporters to boycott it over Israel's policies towards the Palestinians.
Roll acknowledged Israel does not extend civil marriage to same-sex couples, but he also pointed out to the Blade the country does not "have civil marriage for straight people either" because marriage in the Jewish state is a religious institution. Roll noted he is among the openly LGBTQ people in the Israeli government and they "live a full, fulfilling life."
"Are we perfect?" he asked rhetorically. "No. Are we one of the best places for gay people to live in the world? Definitely so, and I feel safe. And I feel welcomed. And I feel empowered and I feel like the best of it is ahead."
Roll told the Blade the idea of "pinkwashing" comes from the fact "that not everyone is as informed as others about life in Israel."
"That's something that's a task this new government and our ministry has, to better convey the Israeli story, and it's a wonderful and complex and diverse story," he said.
Roll also stressed he "would love for people to stop pinning one thing against the other."
"Us doing tremendous work for LGBTQ equality does not get eliminated or erased or cancelled just because we have to also manage a very intricate conflict, which is the Israeli-Palestinian conflict," he said. "Promoting progressive values is still something that is worth mentioning, and we are working towards bettering the lives of the Palestinians on a humanitarian and economic level. Things are not as black and white as they are portrayed."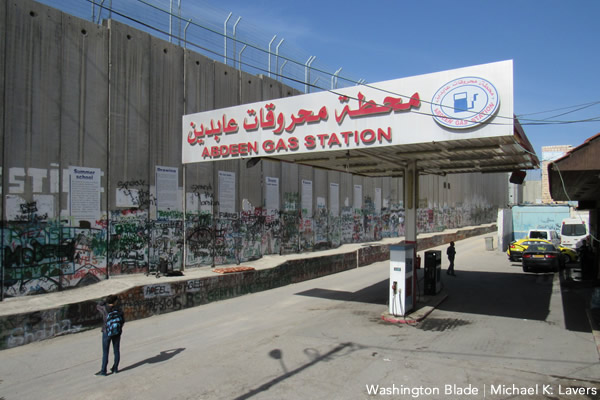 Roll lives in Tel Aviv with his husband, Harel Skaat, an Israeli pop star who he married in Utah in March, and their two children who they had via surrogates in the U.S.
The lawyer and former model who is a member of the centrist Yesh Atid party founded Pride Front, a group that encourages LGBTQ Israelis to become involved with the country's political process. Roll told the Blade he decided to run for office after he and his husband started their family.
"It was quite a struggle," he said, noting their second child was born via surrogate in Oklahoma. "And then it struck me that I have to practice what I preach. I have to not only just encourage others to take political action and move forward, but also I had to take the lead."
Roll in 2019 won a seat in the Israeli Knesset. Lapid appointed Roll as deputy foreign minister after the new government took office.
"I'm a very young member of this government … and I am an openly gay member of this government," said Roll. "I am very grateful of the life that I have been able to create for myself in Israel."
"That's a story that I feel like I can portray very authentically and I think that's a story that needs to be told outside of Israel," he added. "I'm also very proud to be part of the new face of a new government that is doing things differently and in a way I think now allows people of all different ethnicities and colors and agendas to find someone they can relate to in this government."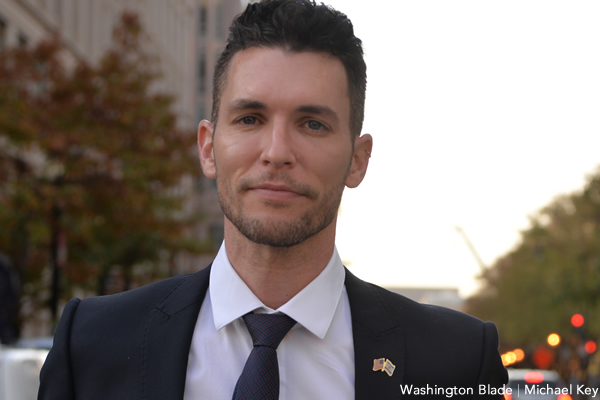 U.S. Sens. Tammy Baldwin (D-Wis.), Jon Ossoff (D-Ga.), Chris Van Hollen (D-Md.), Bill Hagerty (R-Tenn.), U.S. Rep. Ritchie Torres (D-N.Y.) and other members of the Congressional LGBTQ+ Equality Caucus are among those who met with Roll when he was in D.C. Roll also sat down with Deputy National Security Advisor Jon Finer, Deputy Secretary of State Wendy Sherman, American Israel Public Affairs Committee members and Jewish students at George Washington University.
I was privileged to meet members of the @LGBTEqCaucus to discuss how we can promote #LGBTQ rights & how much we have in common in the pursuit of #Equality. I met a group of friends who care deeply about 🇮🇱🇺🇸 relations & I look forward to working w/ them to strengthen our alliance pic.twitter.com/9ZTJAAT65G

— Idan roll – עידן רול (@idanroll) November 17, 2021
It was a great pleasure to meet with @RepRitchie today. He is a true friend of Israel and a mensch. The personal experiences he shared provided important insights to help strengthen the U.S. — Israel alliance and I am grateful for his unwavering support for Israel 🇺🇸🇮🇱 pic.twitter.com/EKJRvRhSs2

— Idan roll – עידן רול (@idanroll) November 17, 2021
I enjoyed meeting again with progressive leader @SenatorBaldwin during my visit to Washington. We continued our conversation from just last week in Jerusalem, discussing ways to further strengthen the US-Israel relationship on the basis of our countries' shared values. pic.twitter.com/K1KkAxZlPz

— Idan roll – עידן רול (@idanroll) November 18, 2021
"We have a new government, and the new government is really different in many great ways," Roll told the Blade. "It's the most diverse government in our history and in a way it is the most diverse reflection of a very diverse society."
He said one of the reasons he traveled to D.C. was "to reach out and to open a dialogue." Roll also stressed Israel "has always been a bipartisan issue.
"It's crucial to keep it that way and we intend to do that," he said. "The U.S. is the most cherished and important ally we have and you need to cultivate relationships."
Thailand Constitutional Court rules against marriage equality
Advocacy group challenged Section 1448 of country's Civil and Commercial Code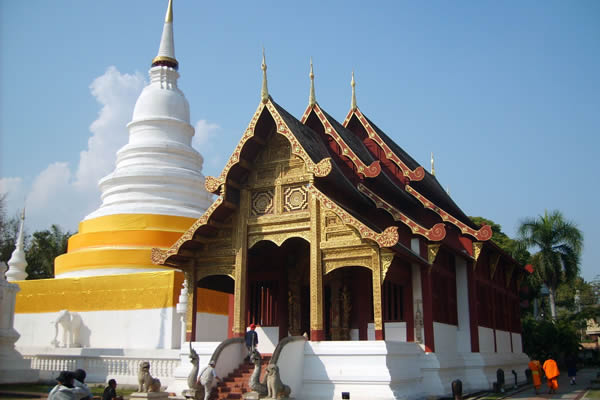 Thailand's Constitutional Court on Wednesday ruled a law that defines marriage as between a man and a woman in the country is constitutional.
The Foundation for Sexual Orientation and Gender Identity Rights and Justice, a Thai advocacy group, filed a lawsuit that challenged Section 1448 of the country's Civil and Commercial Code, which does not extend marriage rights to same-sex couples. Bloomberg said the Constitutional Court in its ruling said Thai lawmakers "should draft laws that guarantee the rights for gender diverse people."
Sunai Phasuk, a senior researcher for Human Rights Watch who focuses on Thailand, in a tweet said the decision makes the "government's pledges to promote gender equality meaningless."
Breaking! #Thai Constitutional Court upholds marriage law, which states that marriage can only be contracted between man and woman, making government's pledges to promote gender equality meaningless. @HRW #WhatsHappeningInThailand pic.twitter.com/cSmQOKE7Pd

— Sunai (@sunaibkk) November 17, 2021
Taiwan in 2019 became the first country in Asia to extend marriage rights to same-sex couples.
The Thai Cabinet in 2018 approved a bill that would allow same-sex couples to enter into civil unions. The government last year backed a second version of the measure.
Tunyawaj Kamolwongwat, a Thai MP who is a member of the Move Forward Party, has introduced a marriage equality bill.