Baltimore's newest LGBTQ bar opens in Mount Vernon
Central has no connection to previous spot Grand Central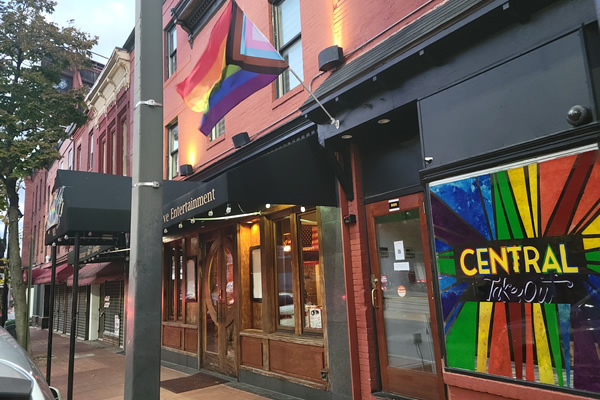 Baltimore's newest LGBTQ-friendly bar and nightclub has opened for business.
Central Bar Mount Vernon had a "soft opening" on Friday at 885-889 N. Howard St., part of the city's Mount Vernon neighborhood. The bar and club is open from 4 p.m. to 2 a.m. daily. Co-owners Marc Hayes and Ivan Yordanov are planning a grand opening for the day after Thanksgiving, Nov. 26, with DJ Trakklaya.
Central is several blocks from the corner where another gay club, Grand Central on Charles Street, was closed in 2020 by developers who bought the property and shut the bar so they could construct an eight-story office building in its place.
The Central on Howard Street has no connection to the development team that bought Grand Central, but Hayes is the former general manager of Grand Central.
Knowing that the developers didn't intend to keep Grand Central open, he explored several locations where he could open a new LGBTQ-friendly club and chose the Howard Street property. The city's liquor board granted a license in June.  
The new Central is actually three buildings that are connected on the inside. Over the years, the buildings have housed a series of clubs and lounges, most recently Bentley's jazz club.
The new club has a long main bar on the first floor that's reminiscent of the one torn out of Grand Central; a dining area, a full-service kitchen, second-floor lounge and dance areas and a second bar. The southernmost building is set up as a carryout. With 6,200 square feet in all, it's one of the largest gay clubs in Maryland. The owners say it's an LGBTQIA+ establishment that welcomes everyone.
Hayes said he and Yordanov have spent the time since June getting the building ready to pass inspections, stocking up on inventory, hiring a staff and otherwise preparing to open. He said he put a three-sentence notice on Facebook at 6 p.m. last Friday that Central would open at 8 p.m., and it filled up right away. Former Grand Central owners Don Davis and Troy Ross Caperton sent flowers. Central had another crowd on Saturday.
Hayes said he's glad to be open finally and see a lot of familiar faces. He and Yordanov are planning to have Sunday brunch, drag shows and other live entertainment.
"We're going to close for Thanksgiving to give everybody a chance to rest up and then get it on after that," Hayes said. "We look forward to seeing everyone."