'Very familiar': Mark Glaze's story brings into focus mental health for gay men
Experts see common story as LGBTQ people enter middle age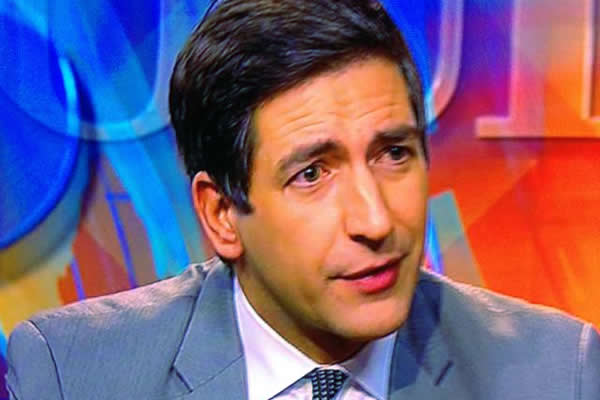 The death by suicide at age 51 of Mark Glaze, a gun reform advocate who was close to many in D.C.'s LGBTQ community, is striking a chord with observers who see his struggles with mental health and alcoholism as reflective of issues facing many gay men as they enter middle age.
Glaze's story resonates even though much of the attention on mental health issues in the LGBTQ community is devoted to LGBTQ youth going through the coming out process and transgender people who face disproportionate violence and discrimination within the LGBTQ community in addition to a growing focus on LGBTQ seniors entering later stages of life.
Randy Pumphrey, senior director of behavioral health for the D.C.-based Whitman-Walker Health, said Glaze's story was "very familiar" as a tale of mental health issues facing gay men in the middle stage of life.
"You're talking about a gay-identified man who is in his 50s, somebody who has struggled with alcohol misuse — or maybe abuse or dependence— and also depression," Pumphrey said. "I think that there has always been a higher incidence of suicide for men in general in their middle age 50 and above, but this increases when you're talking about gay men, and also if you're talking about gay men who suffer with mental health issues, or substance use disorder issues."
Several sources close to Glaze said his death did not come as a surprise. His family has been open about his death by suicide last month while he was in jail after allegedly fleeing the scene of a car accident in Pennsylvania and a long history of depression and alcoholism.
Pumphrey said Glaze's situation coping with mental health issues as well as the consequences for his role in the accident, were reflective of someone who might "begin to perceive that this is an issue that they can't get away from, or the consequences they can't get away from exposure and that can lead somebody to a fatal outcome."
"My experience is that there have been gay men that I have worked with over the years — particularly in their 50s and early 60s — it's taken them a long time to recognize the severity of the problem, whether it's their depression or their substance abuse, and then they find themselves in a very precarious situation because of shame, and so they may not necessarily seek help even though they need help."
A 2017 study in the American Journal of Men's Health found the prevalence of depression among gay men is three times higher than the general adult population, which means they are a subgroup at high risk for suicide.
The study found "scant research exists about gay men's health beyond sexual health issues," most often with HIV, which means issues related to depression and suicidality "are poorly understood."
"Gay men's health has often been defined by sexual practices, and poorly understood are the intersections of gay men's physical and mental health with social determinants of health including ethnicity, locale, education level and socioeconomic status," the study says.
The study acknowledged being male itself is one factor incorporated in addressing mental health issues in this subgroup because "regardless of sexual orientation, men can be reluctant to seek help for mental health problems." Another study quoted in the report found 23 percent, less than one quarter of gay men, who attempted suicide sought mental health or medical treatment.
In addition to mental health issues facing gay men in Glaze's age group, others saw his situation as a common story in the culture of Washington, which is notorious for celebrating and prioritizing success with little tolerance for personal setbacks.
In the case of Glaze, who had sparred on Fox News with Tucker Carlson as executive director of Everytown for Gun Safety, the threat of exposure and threat to his career may have seemed overwhelmingly daunting.
Steven Fisher, who knew Glaze since the 1990s and worked with him at the D.C.-based Raben Group, said one factor that contributed to Glaze's condition was "he could only see upward in terms of his career trajectory."
"We saw that in him and it had me very concerned because I felt like he might end up in a place that wasn't good once he left Everytown, and that's tragically and sadly what happened," Fisher said. "I think he just had trouble adjusting to what is usually a roller coaster ride, I think, in people's careers, especially in the D.C. world."
Along with Glaze, Fisher has worked on gun issues for Everytown, which has been a client of his since 2015 after he worked for them in 2012 after the Newtown shooting.
Compounding the challenges that Glaze faced is a culture among many gay men focused on sexuality, which prioritizes youth and appearance and presents problems as those qualities start fading when men enter middle age.
Fisher said another factor in Glaze's condition was social media, pointing out public perception about his identity was important to him.
"If you look at his social media — I think this is instructive to the rest of us — a lot of the comments are about how Mark was so good looking and he was charming, and he was so smart and so funny," Fisher said. "That's all true, and that's why he was very appealing to many people, but those qualities don't really tell you everything about a person. In fact, one could argue they're superficial in a way, and people have to remember people are more complicated than what you see on social media."
One issue for gay men facing mental health issues as they enter middle age is they don't have the same resources as those available to LGBTQ youth, who have been more of a focus in terms of mental health issues in the LGBTQ community.
Among the leading organizations for LGBTQ youth is the Trevor Project, which has resources and a hotline for LGBTQ youth facing mental health crises.
Kevin Wong, vice president of communications for the Trevor Project, said his organization would be receptive to an older LGBTQ person who calls the hotline, but ultimately would refer that person elsewhere.
"If an LGBTQ person above the age of 25 reaches out to The Trevor Project's crisis services for support and expresses suicidal thoughts, our counselors will listen, actively and with empathy, and work with them to de-escalate and form a safety plan, like any other contact," Wong said. "However, our organization has remained youth-centric since its founding and our volunteer crisis counselors are specifically trained with younger LGBTQ people in mind."
Much attention is focused on the coming out process for LGBTQ people, a time that can upend close relationships — as well as reaffirm them — and a process more commonly associated with youth.
Ilan Meyer, senior scholar of public policy at the Williams Institute at the University of California, Los Angeles, said data is scant about suicide rates among LGBTQ people, but information on suicide attempts shows they tend to be at a heightened rate for LGBTQ people as they go through the coming out process.
"What we do know is that there is a connection with the coming out period at whatever age coming out happens," Meyer said. "And so, we see a proximity to coming out whatever age that happened, we see the suicide attempts proceeding and after that."
Suicide attempts, Meyer said, are much higher for LGBTQ people than the population at large. The self-reported rate of suicide attempts in the U.S. population as a whole, Meyer said, is 2.4 percent, but that figure changes to 20 to 30 percent among LGBTQ youth, which about to 10 to 15 times greater.
Black and Latino people, Meyer said, have been less likely to make suicide attempts in their lifetimes, although he added that may be changing in recent years.
With the primary focus on mental health issues elsewhere in the LGBTQ community, Glaze's death raises questions about whether sufficient resources are available to people in his demographic, or whether individuals are willing to seek out care options that are available.
Meyer said whether the resources for suicidal ideologies among LGBTQ people are sufficient and what more could be done "is the the million-dollar question."
"It's definitely not determined by just mental health," Meyer said. "So many people have depression, but they don't attempt suicide. And so, then the difficult thing is to find the right moment to intervene and what that intervention should be."
Meyer said much of the focus on mental health is on a person's last moments before making a suicide attempt, such as making suicide hotlines readily available, but some of the stressors he sees "are more chronic, ongoing things related to homophobia and the kind of experience that LGBT people have as they come to terms to realize their sexual identity."
Pumphrey said another factor in mental health issues not to be underestimated for almost two years now is "dealing with the COVID and loneliness epidemic," which appears to have no immediate end in sight with the emergence of the Omnicron variant.
"There was always this piece of sometimes the experience of being in your 50s and early 60s…we talk about the invisibility factor," Pumphrey said. "But when there's just this sense of being disconnected from community, especially in the early days of the pandemic, and kind of being locked down, I think that just raised the risk."
Jim Obergefell announces bid for seat in Ohio state legislature
Marriage plaintiff moves on to new endeavor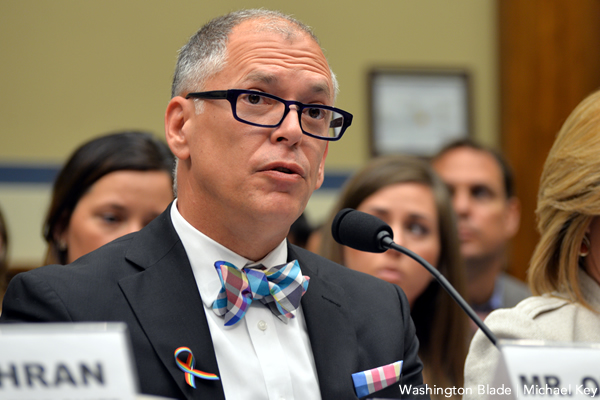 Jim Obergefell, the lead plaintiff in the litigation that ensured same-sex couples have the right to marry nationwide, announced on Tuesday he'd pursue a new endeavor and run for a seat in the state legislature in his home state of Ohio.
"You deserve a representative who does the right thing, no matter what. You deserve a representative who fights to make things better for everyone," Obergefell said. "I've been part of a national civil rights case that made life better for millions of Americans. Simply put, I fight for what's right and just."
Obergefell, who claims residency in Sandusky, Ohio, is seeking a seat to represent 89th Ohio District, which comprises Erie and Ottawa Counties. A key portion of his announcement was devoted to vowing to protect the Great Lakes adjacent to Ohio.
"We need to invest in our Great Lake, protect our Great Lake, and make the nation envious that Ohio has smartly invested in one of the greatest freshwater assets in the world," Obergefell said.
Obergefell was the named plaintiff in the consolidated litigation of plaintiffs seeking marriage rights that led the U.S. Supreme Court to rule in 2015 for same-sex marriage nationwide. Obergefell was widower to John Arthur, who died of amyotrophic lateral sclerosis, and was seeking the right to be recognized as his spouse on his death certificate. The ruling in the consolidated cases ensured same-sex couples would enjoy the full benefits and responsibilities of marriage.
"We should all be able to participate fully in society and the economy, living in strong communities with great public schools, access to quality healthcare, and with well-paying jobs that allow us to stay in the community we love, with the family we care about," Obergefell said in a statement on his candidacy.
FDA-funded blood donation study recruiting gay, bi men
D.C.'s Whitman-Walker, L.A. LGBT Center working on study to ease restrictions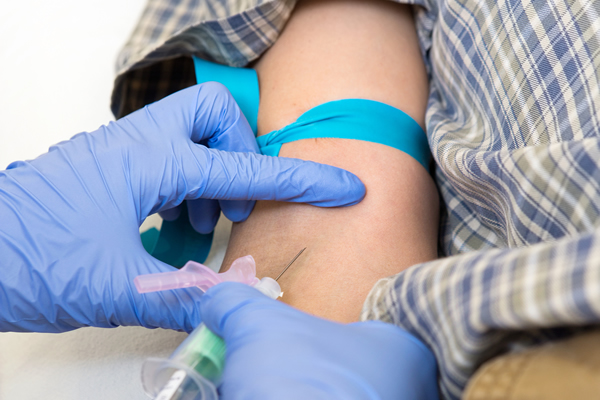 D.C.'s Whitman-Walker Institute and the Los Angeles LGBT Center are among LGBTQ supportive organizations in eight U.S. cities working with the nation's three largest blood donation centers on a study to find a way to significantly ease blood donation eligibility for men who have sex with men or MSM.
The study, which is funded by the U.S. Food and Drug Administration, calls for recruiting a total of 2,000 gay and bisexual men in eight U.S. cities selected for the study to test the reliability of a detailed donor history questionnaire aimed at assessing the individual risk of a gay or bisexual man transmitting HIV if they donate blood.
A statement released by the study organizers says the questionnaire, which could be given to a gay or bisexual person showing up at a blood donation site, could be a replacement for the FDA's current policy of banning men who have had sex with another man within the previous three months from donating blood.
In the early years of the AIDS epidemic in the 1980s, the FDA put in place a permanent ban on blood donations by men who have sex with men. In 2015, with advanced HIV testing and screening techniques readily available, the FDA lifted its permanent ban on MSM blood donations and replaced it with a 12-month restriction for sexual activity between MSM.
The FDA further reduced the time of sexual abstinence for MSM to three months in 2020.
LGBTQ rights organizations and others advocating for a change in the current FDA restriction point out that at a time when the nation is facing a severe shortage of blood donations due to the COVID pandemic, the three-month donation deferral requirement for MSM is preventing a large number of blood donations from men whose risk of HIV infection is low to nonexistent.
Under the FDA-funded and initiated study, the American Red Cross, Vitalant, and OneBlood — the nation's three largest blood donation centers — have been conducting the questionnaire testing since the study was launched in March 2021.
"To gather the necessary data, the blood centers will partner with LGBTQ+ Centers in Washington, D.C., San Francisco, Orlando, New Orleans/Baton Rouge, Miami, Memphis, Los Angeles, and Atlanta," the study organizers say in a statement on a website launched to help recruit volunteers for the study.
"The study will enroll a total of 2,000 gay and bisexual men (250 – 300 from each area) who meet the study eligibility criteria," the statement says.
Among the criteria for being eligible, the statement says, is the person must be between 18 and 39 years old, have expressed an interest in donating blood, must have had sex with at least one other man in the three months before joining the study, and must agree to an HIV test. A negative test result is also required for acceptance into the study.
The study is officially named ADVANCE, which stands for Assessing Donor Variability And New Concepts in Eligibility.
"The ADVANCE study is a first step in providing data that will help the FDA determine if a donor history questionnaire based on individual risk would be as effective as time-based deferral, in reducing the risk of HIV in the blood supply," the study organizers statement says.
"If the scientific evidence supports the use of the different questions, it could mean men who have sex with men who present to donate would be assessed based upon their own individual risk for HIV infection and not according to when their last sexual contact with another man occurred," the statement continues. "The ADVANCE study is groundbreaking because it's the first time a study is being conducted that could result in individual risk assessment for men who have sex with men to donate blood," the statement says.
The Whitman-Walker Institute, which is among the community-based organizations involved in helping organize and conduct the study, is an arm of Whitman-Walker Health, the LGBTQ supportive D.C. health center.
Christopher Cannon, director of Research Operations for Whitman-Walker Institute, said that since the D.C.-based part of the study was launched early last year prior to the official announcement of the study on March 20, D.C. has surpassed the original city goal of recruiting 250 participants for the study.
"We are currently at 276 as of last Friday's report," Cannon told the Blade in a Jan. 13 interview. "And the current goal is now 300," he said. "So, we're hoping to push this over that goal line in the coming days and weeks.
Cannon said that like the community organizations involved in the study in other cities, Whitman-Walker Institute's role has been focused on recruiting gay and bisexual men to participate in the study and to send them to the American Red Cross headquarters building at 430 17th St., N.W. near the White House. That site, which serves as a blood donation center, is also serving as the site where study participants are screened, interviewed, and presented with a detailed questionnaire.
"We promote the study within Whitman-Walker," Cannon said. "We promote it to our networks. We did social media promotions across the city.'
Although Whitman-Walker doesn't have the final draft of the questionnaire being presented to study participants, Cannon said he has seen "bits and pieces" of it.  
"They ask very direct questions about the person's sex life, sexual partners, sex acts, numbers of partners," Cannon said. "There are questions about condom use, PrEP use, drug use. How recently have you had sex? Lots of related questions," he said.
"It's really about trying to figure out effectively which are the best questions," according to Cannon. "The hope is by analyzing the questions and identifying maybe the best 10 to 12 questions that can be universally used…to get the best answers that identify the individuals that may have the highest risk," he said. Doing that, he points, out can help determine which men who have sex with men should be eligible to safely donate blood.
A statement released by Whitman-Walker last March calls the study a "monumental research effort" that has the potential to lift the stigma imposed on gay and bisexual men whose ability to donate blood is currently based on their sexual orientation.
"The ADVANCE study is designed to understand if, by asking carefully crafted and research-informed research questions, blood collectors can screen potential blood donors for their individual HIV risk factors rather than applying a ban against sexually active gay and bisexual men," the statement says.
"The goal is to move away from overly broad questions that exclude potential donors and spread stigmatizing messages about MSM and their HIV risks," it says.
Cannon said that as of last week, study organizers had recruited a total of 879 study participants nationwide out of the goal of 2,000 participants needed to complete the study. He said issues related to the COVID pandemic created delays in the recruitment efforts, but study organizers were hopeful the study could be completed by this summer.
Information about participating in the study or learning more about it can be obtained at advancestudy.org.
Veterans can now identify as transgender, nonbinary on their VA medical records
About 80 percent of trans veterans have encountered a hurtful or rejecting experience in the military because of their gender identity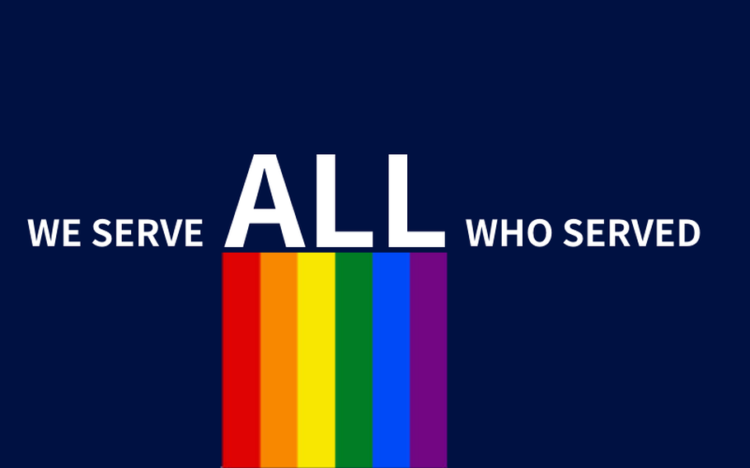 Veterans Affairs Secretary Denis McDonough announced Wednesday that his department added the options of transgender male, transgender female, nonbinary and other, when veterans select their gender, in medical records and healthcare documentation.
"All veterans, all people, have a basic right to be identified as they define themselves," VA Secretary Denis McDonough said in a statement. "This is essential for their general well-being and overall health. Knowing the gender identity of transgender and gender-diverse veterans helps us better serve them."
The statement also noted that the change allows health-care providers to better understand and meet the medical needs of their patients. The information also could help providers identify any stigma or discrimination that a veteran has faced that might be affecting their health.
McDonough speaking at a Pride Month event last June at the Orlando VA Healthcare System, emphasized his support for Trans and LGBQ+ vets.
McDonough said that he pledged to overcome a "dark history" of discrimination and take steps to expand access to care for transgender veterans.
With this commitment McDonough said he seeks to allow "transgender vets to go through the full gender confirmation process with VA by their side," McDonough said. "We're making these changes not only because they are the right thing to do, but because they can save lives," he added.
In a survey of transgender veterans and transgender active-duty service members, transgender veterans reported several mental health diagnoses, including depression (65%), anxiety (41%), PTSD (31%), and substance abuse (16%). In a study examining VHA patient records from 2000 to 2011 (before the 2011 VHA directive), the rate of suicide-related events among veterans with a gender identity disorder (GID) diagnoses was found to be 20 times higher than that of the general VHA patient population.
McDonough acknowledged the VA research pointing out that in addition to psychological distress, trans veterans also may experience prejudice and stigma. About 80 percent of trans veterans have encountered a hurtful or rejecting experience in the military because of their gender identity.
"LGBTQ+ veterans experience mental illness and suicidal thoughts at far higher rates than those outside their community," McDonough said. "But they are significantly less likely to seek routine care, largely because they fear discrimination.
"At VA, we're doing everything in our power to show veterans of all sexual orientations and gender identities that they can talk openly, honestly and comfortably with their health care providers about any issues they may be experiencing," he added.
All VA facilities have had a local LGBTQ Veteran Care Coordinator responsible for helping those veterans connect to available services since 2016.
"We're making these changes not only because they are the right thing to do but because they can save lives," McDonough said. He added that the VA would also change the name of the Veterans Health Administration's LGBT health program to the LGBTQ+ Health Program to reflect greater inclusiveness.
Much of the push for better access to healthcare and for recognition of the trans community is a result of the polices of President Joe Biden, who reversed the ban on Trans military enacted under former President Trump, expanding protections for transgender students and revived anti-bias safeguards in health care for transgender Americans.