WATCH: Michigan State Sen. Mallory McMorrow calls out GOP attacks on LGBTQ+ people
"Christianity has been weaponized by Republicans to make people hate gay and trans kids," McMorrow told the Blade.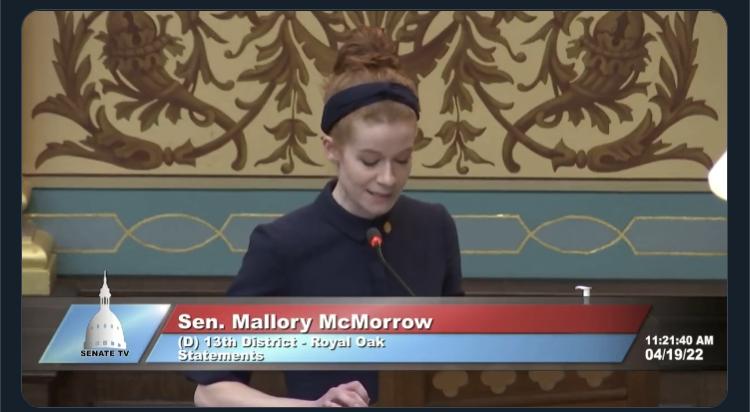 Michigan State Sen. Mallory McMorrow, accused by a Republican colleague of wanting to "groom and sexualize kindergarteners" because of her advocacy for LGBTQ youth in schools, denounced the allegations in a speech on the Senate floor Tuesday that has since gone viral.
In an exclusive interview Wednesday with The Los Angeles Blade, McMorrow said it is everyone's responsibility to stand up to these types of attacks, which have been on the rise among Republican lawmakers who have sought to scapegoat vulnerable groups and weaponize hatred for their own political ends.
Senator Lana Theis accused me by name of grooming and sexualizing children in an attempt to marginalize me for standing up against her marginalizing the LGBTQ community…in a fundraising email, for herself.

Hate wins when people like me stand by and let it happen. I won't. pic.twitter.com/jL5GU42bTv

— Mallory McMorrow (@MalloryMcMorrow) April 19, 2022
These tactics, often used to compensate for the GOP's lack of any real policy solutions to offer voters, have been effective in the past – and there is therefore a moral as well as a political obligation to address them "head-on," McMorrow said.
"We've seen this playbook time and time again," she said, pointing to former president Donald Trump's incitement of hatred against Mexican immigrants in his announcement of his candidacy in 2015. And "when I spoke to voters [in Michigan] about their number one concerns, so many people talked about immigration and caravans coming from the southern border" even though the state borders Canada, McMorrow said.
Confronted with allegations by Republicans that they are pedophiles, or that their support of LGBTQ youth is an endorsement of pedophilia, Democrats may be reluctant to engage either because the claims are so outrageous or because they detract from real, substantive policy discussions, McMorrow said. But Democrats must address these attacks, she said, to denounce them and to make clear that they are meant to deflect the conversation away from issues that really impact people's lives.
Michigan's Republican Senator Lana Theis leveled the pedophilia charge against McMorrow in a fundraising email that also – based on her support for curricula that addresses America's record on race – accused McMorrow of wanting to teach schoolchildren that they bore responsibility for slavery.
In her speech before the Michigan Senate, which was viewed more than 8 million times on Twitter and shared by public figures including Hillary Clinton, McMorrow discussed her position as "a straight, white, Christian, married, suburban mom" in denouncing her colleague's unfounded, bad-faith allegations.
"I know that hate will only win if people like me stand by and let it happen," she said. "And I want to be very clear right now: Call me whatever you want. I know who I am. I know what faith and service mean, and what it calls for in this moment. We will not let hate win."
She told the Blade that she hopes other women in her position will use their privilege to speak out against hate and reclaim the mantle of faith that has been coopted by those who seek to marginalize others. "Christianity has been weaponized by Republicans to make people hate gay and trans kids," McMorrow said. "They're targeting kids, and that is so beyond the pale."
McMorrow said she will leave it up to her Senate colleagues to decide if formal action should be taken with respect to Theis – who, she noted, faces a Republican primary challenge and may have resorted to extreme rhetoric for this reason. McMorrow said that while some former GOP officials and staffers have pledged their support for her, none of her colleagues on the other side of the aisle have addressed the issue, not even privately.
Theis, for her part, addressed the matter in a tweet in which she accused McMorrow of capitalizing on the controversy to fundraise.
🧵 Sen. McMorrow is not naïve about politics and fundraising. I know that because it took her mere minutes to turn her Senate floor speech into a plea for campaign donations. 1/t

— Lana Theis (@LanaTheis) April 20, 2022
Despite the certainty of a veto from Michigan's Democratic Governor Gretchen Whitmer, the state's overwhelmingly Republican legislature has introduced several bills targeting trans youth, including measures to ban their participation in sports, McMorrow said.
Republican legislatures across the country are considering or have passed anti-LGBTQ legislation aimed at young people in public schools, with controversies erupting in recent months over Florida's "Don't Say Gay" bill, which prohibits any discussion of sexual orientation or gender identity in certain grade levels, potentially criminalizing a teacher's mention of her same-sex partner. Texas's pursuit of "child abuse" charges against parents and providers who allow trans youth to access gender-affirming health care also made headlines earlier this year.
Just as McMorrow experienced, proponents of these bills, and Republican lawmakers more broadly, have sometimes resorted to the shameful tactic of slandering their opponents – Democrats, LGBTQ people and their allies – as pedophiles or enablers of child abuse.
Governor Ron DeSantis's spokesperson tweeted in March that opponents of the state's "Don't Say Gay" bill are "groomers" or people who "don't denounce the grooming of 4-8 year old children."
The charge echoes Anita Bryant's "Save the Children" campaign in the 1970s, through which she argued against protections for gay men and lesbians on the grounds that they sought to recruit and abuse children. More recent roots can be found in the rise of the right-wing QAnon conspiracy theory, which inspired a gunman to fire shots in a DC pizzeria in 2016, convinced that Democrats were abusing kids in its basement. Last month, during her confirmation hearings, Republican Senators accused Biden's nominee for the Supreme Court, Judge Ketanji Brown Jackson, of being soft on child abuse – despite her objectively mainstream sentencing record.
Following her viral speech on the Michigan Senate floor, state Sen. Mallory McMorrow says our obligation to speak up against hate is moral as well as political
There is a very real risk that unfounded allegations and conspiracy theories concerning pedophilia and child abuse can inspire real violence, McMorrow said, adding that she has received concerned messages from friends who feared she might be targeted over the attacks in Theis's fundraising email. "It's a very real threat," she said.
While it was painful to read that email and unsettling to think about what its allegations could inspire, McMorrow emphasized that the pain with which marginalized people, her LGBTQ friends and colleagues – and LGBTQ youth, in particular – must live, every day, is far greater.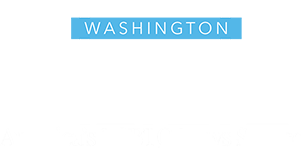 Mich. governor signs statewide LGBTQ rights law
'Bigotry is bad for business'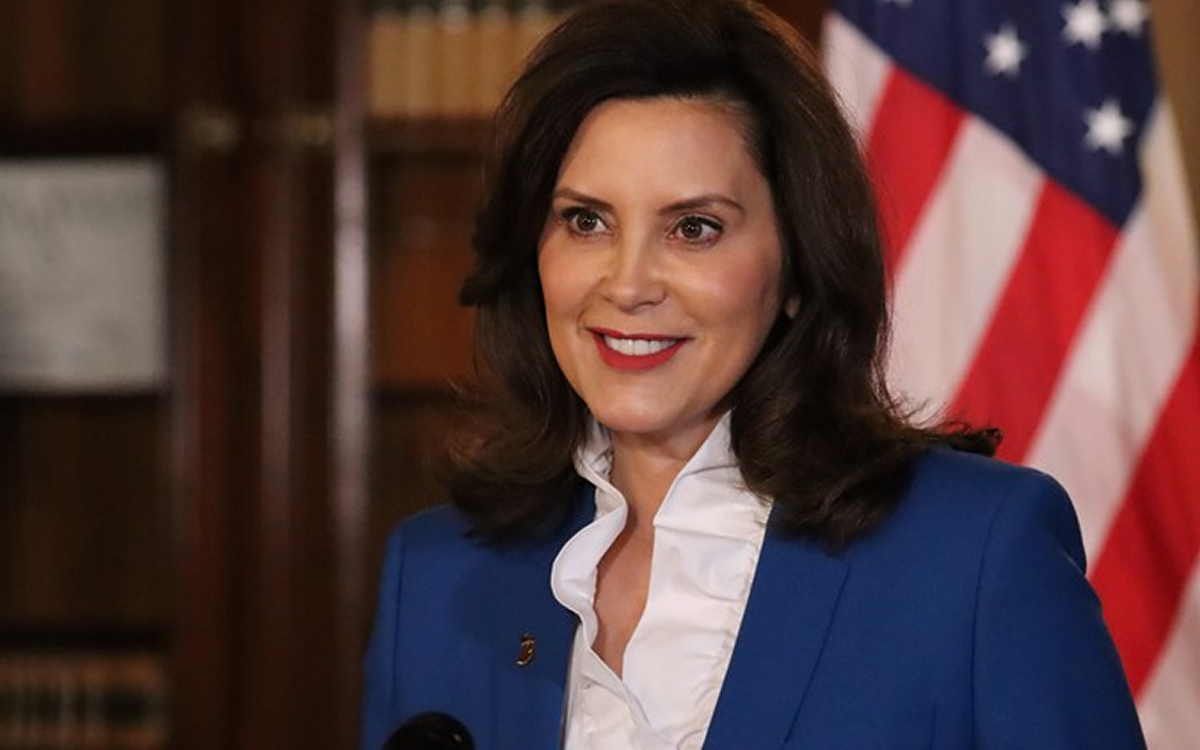 Michigan Gov. Gretchen Whitmer signed the Elliott-Larsen Civil Rights Act on Thursday, which expands basic protections for the LGBTQ community.
The measure, Senate Bill 4, was sponsored by openly gay state Sen. Jeremy Moss who less than a year previously had been shot down by the Republican majority as he attempted to have a non-binding resolution to recognize "Pride Month" adopted by the Senate.
In her signing remarks, Whitmer noted: "In the words of Detroit native Lizzo, it's about damn time! Bigotry is bad for business. Come to Michigan, you will be respected and protected under the law."
Sen @JeremyAllenMoss, the state's highest-ranking openly gay lawmaker, opening the bill signing event. He shepherded the legislation through passage.

Nearly this time last year, Moss wasn't able to get the support of a Leg leader to simply pass a resolution honoring Pride Month.

— Rachel Louise Just (@RLJnews) March 16, 2023
"As Equality Michigan celebrates this historic step forward, we are standing on the shoulders of giants. Generations of activists have inspired us to fight for justice and equality for all LGBTQ+ Michiganders, and our community has been working to update our state's civil rights law to explicitly include sexual orientation, gender identity and expression in every single legislative session since Elliott-Larsen was first adopted," Equality Michigan Executive Director Erin Knott said in a statement. "We applaud Gov. Whitmer for signing this bill into law, and are humbled by this pro-equality legislature that made amending ELCRA a top priority. Senator Jeremy Moss and Rep. Jason Hoskins introduced this legislation and championed it all the way through to the finish line."
"The victory we have today in Michigan is a great one, but it's also one we don't take lightly at this moment. Let it not be lost on us that this privilege, however hard-earned, is a unique one that exists amid a nationwide political assault on LGBTQ+ people, especially trans and non-binary youth, and their families," added Knott. "There are over 400 anti-trans bills moving across state legislatures in the US, twice the amount introduced last year."
"This bill being signed into law is a beacon of hope and sends a powerful message of acceptance to LGBTQ people across the nation. At the Trevor Project, we work every day to protect the lives of LGBTQ youth, and days like today prove that in generations to come, both their legal and lived equality will no longer be fodder for political debate," said Troy Stevenson, director of state advocacy campaigns for the Trevor Project. "Our research shows that having at least one accepting adult can reduce the risk of a suicide attempt among LGBTQ young people by 40 percent. We applaud the elected leaders, advocates and Gov. Whitmer for making this a reality, and affirming the dignity and rights of LGBTQ Michiganders by codifying these protections into law."
Mich. man arrested for threats against LGBTQ community, Biden
Federal authorities arrested Randall Robert Berka on March 9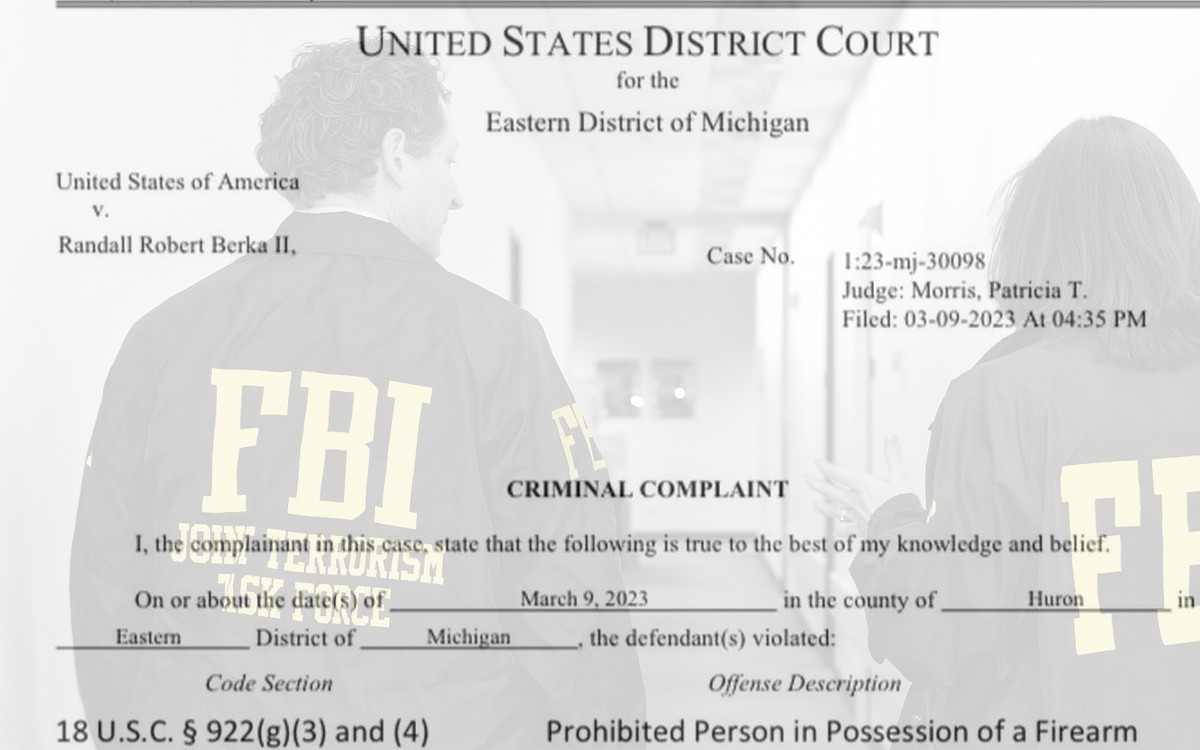 A Michigan man was arrested and charged in a criminal complaint with illegally possessing firearms after having been committed to a mental institution and while being an unlawful user of a controlled substance.
The man came to the attention of the FBI after he made numerous threats over YouTube to kill FBI agents, members of the LGBTQ community, President Joe Biden and Michigan Gov. Gretchen Whitmer.
The arrest was announced U.S. Attorney Dawn N. Ison. who joined in the announcement by James A. Tarasca, special agent in charge of the FBI Detroit Field Office.
According to the criminal complaint, Randall Robert Berka II, 30, of Sebewaing, Mich., was illegally in possession of four firearms, three long guns and a pistol, after he had been committed to a mental institution and while he was a daily user of marijuana. Berka also was in possession of ammunition and body armor.
The firearms were previously purchased for Berka by a relative who now feared that his mental health treatment was not working and was scared of Berka. The relative cooperated with FBI agents in securing the complaint.
The Detroit Free-Press reported:
"The case involves a 30-year-old Sebawaing resident named Randall Robert Berka II, whose mother bought him three long guns and a pistol over the last year despite his history of mental illness. He was involuntarily committed for mental health treatment in 2012 and declared legally incapacitated by the state of Michigan, which prohibited him from owning a gun, according to the criminal complaint.
The mother, however, eventually feared her son's mental health treatment was not working and grew scared of him — so much so that she cooperated with the FBI in securing criminal charges against her son this week, authorities said."
The complaint further provides that Berka came to the attention of the FBI after Google reported to the agency that Berka was posting various threats on YouTube. Among other statements, Berka posted the following: "I'm going to kill these Democrats. Biden deserves to die," "I'm gonna kill LGBT freaks," "You could be like me and get guns and threaten to kill politicians. I'm more than willing to kill Whitmer and I do live in Michigan," "I'll assault her … with my bullets" and "I buy guns though and plot to kill people."
The FBI arrested Berka at his residence March 9. He will make his initial appearance in U.S. District Court today in Bay City, Mich. The U.S. Attorney's Office will be asking the court to hold Berka in pretrial detention because of his danger to the community and the risk that he will flee.         
"We will take immediate action when we learn of individuals illegally possessing firearms and threatening to harm or kill others," said Ison. "I applaud Google's vigilance in this matter, and we hope members of the community will, likewise, pay attention and report such conduct to law enforcement."
"This defendant's actions were very alarming," said Tarasca. "When free speech crosses a line and becomes a threat of violence against another — aggravated by the illegal possession of firearms — the full investigative resources of the FBI will be brought to bear. As always, we encourage the public to be vigilant and report concerning behavior to the FBI and local law enforcement."
Berka faces up to 15 years in prison if convicted. 
The case is being investigated by FBI special agents and is being prosecuted by Assistant U.S. Attorney Anthony Vance.
Mich. House passes landmark LGBTQ rights bill
Democratic Gov. Gretchen Whitmer expected to sign measure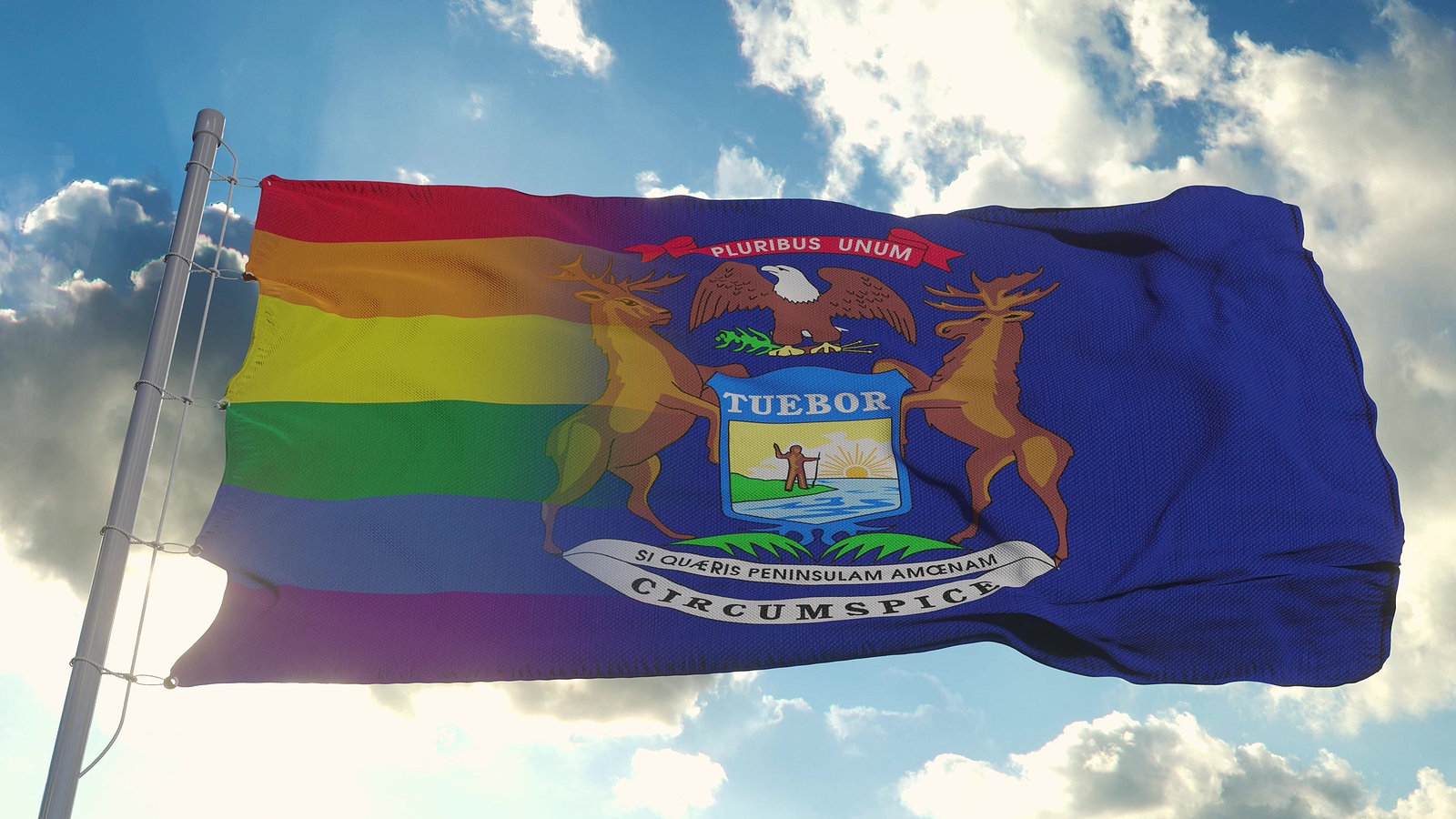 The Elliott Larsen Civil Rights Act, Senate Bill 4, has passed in both the Michigan House Judiciary Committee and in the state's House of Representatives on Wednesday. This bill would expand statewide nondiscrimination protections to include sexual orientation and gender identity.
The bill now heads to the Gov. Gretchen Whitmer's desk, where it is expected to be signed into law, making it the first time in more than three years since any U.S. state has passed similar nondiscrimination protections.
Once signed, Michigan will become the 22nd state to codify nondiscrimination protections for LGBTQ people.
In an email, Equality Michigan, the state's largest LGBTQ advocacy group, lauded the action by lawmakers noting:
"For our community, today is a day of triumph and a day of relief. The Michigan Legislature is sending a loud and clear bipartisan message: LGBTQ+ people are entitled to the same dignity, rights and protections as all Michiganders.
Equality Michigan and its predecessors have fought for decades to bring the LGBTQ+ community under the protection of the Elliott-Larsen Civil Rights Act. Generations of courageous community leaders and grassroots organizing created the path forward, and we are proud that today, history has been made."
"It is with great enthusiasm that I celebrate Michigan's vital step toward equality and justice for all," said Buzz Thomas, chair of Equality Michigan and former Senate Democratic Floor Leader.
"Today's passing of the amendment to the Elliott-Larsen Civil Rights Act will help ensure future generations of LGBTQ+ youth and their families, that they will have a fair opportunity to earn a living, feel safe in their communities, and have access to the necessities one needs to build a better life. This is something everyone in our state deserves."
"Today is a big step for equality and sends a powerful message to LGBTQ+ Michiganders that discrimination has no home in our state. Michigan now joins alongside 21 other states who have sent this same message to their own LGBTQ communities and codified these protections into law," said Equality Michigan Executive Director Erin Knott. "Today's victory would not have been possible without years of hard work from generations of courageous leaders. We are witnessing a sea change toward equality, bringing us closer to a future where everyone is treated equally under the law, no matter our gender, the color of our skin, how we worship, or who we love."
"LGBTQ people — like all people — deserve to be treated with dignity and respect and to live life free from discrimination. By codifying nondiscrimination protections into state law, Michigan brings us one step closer to creating a society where LGBTQ young people never have to fear being turned away from a business or told they cannot participate in an activity or enter a public space just because of who they are or who they love," said Trevor Project Advocacy Campaign Manager Gwen Stembridge. "We thank and honor the years of hard work of our fellow advocates, community leaders, and partners like Equality Michigan, who led the way to where we are today. Amid the ongoing legislative attacks on LGBTQ communities, especially trans youth, this proactive law is a beacon of hope and optimism."