Democratic lawmakers reintroduce 'lavender scare' firings review bill
Thousands of LGBTQ federal government employees lost jobs during anti-communist purge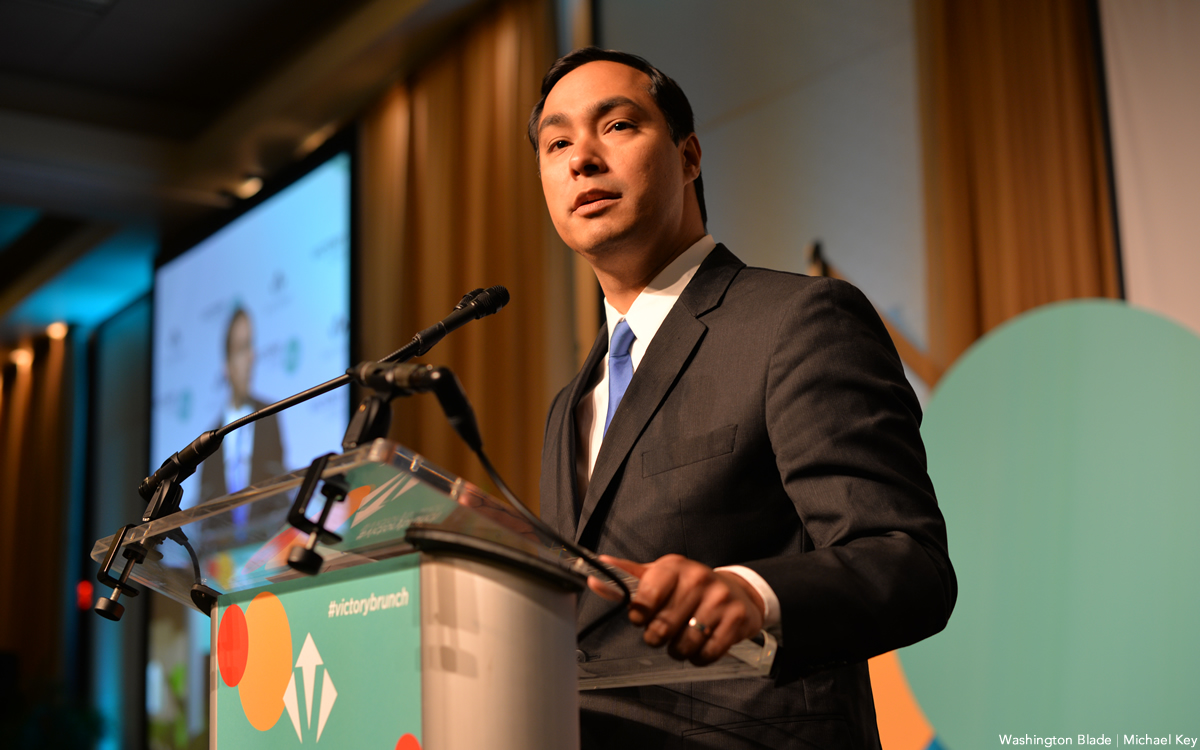 Three Democratic lawmakers on Thursday introduced a bill that seeks to rectify the harm caused to LGBTQ federal government employees who were fired during the so-called "lavender scare."
"Today, as the United States confronts renewed threats to LGBTQI+ rights at home and abroad, we need to remember the far-reaching consequences of institutionalized homophobia," said U.S. Rep. Joaquín Castro (D-Texas) in the statement that announced he and U.S. Reps. David Cicilline (D-R.I.) and Dina Titus (D-Nev.) introduced the Lavender Offense Victim Exoneration (LOVE) Act in the U.S. House of Representatives. "The so-called 'lavender scare' handed power to blackmailers and homophobes, stripped thousands of hard-working Americans of their jobs, and weakened our national security." 
The 'lavender scare', as it was called, saw the firing of thousands of gay employees throughout the federal government — particularly the State Department — from the 1940s to the 1960s as anti-communist sentiment raised suspicion toward certain minority groups in multiple spheres of American society.
The LOVE Act has been introduced before previous Congresses, including in both 2019 and 2020. While the bill in 2020 was also authored by Castro and Cicilline, U.S. Sen. Bob Menendez (D-N.J.) introduced the 2019 measure.
"It is long past time for the U.S. government to recognize the stories of the LGBTQI members of the State Department who were treated unfairly during the 'lavender scare,' and to offer them and their families a measure of justice," Menendez said in a statement after introducing the 2019 bill.
In addressing what its sponsors identified as harm done to the LGBTQ community as a result of the 'lavender scare,' the newest LOVE Act proposes measures to be implemented within the State Department similar to those in previous forms of the bill.
Among its provisions, the bill would mandate the investigation of cases of those in the State Department targeted by the 'lavender scare' decades ago. In addition, the legislation would require the creation of an Advancement Board within the State Department to aid LGBTQ diplomats and their spouses both within the department as well as in their interactions with foreign countries.
On the congressional front, the bill would call for Congress to issue a formal apology for the role it played in the propagation of the 'lavender scare.'
Subsequent bans on employment under the federal government for members of the LGBTQ community have made resurgences in the decades since the 'lavender scare.'
The Obama administration in 2016 ended a ban on transgender Americans serving in the military that had been in place since the 1960s. The Trump administration reinstated the policy, but President Biden again reversed the ban within days of his inauguration.
"And what I'm doing is enabling all qualified Americans to serve their country in uniform, and essentially restoring the situation as it existed before, with transgender personnel, if qualified in every other way, can serve their government in the United States military," Biden said.
Castro framed the proposed legislation as an important step toward both ensuring both reparation for the events of the 'lavender scare' as well as preventing such discrimination from occurring in the future.
"As we celebrate Pride Month, I'm proud to introduce the LOVE Act, which is an important step forward to address the harms of the 'lavender scare' and protect today's State Department employees from discrimination," Castro said.
House GOP sinks their own spending bill, Dems object to anti-LGBTQ riders
Vote was 216-212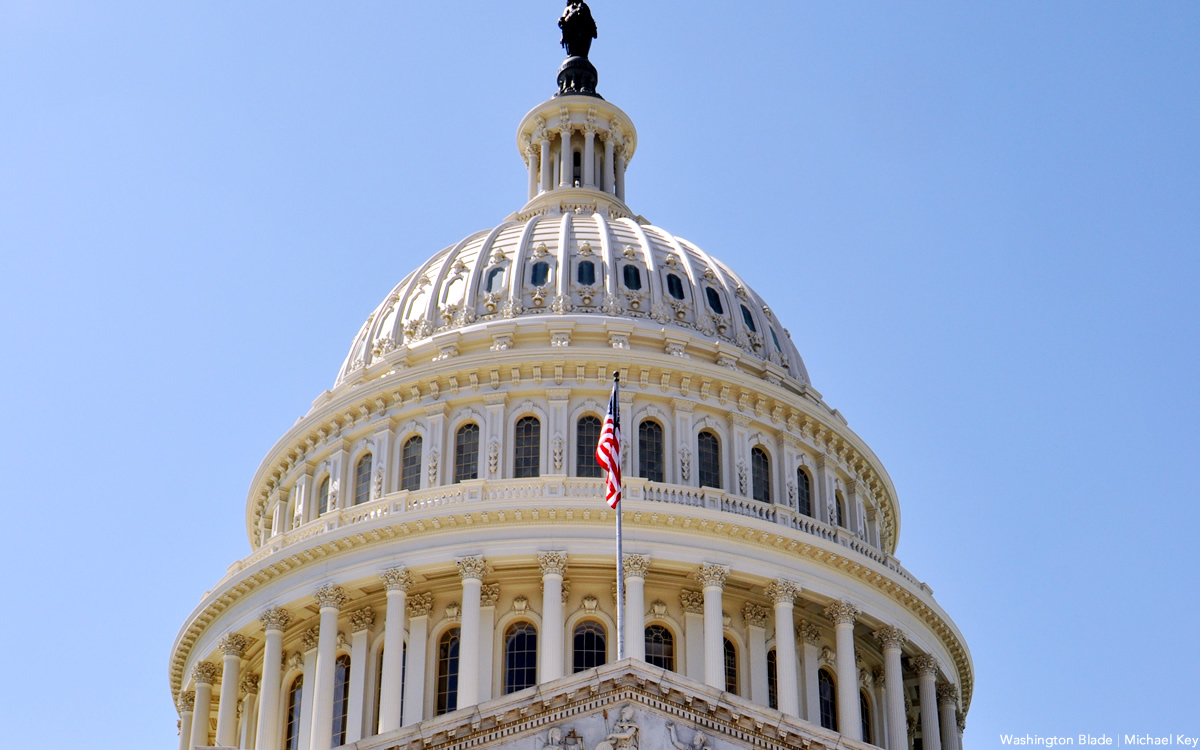 A group of four hardline House Republicans on Thursday joined Democratic colleagues to sink their own spending bill, a $886 billion military appropriations package full of riders from GOP members that include anti-abortion and anti-LGBTQ provisions.
The 216-212 vote raised the likelihood of a government shutdown if lawmakers are unable to forge a path forward before the end of September.
"Instead of decreasing the chance of a shutdown, Speaker McCarthy is actually increasing it by wasting time on extremist proposals that cannot become law in the Senate," Senate Majority Leader Chuck Schumer (D-N.Y.) said.
His counterpart in the House, Speaker Kevin McCarthy (R-Calif.), expressed frustration with his own caucus, characterizing the impasse he has reached with colleagues as "frustrating in the sense that I don't understand why anybody votes against bringing the idea and having the debate."
"And then you got all the amendments if you don't like the bill," he continued. "This is a whole new concept of individuals that just want to burn the whole place down — it doesn't work."
A group of 155 House Democrats on Thursday issued a letter objecting to anti-LGBTQ provisions in the bill, the 2024 National Defense Authorization Act, addressing the message to U.S. Sens. Jack Reed (D-R.I.) and Roger Wicker (R-Miss.), chair and ranking member of the Senate Armed Services Committee, and U.S. Reps. Mike Rogers (R-Ala.) and Adam Smith (D-Wash.), chair and ranking member of the House Armed Services Committee.
The effort was led by Congressional Equality Caucus Chair U.S. Rep. Mark Pocan (D-Wis.) and the co-chairs of the Caucus's Transgender Equality Task Force, U.S. Reps. Sara Jacobs (D-Calif.) and Pramila Jayapal (D-Wash.).
Specifically, the letter argues several anti-equality amendments would "actively target LGBTQ+ service members and LGBTQ+ dependents and threaten the recruitment, retention, and readiness of our Armed Forces."
Among these are riders prohibiting coverage of gender affirming healthcare interventions for service members and their dependents; banning LGBTQ Pride flags, drag shows and other events; and restricting funding for certain books in schools operated by the Department of Defense Education Activity.
Senate confirms federal judge who fought for marriage equality as a lawyer
Three Republicans voted for Rita Lin's nomination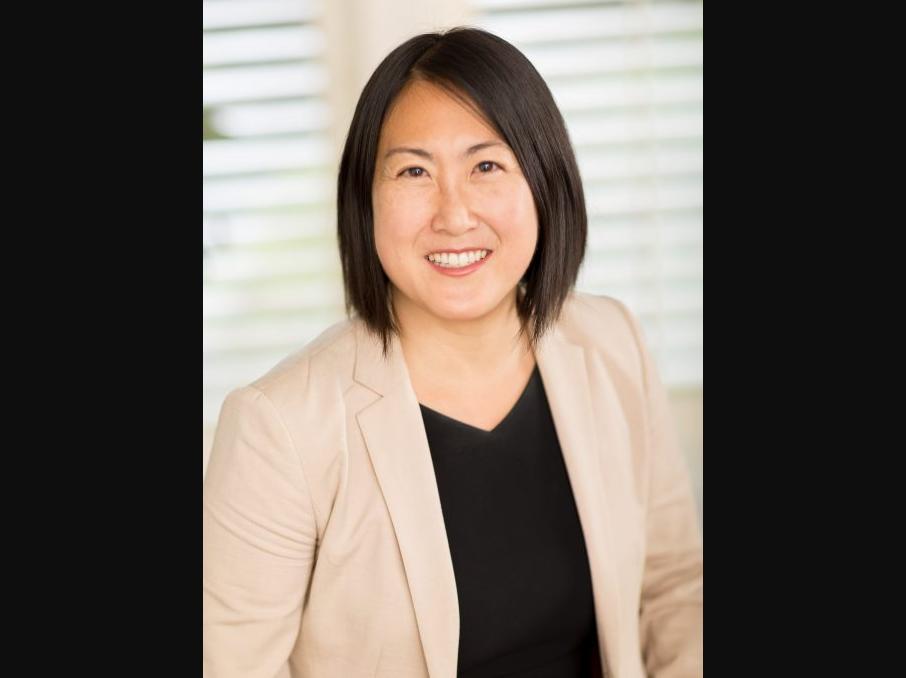 The U.S. Senate on Tuesday voted 52-45 to confirm Rita Lin's nomination by President Joe Biden to serve as a judge on the U.S. District Court for the Northern District of California.
The first Chinese American woman to serve in the role, Lin previously fought for marriage equality as an attorney in private practice with the multinational firm Morrison and Foerster.
As co-counsel in a 2012 case challenging the Defense of Marriage Act in federal court, she secured the first ruling striking down the law, which proscribed marriage as exclusively heterosexual unions, since President Obama announced his administration would no longer defend it.
The Senate's vote to confirm Lin was supported by all present Democratic members and three Republicans: U.S. Sens. Susan Collins (Maine), Lindsey Graham (S.C.) and Lisa Murkowski (Alaska).
Last year, during hearings for her nomination in the U.S. Senate Judiciary Committee, Sen. John Kennedy (R-La.) objected to an article she wrote in 1998 while a junior at Harvard University calling members of the Christian Coalition "bigots."
The Christian Coalition was founded by the late Christian media mogul Pat Robertson, who attracted controversy throughout his life and career for making sexist, homophobic and racist remarks.
Lin was appointed as a judge in the San Francisco Superior Court in 2018, and she currently presides over felony and misdemeanor criminal trials. She previously served as an Assistant United States Attorney in San Francisco.
Romney to retire from the Senate
Utah Republican has mixed LGBTQ rights record
U.S. Sen. Mitt Romney (R-Utah) announced on Wednesday that he will not seek reelection next year, telling the Washington Post now is the time for a new generation to "step up" and "shape the world they're going to live in."
The announcement means Romney's first term in the Senate will likely bookend his 20-year political career, which included a four-year term as governor of Massachusetts and two presidential campaigns, the latter as the Republican nominee.
During his time in Congress, the 76-year-old often clashed with members of his own party because he rarely shied away from publicly criticizing former President Donald Trump as other members of the GOP conference aired their grievances only privately.
Romney said he had decided a second term would be less productive and "less satisfying" — citing, according to the Post, "the disarray he sees among House Republicans" along with "his own lack of confidence in the leadership of President Biden and Trump."
The lower chamber is in turmoil now as House Speaker Kevin McCarthy (R-Calif.) seeks to unite his caucus while far-right members demand that the party move forward with an impeachment inquiry into President Joe Biden and advance anti-abortion and anti-LGBTQ amendments to appropriations spending bills that would almost certainly languish in the Senate.
Romney's independent streak extended to LGBTQ rights
In 1994, Romney ran unsuccessfully for the Senate seat occupied by the late Democratic U.S. Sen. Ted Kennedy, who was vying for a sixth term. At the time, the Boy Scouts of America was embroiled in controversy over its policy of excluding gay scouts from participating.
During a televised debate against Kennedy, Romney, who was serving on the organization's National Executive Board, said, "I feel that all people should be able to participate in the Boy Scouts regardless of their sexual orientation."
"His campaign distributed at the gay Pride parade pink flyers that asserted that he would be a better and a stronger advocate than Ted Kennedy," lobbyist Arlene Isaacson told NPR in 2012.
A decade later, Romney reaffirmed his position on the Boy Scouts issue.
More ambiguous, however, were his positions on marriage equality.
Massachusetts recognized same-sex marriage pursuant to a decision by its Supreme Judicial Court in 2003. Though he had previously said he believes the issue should be left up to each state to decide and opposed a constitutional amendment banning same-sex marriage, Romney would subsequently advocate for Congress to back an amendment defining marriage as unions between one man and one woman.
And then last year, Romney was one of only 12 Senate Republicans to vote for the Respect for Marriage Act, which codified protections for married same-sex couples into law.
During a confirmation hearing for Education Secretary Miguel Cardona, Romney spoke out against allowing transgender woman and girls to compete on sports teams consistent with their gender identity.