White House: Fla. 'Don't Say Gay' law is 'discrimination, plain and simple'
Statute took effect on Friday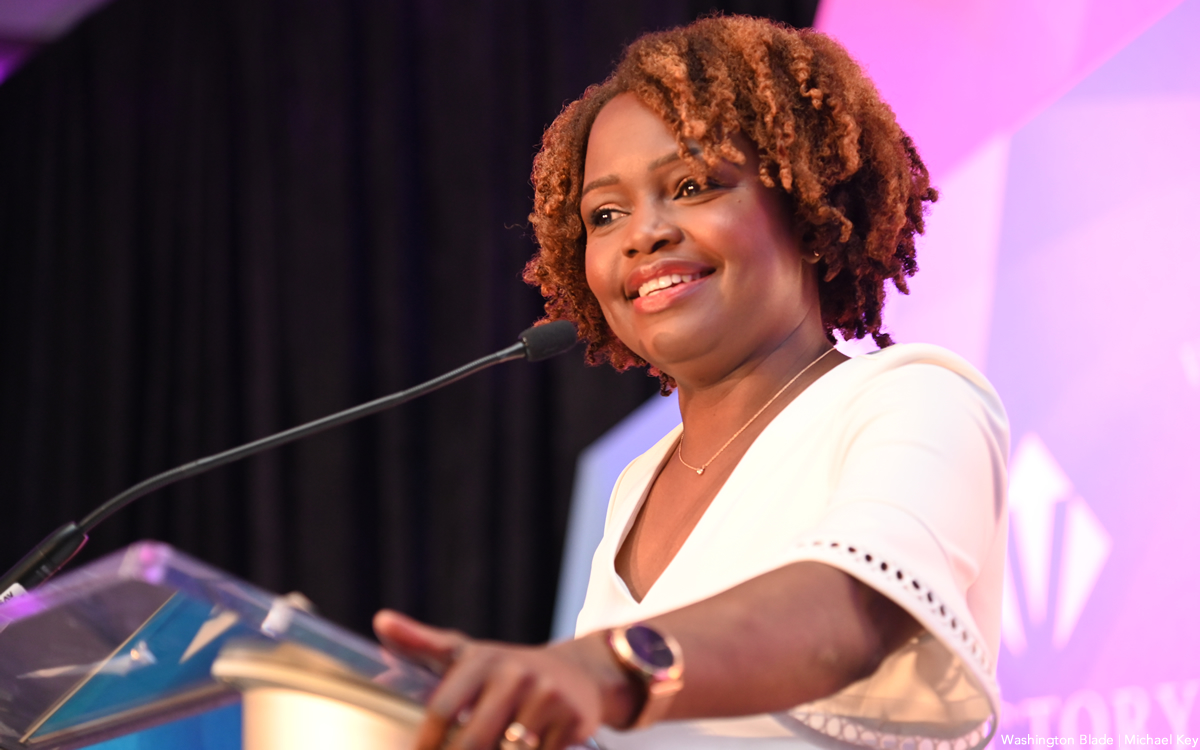 The White House Press Secretary Karine Jean-Pierre released a statement Friday as Florida's notorious 'Don't Say Gay' law took effect, saying "[…] state officials who claim to champion liberty are limiting the freedom of their fellow Americans simply to be themselves."
President Joe Biden also tweeted about the law prior to leaving for Camp David to spend the July 4 holiday weekend, calling the law "the latest attempt by Republicans in state houses to target LGBTQI+ students, teachers and families."
Florida's "Don't Say Gay" law takes effect today – the latest attempt by Republicans in state houses to target LGBTQI+ students, teachers, and families.

Legislators shouldn't be in the business of censoring educators, and @usedgov will do all in its power to protect students.

— President Biden (@POTUS) July 1, 2022
In her statement, Jean-Pierre said:
"Today, some of Florida's most vulnerable students and families are more fearful and less free. As the state's shameful 'Don't Say Gay' law takes effect, state officials who claim to champion liberty are limiting the freedom of their fellow Americans simply to be themselves.
"Already, there have been reports that 'Safe Space' stickers are being taken down from classrooms. Teachers are being instructed not to wear rainbow clothing. LGBTQI+ teachers are being told to take down family photos of their husbands and wives — cherished family photos like the ones on my own desk.
"This is not an issue of 'parents' rights.' This is discrimination, plain and simple. It's part of a disturbing and dangerous nationwide trend of right-wing politicians cynically targeting LGBTQI+ students, educators, and individuals to score political points.
"It encourages bullying and threatens students' mental health, physical safety, and well-being. It censors dedicated teachers and educators who want to do the right thing and support their students. And it must stop.
"President Biden has been very clear that every student deserves to feel safe and welcome in the classroom.
"The Department of Education will be monitoring this law, and any student or parent who believes they are experiencing discrimination is encouraged to file a complaint with the department's Office for Civil Rights.
"Our administration will continue to fight for dignity and opportunity for every student and family — in Florida and around the country."
Biden executive order to bolster efforts to secure release of Americans detained abroad
Brittney Griner remains detained in Russia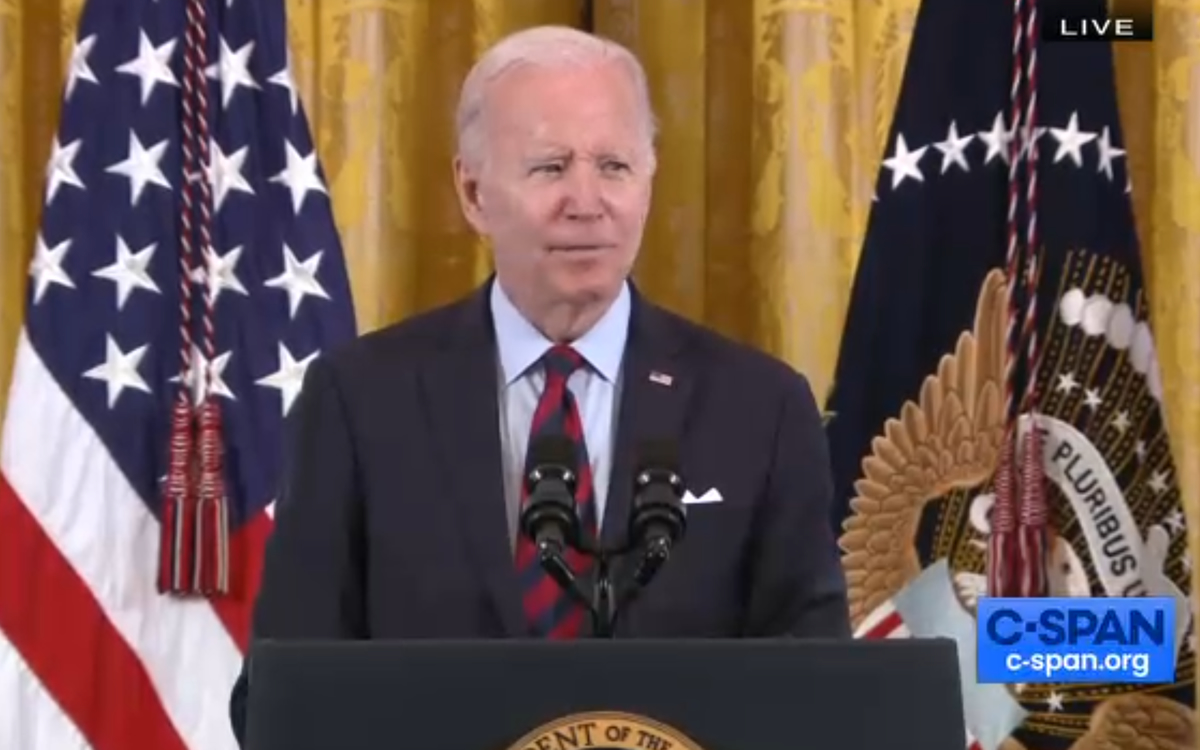 President Joe Biden on Tuesday signed an executive order that will bolster his administration's efforts to secure the release of Americans who are detained or being held hostage abroad.
The executive order, which is based on the 2020 Robert Levinson Hostage Recovery and Hostage-Taking Accountability Act, a retired FBI agent who Iranian authorities arrested in 2007, reinforces what a press release describes as "the administration's tool kit in key ways."
Reinforces the U.S. government's efforts to support families of Americans wrongfully detained or held hostage overseas;
Authorizes agencies to impose costs and consequences, including financial sanctions, on those who are involved, directly or indirectly, in hostage-taking or wrongful detentions to support expanded and ongoing interagency efforts;
Directs relevant parts of the U.S. government to bolster their engagement and sharing of relevant information, including intelligence information, consistent with the protection of sources and methods, with families regarding their loved ones' status and U.S. Government efforts to secure their release or return, as appropriate; and
Charges experts across the interagency to develop options and strategies to deter future hostage-taking and wrongful detentions.
"It reaffirms the fundamental commitment of the president of the administration to bring home those Americans held hostage (and) wrongfully detained abroad," said senior administration on Monday during a conference call with reporters.
Another senior administration official added the executive order "reinforces U.S. government efforts to support the families of Americans wrongfully detained or held hostage overseas by directing parts of the federal government to bolster their engagement with such families and their sharing of relevant information, including intelligence information, with families regarding their loved one's status, and the government's efforts to secure their release or their return."
"This EO (executive order) reflects the administration's commitment not just to the issues generally, but to the families in particular and it has been informed by the government's regular engagements with them and other stakeholders who have and continue to undertake important constructive advocacy efforts on behalf of their loved ones," they said. "President Biden and those across the administration will now draw on this EO to advance our efforts and we hope to do so in an active conversation with family members and outside stakeholders."
The executive order also creates a "D" indicator in the State Department's travel advisories that notes the countries in which American citizens are at risk for "wrongful detention." Burma, China, Iran, North Korea, Russia and Venezuela are the first six countries named. 
"We're committed to provide us citizens with comprehensive safety and security information about foreign countries so they can make informed travel decisions before they before they head overseas," said another senior administration official during Monday's conference call. "The United States opposes wrongful detention and the practice of using individuals as political bargaining chips everywhere. These practices we know represent a threat to the safety of all US citizens traveling and living abroad."
Biden signed the executive order against the backdrop of WNBA star Brittney Griner's continued detention in Russia.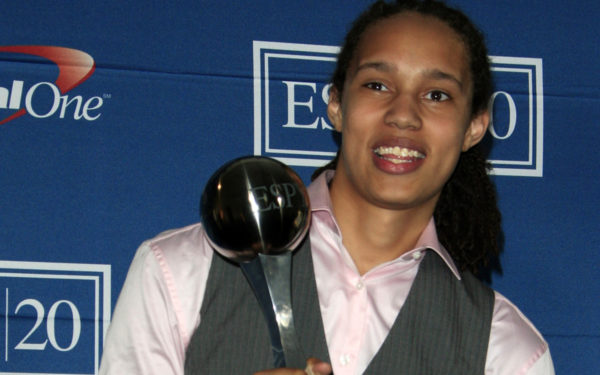 Officials at Moscow's Sheremetyevo Airport in February detained Griner — a Phoenix Mercury center and two-time Olympic gold medalist who is a lesbian and married to her wife, Cherelle Griner, — after customs inspectors allegedly found hashish oil in her luggage.
The State Department has determined that Russia "wrongfully detained" her.
Griner's trial, which began on July 1, continues, even though she has pleaded guilty to charges that she smuggled drugs into the country. The White House is under increased pressure from Griner's wife and family, teammates and LGBTQ activists to secure her release.
A senior administration official on Monday's call did not directly respond to a question about how the executive order will help secure Griner's release.
"There are a number of ways in which it would affect cases like that case in the wrongful detainee category," said the official. "The executive order directs those across the executive branch to share consistent accurate information with the families of those who are deemed wrongfully detained, to ensure that they receive support and assistance throughout the ordeal, and to work with parts of our government to try to impose costs on those responsible."
Jill Biden addresses LGBTQ donors at Equality PAC fundraiser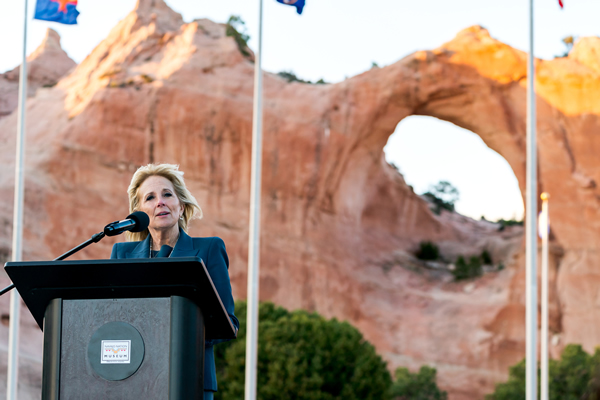 First lady Jill Biden expressed solidarity with members of the LGBTQ community Monday at a D.C.-based fundraiser hosted by the Equality PAC, urging action amid fears same-sex marriage is under threat in the wake of the U.S. Supreme Court ruling overturning Roe v. Wade.
"Right now we're fighting the battles we thought we had already won," Jill Biden said. "And we don't need to guess where the extremists are going next because they've already told us in the Dobbs decision."
The Equality PAC is a congressional political action committee led by the openly gay and lesbian members of the U.S. House. Among the notables seen in attendance who spoke at the fundraiser were Reps. Mark Takano (D-Calif.) and David Cicilline (D-R.I.), who co-chair the caucus. The event was held at the Long View Gallery.
"Progress isn't a line," Jill Biden said. "It sometimes feels like an ocean, pushing forward and pulling back. But with time and persistence, the shore of injustice does wear away."
Jill Biden touted President Biden's actions on behalf of the LGBTQ community, pointing out he signed an executive order against anti-LGBT discrimination, ended the transgender military ban, and appointed LGBTQ federal officials. She also mentioned an executive order President Biden signed in June, which included new prohibitions on widely discredited conversion therapy.
The first lady closed the event urging action and expressing solidarity, although she momentarily tripped over the LGBTQ acronym.
"I want you to know that I will be there beside you every step of the way. It won't be easy," she said. "The legacy of the LGD – the LGBTQI community is a hope that has never been crushed."
Takano also spoke at the event and said Equality PAC raised a total of $217,000 at the event and more than $10.8 million this cycle, envisioning wins for Democrats on Election Day despite expectations of Republican gains.
"We are going to keep our majority and I dare say we're going to expand it," Takano said.
CDC on monkeypox: 'We anticipate an increase in cases in the coming weeks'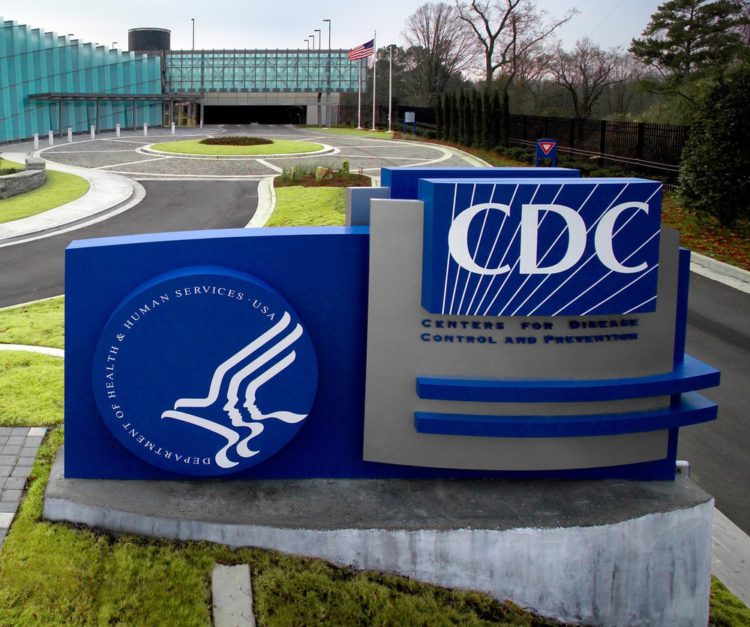 Rochelle Walensky, director of the Centers for Disease Control & Prevention, warned on Friday the spread of monkeypox, an outbreak that has occurred primarily among gay and bisexual men, would increase in the coming weeks.
"Now as we closely monitor cases, I would like you all to understand that we anticipate an increase in cases in the coming weeks," Walensky said in a conference call with top Biden administration health officials and reporters.
The increase, Walensky said, is due to three factors: 1) The CDC streamlining its reporting process to allow states to report new cases more quickly and accurately; 2) With more cases in the United States, an increase in the resulting exposure of these cases in the coming weeks; and 3) A significant increase in the number of people seeking laboratory tests and the number of specimens being submitted for testing.
Monkeypox cases in the United States, Walensky said, have reached 1,470 reported cases documented across 44 jurisdictions as of July 14.
Younger gay and bisexual men are primarily affected: The median age is 36 with a range of 18 to 76 years of age, and the vast majority of cases happen among those who identify as men who have sex with men based on demographic information local health departments provided to CDC, Walensky said.
The Biden administration on the same day Walensky disclosed the new data announced an order for another 2.5 million doses of Bavarian Nordic's JYNNEOS vaccine to respond to the current monkeypox outbreak.
The vaccines, however, won't arrive soon: According to the Department of Health & Human Services, they're coming in 2023 as part of the plan for the U.S. government's available supply of vaccine to reach 7 million by mid-2023, which would be several months after the outbreak has begun.
The Biden administration has been faulted for moving too slowly in responding to monkeypox in criticism reminiscent of inaction during the coronavirus and HIV/AIDS epidemics, including being too slow to distribute vaccines and make testing available. Monkeypox is transmitted by skin-to-skin contact, unlike the other two diseases, and isn't fatal.
Walensky during the call acknowledged "the demand for vaccines from jurisdictions is higher than our current available supply," but pushed back on other criticisms as "points of confusion where we've been hearing from the public, our partners and media." The availability of tests, for example, is and has been meeting capacity, Walensky said.
"We have the testing capacity needed," Walensky said. "We expanded the nation's monkeypox testing capacity this week, and now have four commercial labs with combined capabilities along with CDC laboratory Response Network … we've gone from being able to test 6,000 samples a week to 70,000 samples per week. Having commercial lab testing for monkeypox will also make it more convenient for providers to access tasks by using existing providers to lab relationships, and we have not yet received anywhere near that demand of tests as our capacity now permits."
Also during the call health officials announced efforts to work on delivery of 786,000 doses currently located in Denmark, which they said will be available pending FDA clearance by the end of July. The inability of the Biden administration to move the vaccines from Europe in a timely fashion has been a source of criticism of the FDA.
Peter Marks, director of the Center for Biologics Evaluation & Research at the FDA, pushed back on that criticism in response to a question from the Washington Blade, insisting the FDA had taken a timely approach to obtaining those vaccines.
"First of all … quite contrary to missing a chance for approval, FDA actively reached out using contacts with the Biomedical Advanced Research & Development Authority to actually move up the submission that was necessary and all of the other events that were necessary to get those doses to be able to be used from what was originally going to be this fall," Marks said. "And we did that actually, pretty shortly after we realized there was a monkeypox outbreak."
Marks also said the United States was unable to rely on the European Union's certification of the vaccines because the FDA relies on its own safety protocols for approval of medication for use domestically.
"We do not in the United States recognize — we don't have mutual recognition of vaccine inspections for initial licensure from other countries, and that's because we have our quality standards that have to be maintained," Marks said. "And we have with all due diligence to make sure that the necessary procedures were undertaken, so that these will be available before the end of July but these doses were originally not scheduled to be approved until sometime in the fall, and that was moved up."