VA expands survivor benefits for same-sex couples
Policy change takes effect immediately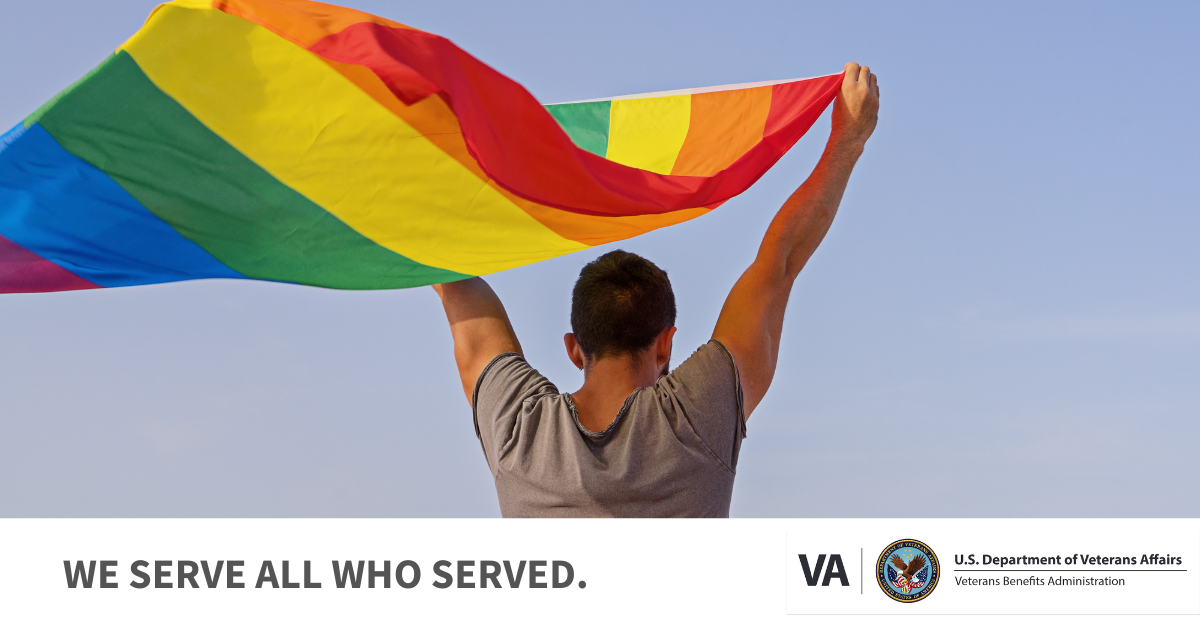 The U.S. Department of Veterans Affairs announced a major policy change last week closing a gap in survivor benefits for certain survivors of LGBTQ veterans — specifically, for those who were unable to wed until the 2015 Obergefell v. Hodges U.S. Supreme Court decision, and who, therefore, were not married to their now-deceased veteran spouses for long enough to qualify for survivor benefits.
This extension of survivor benefits is effective immediately.
"VA is closing a gap in benefits for surviving spouses of LGBTQ+ Veterans, righting a wrong that is a legacy of the discriminatory federal ban on same-sex marriages," said Veterans Affairs Secretary Denis McDonough. "It is VA's mission to serve all veterans — including LGTBQ+ veterans — as well as they've served our country, and this decision is a key part of that effort."
Due to bans on same-sex marriages, many LGBTQ veterans were unable to get married until Obergefell v. Hodges (June 26, 2015) despite being in "marriage-type" relationships long before that.
According to a statement from the VA this wrongly precluded many survivors of those LGBTQ veterans from becoming eligible for survivor benefits because their veteran spouse died before the marriage met VA's length-of-marriage requirements (one-year for survivor benefits, eight-years for a higher rate of benefits.)
This decision addresses that problem by counting the duration of marriage from when the surviving spouse can establish a "marriage-type" relationship — such as a commitment ceremony, joint banking account, or joint purchase of a house. Importantly, these benefits are not retroactive.
The VA also noted in its statement that it is committed to delivering world-class care and benefits to LGBTQ veterans. As a part of this effort, last year, VA began providing benefits to veterans who were given "Other Than Honorable" discharges due to their sexual orientation.
Eligible survivors can apply for these benefits here, and more information about this announcement can be found here.
LGBTQ veterans can learn more about VA's current health offerings on the LGBTQ+ Health Program website.  
Nonbinary Energy Department official charged with second luggage theft
Sam Brinton placed on administrative leave after first allegation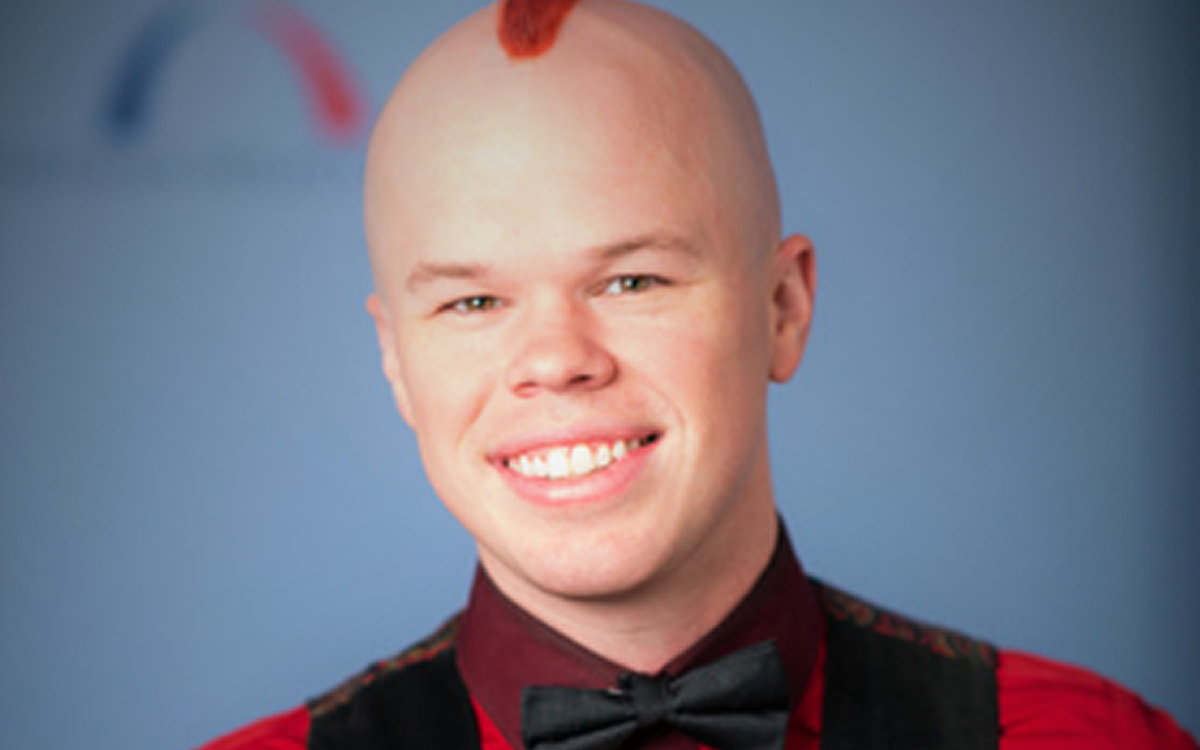 Sam Brinton, the first openly genderfluid person appointed to a senior government post, was served with a felony arrest warrant Friday following a second incident in which they were accused of stealing luggage from an airport.
New charges accuse Brinton of grand larceny of property valued between $1,200 and $5,000, for stealing luggage at Harry Reid International Airport in Las Vegas. They were previously charged with a felony for lifting a suitcase from baggage claim at the Minneapolis-St. Paul International Airport on Sept. 16.
Brinton joined the U.S. Department of Energy this year as deputy assistant secretary for spent fuel and waste disposition. The New York Post reported they were put on leave following the first incident.
"The Department of Energy takes criminal charges against DOE employees and clearance holders very seriously," a Department of Energy spokesperson told the Washington Blade in a statement. "Sam Brinton, a career civil servant, is on administrative leave. The department is limited by law on what it can disclose on personnel matters, such as an employee's clearance status. Generally, as the department has previously stated, if a DOE clearance holder is charged with a crime, the case would be immediately considered by DOE personnel security officials, and depending on the circumstances, that review could result in suspension or revocation of the clearance."
On Dec. 7, a group of 16 Republicans in the U.S. House of Representatives, including far-right Congress members Marjorie Taylor Greene (Ga.), Andy Biggs (Ariz.) and Louie Gohmert (Texas), called on Energy Secretary Jennifer Granholm to demand Brinton's resignation.
USAID highlights work to promote LGBTQ, intersex rights in Latin America, Caribbean
Blade spoke with Deputy Administrator Paloma Adams-Allen on Oct. 24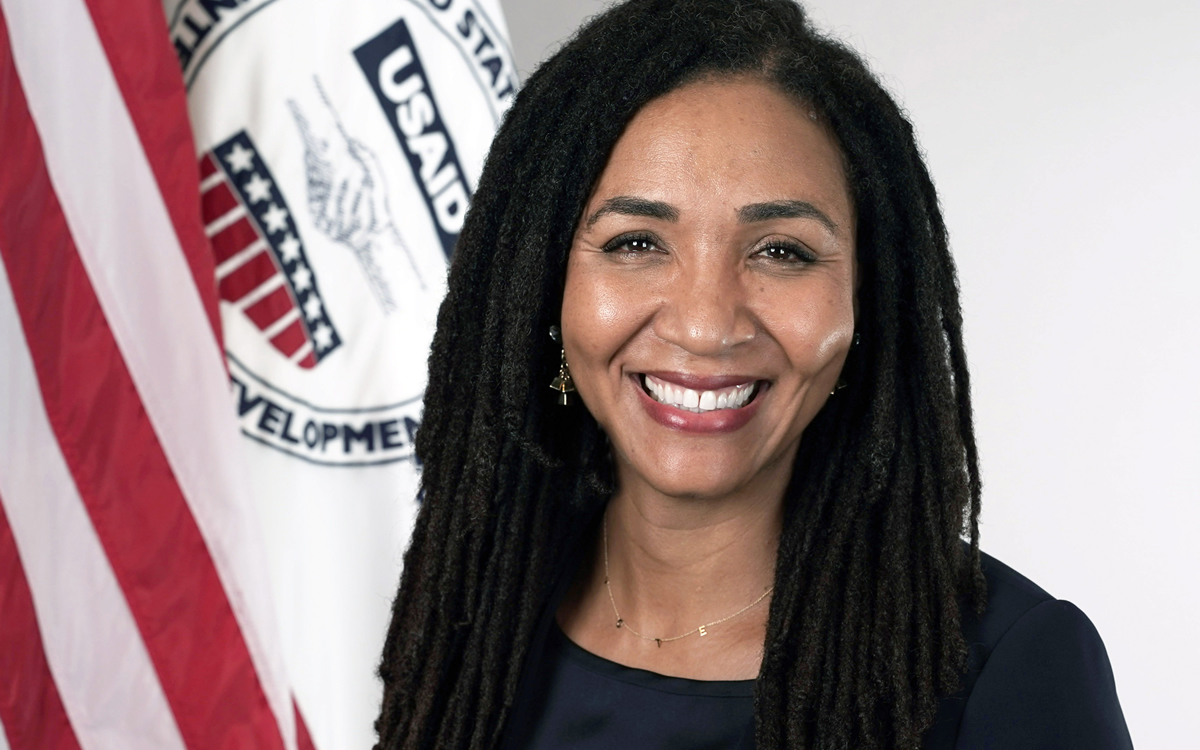 Deputy U.S. Agency for International Development Administrator Paloma Adams-Allen during a recent interview with the Washington Blade highlighted USAID's efforts to promote LGBTQ and intersex rights in the Caribbean, Latin America and around the world.
Adams-Allen on Oct. 24 noted USAID has "invested" in programs that seek to fight gender-based violence against LGBTQ and intersex people in Honduras and Guatemala.
She, like Vice President Kamala Harris and other U.S. officials, acknowledged violence based on gender identity and sexual orientation is among the "root causes" of migration from the two countries and neighboring El Salvador.
"Migration is a human right," said Adams-Allen. "Folks are allowed to migrate, but what we've discovered, particularly with the LGBTQI+ population is that, not surprisingly, violence against this community is a driver."
Adams-Allen noted USAID in Guatemala through its Electoral Governance and Reforms Project provides what she described as "technical assistance to help advance LGBTQI+ rights through legal reforms initiatives." Adams-Allen also told the Blade that USAID in Guatemala supports efforts to invest "more directly in local organizations as implementing partners" for election observation and in other areas.
"We're looking to strengthen local LGBTQI+ organizations to enhance their capacity," she said.
USAID continues to support the implementation of Colombia's peace agreement that specifically includes LGBTQ and intersex people through the Youth Resilience Activity, a program that works with vulnerable young people across the country. USAID also works with the U.N. Development Program's Being LGBTI in the Caribbean initiative that seeks to promote LGBTQ and intersex rights in the Dominican Republic, Haiti, Jamaica and Barbados.
USAID Senior LGBTQI+ Coordinator Jay Gilliam last week announced during the initiative's second National LGBTI+ Dialogue in the Dominican Republic that USAID will donate an additional $2 million for economic programs for transgender women.
Adams-Allen noted USAID supports the Astraea Lesbian Foundation for Justice's Multi-Donor LGBTI Global Human Rights Initiative that supports efforts to decriminalize consensual same-sex sexual relations in countries throughout the Caribbean and to reduce stigma, discrimination and violence against LGBTQ and intersex people. Adams-Allen also highlighted CuéntaNos, an initiative in El Salvador, Guatemala and Honduras that provides information about access to safe housing, health care and other basic services for LGBTQ and intersex people and other vulnerable groups who are fleeing from natural disasters.
"It helps guide them to where safe places are," said Adams-Allen.
Adams-Allen, who was born in Jamaica, was previously the president and CEO of the Inter-American Foundation. Adams-Allen was a deputy assistant USAID administrator and a senior advisor in the Bureau for Latin America and the Caribbean from 2010-2016.
Jamaica is among the countries in the Caribbean in which consensual same-sex sexual relations remain criminalized.
Then-President Barack Obama in 2015 applauded Angeline Jackson-Whitaker, a prominent Jamaican LGBTQ and intersex rights activist, during a town hall meeting in Kingston, the country's capital. Adams-Allen referenced the trip to the Blade, noting there was "definitely pushback, even against him."
The Blade spoke with Adams-Allen a few days after Fox News reported USAID gave a $20,600 grant to a cultural center in the Ecuadorian city of Cuenca that hosts drag shows.
Adams-Allen declined to specifically comment on the report, but she did say USAID does "support the full richness of the LGBTQI+ community in Latin America and the Caribbean and that may include folks that Fox may not be interested in working with." Adams-Allen further stressed that President Joe Biden's 2021 memo that committed the U.S. to promoting LGBTQ and intersex rights abroad as part of his administration's overall foreign policy is "a North Star for our work to advance LGBTQI+ programming, but also just our broader, truly development."
USAID co-hosted 2022 Hispanic Serving Institutions/LatinX Conference in Miami
Adams-Allen on Oct. 20 delivered the keynote address at the 2022 Hispanic Serving Institutions (HSIs)/LatinX Conference in Miami that USAID co-hosted with Florida International University.
USAID in a readout notes Adams-Allen's speech highlighted "the importance of diversity, equity, inclusion, and accessibility in USAID's recruiting, programming and partnerships." Adams-Allen noted the conference is the second such event that USAID has organized "to really to start to gin up more interest among Hispanic and Latino-serving institutions in working at USAID as well as being implementing partners, potentially, of USAID."
"I wanted to go down and really to try to put some more energy into just underscore, now that we're coming out of the virtual world, I wanted to do this in person, to really underscore quickly to this population … that there's a place for Hispanic Americans, Latino Americans, Latinx Americans, at USAID if they're interested, particularly in international careers, but even if they're not," she said.
"I think students tend to think that they have to be technical experts in global health issues and maternal and child health or emergency response. And they don't realize necessarily that we need everyone, we need writers, we need lawyers, we need communicators," added Adams-Allen. "That particularly this community has certain, what I would say, cultural competencies that makes them particularly aligned with USAID's whether it be experience living in Latin America in the Caribbean, or family from those regions, experience navigating several languages at home or in school, in the workplace. So they already have some inbuilt some inbuilt strengths, that makes them particularly well suited to consider careers at USAID. And I really wanted to just bolster folks' confidence and let them know that there's a place for them if they're interested in their support for them if they're interested. And so that was really the thrust of my participation."
Adams-Allen noted LGBTQ and intersex people were among those who participated in the conference, which took place at Florida International University's Miami campus.
"LGBTQI+ issues are sort of crosscutting of the ethnic group that we are engaging," she said. "We are always engaging with full diversity of that ethnic group, in that ethnic community. We definitely had participation from folks representing the LGBTQI+ community at FIU and among the Hispanic-serving institutions, so we're always thinking about that population as part of our diversity efforts, our retention efforts, our inclusion and equity efforts with the workforce, as well as looking at our programming."
"It's so crucial to have that voice," she said. "As we are thinking about our programming … it's important to have people with the lived experience of the populations for which you're designing, whether they be long term development programs, short term projects, or responding to humanitarian crisis, who really understand that experience. So, we need them, we need that population as a part of our team and we also do quite a bit of programming focused on protecting the human rights, the civil rights, defending the equal rights of LGBTQI+ populations in Latin America and the Caribbean."
Former Defense Secretary Ash Carter dies
Obama Pentagon chief cleared way for trans servicemembers to serve openly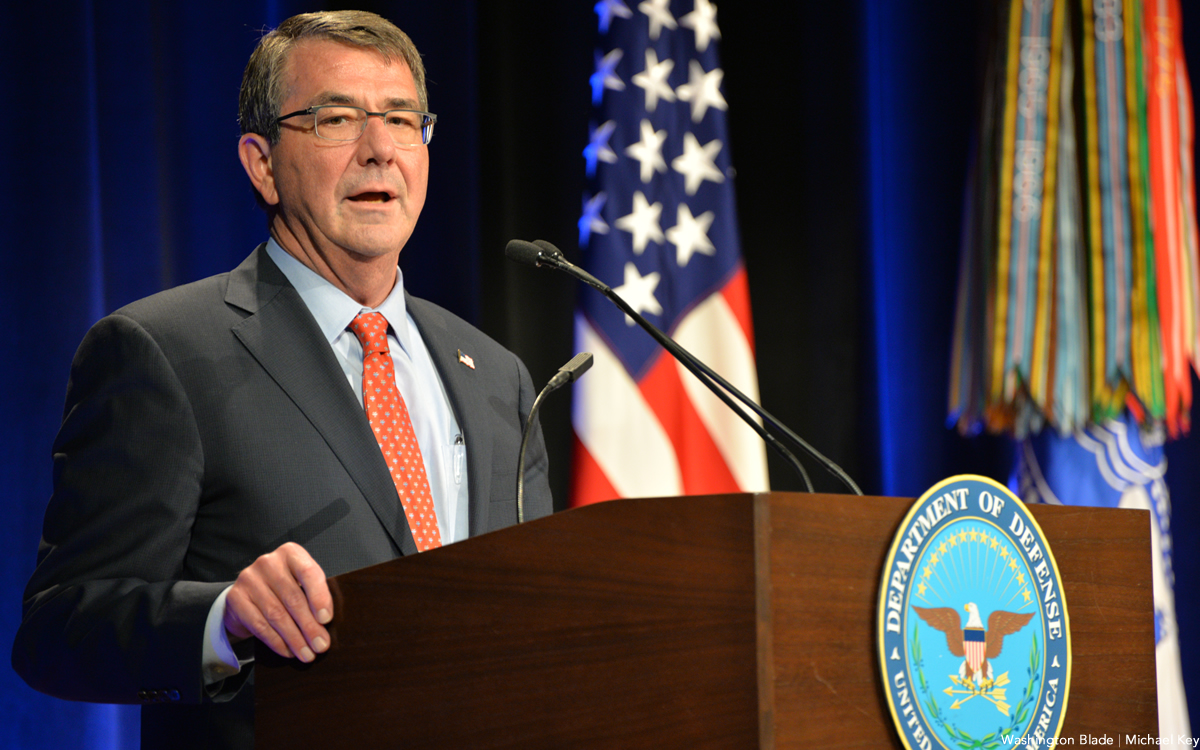 Former Secretary of Defense Ash Carter, who served under President Barack Obama during the implementation of the repeal of the anti-gay "Don't Ask-Don't Tell" policy and who cleared the way for transgender military service, has died.
Carter passed away Monday evening from a "sudden cardiac event" his wife, Stephanie, and his children, Ava and Will, announced in a statement: "It is with deep and profound sadness that the family of former Secretary of Defense Ashton Carter shares that Secretary Carter passed away Monday evening in Boston after a sudden cardiac event at the age of 68."
Carter, in a statement made on Sept. 20, 2016, marking the 5th anniversary of the repeal of the "Don't Ask, Don't Tell" law that barred gay men and lesbians from serving openly in the military, noted:
"I am proud to report that five years after the implementation of the repeal of 'Don't Ask, Don't Tell' our military, drawn from a cross-section of America, is stronger than ever and continues to exemplify the very best that our great nation has to offer," Carter said. "The American people can take pride in how the Department of Defense and the men and women of the United States military have implemented this change with the dignity, respect, and excellence expected of the finest fighting force the world has ever known."
He then added:
"As the memory of 'Don't Ask, Don't Tell' fades further into the past, and we move forward together to face new challenges," he said. "We recognize that openness to diversity and reaching out in a spirit of renewed inclusiveness will strengthen our military and enhance our nation's security."
In the final years of Obama's second term, Carter worked to lift the ban on trans people serving openly in the U.S. military. That decision was one of the last remaining barriers to LGBTQ participation in the U.S. armed forces.
In July 2017 after President Donald Trump tweeted he was banning trans people from serving openly in the U.S. military, Carter reacted noting that trans people already serve capably and honorably.
"To choose service members on other grounds than military qualifications is social policy and has no place in our military," Carter said.
Upon hearing the news of his death, Obama in a statement praised Carter saying his advice and role made the military "stronger, smarter, more humane and more effective." Then Obama added; "Ash's greatest legacy, however, may be the generations of younger leaders he taught, mentored, and inspired to protect our nation and wield power wisely."
Carter's predecessor, Robert Gates said Carter's "insights and perspectives will be difficult to replace and his humor and regard for the troops deeply missed."
The White House on Tuesday released a statement from President Joe Biden who summed up his view of Carter up with the word 'integrity.'
"Integrity. When I think of Ash Carter, I think of a man of extraordinary integrity. Honest. Principled. Guided by a strong, steady moral compass and a vision of using his life for public purpose.

Ash Carter was born a patriot. A physicist and national security leader across decades, he served with immense distinction at every level of civilian leadership at the Department of Defense, including as our nation's 25th secretary of defense.

I was vice president at the time, and President Obama and I relied on Ash's fierce intellect and wise counsel to ensure our military's readiness, technological edge, and obligation to the women and men of the greatest fighting force in the history of the world.

Ash was a leader on all the major national security issues of our times — from nuclear deterrence to proliferation prevention to missile defense to emerging technology challenges to the fight against Al Qaida and ISIS. He opened every field of military service to women and protected the rights of transgender service members.

His public contributions were amplified by his many years at the Harvard Kennedy School of Government where he inspired and mentored the next generation of national security leaders. As president, I continued to rely on his expertise through his presence on my Council of Advisors on Science and Technology.

Above all, Ash understood the sacred obligation we have to our servicemembers, veterans, and their families. He was relentless in his pursuit of technology solutions for our warfighters, rapidly accelerating delivery of mine resistant vehicles to our troops to protect them from improvised explosive devices in Iraq and Afghanistan. His work saved countless lives and limbs. On many weekends Ash and his beloved wife Stephanie would quietly visit wounded warriors at Walter Reed. He did so out of the spotlight, demonstrating the personal integrity and sense of duty that distinguished him throughout his life.

Jill and I grieve with the entire Carter family, including Stephanie, Will and Ava, and countless friends and colleagues across the world who are mourning this sudden loss of a great American.

Ash Carter was a great American of the utmost integrity."
Carter led the Belfer Center for Science and International Affairs at Harvard's John F. Kennedy School of Government in Cambridge, Mass., and is survived by his wife, Stephanie, and his children, Ava and Will.