Growing number of care providers catering to LGBTQ seniors
SAGE highlights unique needs of community at Virginia event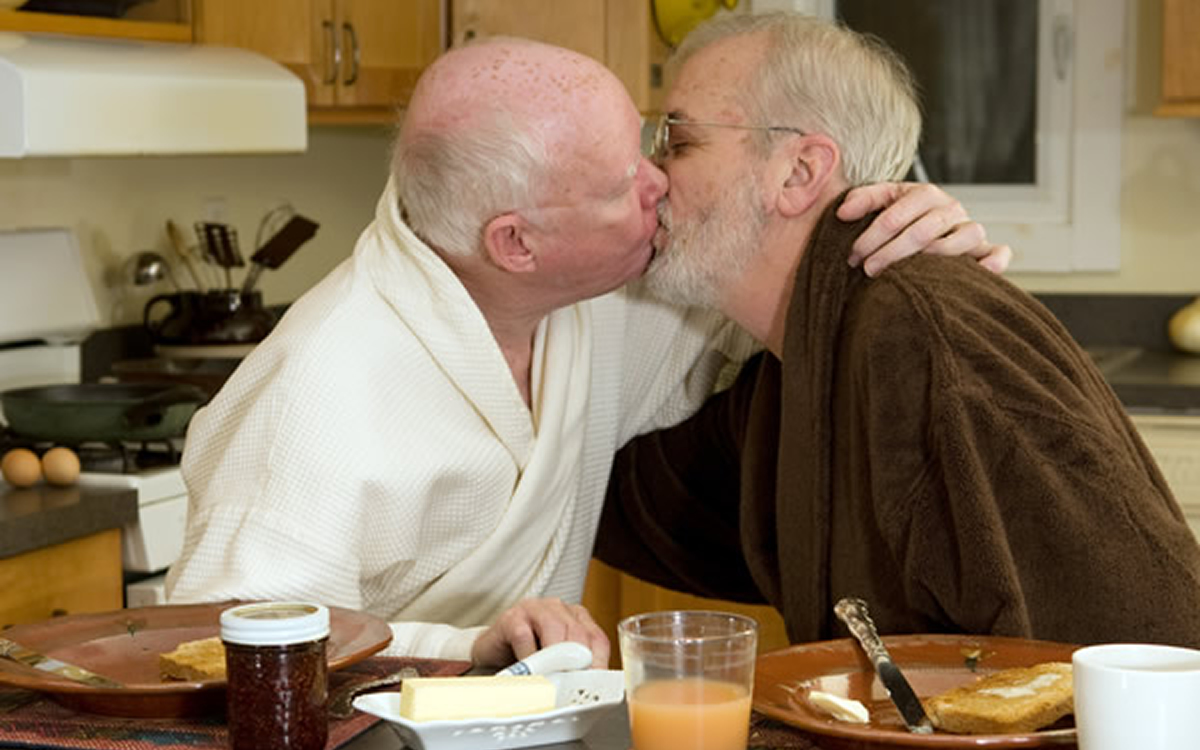 An event scheduled for Nov. 17 in Sterling, Va., described as 'Giving Thanks to LGBTQ+ Elders: SAGE Table' was expected to draw attention to the growing number of organizations and senior care facilities in Northern Virginia and in the D.C. metro area in general that are supportive of LGBTQ seniors.
The New York City-based national LGBTQ seniors advocacy group SAGE launched what it called SAGE Tables in 2017 as a gathering to share a meal among people of all ages to support their LGBTQ friends and family members who are seniors, in part, to alleviate social isolation.
SAGE has said hundreds of such gatherings have taken place across the country since SAGE Table events began.
The Sterling, Va., SAGE Table event was being co-hosted by five Northern Virginia-based senior care organizations or facilities that are welcoming to LGBTQ seniors, according to Karen McPhail, the CEO of Eldementals, LLC, one of the senior care providers hosting the event.
McPhail is also the founder and director of Aging Rainbows, a Great Falls, Va.-based group that advocates for LGBTQ seniors, and which is also one of the five co-hosts of the SAGE Table event in Sterling.
The other co-hosts include Insight Memory Care, a seniors care facility in Sterling where the SAGE Table event was to be held; Care Connect Nova of Purcellville, Va., a lesbian-owned company that provides in-home concierge senior care services in all parts of Northern Virginia; and Retirement Unlimited, Inc. (RUI), a Richmond, Va.-based company that provides both independent and assisted living residential facilities for seniors in Northern Virginia.
"Come enjoy an evening of dining and conversation," a statement released by organizers of the Sterling SAGE Table event says. "SAGE Table events bring together people of all ages to share a meal and conversation," it says. "The transformative relationships formed around a SAGE Table can alleviate social isolation and its consequences."
McPhail said that while the senior care operators co-hosting the SAGE Table, including her company, are supportive and knowledgeable of the needs of LGBTQ seniors, not all such facilities have that knowledge and provide that support. She said she was prompted to form Aging Rainbows after witnessing first-hand inappropriate treatment toward one of her clients who is transgender.
"One of my transgender clients fell," McPhail said. "She had a neck fracture. She had been doing well, independent, no problems before the fall," McPhail told the Blade. "She is 63 years old and all of a sudden, she's going to skilled nursing rehab. And they wanted to put her in a gender inappropriate room," McPhail continued.
"And it took me hours of shielding her from what I thought was inappropriate, and educating and advocating to find the appropriate room," she said. "I had to work over weeks to educate people who had no idea of her needs. And at that point, I sat down at my desk and said, enough. So, I created at that time all the information for starting Aging Rainbows."
Among other things, McPhail said, Aging Rainbows advises senior care facilities she works with to enroll employees and officials in an LGBTQ competency training program operated nationally by SAGE. The facilities and organization participating in the program, called SAGECare, are designated "SAGECare credentialed" and are included in SAGE database lists available to LGBTQ elders looking for a safe and supportive facility in which to reside.
"It is the case now that in almost all states there are one or more elder care facilities that have been trained throughout our SAGECare program," SAGE CEO Michael Adams told the Blade in a recent interview. "But it's nowhere near where it needs to be," he said. "It needs to be that there are welcoming elder care facilities in every single community in this country" for LGBTQ elders.
Insight Memory Care and Eldementals are SAGECare Platinum credentialed, according to SAGE spokesperson Christina Da Costa.
Da Costa told the Blade this week that there are currently 17 SAGECare credentialed organizations or facilities in the D.C. metro area. Among them is the Ingleside at Rock Creek residential seniors facility in D.C.
Under the SAGECare program, there are now 174,699 professionals trained and 748 SAGECare credentialed organizations or facilities nationwide, Da Costa said.
As of one year ago, SAGE said there were 15 elder care residential facilities in the U.S. created specifically to serve LGBTQ seniors. They are located in several of the nation's large cities, including New York, San Francisco, and Los Angeles. But none are located in D.C., Virginia or Maryland.
Aging Rainbows, meanwhile, is among several D.C.-area organizations that provide support and services for LGBTQ seniors. The D.C. Center for the LGBT Community and Whitman-Walker Health, D.C.'s LGBTQ supportive healthcare center, have provided programs and services for LGBTQ seniors for more than a decade.
Among the regular events offered by Center Aging, the D.C. Center's seniors program are its weekly Monday morning Coffee and Conversation gathering and its weekly Friday afternoon Tea Time gathering. Both are currently held via Zoom.
As part of its ongoing special events, the Center Aging program held an event on Saturday, July 21 called Intergenerational Hangout in which LGBTQ older adults and LGBTQ younger adults came together for a discussion about "everything and anything in the hopes of building bridges between generations and providing some laughs along the way," according to a D.C. Center announcement of the event.
Abby Fenton, a spokesperson for Whitman-Walker Health, said the LGBTQ supportive health center has long provided supportive and affirming medical care for LGBTQ seniors who make up a large number of its patients.
Fenton said "quite a few" of Whitman-Walker's LGBTQ seniors patients are longtime HIV survivors who feel comfortable coming to a healthcare provider with expertise and understanding of how best to keep people with HIV healthy.
Whitman-Walker Health also co-coordinates at least four peer-led support groups for LGBTQ seniors called Silver Circles, that meet once a week, according to Michael Mitchell, the Whitman-Walker coordinator of the Silver Circles program. Mitchell said the program is operated jointly by Whitman-Walker and Iona Senior Services, a D.C.-based nonprofit organization that provides services for seniors, including LGBTQ seniors.
"Iona is proud to offer programs specifically created for LGBTQ older adults, in addition to our other programs that are open to everyone, regardless of sexual orientation or gender expression," Iona says on its website.
Mitchell said the Silver Circles groups discuss a wide range of issues of interest to LGBTQ seniors, including the subject of sex.
He said the program is supported financially by the D.C. Department of Aging and Community Living, which lists on its website community-based organizations, including Whitman-Walker, Iona, and the D.C. Center that provide services for LGBTQ seniors.
Also providing support and services for LGBTQ seniors is Capitol Hill Village, a nonprofit organization serving older adults in Capitol Hill and surrounding neighborhoods, a statement on organization's website says. The statement says the group's focus is on helping seniors "age in place" in their own homes by providing services from its volunteers such as home maintenance and transportation.
Like the D.C. Center's LGBTQ seniors gathering events on Mondays and Fridays, Mitchell said all the Silver Circle gatherings continue to meet virtually via Zoom.
Longtime D.C. LGBTQ seniors advocate Ron Swanda said he is disappointed that the D.C. Center's seniors gatherings as well as other local seniors events have continued to meet virtually.
"I'd rather do these things face to face because I learn better and I like to get the feel for the people involved," he said. "When I do it online I don't," said Swanda, who told the Blade he has withdrawn from participating in most Zoom events.
Mitchell of Whitman-Walker said that although participants in the LGBTQ seniors programs yearn for the pre-COVID, in-person gatherings, most have adjusted to the Zoom meetings, and some prefer them.
"Initially, we were concerned that our senior Circle folks wouldn't necessarily get the technology," Mitchell said in referring to the use of online programs like Zoom. "But they've glommed onto the technology pretty quickly," he said.
"And what we have found is that they do miss meeting in person, as isolation is one of the things we're trying to tackle, but not having to come downtown, find parking, be out after dark, be on icy sidewalks in the winter, that kind of thing has actually been very helpful for a lot of these folks," according to Mitchell.
Man charged with assaulting lesbian activist pleads guilty, gets 14 months in jail
Aiyi'nah Ford hit in head with barstool at Congress Heights restaurant in August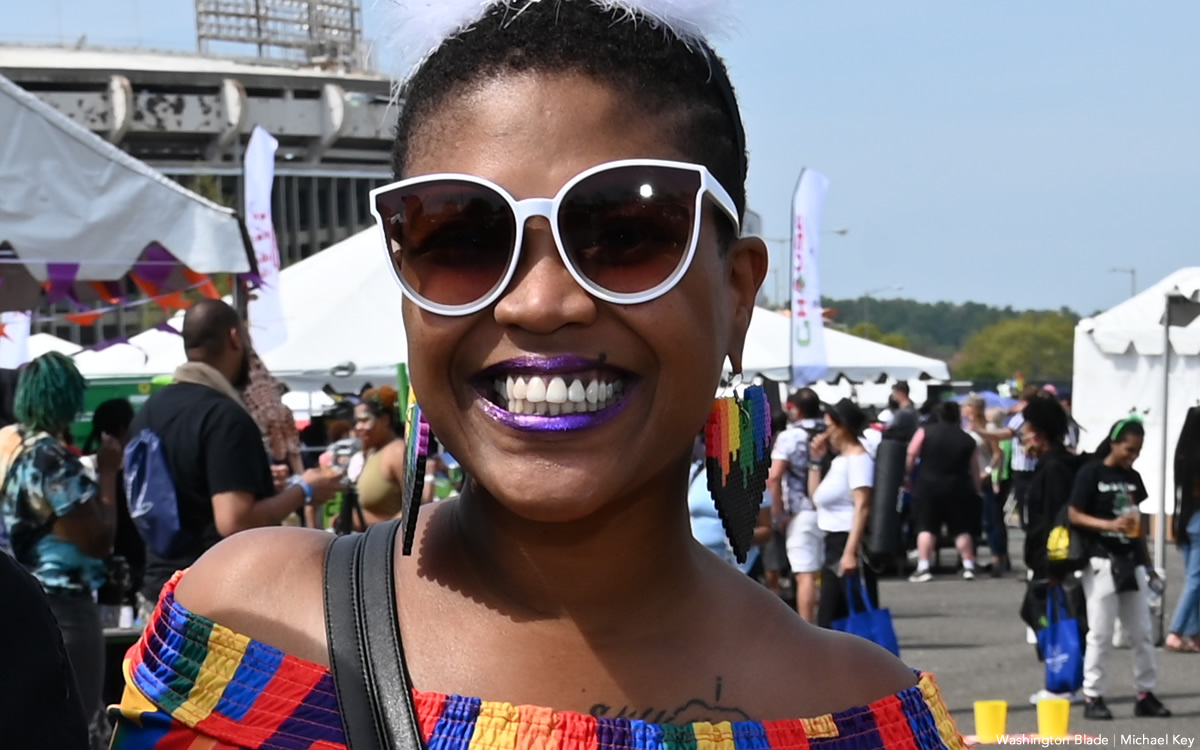 A D.C. Superior Court judge on Nov. 17 sentenced a 46-year-old D.C. man to 14 months in jail after he pleaded guilty in September to an assault charge for an incident in which he attacked lesbian activist Aiyi'nah Ford at a restaurant on Aug. 3
An arrest affidavit filed by D.C. police on Aug. 12 states that Donnell Anthony Peterson allegedly knocked Ford to the floor at the Player's Lounge restaurant and bar in the city's Congress Heights neighborhood before hitting her in the head twice with the metal legs of a barstool.
Ford told the Washington Blade that Peterson, who was a regular customer at Player's Lounge as was she, assaulted her while repeatedly calling her a "dyke bitch" after the two got into a verbal argument over, among other things, the city's violence interruption program. Ford said she told Peterson and others who were having a discussion that she considers the program to be ineffective and a "joke."
According to court records, witnesses reported seeing Ford bleeding profusely from the head before an ambulance took her to George Washington University Hospital, where she received multiple stitches to treat a serious head wound.
Court records show that D.C. police, who were called to the scene at the time of the assault, initially charged Peterson with Assault With a Dangerous Weapon. The records show that Peterson through his attorney agreed in September to accept a plea bargain offer by prosecutors with the Office of the U.S. Attorney for D.C.
The offer called for lowering the charge to Assault With Significant Bodily Injury in exchange for pleading guilty with a promise by prosecutors to seek a sentence of no more than 14 month in jail.
The court records show that Superior Court Judge James A. Cromwell sentenced Peterson to 32 months of incarceration but suspended 18 months, requiring that he serve 14 months after which he would be released on probation. Court records show the probation was to last 18 months. Under court rules, if someone violates the terms of their probation, which almost always prohibits them from breaking the law or threatening a person they were charged with assaulting, the released person is ordered back to jail to serve the remaining time that had been suspended.
At the time Peterson was arrested in August a spokesperson for the U.S. Attorney's office, in response to a question from the Blade, declined to disclose why prosecutors chose not to classify Peterson's assault against Ford as a hate crime based on her sexual orientation.
Ford told the Blade this week that the lead prosecutor, Assistant U.S. Attorney Alec Levi, was supportive of her throughout the case and told her a hate crime designation sometimes makes it more difficult to obtain a conviction if a case goes to trial. Ford said Levi told her prosecutors wanted to do all they could to bring Peterson to justice for his attack against her.
Longtime activist Lane Hudson arrested on drug charges
Homeland Security launched probe leading to August 2021 raid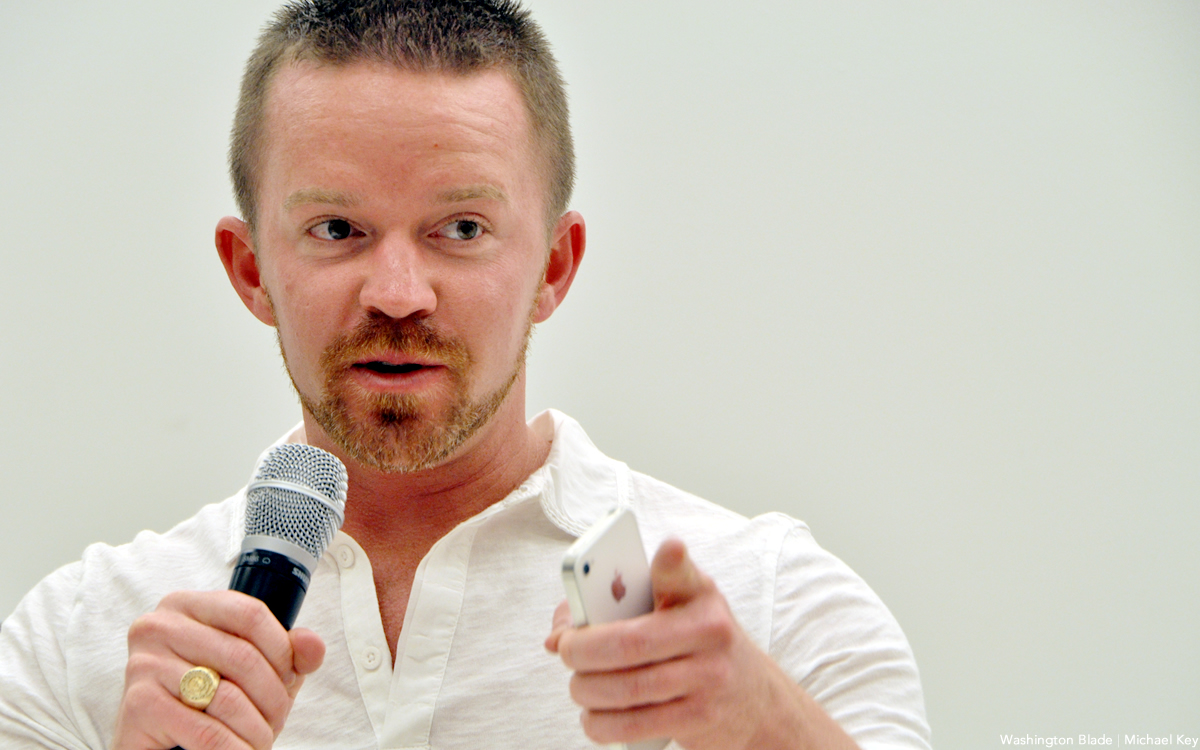 Documents filed in the United States District Court for the District of Columbia show that law enforcement officers with the U.S. Department of Homeland Security's Homeland Security Investigations division and the D.C. Metropolitan Police Department arrested D.C. gay activist Thomas Lane Hudson on Aug. 11, 2021, on charges of possession with the intent to distribute illegal drugs.
An affidavit filed in court says the arrest took place at Hudson's Logan Circle area apartment after officers forcibly entered the apartment when Hudson did not respond to their knocking on the door announcing their presence with a search warrant.
The affidavit says the officers discovered and seized illegal narcotics that were field tested and weighed and which included "1,096.4 grams of a mixture and substance containing Methamphetamine, a Schedule II controlled substance; 29.5 grams of a mixture and substance containing Heroin, a Schedule I controlled substance; and 322.974 fluid ounces of a mixture and substance containing Gamma Butyrolactone ('GBL'), a Schedule I controlled substance."
Court records show that Hudson was held without bond until at least Aug. 25, 2021, when U.S. District Court Judge Robin M. Meriweather approved a motion filed by prosecutors to seal the case from the public record on grounds that it "contains sensitive information regarding the underlying ongoing criminal investigation."
The Aug. 25 entry that up until then was part of the public court record announcing the decision to seal the case did not disclose any information about an underlying or ongoing investigation. It also did not disclose why federal Homeland Security investigators became involved in a drug case ordinarily handled by D.C. police.
Hudson and his attorney, who is identified in the court records as Brian Keith McDaniel, did not respond to repeated requests by the Washington Blade for comment on the case and to disclose whether they dispute the accuracy of the charges filed against Hudson.
The arrest affidavit, which was filed before the case was sealed, remains a part of the public record. It says that in addition to the allegation that illegal drugs were seized from Hudson's apartment, the officers conducting the search found "assorted items related to distribution of controlled substances."
Among the items found, it says, were digital scales, plastic zip bags, vacuum sealer and vacuum sealer bags, a currency counting machine, and "approximately $48,000 in United States currency."
Although the public court records do not show whether Hudson was released while awaiting trial or was still being held, sources who know Hudson pointed out that he resumed posting messages on social media in December of 2021 after a period when no postings from him could be found. This suggests he has been released while the case remains pending.
Hudson's arrest came less than a year before the D.C. Gay and Lesbian Activists Alliance released its 2022 D.C. LGBTQ Election Guide called Leave No One Behind, which calls for the decriminalization of possession of currently illegal drugs for personal use.
Although the GLAA document doesn't call for decriminalizing the selling of illegal drugs, it says "evidence demonstrates criminalization has done little to curb the prevalence of drugs in our communities and is not an effective way of getting people into treatment because it stigmatizes drug users."
Hudson is well known in the D.C. area and among LGBTQ advocates locally and nationally. He was twice elected as a delegate to the Democratic National Convention; served on Hillary Clinton's national finance committee; and once worked for the Human Rights Campaign.
Hundreds attend Dupont Circle vigil for Colorado shooting victims
Clergy members join activists in denouncing ant-LGBTQ violence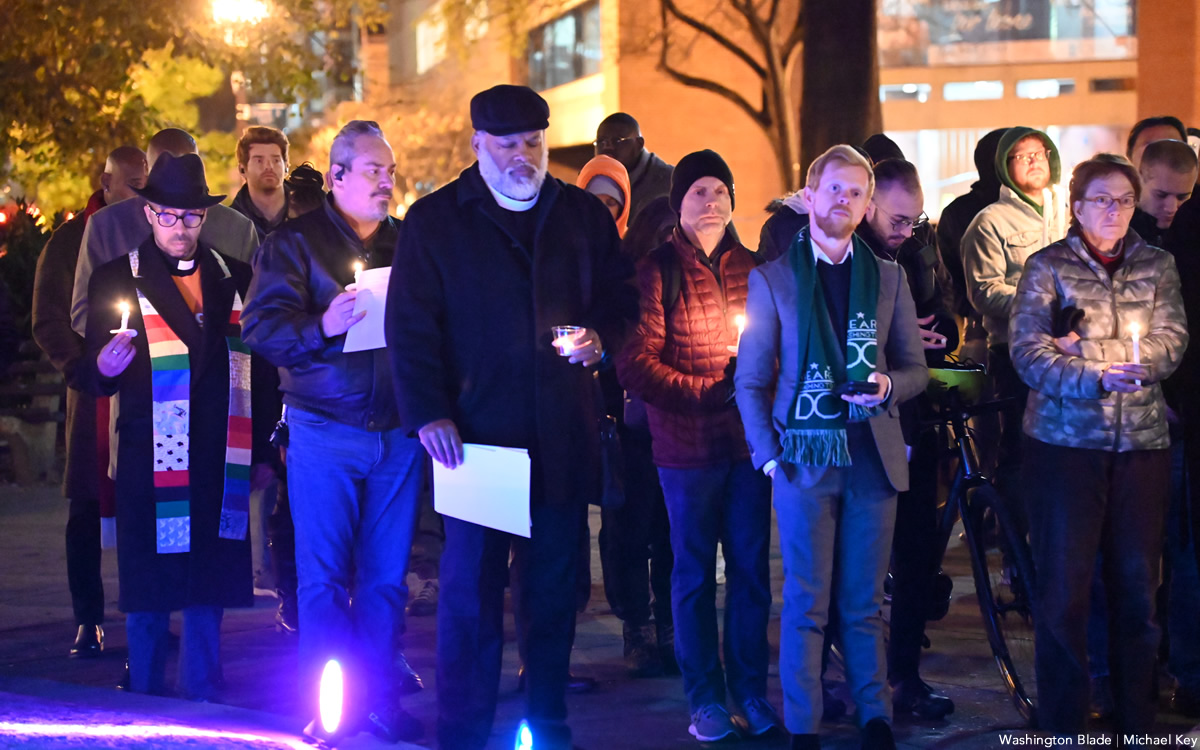 Several hundred people turned out for a candlelight vigil in Dupont Circle Monday night to honor the five who died and at least 25 wounded in the mass shooting at an LGBTQ nightclub in Colorado Springs, Colo., this past Saturday night.
Among those who participated in the vigil were eight ministers and two elders from local LGBTQ supportive churches.
The event took place shortly after Colorado authorities released the names of the five patrons of the Club Q nightclub who police said were shot to death by lone gunman suspect Anderson Lee Aldrich, 22, who was subdued by other patrons before police arrived on the scene and placed him under arrest.
"We're going to take the time to heal, to process, to honor those victims, members of our own community," said Larry Miller, news anchor for D.C.'s WUSA 9 TV, who served as moderator at the vigil.
"It will be tough," Miller said in opening the event. "But we'll do it together. If you need to cry this is an opportunity to do that," he said. "If you need to pray, you'll have that opportunity as well."
The vigil was organized jointly by D.C. Mayor Muriel Bowser's Office of LGBTQ Affairs; Capital Pride Alliance, the group that organizes D.C.'s LGBTQ Pride events; the Center for Black Equity, which organizes D.C.'s Black Pride events; the D.C. Center for the LGBT Community; and the Pride Fund to End Gun Violence.
"Today we are standing in solidarity with our queer family in Colorado Springs in the aftermath of a tragic and deadly shooting at Club Q," Japer Bowles, director of the Mayor's Office of LGBTQ Affairs, told the gathering.
"However, gun violence and anti-LGBTQ hate will not stomp out our life," Bowles said. "And even though we are mourning today and tomorrow and through the holidays where seats around the dinner table will be empty due to gun violence and anti-trans and anti-LGBTQ rhetoric, our love and our strength as a community will prevail."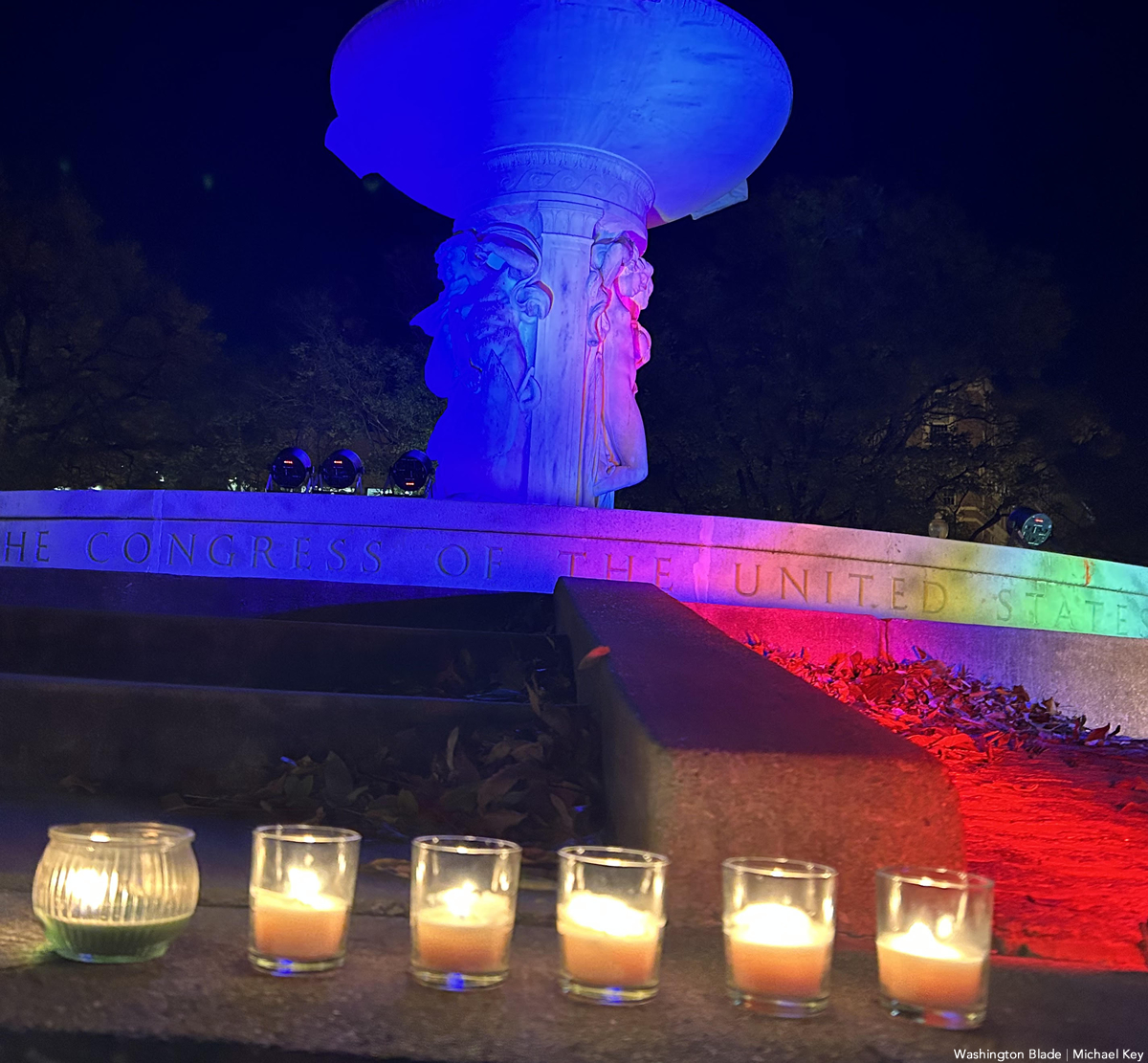 Kenya Hutton, deputy director of the Center for Black Equity, which organizes D.C.'s Black Pride events, told those attending the Dupont Circle vigil he worries that a shooting incident like the one in Colorado Springs could happen anywhere, including in D.C.
"I'm tired of having to say the names of those we've lost for no reason," he said. "We have legislators pushing all these anti-LGBTQ bills," Hutton said. "We can't sit by silently and let this continue."
Among the clergy members who spoke was Rev. Adalphie Johnson, Senior Pastor of the Community Church of Washington, D.C.
"I come here this evening with a heavy heart," she said. "A heavy heart because we are still living in a world where folks need to understand what it means to love, what it means to allow people to be free, what it means to allow people to live their authentic self."
Others who spoke included Mike Silverstein, a member of the Dupont Circle Advisory Neighborhood Commission; Ryan Bos, executive director of Capital Pride Alliance; Ashley Smith, president of the Capital Pride Alliance Board of Directors and a member of the Human Rights Campaign board; Alexis Elizabeth Rodriguez, director of D.C.'s Latinx Pride organization; and D.C. artist and poet Reggie Rich.
Other clergy members who participated in the vigil included Rev. Aaron Wade, founder and Pastor Emeritus of the Community Church of Washington, D.C.; Rev. Amanda Hendler-Voss, Senior Minister at First Congressional United church of Christ; Rev. Dr. Arthur Cribbs Jr., Senior Pastor of Little River United Church of Christ; Rev. Dr. Sidney Fowler of United Church of Christ; and Rev. Kenneth King, Pastor serving New Hope Baptist Church and Plymouth Congressional United Church of Christ.