Polish president vetoes anti-LGBTQ bill that targeted schools
Measure would have further limited access to comprehensive sex ed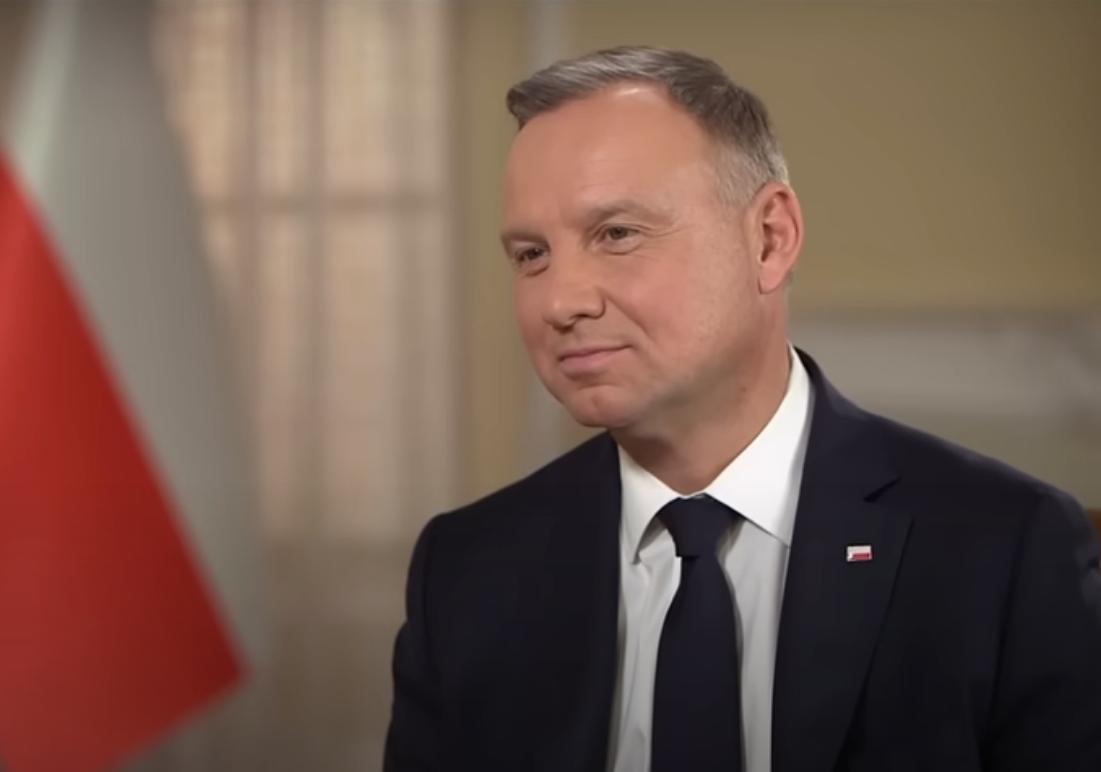 A controversial bill that would further limit access to comprehensive sexual education and anti-LGBTQ discrimination preventative classes in schools in Poland was vetoed last week by President Andrzej Duda.
The measure, similar in nature to an earlier measure also vetoed by Duda, would have implemented restrictions on curriculum and school activities, giving the country's central government more control over the regional school systems and administrative staff.
The legislation was put forward by the majority ruling conservative Law and Justice (PiS) party in Poland's Parliament, known as the Sejm and Senate. Przemysław Czarnek, the ultra-conservative education minister who backed both bills, has publicly claimed that reforms are needed to "protect children from moral corruption."
Both measures would give school administrators and superintendents the power to remove books, lessons, and ban student participation in events or clubs that are LGBTQ affirming.
The first passed the lower house of Poland's Parliament, known as the Sejm, this past Jan. 13, in a 227-214 vote. Duda vetoed that initial version in March 2022. Undeterred law makers then drafted a later version, which moved control over directly to the education ministry.
Czarnek, who has been vehemently opposed to the LGBTQ rights and the country's equality movement, working with lawmakers was able to get the second version through the Parliament this past October.
The law, if signed, would have allowed education minister-appointed provincial education superintendents to suspend headteachers [principals/headmasters] if they conclude there is an "urgent threat to the safety of students during activities organized by a school."
Czarnek, has been a leading figure in a campaign against what he has labeled "LGBT ideology," which the minster alleges "comes from the same roots as Nazism."
The legislation specified that schools would have had to submit details of extracurricular activities for the superintendent's approval at least two months before they take place. The legislation also introduces additional hurdles for seeking the consent of parents for such activities.
Opponents of the measures say they were intended to prevent certain outside groups — such as sex educators or those speaking about LGBTQ issues — from entering schools.
Czarnek has staked out several public vitriolic anti-LGBTQ positions that has included an attack on the LGBTQ community in the U.S., specifically West Hollywood, Calif.
Speaking with a reporter on Serwis Info Poranek with the national state-run TVP Info (TVP3 Polska) last June, the education minister said (translated from Polish):
"Let's end the discussion about these LGBT abominations, homosexuality, bisexuality, parades of equality. Let us defend the family, because failure to defend the family leads to what you see.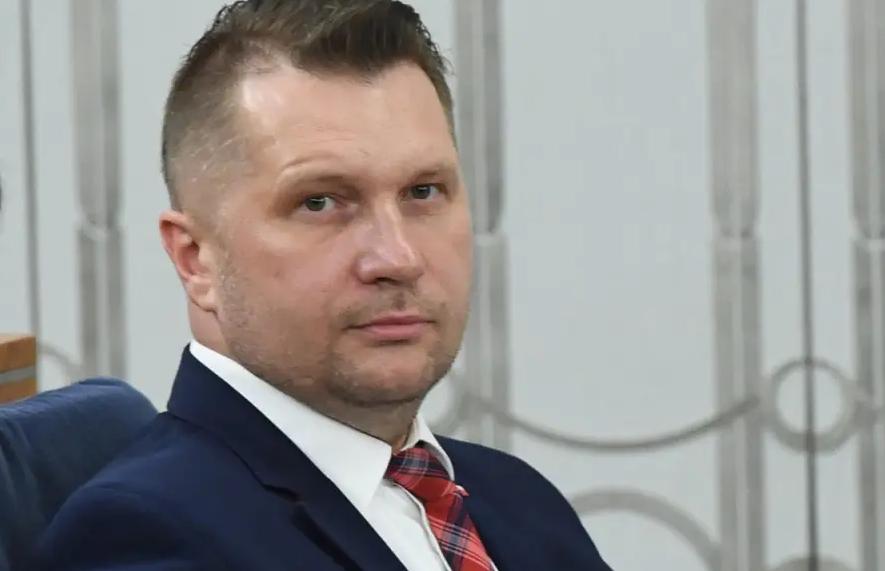 As he spoke these words, he was holding a phone in his hand, on the display of which he showed a picture of several people.
"These are the Los Angeles guys in downtown last June. I was on a delegation there, I was passing through, there was a so-called gay pride parade there," he added. "We are at an earlier stage, there are no such things with us yet, but such chaps shamelessly (shamelessly – ed.) Walk the streets of the western city of Los Angeles," he added.
Passage of the second measure led to widespread protest by students and advocates across Poland.
Human Rights Watch noted that students and activists regularly gathered in front of Warsaw's Presidential Palace and across the country to demand respect for their rights.
They called on Duda to veto a controversial bill that would further limit access to comprehensive sexuality education and anti-discrimination classes in schools.
Last Thursday Duda told reporters:
"I refuse to sign this bill," said Duda. "I understand that some people will be disappointed, but a large part of our society will be calmed by this [decision]."
He then noted that he had received more than 130 protest letters against the law, some signed by dozens of organizations, with political views ranging from progressives to ultra far-right.
"Entities from all sides of the political scene find points in this act that they have very serious doubts about and against which they protest," said Duda. "Unfortunately, it has not been possible to achieve what I would call a social compromise … The bill has not received wide social acceptance."
The president emphasized — as he did when vetoing the similar law last March — that Russia's war in neighboring Ukraine makes it all the more important for "us to have peace" at home rather than conflict and division.
In a statement, Human Rights Watch said: "The public has taken to Poland's streets countless times since the conservative Law and Justice party came to power in 2015 and launched an attack on women's and LGBT rights, judicial independence and education. Despite enduring civil society resistance and international pressure, the Polish government is likely to continue trying to limit students' access to accurate, inclusive and age-appropriate sexuality education."
Notes from Poland reported that one of the opposition progressive MPs, Katarzyna Lubnauer of the liberal Modern (Nowoczesna) party, hailed Duda's veto as "a great victory for Polish schools, for all NGOs, for parents, children and all those who participate in education"
Transgender journalist who enlisted in Ukrainian military returns to D.C.
Sarah Ashton-Cirillo wounded on battlefield in February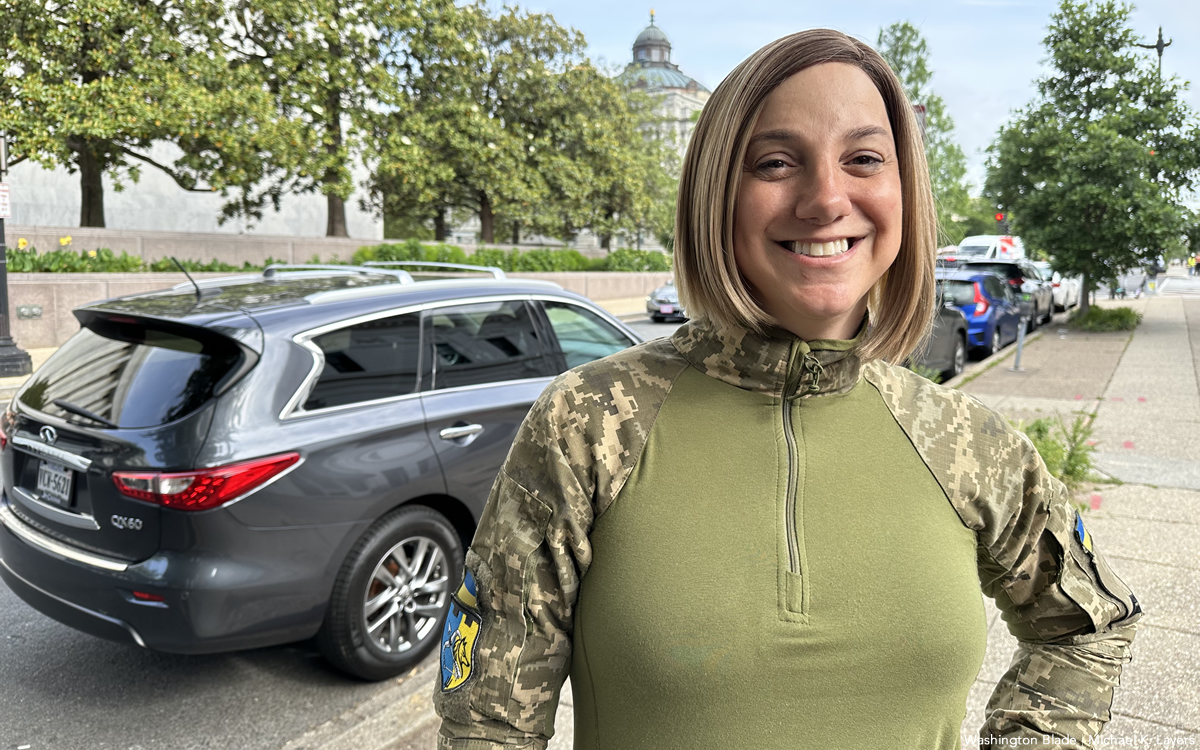 Sarah Ashton-Cirillo was a journalist when she began to cover the Armed Forces of Ukraine's Kharkiv Defense Forces at the beginning of Russia's war against the country. She eventually enlisted, and a commander from the Ukrainian Defense Ministry on Jan. 31 facilitated her transfer to the unit's 209th Batallion of the 113th Brigade.
Ashton-Cirillo, a transgender woman who was born in New York, was working as a senior combat medic in a trench near Kreminna, a Russian-occupied city in eastern Ukraine, on Feb. 23 when shrapnel from an enemy artillery shell wounded her. Ashton-Cirillo suffered injuries to her right hand and to her face, and her fellow soldiers had to wait seven hours to evacuate her. Ashton-Cirillo eventually received treatment for her injuries in Kharkiv, Ukraine's second-largest city that is roughly 130 miles northwest of Kreminna.
"The big key there was I wasn't able to take any painkiller by staying in the trench because I was still technically in battle," she recalled to the Washington Blade on May 19 during an interview that took place at a coffee shop near the U.S. Capitol.
Ashton-Cirillo noted her unit won the battle during which she had been wounded.
"Seven hours after my injury, I finally got to a hospital," she said. "By that point I hadn't taken any antibiotics (because) we didn't have any antibiotics and infection had set in. They took me to a hospital in Kharkiv and they had to clean the wound. They had to wait to make certain that it was healing before they could do surgery."
"I was living with this open wound for eight days," added Ashton-Cirillo, who was in uniform when she spoke with the Blade. "They were able to close my face up on the second day."
Two small scars on her face are visible. She said she has limited mobility in her right hand, and has no feeling from her wrist to her fingers.
"For the most part, I'm so blessed and very lucky," said Ashton-Cirillo.
Ashton-Cirillo now a junior sergeant
The Blade first spoke with Ashton-Cirillo last December while she was in D.C. to speak with lawmakers on behalf of the Ukrainian Defense Ministry about the Armed Forces of Ukraine's medical needs.
Ukrainian President Volodymyr Zelenskyy met with President Joe Biden and spoke to a joint session of Congress less than three weeks after the interview.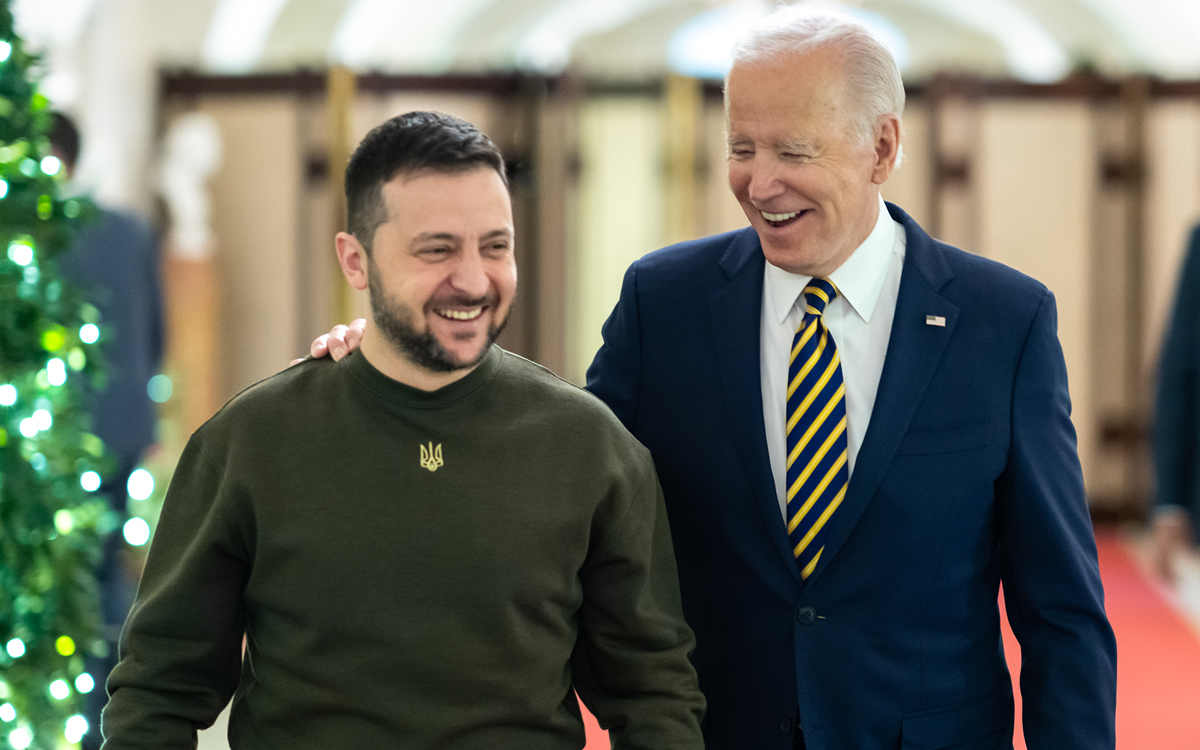 Ashton-Cirillo early last month became a junior sergeant. She returned to D.C. on May 15.
Ashton-Cirillo met with U.S. Reps. Eric Swalwell (D-Calif.), Mike Quigley (D-Ill.) and Steven Horsford (D-Nev.) and aides for U.S. Rep. Michael McCaul (R-Texas) and U.S. Sens. Marco Rubio (R-Fla.) and Jacky Rosen (D-Nev.) before she left the nation's capital on May 19. Ashton-Cirillo also spoke to journalists from the Global South at the National Press Club and met with José Andrés, whose World Central Kitchen continues to operate in Ukraine, and Amnesty International representatives.
"We had some successes on my trip in December," she said. "Members of Congress … in the House and Senate were interested in my experiences regarding my service."
Ashton-Cirillo specifically praised Andrés for his work in Ukraine.
"There is nobody that's done more for our cause," said Ashton-Cirillo. "Nobody has done more to save the Ukrainian people as a foreign civilian than World Central Kitchen and Chef José Andrés."
No timeframe for spring offensive
Ashton-Cirillo sat down with the Blade two days before Zelenskyy met with Biden and other world leaders at the G7 summit in Japan. (Biden met with Zelenskyy in Kyiv, the Ukrainian capital, on Feb. 20.)
Ukrainian officials this week denied Russia's claims that it had captured Bakhmut, a city in Donetsk Oblast. (Ashton-Cirillo last December told the Blade she had previously worked to counter Russian propaganda that claimed Russian troops had captured the city.) The Associated Press reported a group of anti-Kremlin Russian partisans — the Russian government described them as Ukrainian "military sabeteurs" — attacked an area near Belgorod, a Russian city that is roughly 25 miles from the country's border with Ukraine.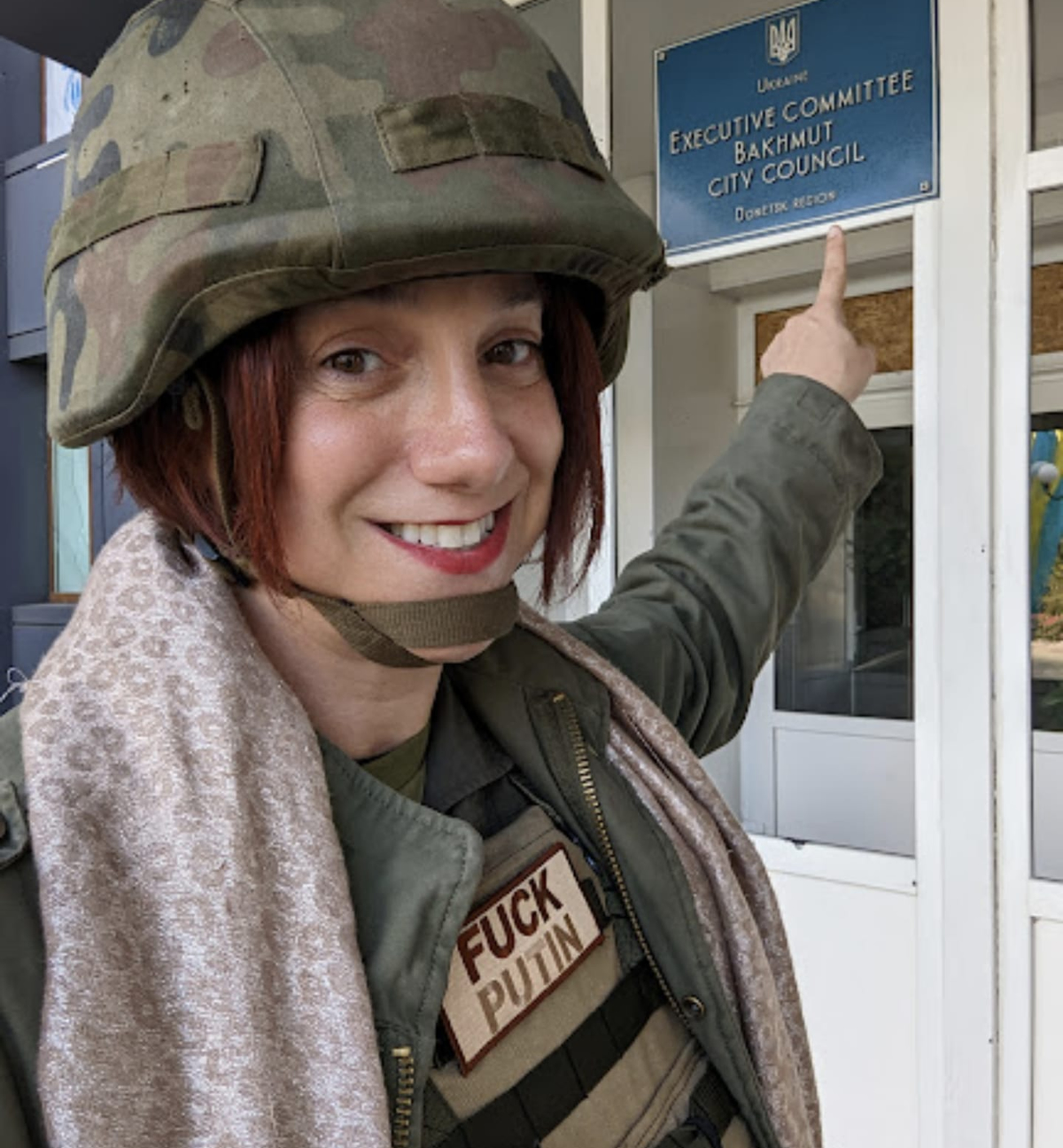 The International Criminal Court in March issued arrest warrants for Russian President Vladimir Putin and Russian Children's Rights Commissioner Maria Lvova-Belova over the abduction of children from Ukraine. Zelenskyy earlier this month visited the ICC while he was in the Netherlands.
Ukraine continues to ask the U.S. and other countries for more weapons as it prepares to launch its long anticipated "spring" offensive.
Patriot missiles on May 16 shot down 29 of the 30 missiles that Russia launched at Kyiv. Ashton-Cirillo said Ukraine specifically needs DPICMs (dual-purpose improved conventional munition), a type of smart munition, "so we can soften up the Russian trench lines."
"I know what these trenches are," she said. "They are going to be absolutely fortified as we attempt our counter attacks and any potential counter offensive."
Ashton-Cirillo said she does not have a "timeframe" for when the offensive to begin.
"We want all the weapons we can get now before launching," she said. "We will beat the Russians under any circumstances and we are we have the history to prove it."
"We're trying to make certain that we're not losing unnecessary Ukrainian lives," added Ashton-Cirillo. "We're not wasting U.S. taxpayer dollars and the best way to do that is have an efficient, effective attack method, and that's why we need some of these more technologically advanced weapons. We can fight with RPGs and our assault rifles, and we'll win, but at high cost, high cost to us, high cost to the American taxpayer. We understand as stewards of the Americans' trust that we have to do everything in a proper way to bring victory as soon as possible."
Gender identity 'less of a spectacle among the international press'
Zelenskyy last summer said he supports a civil partnerships law for same-sex couples. Ukrainian lawmakers later approved a media regulation bill that will ban hate speech and incitement based on sexual orientation and gender identity.
Zelenskyy, a former actor and comedian, in made a broad reference to LGBTQ and intersex rights in a virtual appearance at this year's Golden Globes. Ukrainian Ambassador to the U.S. Oksana Markarova during a Jan. 26 event in D.C. that highlighted Ukrainian LGBTQ servicemembers applauded Kyiv Pride and other LGBTQ and intersex rights groups in her country.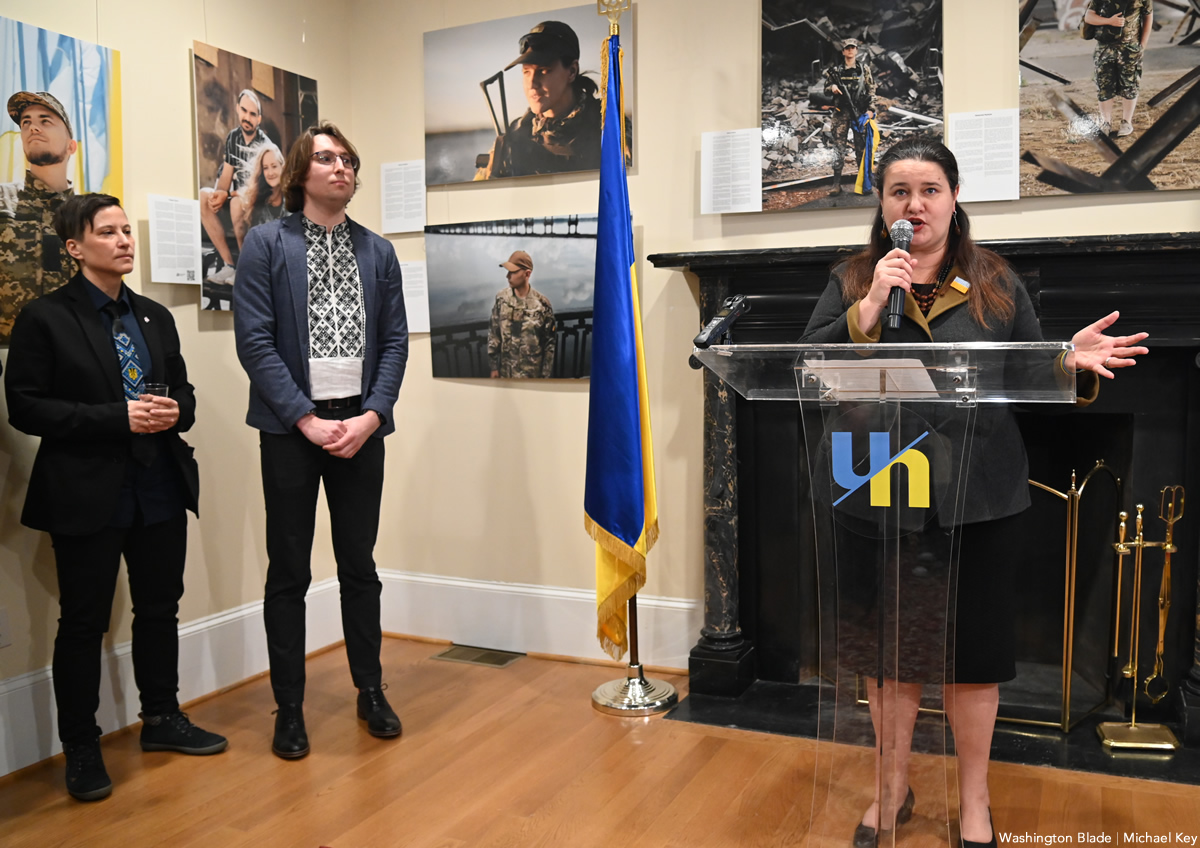 Ashton-Cirillo pointed out the Ukrainian military is creating a group that will work directly with journalists in the country and from around the world. She said the initiative's goals are "to guarantee free speech during war time, to guarantee a clear message based on truth and facts from the journalist standpoint during wartime and also to ensure that we have free speech, and free thought among the press post victory in Ukraine." Ashton-Cirillo also told the Blade that her gender identity is "becoming less of a spectacle among the international press, and that's important to me, too, as well."
"There's no denying I'm trans. I don't hide it," she said. "I'm very proud to be a member of the LGBT community. My work and my focus is on this war, this liberation for Ukrainians and liberty for everyone who cares about freedom, and that includes trans people. That includes Crimean Tatars, that includes any immigrants from the Global South that live in Ukraine."
"This victory will help strengthen the LGBT community around the world because there's going to be one less country that will be able to persecute Ukrainians, LGBTQ members," added Ashton-Cirillo. "We are going to inflict a transformative defeat upon the Russian invaders such that Russia themselves will have to look inward as to the mistakes they've made with human rights … and understand the price that they're paying is very high for things like taking (Wall Street Journal reporter) Evan Gershkovich hostage."
She also said she and her comrades "understand the cascading effect of a Ukrainian a clear transformative Ukrainian victory over Russia will have for human rights around the globe."
Hungarian president vetoes 'snitch on your gay neighbor' law
Katalin Novak differed from nationalist prime minister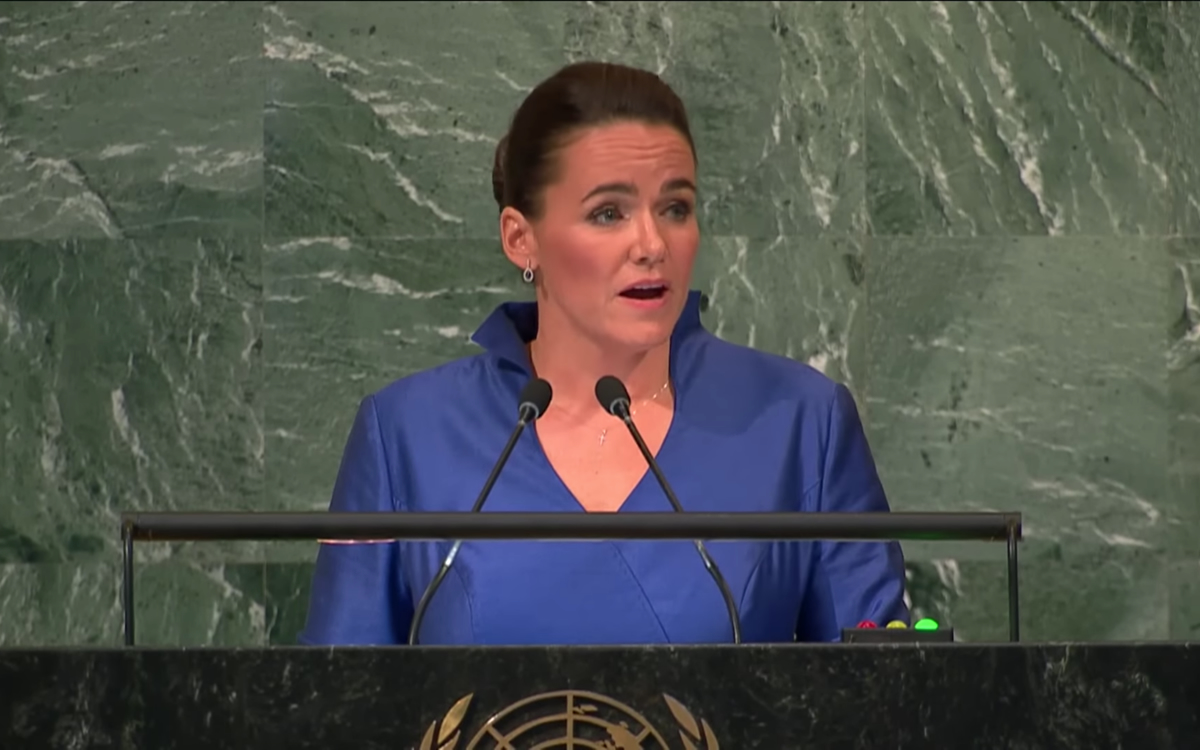 Hungarian President Katalin Novak vetoed legislation that included a provision for citizens to anonymously report on same-sex couples who are raising children. In a rare departure from the policies of Hungary's nationalist prime minister Viktor Orbán whom she generally supports, Novak returned the bill to the parliament telling lawmakers to strike that provision.
While lawmakers can still override her veto, the president's veto letter to lawmakers of the National Assembly of Hungary contained unusually sharp critique from a member of Orbán's inner circle.
The wording of the provision specifies that Hungarians may report those who contest the "constitutionally recognizged role of marriage and the family" and those who contest children's rights "to an identity appropriate to their sex at birth." The latter wording specifically aimed at acknowledging transgender youth.
The country's constitution states that the institution of marriage is "between one man and one woman," and notes that "the mother is a woman, the father a man."
This law's passage last week comes after the country's Constitutional Court issued a ruling in February that will continue to block new applications from trans people for legal gender recognition. The judgment effectively creates two categories of trans people in Hungary: Those who applied early enough to pursue gender recognition and those who did not.
Earlier this month according to a spokesperson for the German government, Germany and France joined with other EU member states in the European Commission lawsuit over a Hungarian law which discriminates against people on the basis of their sexual orientation and gender identity.
The 14 EU member states now joined the lawsuit's proceedings: Belgium, the Netherlands, Luxembourg, Denmark, Portugal, Ireland, Spain, Malta, Austria, Sweden, Slovenia, Finland and now France and Germany.
Orbán has publicly proclaimed he is a "defender of traditional family Catholic values." Orbán has been criticized by international human rights groups as discriminating against LGBTQ people with this law which European Commission President Ursula von der Leyen called a "disgrace."
On June 15, 2021, the Hungarian Law purportedly aiming at taking stricter action against pedophile offenders and amending certain laws to protect children was adopted. Some of the new provisions target and limit the access of minors to content and advertisements that "promotes or portrays" the so-called "divergence from self-identity corresponding to sex at birth, sex change or homosexuality."
Prior to its passage, more than 5,000 people, LGBTQ activists and supporters along with human rights activists demonstrated in front of the Parliament in Budapest, angered by legislation banning any content portraying or promoting homosexuality or sex-reassignment surgery to anyone under 18. 
It was sponsored by Fidesz, Orbán's ruling conservative party and essentially equates sexual and gender diversity people to pedophilia.
Hungary's president Katalin Novak has vetoed a law widely seen as being discriminatory toward LGBTQ+ people.

She's urging parliament to strike a paragraph that would make it legal to anonymously report certain same-sex couples to the government.https://t.co/4hPr2dGKY9

— POLITICOEurope (@POLITICOEurope) April 22, 2023
Ukrainian MP introduces bill to legally recognize same-sex couples
President Volodymyr Zelenskyy backs civil partnership law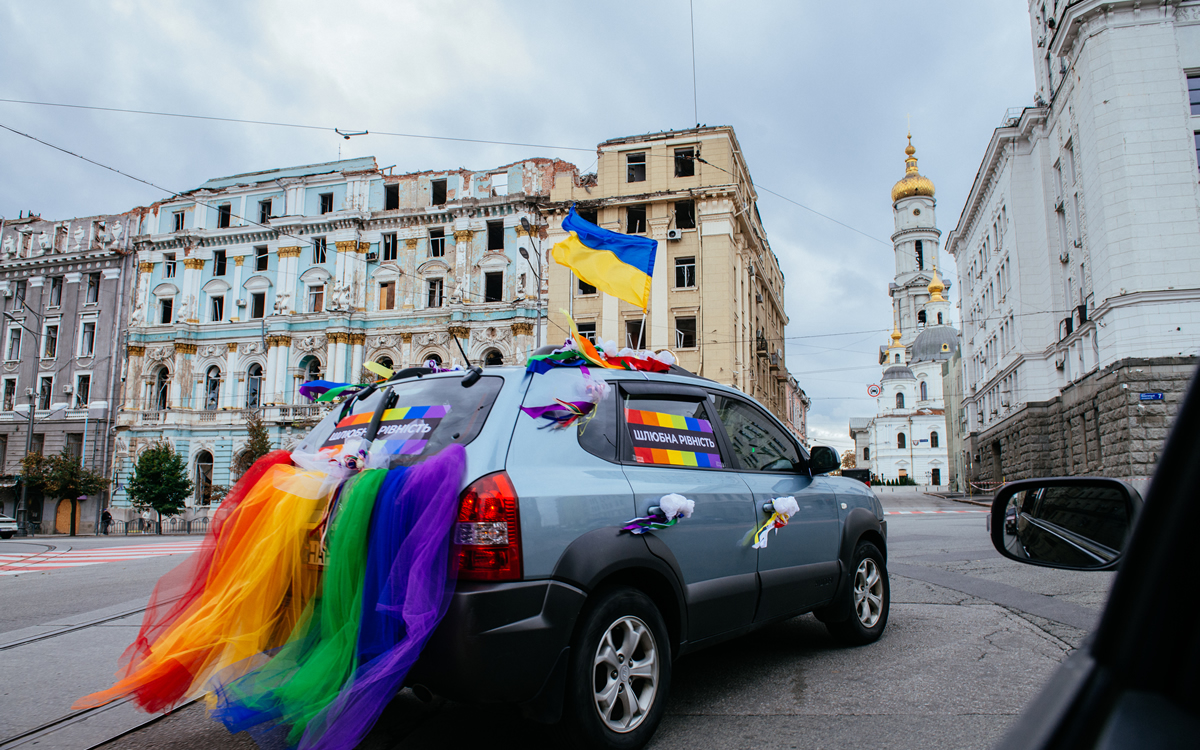 A Ukrainian MP has introduced a bill that would extend legal recognition to same-sex couples.
Inna Sovsun in a series of tweets notes 56 percent of Ukrainians "support same-sex partnerships" and she hopes "the majority of the Parliament, including [President Volodymyr Zelenskyy)'s party will take the lead from the people."
"Ukrainians can no longer wait for equality," said Sovsun. "We must do it immediately. LGBT Ukrainians deserve to have a family. Every day can be their last. Just like for any other Ukrainian. There is no time for hesitation. Let's legalize same-sex partnerships in Ukraine already this year."
Russia on Feb. 24, 2022, launched its war against Ukraine.
"Every day, Ukrainian LGBT military personnel put themselves in danger protecting us," said Sovsun. "Yet if they are in relationships, the state does not recognize those. This means that their partners do not have the same benefits as partner (sic) in heterosexual relationships."
"This includes some very unsettling sitaution (sic)," she added. "If (an) LGBT military person is wounded, his/her partner would not be able to make decisions about his/her medical treatment."
Zelenskyy last summer said he supports a civil partnerships law for same-sex couples.
Ukrainian lawmakers late last year unanimously approved a media regulation bill that bans hate speech and incitement based on sexual orientation and gender identity.
Ukrainian Ambassador to the U.S. Oksana Markarova during a Jan. 26 event in D.C. that highlighted LGBTQ and intersex servicemembers in her country applauded Kyiv Pride and other advocacy groups. Markarova acknowledged "not everything is perfect," but added Ukraine is "moving in the right direction."
"We together will not only fight the external enemy, but also will see equality," she said.
Ruslana Hnatchenko, funding manager of the Sphere Women's Association, a Kharkiv-based group that promotes LGBTQ and intersex rights in Ukraine, last month told the Washington Blade during a Zoom interview from the Hungarian capital of Budapest that conservative politicians, prominent figures within the Ukrainian and Russian Orthodox Churches and many Ukrainians themselves remain opposed to LGBTQ and intersex rights. Hnatchenko said she believes Zelenskyy "believes in human rights," but the landscape to advance LGBTQ and intersex rights in her country remains complex.
"He (Zelenskyy) is kind of between a rock and a hard place in that sense, but I believe that human rights in Ukraine will overcome, especially after our victory," said Hnatchenko. "We will make progress."
🏳️‍🌈🇺🇦Today, I submitted a draft law on the legalization of same-sex partnerships to Ukrainian parliament.

Today 56% of Ukrainians support same-sex partnerships! So, I hope the majority of the parliament, including @ZelenskyyUa party will take the lead from the people! pic.twitter.com/uQnCUAPVjt

— Inna Sovsun (@InnaSovsun) March 7, 2023