'Talking Trans History' explores lives of D.C. advocates
Rainbow History Project holds first panel for city-funded Trans History Initiative
Longtime D.C. transgender rights advocates Earline Budd and Gabrielle 'Gibby' Thomas gave personal accounts of their transition as transgender women and their work as trans rights advocates Tuesday night, Jan. 24, at a "Talking Trans History" panel discussion organized by D.C.'s Rainbow History Project.
Joining them as a panelist was Rayceen Pendarvis, the acclaimed local event host, public speaker, and LGBTQ community advocate. Pendarvis, among other things, told of being nurtured and taught by dynamic transgender women who proudly affirmed their identity not only as trans people but productive citizens in the community at large.
Vincent Slatt, Rainbow History Project's director of archiving, served as moderator of the panel discussion. He told the audience of about 25 people who gathered at the Southwest Branch of the D.C. Public Library that the event was the first of many such panels planned by the project's recently launched Trans History Initiative.
Slatt noted that Rainbow History Project received a $15,000 grant for fiscal year 2023 from the Mayor's Office of LGBTQ Affairs to conduct the Trans History Initiative. The initiative plans to "better integrate the often-under-represented histories of trans people into our programming," according to a RHP statement.
Budd, 64, who has been a trans-identified activist since the 1970s, became involved in the 1980s with supporting people with HIV/AIDS before founding the D.C. organizations Trans Health Empowerment and Empowering the Transgender Community (ETC), for which she currently serves as executive director. She has received numerous awards for her work in support of the trans community and her self-proclaimed role as "the advocate" for the trans and LGBTQ community.
In her remarks at the panel discussion, Budd told of her childhood upbringing in a religious family where, like many trans people, her parents didn't approve of her early identity as a girl.
"I want to say that around eight or nine my mother found me to be different," Budd said. "The difference was she would lay my clothes out, my sister's clothes and my clothes for us to go to school. And when I would come downstairs, I would always have on my sister's clothes," Budd told the gathering.
"And she would say why do you have on your sister's clothes?" Budd continued. "I said mommy, it fits. No, it does not, you're a boy," Budd quoted her mother as responding. "And let me tell you, that went on and on and on," said Budd, who told how she eventually parted ways with her parents and left the house to embark on her role as one of D.C.'s leading trans advocates.
Among her many endeavors was successful discrimination complaints, including one against a D.C. skating rink and another against the D.C. Jail for discrimination based on gender identity. Budd told how she won in both cases, with strong backing from the D.C. Office of Human Rights.
Pendarvis, among other things, spoke about how an association with trans women as a young adult helped to shape Pendarvis's longstanding and award-winning role as co-founder of Team Rayceen Productions, including 10 years as leading host of "The Ask Rayceen Show," which highlighted topics promoting the LGBTQ and trans community in D.C.
Similar to Budd, Pendarvis has received numerous awards and honors, including recognition from the D.C. City Council, for work as a host and speaker at LGBTQ-related festivals, fundraisers and other events.
"As an activist and host, I have been blessed to do many things," Pendarvis told the panel discussion gathering. "For many who do not quite know how to identify or ask me to identify, first of all, I'm a human being," Pendarvis said. "I am a father of five and a mother of many."
Pendarvis added, "I'm a human being first and foremost, a child of God. And my trans sisters uplifted me first, embraced me first. I came out in a community where our transgender sisters were always on the front line."
Thomas, 65, told the panel session she is a native of North Brentwood, Md., located just outside D.C., but D.C. became her home since shortly after finishing high school. She began her work in the LGBTQ community in 1989 as a caregiver for people with HIV. She has since worked for the local organizations Us Helping Us, Transgender Health Empowerment, and Terrific, Inc. She currently works for Damien Ministries and its "Trans Specific" programming called Shugg's Place that, among other things, focuses on providing services for transgender older adults.
She told of her growing up as one of seven children in a family whose mother and father, she said 'were very loving." But like other trans kids, Thomas said her parents were uncomfortable over her desire to identify as a girl. A more understanding next door neighbor allowed Thomas to spend time in her house as Thomas helped with household errands.
"I would go to the store and things like that for her," Thomas said. "But what's most important, I could dress as I wanted to in her house. She would give me dresses that I could wear. And I could go up there and put on my dresses and watch TV," Thomas continued. "And then I would get to take my dress off and go home because mom and daddy wasn't standing for that."
At around the age of 10, Thomas said, she was aware of current events and observed that her father was a strong supporter and admirer of Martin Luther King Jr. and his civil rights leadership. "I said you can march with Martin Luther King for everybody else's rights but you are going to deny me mine," she recalled telling her father.
Thomas said she initially began patronizing D.C. gay bars after befriending gay men from her high school. A short time later, after realizing that the gay scene was not who she was, she discovered the then D.C. gay drag bars Louis' and The Rogue and had a chance to meet "people like me." But she said someone she met at one of those two bars introduced her to the then D.C. Black gay bar called the Brass Rail, where transgender women hung out.
"And I said, oh my God, I am home. This is heaven," Thomas told the panel gathering. "When I came to the Brass Rail I felt like I was home" as a trans person, Thomas said. "I met so many terrific people."
She went on to tell about the trials and tribulations of fully transitioning as a trans woman and her growth as a transgender activist with a career dedicated to supporting the trans and LGBTQ community.
Japer Bowles, director of the Mayor's Office of LGBTQ Affairs, spoke briefly at the start of the Talking Trans History panel discussion. He said the mayor's office was excited to be supporting the Rainbow History Project's newly launched Trans History Initiative.
"I'm really, really excited to work for a mayor who not only is fighting for things for our community, but truly funding these opportunities," Bowles said. "This is about you and our trans communities. So, I'm here to listen."
Slatt also announced at the panel session that Rainbow History Project has a paid job opening for one or more positions to help run the city funded Trans History Initiative. He said information about the job opening for people interested in applying can be obtained through RHP's website. He said a video recording of the panel session would be posted on the website in a week or two.
D.C. Council to honor drag performer Ba'Naka
Memorial resolution expected to pass unanimously on Feb. 7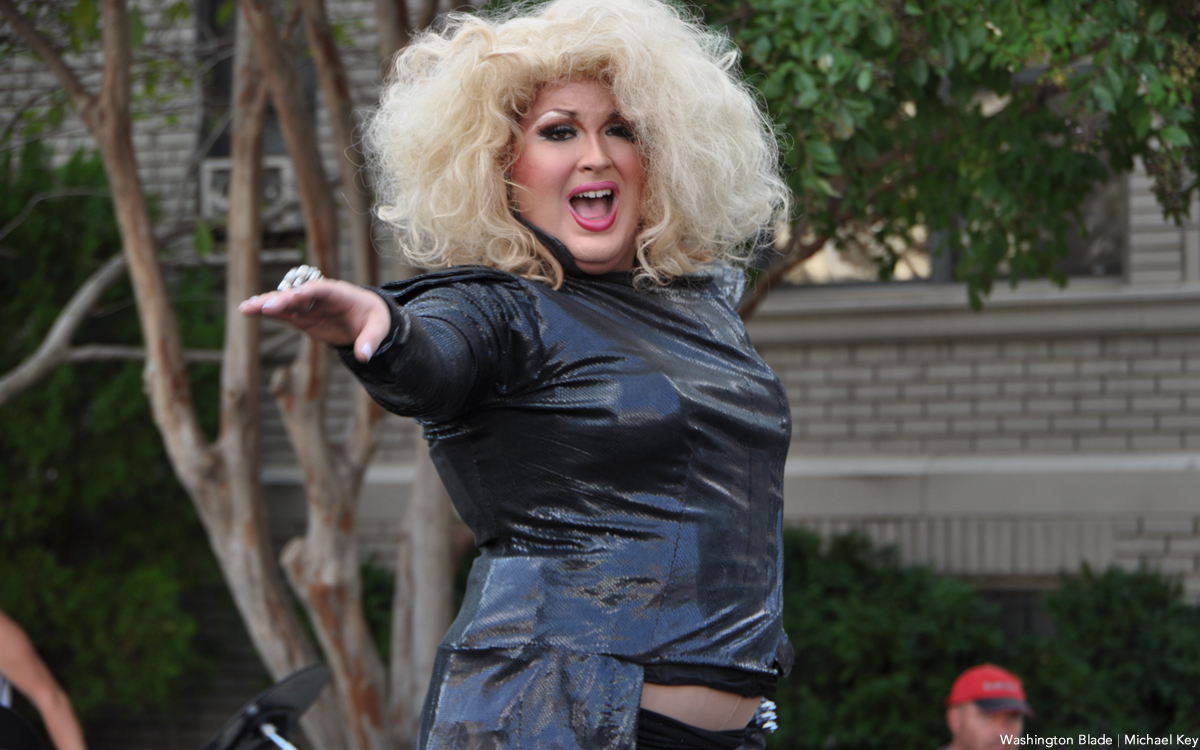 All 13 members of the D.C. City Council have signed on as co-introducers of a ceremonial resolution honoring the life of the late D.C. drag performer Dustin Michael Schaad, who performed at many of the city's gay bars and LGBTQ events under the name Ba'Naka.
The resolution, introduced by D.C. Council member Anita Bonds (D-At-Large), was expected to be approved unanimously at the Council's Feb. 7 legislative session.
"The Council of the District of Columbia honors Dustin Schaad's memory, recognizes and celebrates their legacy of love, unity, and compassion for all those who knew him, and expresses sincere condolences to Dustin's family and loved ones," the resolution states.
The resolution notes that Schaad, 36, moved to D.C. shortly after graduating high school in his hometown of Bradenton, Fla., and not too long after that "began performing as Ba'Naka at drag shows around the city, eventually becoming one of the most recognizable people in the District's drag community."
Schaad died Jan. 11 at George Washington University Hospital from complications associated with a longstanding illness, according to friends.
David Perruzza, owner of the D.C. gay bars Pitchers and A League of Her Own, said Schaad had been performing most recently at Pitchers while overseeing a popular drag bingo event at the Adams Morgan bar. Perruzza said Schaad talked about having performed in drag since the age of 18.
"[T]hrough their vibrant personality and outgoing nature, Ba'Naka raised awareness around issues impacting the LGBTQ+ community," the Council resolution says, adding, "Ba'Naka became a beloved regular at gay bars and clubs around the District, lifting the spirit of the LGBTQ+ community."
"RESOLVED, BY THE COUNCIL OF THE DISTRICT OF COLUMBIA, that this resolution may be cited as the 'Dustin Michael Schaad Memorial Recognition Resolution of 2023,'" the resolution states.
D.C. police release video of person, car 'of interest' in trans murder case
Officials seek help from public in Jan. 7 death of Jasmine Star Parker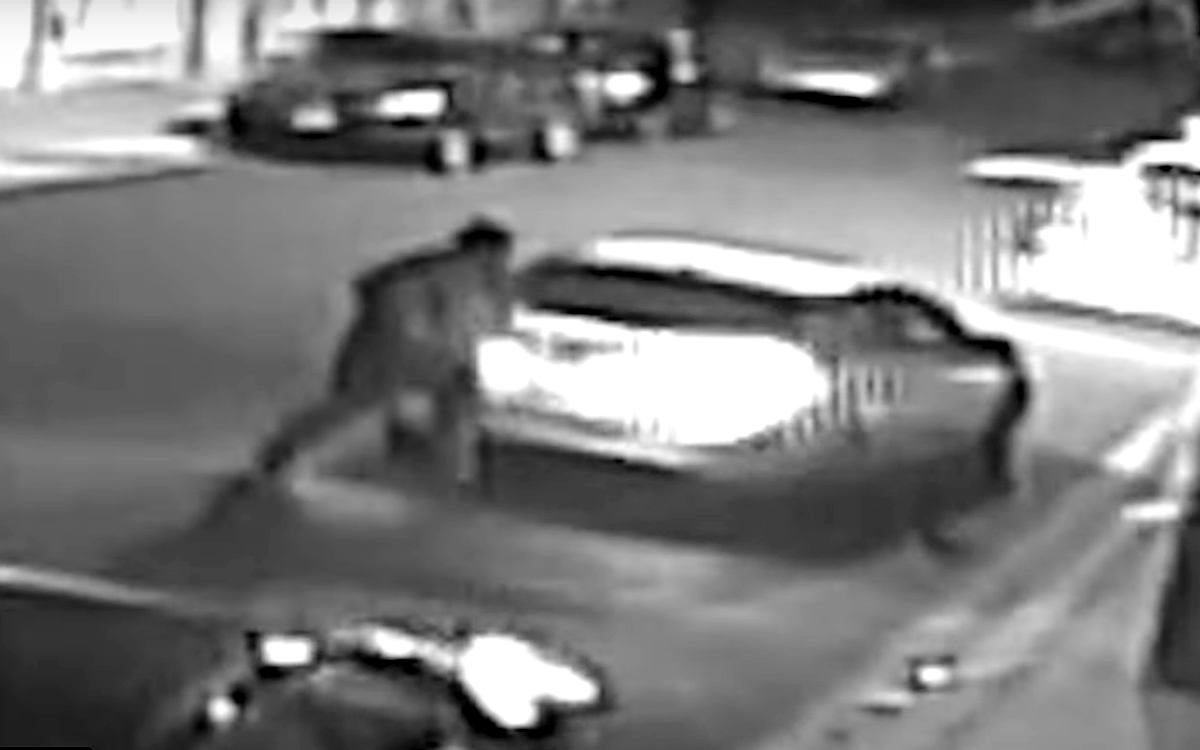 D.C. police on Feb. 1 released a video showing what they say is a person and vehicle of interest in connection with the Jan. 7 murder of transgender woman Jasmine Star Parker, who was found fatally stabbed shortly before 3 a.m. on the 2000 block of Gallaudet St., N.E.
The video, which police obtained from a nearby surveillance camera, shows a car driving along Gallaudet Street and then pulling over to the side and parking, with what appears to be a man getting out of the driver's door and walking in the same direction that he was driving the car.
"Detectives from the Metropolitan Police Department's Homicide Branch seek the public's information in identifying and locating a person and a vehicle of interest" related to the video and the Parker murder, a police statement accompanying the video says.
Shortly before the release of the video, police said they had no suspects and no known motive for the Jan. 7 homicide. A police spokesperson said the case was not listed as a suspected hate crime, but that could change if new information is obtained.
Parker, 36, was honored at a Jan. 16 vigil held on the street where someone took her life. The vigil was organized by the local group Empowering the Transgender Community (ETC) and D.C. Mayor Muriel Bowser's Office of LGBTQ Affairs.
Earline Budd, the founder and executive director of ETC, told the vigil gathering that she knew Parker for many years and observed first-hand how Parker did her best to overcome discrimination and bias as a trans woman of color.
Among those participating in the vigil were Parker's mother, sister, and brother, who expressed their love and admiration for their deceased loved one.
Police are urging anyone with information about the case to call police at 202-727-9099. Information may also be provided anonymously through the police text tip line by sending a text message to 50411.
D.C. police are offering a reward of up to $25,000 to anyone that provides information that leads to the arrest and conviction of the person or persons responsible for the Parker murder.
D.C. police data show 67 anti-LGBTQ hate crimes reported in 2022
Community continues to be hit with most bias incidents in city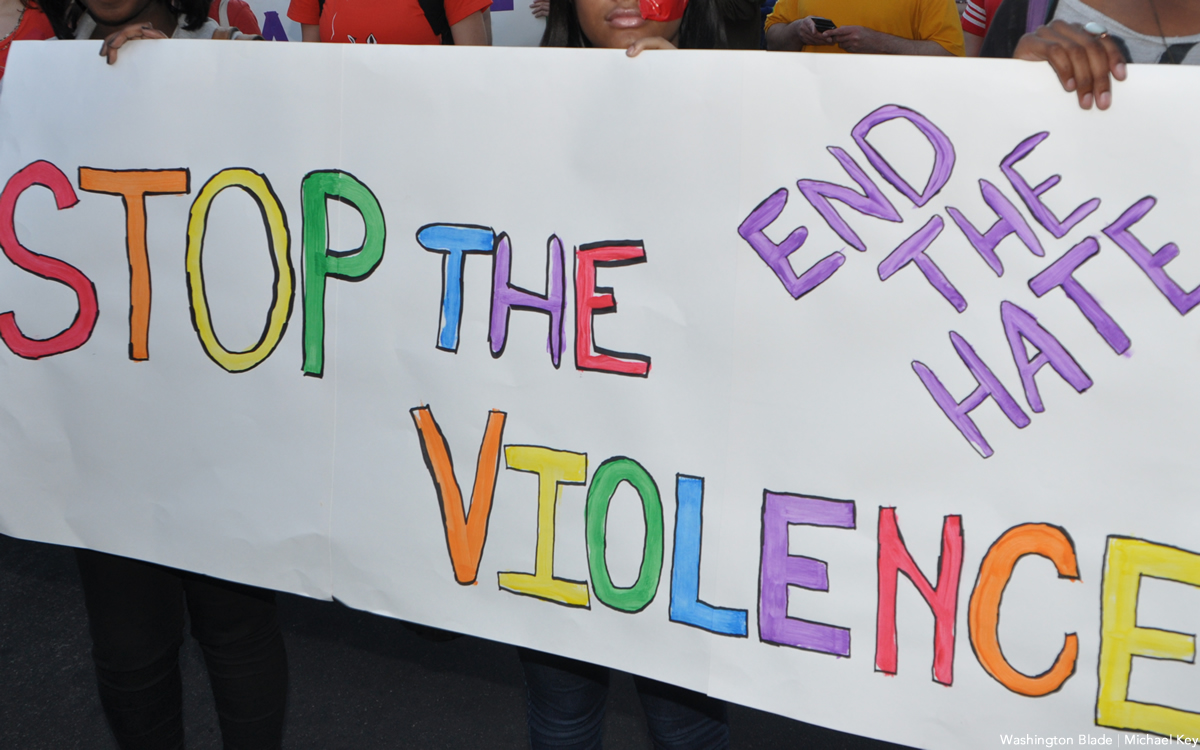 Recently released hate crime data by the D.C. Metropolitan Police Department shows that similar to nearly every year since 2011, LGBTQ people in 2022 were victims of a hate crime in far greater numbers than the other categories of victims, such as ethnicity/national origin, race, religion, or disability.
The data show that 45 of the reported hate crimes in 2022 were based on the victim's sexual orientation and 22 of the reported hate crimes were based on the victim's gender identity or gender expression, bringing the total number of anti-LGBTQ hate crimes to 67.
By comparison, the 2022 data show that 30 reported hate crimes were based on the victim's ethnicity or national origin, 20 were based on the victim's race, and four on the victim's religion. Three 2022 hate crimes were reported to be based on the victim's status as a homeless person and just one reported hate crime was said to be based on the victim's political affiliation.
The 67 reported anti-LGBTQ hate crimes reported in 2022 represent an increase over the 54 anti-LGBTQ hate crimes reported in 2021. The 2021 data show that 38 of the reported hate crimes were based on the victim's sexual orientation and 16 were based on the victim's gender identity or gender expression.
LGBTQ rights advocates, as well as law enforcement officials, have said they believe the reported number of hate crimes targeting LGBTQ people and other minorities are significantly less than the actual number of such cases because many go unreported.
"While the District strives to reduce crime for all residents of and visitors to the city, hate crimes can make a particular community feel vulnerable and more fearful," a D.C. police statement accompanying the release of the hate crime data says. "This is unacceptable and is the reason everyone must work together not just to address allegations of hate crimes, but also to proactively educate the public about hate crimes," the statement says.
Police and prosecutors have also pointed out that a hate crime is not legally classified as a crime in and of itself but instead as a hate or "bias" related designation to an underlying crime such as assault, threats of violence, destruction of property, and numerous other criminal offenses.
The Washington Blade couldn't immediately obtain from D.C. police additional 2022 data showing which underlying criminal acts were linked to the LGBTQ related hate crimes. The Blade has also requested data showing how many of the 67 reported anti-LGBTQ hate crimes in 2022 resulted in an arrest.
In past years, police data have shown that far fewer arrests are made compared to the number of reported hate crime cases. Past data has also shown that the Office of the U.S. Attorney for the District of Columbia prosecutes significantly fewer hate crimes cases than those sent to prosecutors after an arrest has been made.
The U.S. Attorney's Office has said that it has dropped a hate crime designation for cases on grounds that there was insufficient evidence to prove a motive of hate if the case goes before a trial by jury. Spokespersons for the office have said that when a hate crime designation is dropped, they often continue to prosecute the person arrested for the underlying crime.
A chart showing hate crime data reported by DC police from 2011 through 2022, including all categories of hate crimes, can be accessed at the D.C. police website.