Southern Poverty Law Center condemns Ga.'s passage of anti-trans healthcare bill
Group urges Gov. Kemp to veto measure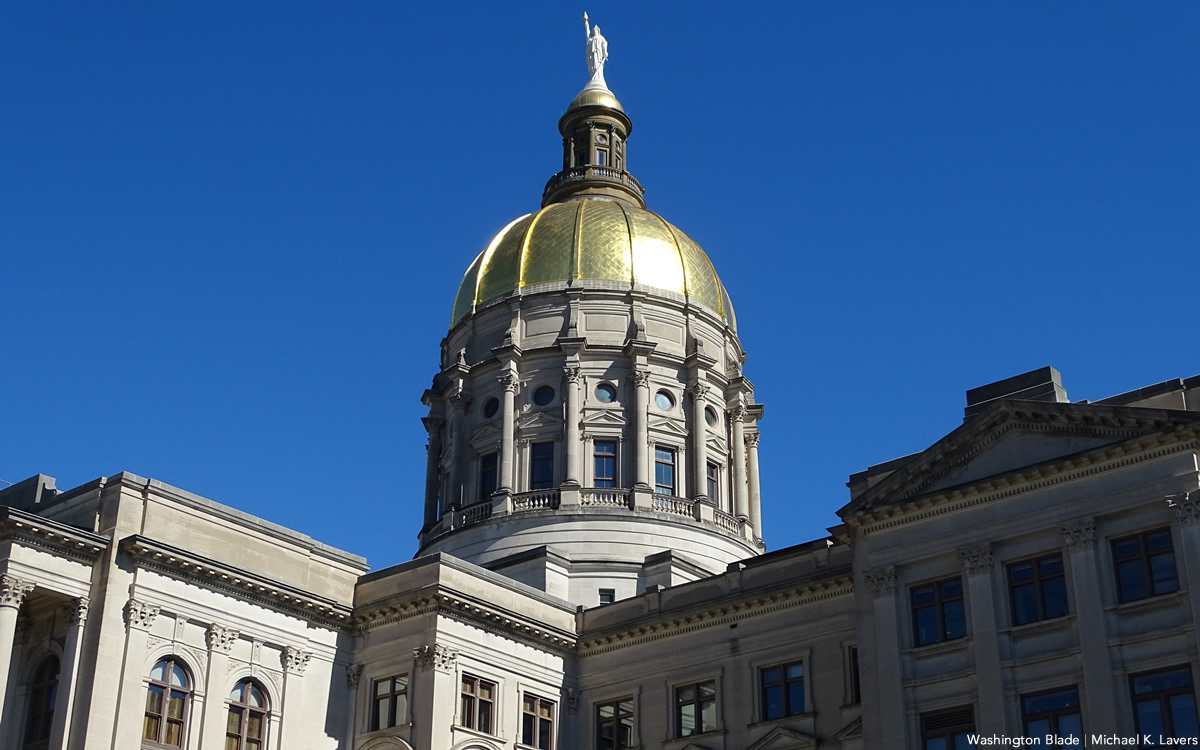 The Southern Poverty Law Center Action Fund published a statement Tuesday condemning the Republican-controlled Georgia Legislature's passage of S.B. 140, a bill that will criminalize gender-affirming health care for minors.
The statement, issued by Beth Littrell, senior supervising attorney of the Southern Poverty Law Center's LGBTQ and Special Litigation Practice Group, urges Georgia Gov. Brian Kemp (R) to veto S.B. 140, calling on him to not "give into pressure from his party" when "the health and wellbeing of young people are at risk" through the denial of "safe, effective medical treatment to transgender youth — based only on prejudice and political pandering."
Kemp should "leave personal healthcare decisions in the capable hands of parents, children, and their doctors," Littrell's statement continues. "We hope the governor will elevate himself and the State of Georgia above this cynical partisan attack on transgender youth, medical autonomy, and parental rights."
S.B. 140 specifically prohibits "sex reassignment surgeries, or any other surgical procedures, that are performed for the purpose of altering primary or secondary sexual characteristics" when they are "performed on a minor for the treatment of gender dysphoria."
"Limited exceptions" are made for the treatment of conditions other than gender dysphoria, if deemed medically necessary by the physician or healthcare practitioner, and for the treatment of patients with "a medically verifiable disorder of sex development."
The mainstream medical societies with relevant clinical expertise have repeatedly spoken out against legislation that limits access to or criminalizes, as in the case of Georgia's bill, guideline directed interventions for the treatment of trans and gender nonconforming youth.
On March 16, far-right GOP Rep. Marjorie Taylor Greene, who represents Georgia's 14th Congressional District, called for the state legislature to make the bill more restrictive.
Specifically, in a tweet she urged the lawmakers to amend S.B. 140 such that treatment of gender dysphoria in minor patients with puberty blockers would be criminalized alongside the other interventions covered in the bill and also to remove the covered exceptions.
Dina Titus introduces bill to require U.S. to promote LGBTQ, intersex rights abroad
White House reconsidering aid to Uganda over Anti-Homosexuality Act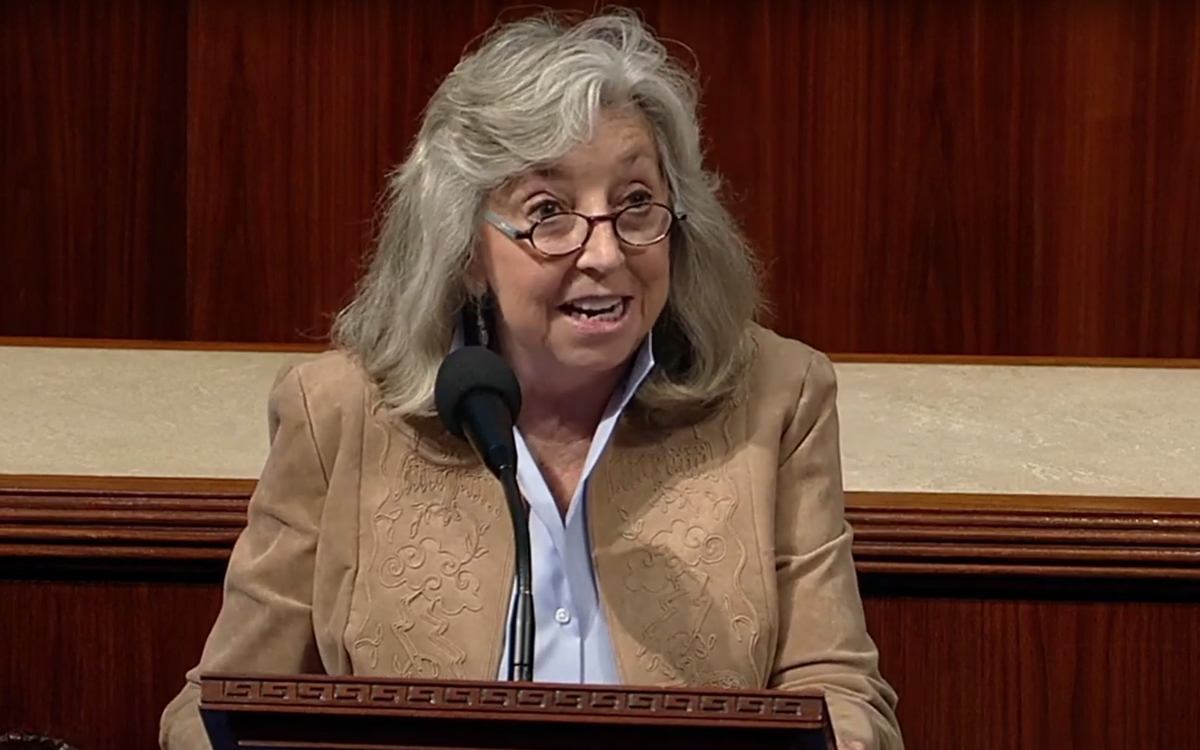 U.S. Rep. Dina Titus (D-Nev.) on Thursday introduced a bill that would require the U.S. to promote LGBTQ and intersex rights abroad through its foreign policy.
The Human Rights Campaign, the Council for Global Equality, the National Center for Transgender Equality, ORAM (Organization for Refuge, Asylum and Migration), Outright International, Rainbow Railroad and the Trevor Project are among the organizations that support the Greater Leadership Overseas for the Benefit of Equality (GLOBE) Act. U.S. Sen. Edward Markey (D-Mass.) will introduce the bill in the U.S. Senate.
Titus on Tuesday told the Washington Blade during an exclusive interview the bill, among other things, would endorse the selective use of existing sanctions to punish those responsible for murders and other human rights abuses against LGBTQ and intersex people. She also said the measure would require the State Department to allow LGBTQ and intersex people to choose their gender marker on passports and other travel documents.
"It's a way of putting into action our attempts to be a leader in the area of LGBTQ+ rights and to be a leader, not just at home, but around the world," said Titus.
President Joe Biden in 2021 signed a memorandum that committed the U.S. to promoting LGBTQ and intersex rights abroad as part of the Biden-Harris administration's overall foreign policy.
Jessica Stern has been the special U.S. envoy for the promotion of LGBTQ and intersex rights since 2021. She told the Blade in a previous interview the White House's continued support of LGBTQ and intersex rights includes marriage equality in countries where activists say such a thing is possible through legislation or the judicial process.
The State Department last year began to offer passports with an "X" gender marker. The U.S. Agency for International Development and the President's Emergency Plan for AIDS Relief has delivered millions of doses of antiretroviral drugs for Ukrainians with HIV/AIDS.
U.S. Ambassador to the U.N. Linda Thomas-Greenfield in March chaired a U.N. meeting that focused on the integration of LGBTQ and intersex rights into the U.N. Security Council's work.
Biden, along with U.S. Sen. Ted Cruz (R-Texas) others, have condemned the signing of Uganda's Anti-Homosexuality Act that contains a death penalty provision for "aggravated homosexuality." The National Security Council has said it will "evaluate" the law's implications in terms of U.S. aid to the country.
Titus is among the lawmakers who have previously introduced bills that are similar to the GLOBE Act.
She noted the Anti-Homosexuality Act when she spoke with the Blade. Titus also discussed Republican-led efforts to curtail LGBTQ rights in Florida and other states.
"It's harder, certainly, to get Republicans on board, but I'm optimistic," she said when asked if she expects any Republicans will co-sponsor his bill. "The more they hear from their constituents and the more they see the backlash to what some state legislatures are doing and the more they hear from members of their own families, I think that we may get some to join us in this."
Mark Milley defends cancellation of drag show at Nevada Air Force base
Move followed pressure from anti-LGBTQ Rep. Gaetz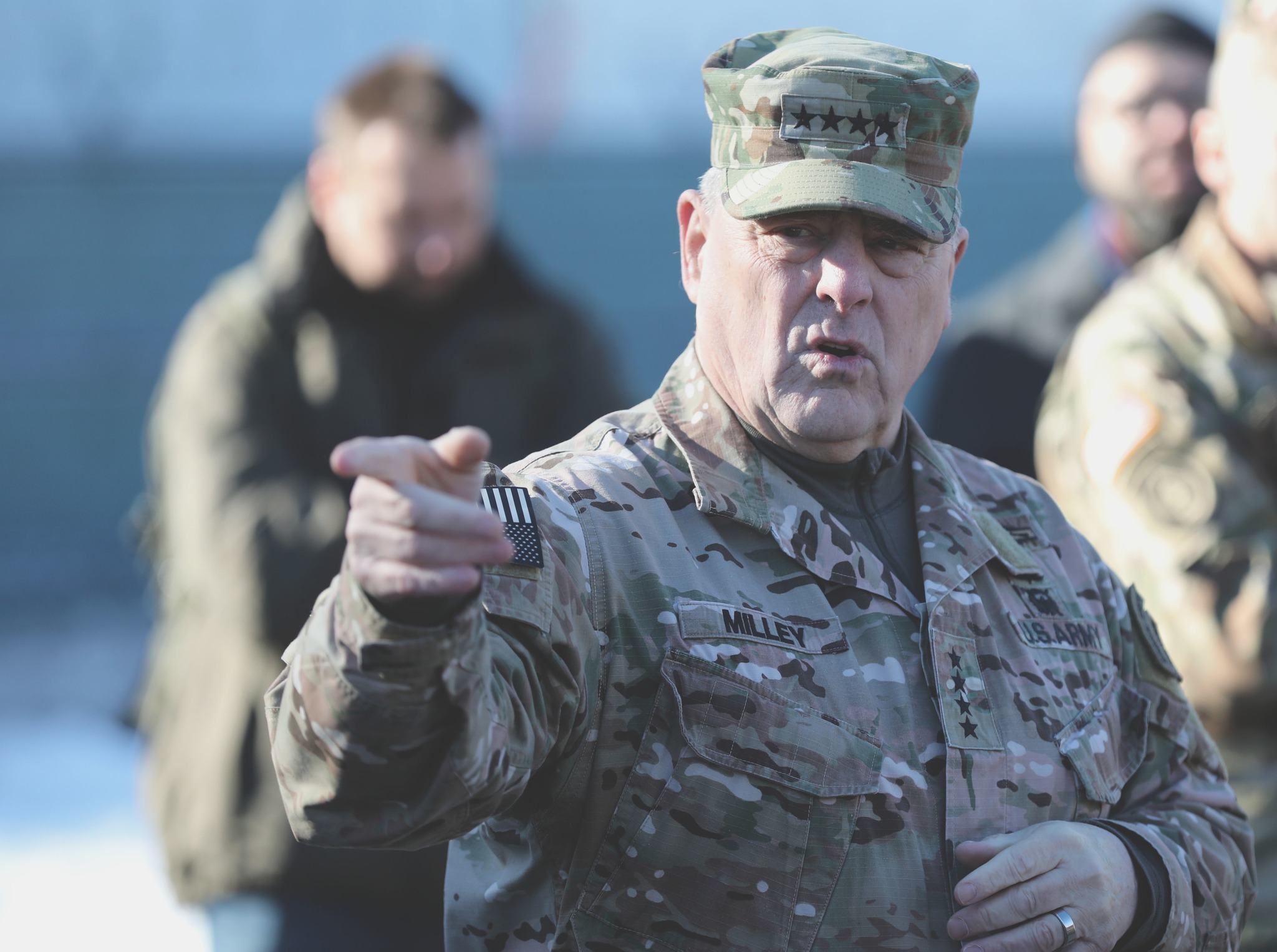 U.S. Army General Mark Milley, chair of the U.S. Joint Chiefs of Staff, told CNN's Oren Liebermann during an interview Monday that last week's cancellation of a drag show at Nellis Air Force base in Nevada was "the absolute right thing to do."
The top U.S. military officer said the decision came from U.S. Secretary of Defense Lloyd Austin, but added that he agreed with the move.
A Pentagon source familiar with the matter told the Washington Blade on Thursday that Milley informed Air Force Chief of Staff Gen. Charles Q. Brown, Jr. that it is not Pentagon policy to fund drag shows on bases and the show needed to be canceled or moved off base.
He echoed those comments during Monday's interview, asserting that the performances "were never part of [Department of Defense] policy to begin with, and they're certainly not funded by federal funds."
"DoD resources should be used for mission-essential operations, not diverted toward initiatives that create cultural fissures within our service ranks," anti-LGBTQ U.S. Rep. Matt Gaetz (R-Fla.) said in a May 23 letter to Milley and Austin.
"I find it completely unacceptable that DoD is using taxpayer dollars to fund DEI programs that are divisive in nature," said Gaetz, referring to diversity, equity, and inclusion – programs typically administered by corporations that have increasingly become targets of conservative outrage.
Milley pushed back on accusations that the military had "gone woke" during the interview, which took place in Normandy, France, marking the 79th anniversary of the D-Day invasion into Nazi-occupied Europe on June 6, 1944.
Chris Christie, Mike Pence officially enter 2024 presidential race
Former vice president has long anti-LGBTQ record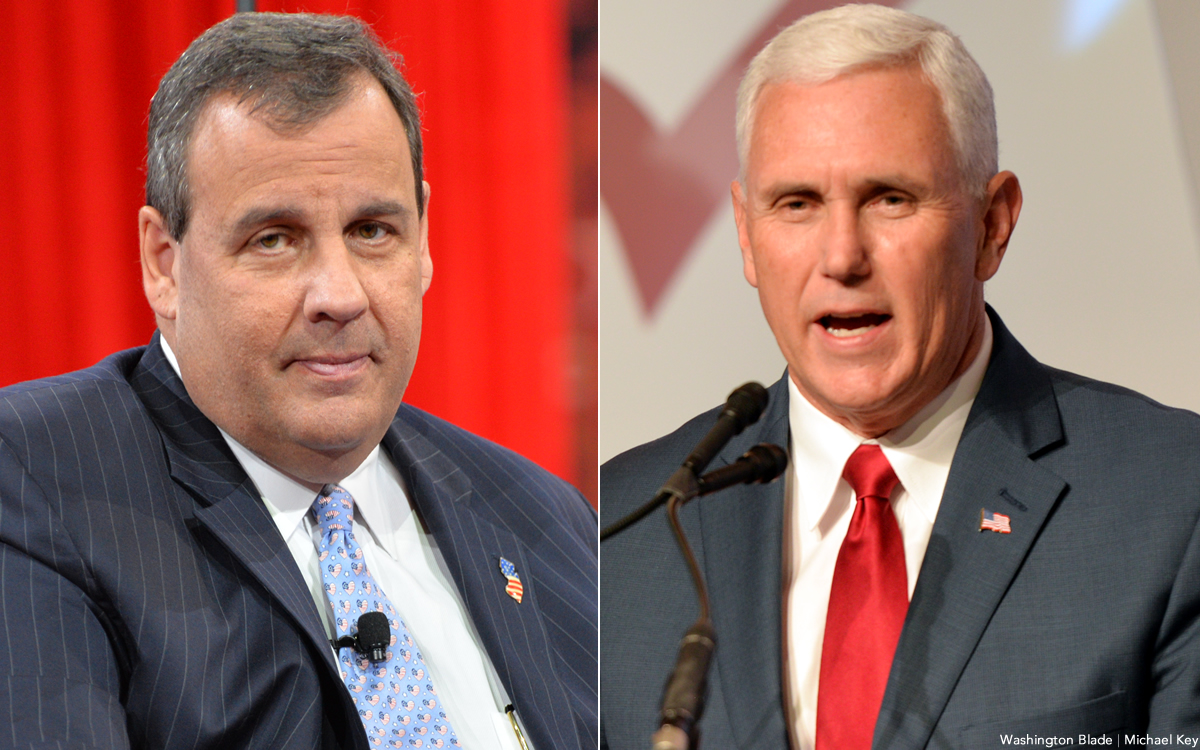 During a town hall event Tuesday in New Hampshire and in a launch video released Wednesday morning, former New Jersey Gov. Chris Christie (R) and former Vice President Mike Pence (R) entered the 2024 presidential race.
For years, both were staunch allies of the current Republican frontrunner, former President Donald Trump, breaking with him only after the Jan. 6 attack on the U.S. Capitol, which came after Pence's refusal to overturn the 2020 election results and prompted Christie to declare Trump unfit for a second term.
Echoing other critical comments he has made in recent months, the former governor's announcement Tuesday directly took aim at Trump, "a lonely, self-consumed, self-serving mirror hog" who "is not a leader."
For his part, Pence neither mentioned Trump by name nor included any photos or video footage of the former president in his announcement video, acknowledging him only indirectly by asserting that "different times call for different leadership."
Christie, Pence, and Trump will also be squaring off against several other Republican candidates in the GOP presidential primary: former South Carolina Gov. Nikki Haley, who also served in the Trump administration, U.S. Sen. Tim Scott (S.C.), former Arkansas Gov. Asa Hutchinson, entrepreneur Vivek Ramaswamy, talk radio host Larry Elder, and Florida Gov. Ron DeSantis.
An evangelical born-again Christian, Pence has opposed LGBTQ rights stridently and consistently throughout his career in politics as a member of the U.S. House of Representatives, as governor of Indiana, and then as vice president.
Declaring him the "Worst Vice President for LGBTQ People In Modern History," the Human Rights Campaign chronicled a list of Pence's anti-LGBTQ actions and statements over the years, including his endorsement of conversion therapy and opposition to hate crime laws for their inclusion of violence motivated by animus toward the victim's sexual orientation or gender identity.
In February, a group formed by Pence and financed by his supporters ran ads in Iowa to rally conservative opposition to pro-trans policies in schools.
By contrast, Christie has a far more moderate record with respect to LGBTQ matters. "If someone is born that way, it's very difficult to say then that that's a sin," he said in 2013, while signing New Jersey's ban on conversion therapy.
The GLAAD Accountability Project, however, notes Christie's veto of a bill in 2014 that would have allowed trans people in the state to change the gender designation listed on their birth certificates. The group also highlighted his veto of a marriage equality bill in 2012.