Chasten Buttigieg speaks out against Pence's homophobic remarks
Pence doubled down Thursday on homophobic remarks about the Transportation Secretary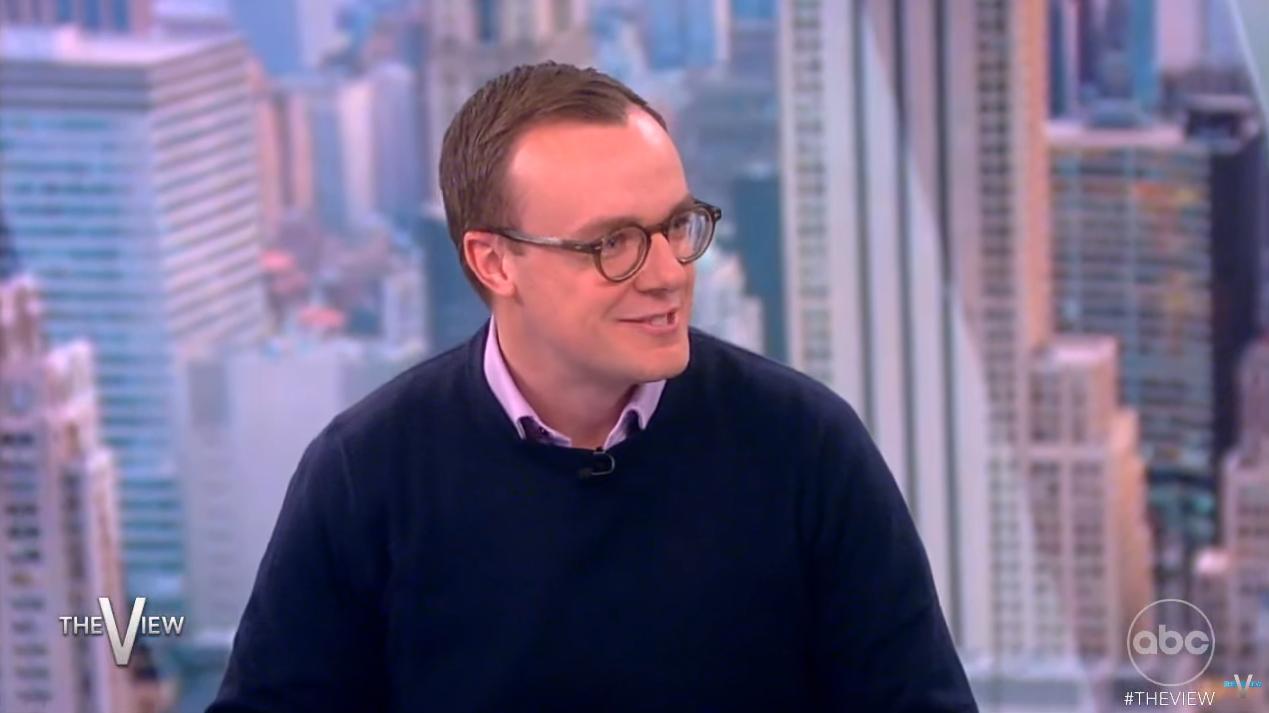 Chasten Buttigieg, husband of Transportation Secretary Pete Buttigieg, said former Vice President Mike Pence has not apologized for homophobic and misogynistic remarks about the couple that he made at a dinner in D.C. last weekend.
"I spoke up because we all have an obligation to hold people accountable for when they say something wrong, especially when it's misogynistic, especially when it's homophobic," Chasten Buttigieg said during an appearance Thursday on ABC's The View.
Last Saturday, Pence had joked that following the birth of the Buttigieg twins in 2021, the transportation secretary took "maternity leave" and then the country suffered "postpartum depression" over issues with airlines and air travel.
The former vice president delivered the remarks — which were first reported by the Washington Blade — during the annual Gridiron Club dinner, which he headlined along with Secretary of State Antony Blinken and New Jersey Gov. Phil Murphy (D).
Per tradition, speakers at the dinner are expected to poke fun at political figures, including guests in attendance, but Pence's comments quickly drew outrage for their homophobia and misogyny.
White House Press Secretary Karine Jean-Pierre addressed the matter in a comment shared with the Blade on Monday, "The former vice president's homophobic joke about Secretary Buttigieg was offensive and inappropriate, all the more so because he treated women suffering from postpartum depression as a punchline."
The Buttigiegs have been public about the "terrifying" ordeal they suffered following the premature births of their twins. The newborns developed serious Respiratory Syncytial Virus Infections (RSV) — which required one to be hospitalized, put on a ventilator, and transferred to a children's hospital in Grand Rapids, Mich., for treatment.
"An honest question for you, @Mike_Pence, after your attempted joke this weekend," Chasten Buttigieg tweeted on Monday, "If your grandchild was born prematurely and placed on a ventilator at two months old – their tiny fingers wrapped around yours as the monitors beep in the background – where would you be?"
The transportation secretary, asked on Monday whether they are owed an apology from Pence, said, "I'll let others speak to that."
During Thursday's interview, Chasten Buttigieg called out the hypocrisy of Pence's putative identity as a "family values Republican," telling the talk show's hosts, "I don't think he's practicing what he preaches here."
"But also," he added, "it's a bigger conversation about the work that women do in families — taking a swipe at all women and all families and expecting that women would stay home and raise children is a misogynistic view."
Rep. Frost talks gun control with the Blade on anniversary of March for Our Lives
26-year-old congressman has been a gun violence prevention advocate since 2012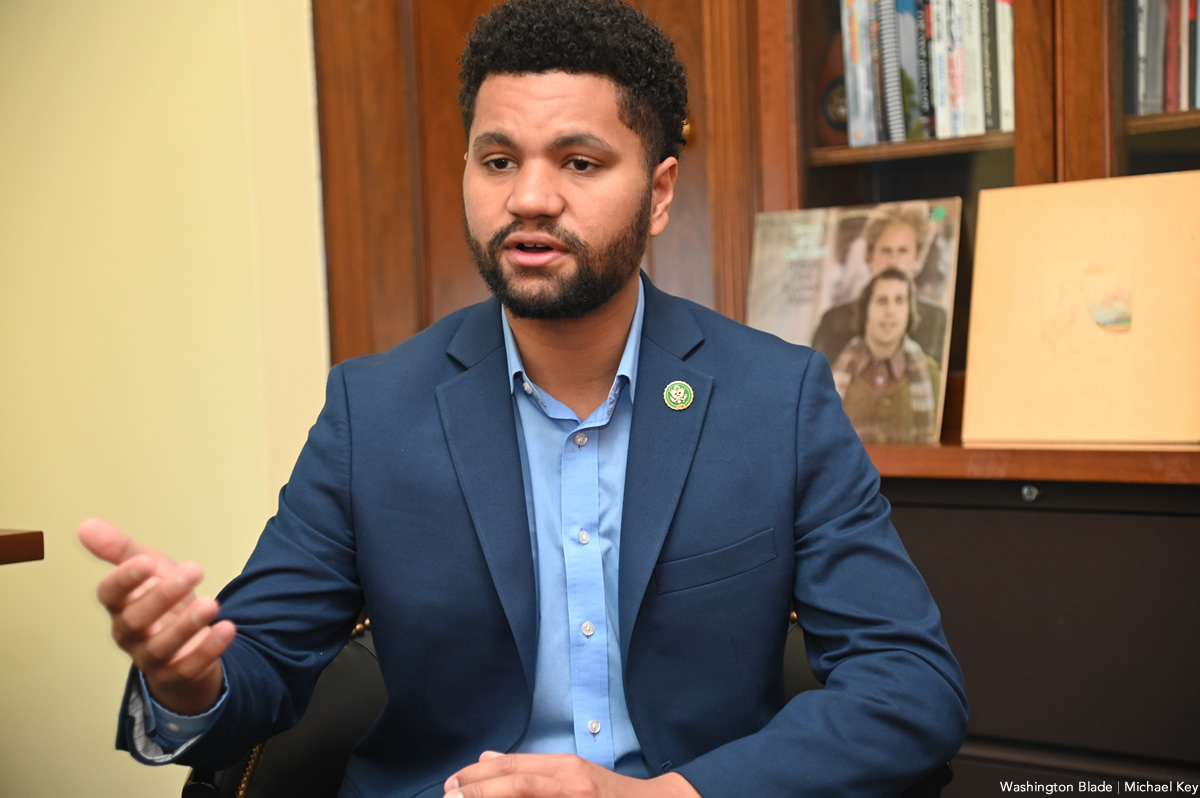 Author's note: The full interview with Congressman Frost will be published next week.
U.S. Rep. Maxwell Frost (D-Fla.), after a week of making headlines for his gun violence prevention advocacy, sat down with the Washington Blade for an exclusive interview on Friday, which marks the five-year anniversary of the founding of March for Our Lives.
The 26-year-old freshman congressman, who before his election was national organizing director for the student-led gun control group, had just introduced his first piece of legislation Tuesday with U.S. Sen. Chris Murphy (D-Conn. that would establish an Office of Gun Violence Prevention within the U.S. Department of Justice.
The proposal's aim, in part, is to better facilitate the implementation of last year's Bipartisan Safer Communities Act by establishing a singular office to coordinate that work.
And on Thursday, Frost captured and tweeted a video of a confrontation between U.S. Capitol Police and Patricia and Manuel Oliver, gun control advocates who lost their son Joaquin in the 2018 Parkland, Fla., high school shooting.
The couple had been removed by police from the House Oversight and House Judiciary Committees' gun rights hearing at the request of GOP Reps. Andy Biggs (Ariz.) and Pat Fallon (Texas).
Frost, who was in attendance, told the Blade the conflict started when Patricia Oliver "just stood up and she said, 'you took my son' and she sat down," but "instead of moving on, the Chair [Fallon] escalated things."
The congressman said the hearing itself was "a sham" convened for the purpose of attacking the Biden administration's Bureau of Alcohol, Tobacco, Firearms and Explosives (ATF), the entity within the U.S. Justice Department that investigates violations of laws governing the manufacture, possession, and use of guns.
"The real story here," said the congressman, "is the fact that there were two parents who lost their son who was in high school, because he was shot to death and died in a pool of his own blood, and now they're going to spend the rest of their lives fighting for a world where it doesn't happen to anybody else."
Frost noted the Olivers were joined at the hearing by other families, activists, and organizers – all of whom were gathered in Washington, D.C., to advance the mission established by the group of teenaged Parkland survivors who founded March for Our Lives five years ago.
Among these student activists were Cameron Kasky, who identifies as queer, and X González, who is bisexual and uses they/them pronouns.
Frost has repeatedly said he ran for Congress because of his involvement in the gun violence prevention advocacy movement, which began with his volunteering on behalf of the Newtown Action Alliance, a group formed in the wake of the 2012 Sandy Hook Elementary School shooting.
The congressman told NPR the 2016 shooting at Pulse, the gay nightclub in Orlando "where 49 angels were murdered right here because they're queer" marked one of the most significant moments of his life.
That same year and in that same city, Frost himself survived a gun violence incident.
During his congressional campaign, on the heels of last year's elementary school shooting in Uvalde, Texas, Frost tweeted: "10 years ago I became an Organizer because of Sandyhook. 3 years later, I'd become a survivor myself. That same year, Pulse. Now I'm running for Congress and 15 lives were taken at another Elementary school. I will not stop until the endless shootings do."
House Republicans pass anti-LGBTQ Parents Bill of Rights Act
Measure passed by 213-208 vote margin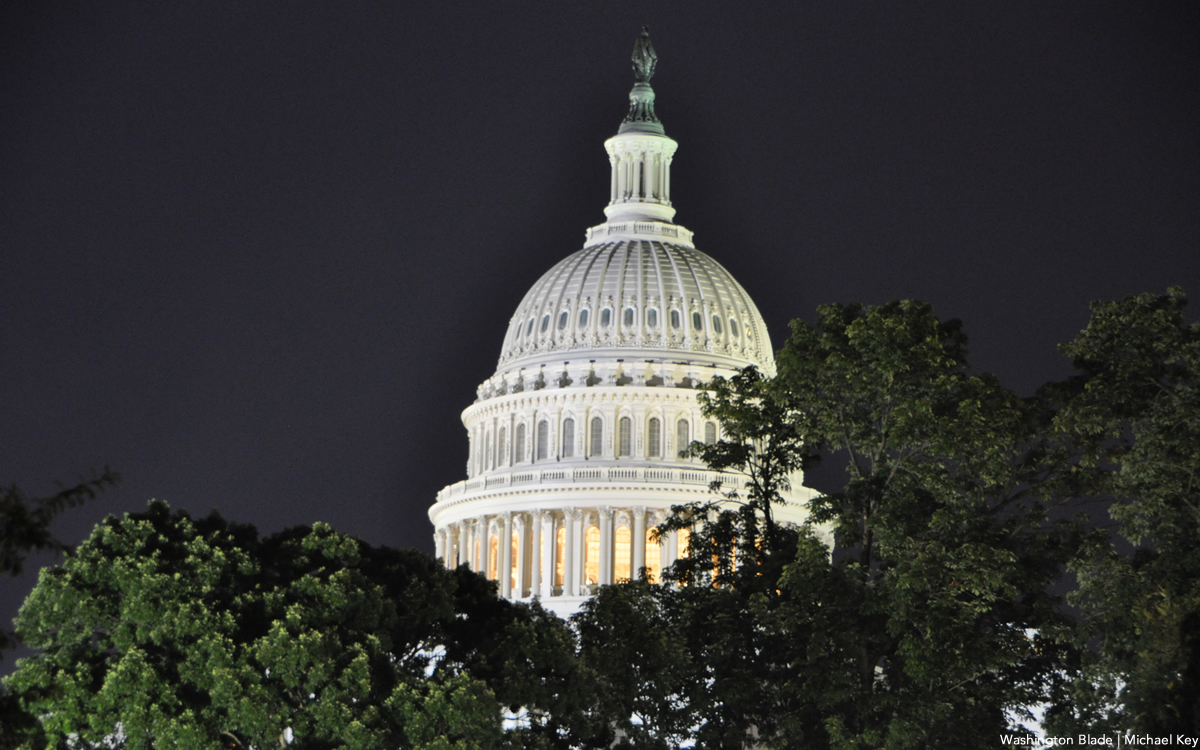 U.S. House Republicans on Friday passed the Parents Bill of Rights Act, a proposal that would require public schools to share educational materials with parents and also contains provisions that would trigger the outing of LGBTQ students without their consent.
Critics say the legislation's professed purpose, to equip parents with the information necessary for them to better engage with their children's educators, is a pretext for its ultimate goals: For schools to censor out content addressing race, or materials containing LGBTQ characters or themes, while also discouraging LGBTQ students from being out at school.
The Congressional Equality Caucus noted the likelihood of that outcome in a statement Friday denouncing the bill, which the group's chair, U.S. Rep. Mark Takano (D-Calif.), called "dangerous" — pointing to its requirement for "schools to forcibly out transgender students, even if it puts those youth in harm's way."
"All children deserve access to a safe and affirming school environment," Takano said in the statement. "Transgender youth have enough challenges already due to harassment, bullying, and anti-transgender state laws," he said, adding, "My colleagues who voted for this bill should be ashamed."
House members voted 213-208 for passage of the Parents Bill of Rights, or House Resolution 5, with Republican U.S. Reps. Andy Biggs (Ariz.), Ken Buck (Colo.), Matt Gaetz (Fla.), Mike Lawler (N.Y.) and Matt Rosendale (Mont.) voting against the legislation with every Democratic member. The bill was first introduced by GOP Rep. Julia Letlow (La.).
With Democrats' control of the U.S. Senate, movement on the bill will almost certainly be stopped once it reaches the upper chamber, but it may nevertheless still have a harmful impact on the country's LGBTQ youth.
For example, the National Institutes of Health published a peer reviewed study last year that found a link between anti-trans legislation and "suicide and depression-related Internet searches" using a dataset comprising 40 bills that were introduced and reached committee, of which three were passed and signed into law.
The caucus' statement noted HR 5 contains "two provisions that would require schools that take steps to respect a student's gender identity to forcibly out those transgender youth to their parents" along with another that would allow parents to access their children's answers to survey questions, answers that might include information about a student's sexual orientation or gender identity.
The risk that their parents will be able to see their answers will incentivize many students to lie about these and other questions, which the caucus said will undermine the federal government's ability to collect important demographic, statistical and survey data on America's LGBTQ youth.
Exacerbating that problem is another provision in the legislation, which requires parents to "opt-in" if their children would be asked to share their sexual orientation or gender identity.
America's largest LGBTQ advocacy organization, the Human Rights Campaign, also issued a statement Friday condemning HR 5.
"The bill, which picks and chooses which families have rights and which don't, has occupied the chamber's time while extremist House leaders continue neglecting the very real and urgent problems facing our schools, such as gun violence, teacher shortages and educational inequality," the group said in its statement.
HRC also noted the legislation's potential to trigger forcible outing of LGBTQ youth "would endanger students instead of fulfilling school officials' obligation to make judgments on a case-by-case basis in the best interests of the students under their supervision."
The organization said it expects House Republicans to move "in coming weeks" on House Resolution 734, "a bill to ban participation by transgender youth in school sports," and drew parallels between the Parents Bill of Rights Act and the "curriculum censorship seen in harmful, unnecessary bills passed in state legislatures recently."
U.S. Rep. Melanie Stanbury (D-N.M.), a member of the Equality Caucus, echoed that message in her statement Friday, writing that HR 5 was "modeled after bills passed at the state level, which have censored the teaching of American history, allowed book bans, and violated the safety and privacy of transgender and LGBTQ+ students."
The White House issued a Statement of Administration Policy on Monday addressing the bill, writing "the administration does not support HR 5 in its current form because the bill does not actually help parents support their children at school" and "moreover, instead of making LGBTQI+ students feel included in their school community, it puts them at higher risk."
Takano to renew House Democrats' push for the Equality Act
Measure would extend federal anti-discrimination protections to LGBTQ Americans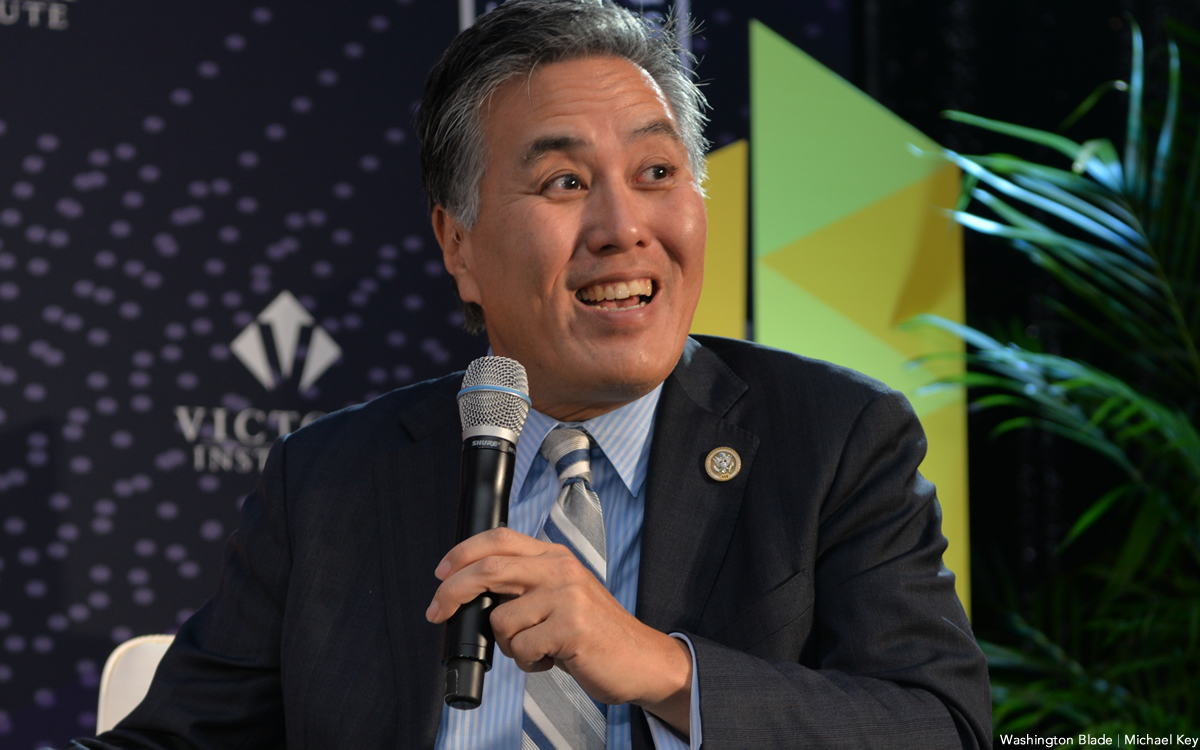 U.S. Rep. Mark Takano (D-Calif.), a co-chair of the Congressional Equality Caucus, issued a statement Thursday pledging to introduce the Equality Act during this Congress, legislation that would extend federal anti-discrimination protections to LGBTQ Americans.
The bill would prohibit discrimination on the basis of sexual orientation and gender identity in "employment, education, access to credit, jury service, federal funding housing, and public accommodations."
Four previous versions were introduced in the House by Rep. David Cicilline (D-R.I.) and in the Senate by U.S. Sen. Jeff Merkley (D-Ore.) in 2015, 2017, 2019, and 2021. The Biden administration and congressional Democrats have signaled that the legislation remains a major priority despite the Republicans now exercising their majority control of the lower chamber.
With Cicilline's planned departure from Congress on June 1 to lead the nonprofit Rhode Island Foundation, Takano thanked and credited his colleague "for his leadership on behalf of our community and stewardship of the Equality Act."
Cicilline, who drafted the legislation and chaired the Equality Caucus in the last Congress before Rep. Mark Pocan (D-Wis.) took over this year, noted the heightened importance of the Equality Act's passage amid the proliferation of anti-LGBTQ and especially anti-trans legislation.
"With homophobic and transphobic legislation being proposed in state legislatures across the country and here in Congress," he said, "it is far past time we act to finally outlaw discrimination against the LGBTQI+ community by passing the Equality Act."
The legislation is also backed by major LGBTQ advocacy groups including the nation's largest, the Human Rights Campaign. "There is overwhelming support for this bill among the American people and the business community, and we will continue fighting until this bill is signed into law," said the organization's President Kelley Robinson.
Robinson also thanked Cicilline for his leadership on the bill and said the Human Rights Campaign looks forward to working with Takano, "an incredible champion for our community" who "is the perfect leader for this effort" to "build on he work Congressman Cicilline started and get the Equality Act signed into law."